By Dominic Couzens
Published: 21st June 2019 (Updated: 28th Feb 2022)
Dominic is a Naturetrek tour leader and one of Britain's
best known and most prolific natural history writers.
There is no more iconic wildlife holiday than an African safari. The very word "safari" conjures a certain image: vast grasslands grazed by great herds of antelope, and stately Acacias browsed by Giraffes, while the great predators such as Lions and Leopards lurk in the shadows and huge herbivores, such as Elephants and Rhinos, witness the daily dramas.

Meanwhile, excited tourists go on game drives, where they are overwhelmed by the variety of animals and, often, are unexpectedly stunned by the abundance and brilliance of the birds.

It is a compelling image and, for many tours, an accurate one; many trips offer just this. However, sub-Saharan Africa offers a great deal more, and the famous "Big Five" – Lion, Leopard, Elephant, Rhino and Buffalo – are just a few of the remarkable creatures that make their home on the world's wildest continent.

The tours below offer different colours to the basic image: remote bush camps, night game drives, stays in one place, slow tours, journeys where the scenery will knock your socks off, bird expeditions, specialist mammal adventures. Every journey is a safari, but every safari is a little different.
Here are our top African safaris. for further information, call us on 01962 733051 to speak to our friendly office experts, or send us an email and we'll get right back to you!
This holiday takes you to the Africa of your imagination, to savannahs with flat-topped Acacias and grassland dotted with herds of game animals. Many of the iconic East African characters are in Kenya, from Elephants, Blue Wildebeest, Zebras and Giraffes to their predators and nemeses: Lions, Cheetahs and clans of Spotted Hyaenas.
The tour begins at Lake Naivasha, staying at Elsamere, the erstwhile home of George and Joy Adamson (the author of Born Free). Black-and-white Colobus monkeys are obvious in the gardens and the range of birds close at hand is astonishing; such colourful staples as Variable Sunbirds and Speke's Weavers are everywhere, while the atmosphere resounds to the sleepy calls of Red-eyed and Ring-necked Doves. Hippos frolic in the wetlands in abundance.
Then it's off to the peerless Masai Mara for five days, staying at luxury Ilkeliani Camp and revelling in the quintessence of wild Africa. Animals large and small can be seen on game drives, from Banded Mongoose to Eland and Topi, along with a dazzling array of birds. It seems impossible that so much life and so much variety is squeezed into one place, but that, truly, is the magic of the Mara.
Time of Year: October-November.
Days: 10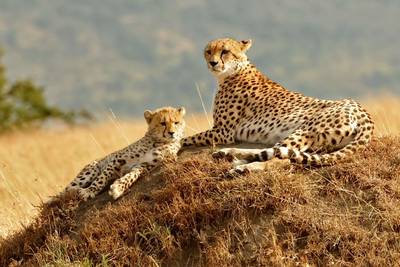 Cheetahs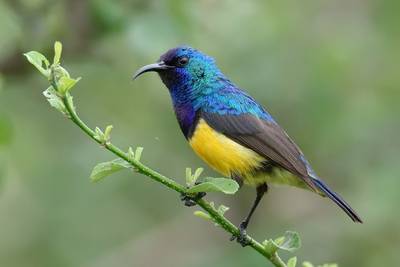 Variable Sunbird
You come here for the wildlife, but it's the scenery that gets you. The extraordinary landscapes of Namibia include towering red sand-dunes (the tallest in the world), the foggy and lonely Skeleton Coast, the incomparably bleak "Moonland", and the dry white lagoon of Etosha Pan. Nothing is ordinary here; even the poles along the roadsides are dotted with the world's largest bird nests – the huge communal structures of the Sociable Weaver. Some of the Elephants are specially adapted to desert living, while the weird plant Welwitschia mirabilis can live to 2000 years, watered only by sea-mist.
We visit the enormous 50,000 square kilometre Namib-Naukluft National Park, which includes the astonishing sand dunes at Sossusvlei, and where desert animals such as Gemsbok, Springbok, Burchell's Courser and Rüppell's Korhaan eke out a living. We then go to the Skeleton Coast, visiting a huge 80,000-strong colony of Cape Fur Seals at Cape Cross, where they frequently fall prey to the rare Brown Hyaena. The coast teems with waterbirds – everything from flamingos to gulls and waders – while dolphins and other cetaceans often pass offshore. In Damaraland we look out for the largest free-ranging Black Rhino population in the world, plus other exciting animals such as Ostrich, Gemsbok and a host of rare larks. Etosha, meanwhile, is overflowing with superb game viewing, with characters such as Lion, Cheetah, Black Rhino, Zebra and Giraffe. This part of Africa is a world apart.
Time of Year: October-November.
Days: 17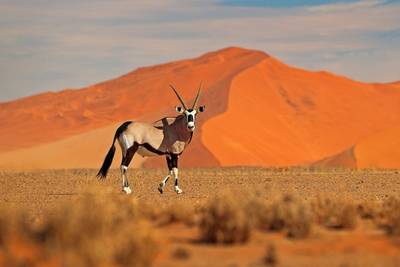 Gemsbok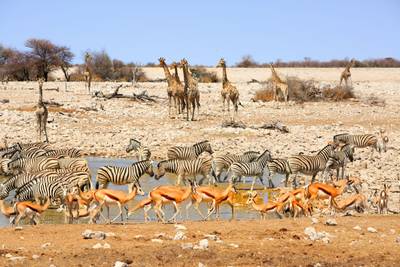 Waterhole in Etosha National Park
If you were to watch a highlights reel of African wildlife experiences, you would find most of them in Tanzania.

Everybody has heard of the Serengeti – it is Africa in a nutshell, home to the highest concentrations of large mammals on earth: the herbivorous hordes of Blue Wildebeest, Plains Zebra and gazelles. No fewer than 2000 Lions prowl here, along with Cheetahs, Leopards and Spotted Hyaenas – a testament to the extraordinary richness of these savannahs.
The incredible Ngorongoro Crater isn't far behind, with Black Rhinos regularly seen amongst the other big mammals; it's also a permanently watered place, teeming with colourful and noisy birds. Less well-known Arusha is a quiet contrast, with bird-filled forests and clear lakes under the watchful gaze of the peak of Mount Kilmanjaro and Mount Meru, and where we may see Black-and-white Colobus monkeys and waterbirds such as Maccoa Duck.
Tarangire National Park is a riverine wilderness of tall baobabs and acacias, excellent for Eland, Impala and Lesser Kudu, while Lake Manyara is famous for its tree-climbing Lions, its flamingos and especially large Elephants. It's a potent mixture of wonderful wildlife treasures.
Time of Year: October-November, January-February.
Days: 15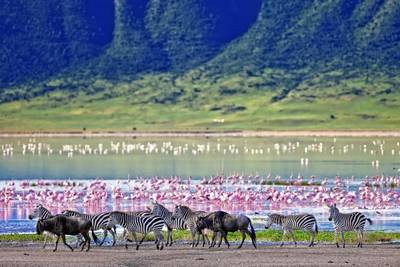 Plains Zebra, Blue Wildebeest and Lesser Flamingoes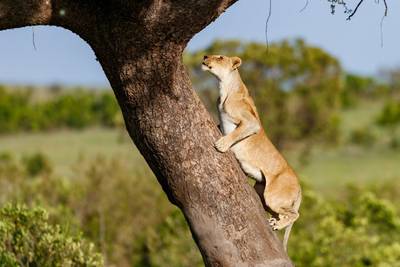 Tree-climbing Lion
Many travellers crave an African safari without the crowds of fellow tourists, and there is nowhere better to go than Tanzania's lightly trodden southern circuit. In two giant game reserves, Selous (the largest in Africa at 50,000 square kilometres) and Ruaha, the wildlife viewing is so good that you can hardly believe that you almost have it to yourself.
Selous is a wilderness with 4000 Lions and the world's largest population of Wild Dogs, as well as 120,000 of the famously grumpy Cape Buffalo and 100,000 Blue Wildebeest. Among its 400 species of birds are such blood-pressure-raising species as the simply gorgeous crimson explosion, the Northern Carmine Bee-eater, plus the legendary and hard to find Pel's Fishing Owl.
Meanwhile Ruaha, to the east, about half the size of Selous and with even fewer tourists, has 10,000 Elephants, which are often seen in substantial herds, keeping company with Cheetahs, Leopards and both Greater and Lesser Kudu, the game being attracted by the waters of the Great Ruaha River. The birdlife rivals that of Selous and includes specialities such as the Tanzanian endemic Ashy Starling, as well as exciting birds such as Verreaux's and Martial Eagle, Giant Kingfisher and Grey Kestrel. But don't tell anyone!
Time of Year: September-October.
Days: 11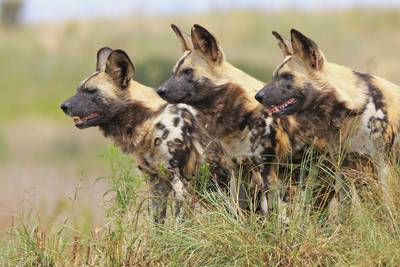 African Wild Dogs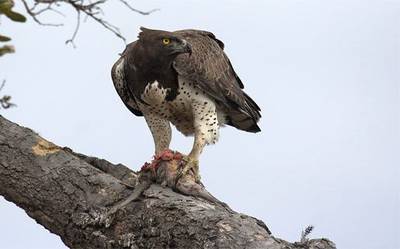 Martial Eagle (Leon Marais)
The greatest migration of land mammals on Earth takes place in southern Kenya and northern Tanzania, where 1.3 million Blue Wildebeest, 350,000 Thomson's Gazelles and 200,000 Plains Zebra wander annually in a wide circle totalling about 450km. Following the rains, by January they all arrive on the Serengeti's southern plains, where this tour meets them in style.
For five nights we stay in a tented camp in the Ndutu region among the short-grass plains, hopefully surrounded by the great herds, immersed in this vast sea of life. As far as predators are concerned, this is the largest concentration of meat on the planet, a time to hunt and gorge when the herbivores pass through their territories. Lions, Cheetahs, Leopards and Spotted Hyaenas lurk in the shadows.
This tour also visits the incredibly scenic and spectacular Ngorongoro Crater in the highlands, itself the home of 30,000 large mammals. This is one the few places in Africa where Black Rhinos can be seen alongside the other members of the famous "Big Five": Lion, Leopard, Elephant and Cape Buffalo.
Time of Year: January-February.
Days: 10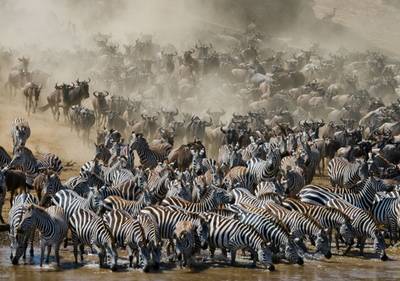 Blue Wildebeest and Plains Zebra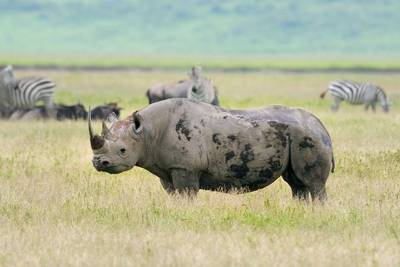 Black Rhino
This tour really is a mammal-watcher's guilty pleasure. Imagine a safari where such icons as Lions and rhinos are appreciated but aren't the focus. Imagine getting most excited as the sun goes down, the spotlights are at the ready, and you are off the beaten track, ready to look for seldom-seen animals such as Aardvark, Brown Hyaena and Black-footed Cat.
We begin this tour near Kimberley, a gold-mining town south-west of Johannesburg. The dry, rocky bushveld around here is excellent for the aforementioned cat (one of the world's smallest felines), as well as Cape Porcupine, South African Springhare and the famously elusive Aardvark. At Augrabies National Park the focus shifts to looking for African Wildcat and the strange Aardwolf, an unusual member of the hyaena family that mostly eats termites.
Finally, in the vast Kgalagadi Transfrontier Park we will spend the daylight hours enjoying the glorious black-maned Lions of the Kalahari, as well as Springboks, Cheetahs and Meerkats. As darkness falls, however, our pulses will begin to race as we look for Bat-eared Fox, Honey Badger, Brown Hyaena and Hairy-footed Gerbil. If we are stupendously lucky, we might even find a Ground Pangolin, the biggest prize for niche mammal-lovers on a unique holiday.
Time of Year: April-May; September-October.
Days: 13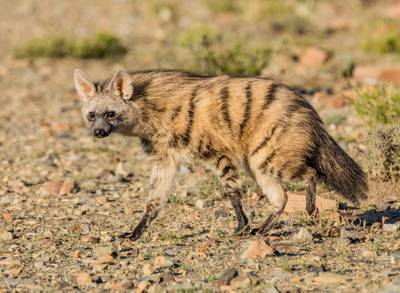 Aardwolf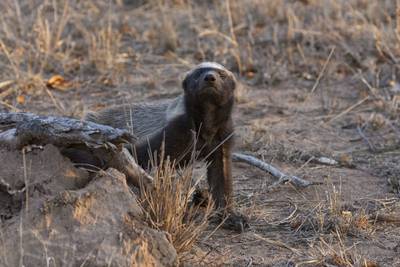 Honey Badger (Leon Marais)
In many parts of Africa, the best reserves contain numerous luxurious lodges, and crowds of tourists descend on every Lion sighting: not in Zambia!
On this tour we stay for seven nights at the remote Nkonzi Bush Camp, deep within Zambia's most spectacular national park. So embedded in the landscape is this camp that the local wildlife often walks right through it. With a maximum of only eight guests, we will feel like we have this remarkable wilderness entirely to ourselves; not only will we explore using traditional game drives, but we will also have the opportunity to experience the bush intimately on foot and on night drives, which are impossible in most countries.
We will seek out Lion, Leopard and African Wild Dog, alongside Elephant, Cape Buffalo and Giraffe, while breeding birds – such as Southern Carmine Bee-eater – can be astonishing. Far away from the artificial lights of towns, cities, or even large camps, the night skies at Nkonzi can be truly breathtaking.
Time of Year: September.
Days: 10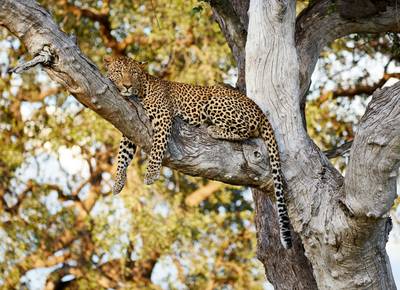 Leopard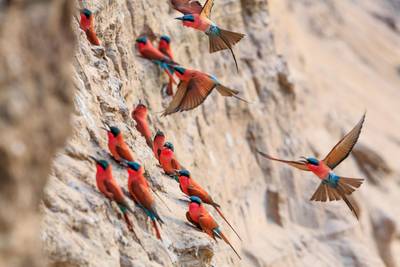 Southern Carmine Bee-eaters
Zambia's South Luangwa National Park is so rich and varied, and so perfect, that it is one of those places that makes you wish to stay and linger. Our tours take you to the luxury Kafunta River Lodge, on the edge of the Luangwa River, where you remain for six nights – and there are more than enough birds and mammals at close hand to keep you entertained throughout. There are optional night drives too, which are forbidden in many parts of Africa. The birds here are incredible; 200 species are possible, including the Southern Carmine Bee-eater, a glowing red stunner that breeds in colonies along the river, plus the mysterious Pel's Fishing Owl, Abdim's Stork, Giant Kingfisher and the barely believable Pennant-winged Nightjar.
On the birdwatching tour we might have the chance to take a bush walk on foot. Meanwhile, our dedicated mammal tour may find 30 species during our game drives. Highlights may include African Wild Dog, Leopard, prides of Lion, herds of Elephant, Buffalo and less well-known animals such as Bushbuck, Waterbuck and Small-spotted Genet.
Time of Year: November (birds), April-May, November-December (mammals).
Days: 10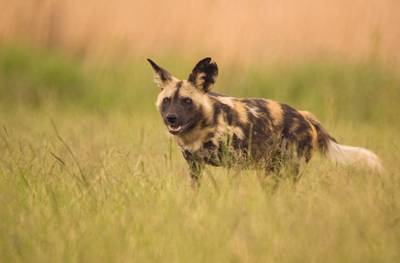 African Wild Dog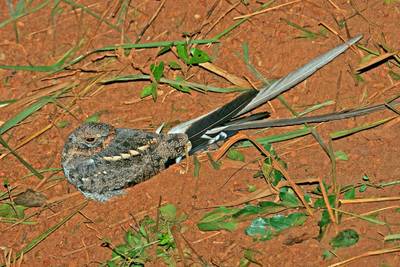 Pennant-winged Nightjar
All wild cats have their own allure, but it is perhaps in Africa that they achieve their greatest mystique and most iconic status. Always predatory, often nocturnal, members of the cat family can be solitary, mobile and elusive.
This tour seeks out South Africa's cats, large and small, from the Lion to the Serval, and inevitably allows for abundant collateral game viewing, such as a herd of Elephants wandering by, or a group of Giraffes browsing a distant canopy. The tour is split between four nights in the Kruger National Park, and four in the adjacent Sabi Sand Game Reserve.

In the Kruger we start at Skukuza, in the south, where we will concentrate on looking for Leopards; we then move on to Satara, which holds the highest concentration of Lions in the Kruger. Leaving the national park, we move on to Sabi Sand, which is regarded as one of the best places in the world to see Leopards, some of which are habituated to safari vehicles and may offer spectacular close views.

Cheetahs and smaller cats (including African Wildcat) occur here and in the Kruger National Park, so we could hardly be in a better place to watch members of the enigmatic feline family.
Time of Year: November (birds), April-May, November-December (mammals).
Days: 10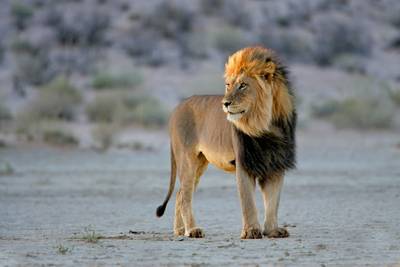 Lion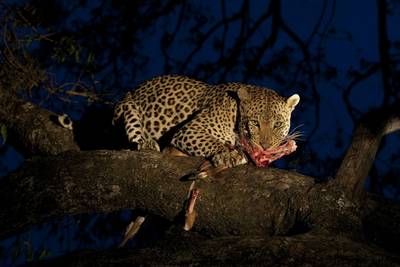 Leopard (Leon Marais)
Whether your first love is for birds or mammals, this is a tour to leave you satiated and fascinated by the astonishing diversity of all life in the Kruger National Park! The Kruger is South Africa's premier national park, and many past tours have recorded 40 or more species of mammal and 300 species of bird – at the same time! All of Africa's most iconic species are here, including Lions, Elephants, White Rhinos, Leopards, Cheetahs, Giraffes, and a variety of less frequently encountered mammals such as African Wild Dog, Sable Antelope and Black Rhino.
Our first stop in the Kruger is at Satara, where Lions drool over the abundant Blue Wildebeest and Burchell's Zebra. At our second camp by the Sabie River there is a thriving night life – not the usual kind, but instead featuring Large-spotted Genets, Thick-tailed Bushbabies and noisy Peter's Epauletted Fruit-Bats! Colourful birds are everywhere in the Kruger, with a range of rollers, bee-eaters, weavers, bush-shrikes and sunbirds, as well as exciting species such as Kori Bustard, Saddle-billed Stork and Southern Ground Hornbill, all alongside an overwhelming diversity of large birds of prey.
On the way to the Kruger we stop at Dullstroom, where the high-altitude grasslands are home to unusual antelope, Blue Crane and Gurney's Sugarbird, and the spectacular Blyde River Canyon is a raptor hotspot with Verreaux's Eagle, Cape Vulture and the highly localised Taita Falcon.
Time of Year: February, November (Birds); March, October (Mammals)
Days: 10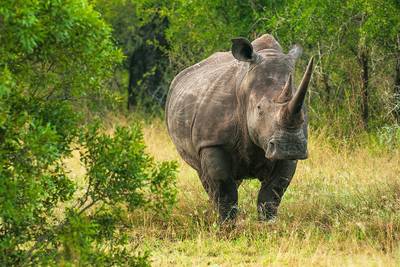 White Rhino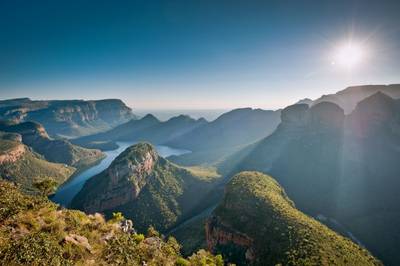 Blyde River Canyon
A tailormade safari to Africa offers you the flexibility to enjoy a wildlife holiday which is tailored to your exact desired itinerary and dates. Our tailormade team are always at the ready to provide suggested itineraries and quotes, so do browse our tailormade offerings or simply get in touch!
View our Tailormade Africa page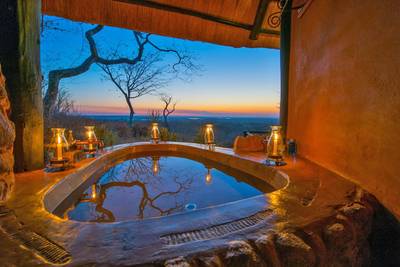 Stanley Safari Lodge, Zambia
Get in touch
For further information, on our holidays, call 01962 733051 to speak to our friendly office experts, or email us using the contact form below. We'll get right back to you!