The Best African Safari Holidays

By Dominic Couzens
21st June 2019
Dominic is a Naturetrek tour leader and one of Britain's
best known and most prolific natural history writers.
There is no more iconic wildlife holiday than an African safari. The very word "safari" conjures a certain image: grassland dotted with Acacias, over which Giraffes graze and under which antelopes run, while the great predators such as Lions and Leopards lurk in the shadows and huge herbivores, such as Elephants and Rhinos, witness the daily dramas. Meanwhile, excited tourists go on game drives, where they are overwhelmed by the variety of animals and, often, are unexpectedly stunned by the abundance and brilliance of the birds.
It is a compelling image and, for many tours, an accurate one: many trips offer just this. However, sub-Saharan Africa offers a great deal more, and the famous "Big Five" – Elephants, Lions, Buffalo, Rhinos and Leopards – are five among many.
The tours below offer different colours to the basic image: foot safaris, night game drives, stays in one place, slow tours, journeys where the scenery will knock your socks off, bird expeditions, specialist mammal adventures. Every journey is a safari, but every safari is a little different.

Here are our top African safaris. for further information, call us on 01962 733051 to speak to our friendly office experts, or send us an email and we'll get right back to you!
This holiday takes you to the Africa of your imagination, to savannahs with flat-topped Acacias and grassland dotted with herds of game animals. Many of the iconic East African characters are here, from Elephants, Blue Wildebeest, Zebras and Giraffes to their predators and nemeses: Lions, Cheetahs and sinister Spotted Hyaenas. The tour begins at Lake Naivasha, staying at the erstwhile home of Joy and George Adamson, which has neighbouring Hippos in abundance and startlingly colourful birds in even greater abundance. Then it's off to the peerless Masai Mara, for five days, staying at luxury Ilkeliani Camp, revelling in the quintessence of wild Africa.
Time of Year: October-November.
Days: 10
Price: £2,995
View Tour Page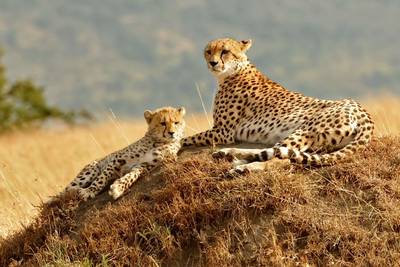 Cheetahs
You come here for the wildlife, but it's the scenery that gets you. The extraordinary landscapes of Namibia include 400m red sand-dunes, the tallest in the world, the foggy and lonely "Skeleton Coast," the incomparably bleak "Moonland" and the white lagoon of Etosha Pan. Nothing is ordinary here; even some of the Elephants are specially adapted to desert living, while the weird plant Welwitschia mirabilis can live to 2000 years on sea-mist. There are wild Black Rhinos, a huge colony of Cape Fur Seals, Lions, pink flamingos, a host of rare larks and other birds. This part of Africa is a world apart.
Time of Year: October-November.
Days: 17
Price: £6,595
View Tour Page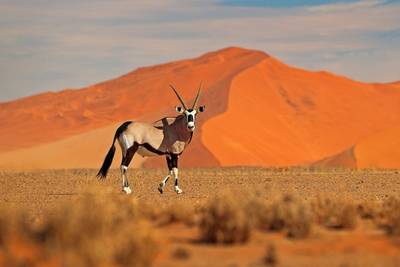 Gemsbok
If you were to watch a highlights reel of African wildlife experiences, you find most of them here. Everybody has heard of the Serengeti, home to the highest concentrations of large mammals on earth, the herbivorous hordes of Wildebeest, Zebra and Gazelles. The incredible Ngorongoro Crater isn't far behind, with its healthy population of Black Rhinos among the other big mammals. Less well-known Arusha is a lush contrast, with bird-filled forests and clear lakes under the watchful gaze of the peak of Kilmanjaro. Tarangire National Park is a riverine wilderness of tall baobabs and acacias, while Lake Manyara is famous for its tree-climbing Lions, its flamingos and large Elephants. It's a potent mixture of wonderful wildlife treasures.
Time of Year: October-November, January-February.
Days: 15
Price: £6,595
View Tour Page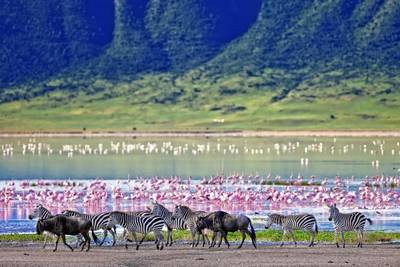 Plains Zebra, Blue Wildebeest and Lesser Flamingoes
Many travellers crave an African safari without the crowds of fellow tourists, and there is nowhere better than here. In two giant protected areas, Selous Game Reserve (the largest in Africa at 45,000 square kilometres) and Ruaha National Park, the wildlife viewing is so good that you can hardly believe that you almost have it to yourself. Selous is a wilderness with 4000 Lions and a third of the world population of Wild Dogs, as well as 400 species of birds. Ruaha has 10,000 Elephants, often seen in substantial herds, as well as an equal abundance of other mammals and birds. But don't tell anyone!
Time of Year: September-October.
Days: 11
Price: £5,995
View Tour Page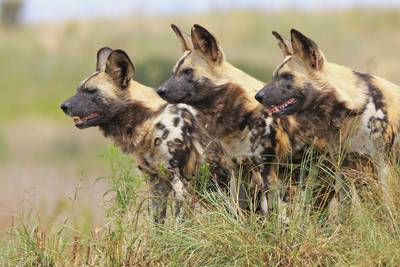 African Wild Dogs
The greatest migration of land mammals on earth takes place in southern Kenya and northern Tanzania, where 1.3 million Blue Wildebeest, 350,000 Thomson's Gazelles and 200,000 Plains Zebra wander annually in a wide circle only totalling about 450km. Following the rains, by January they all arrive in the Serengeti's southern plains, where this tour meets them in style. For 5 nights we stay in a tented camp in the short-grass plains, surrounded by the great herds, immersed in this vast sea of life. As far as predators are concerned, this is the largest concentration of meat on earth, a time to hunt and gorge when the herbivores pass through their territories. Lions, Cheetahs, Leopards and Spotted Hyaenas lurk in the shadows.
Time of Year: January-February.
Days: 10
Price: £5,495
View Tour Page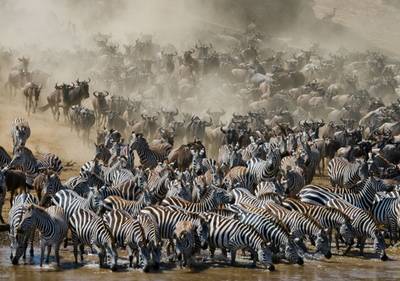 Blue Wildebeest and Plains Zebra
This tour really is a mammal-watcher's guilty pleasure. Imagine a safari where such icons as Elephants and Lions are appreciated but aren't the focus. Imagine getting most excited as the sun goes down, the spotlights are at the ready, and you are off the beaten track, ready to look for seldom-seen animals such as Aardvarks, Brown Hyaenas and Black-footed Cats. On this tour we visit Mokala and Augrabies National Parks and Kgalagadi Transfrontier Park, home to the above species as well as Meerkats, Bat-eared Foxes, Aardwolf and Honey Badger. We might even find an African Pangolin, the biggest prize for niche mammal-lovers on a unique holiday.
Time of Year: April-May; September-October.
Days: 13
Price: £5,795
View Tour Page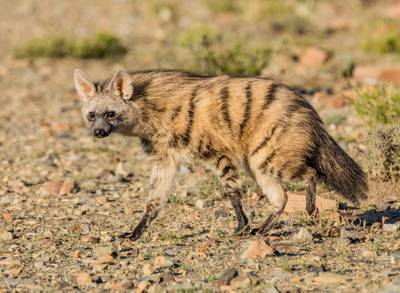 Aardwolf
Many an African safari is conducted entirely in vehicles. With high densities of large animals around, that is hardly surprising, but there are times when the visitor yearns for a more intimate taste of the bush. This tour offers immersion into a very different Africa. Situated in South Luangwa National Park, we visit four luxury camps along the Luwi Valley, sometimes walking from one to the other! Our daytime foot safaris allow us to learn some tracking techniques and see some large animals from a very different perspective! The abundant wildlife includes Lions, Leopards and Elephants, as well as an extraordinary diversity of birds.
Time of Year: September.
Days: 13
Price: £7,995
View Tour Page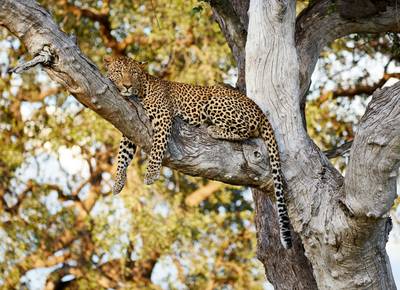 Leopard
Zambia's South Luangwa National Park is so good that you can stay in one place – such as luxury Kafunta River Lodge – and there are more than enough birds and mammals at close hand to keep you entertained. There are optional night drives, too, which are forbidden in many parts of Africa. The birds here are incredible: 200 species are possible, including that crimson explosion the Southern Carmine Bee-eater, plus the mysterious Pel's Fishing Owl and the barely believable Pennant-winged Nightjar. 30 species of mammals are possible, such as Lion, Buffalo, Leopard, Giraffe and Hippo.
Time of Year: November (birds), April-May, November-December (mammals).
Days: 10
Price: £3,395
View Bird Tour Page
View Mammal Tour Page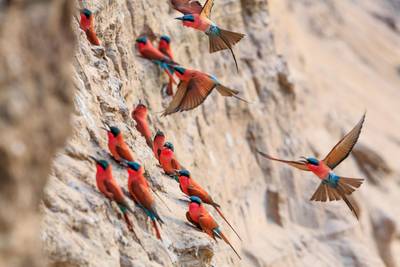 Southern Carmine Bee-eaters
On a continent famous for its large mammals which graze in the open during the day, it should come as no surprise that cats have a special mystique in Africa. Always predatory, often solitary, members of the cat family can be mobile and elusive, and nocturnal. This tour seeks them out, large and small, from the Lion to the Serval, and inevitably allows for abundant collateral game viewing. The tour is split between four nights in the Kruger National Park, and four in the adjacent Sabi Sand Game Reserve. The latter is regarded as one of the best places in the world to see Leopards, as well as Cheetahs and smaller cats.
Time of Year: October.
Days: 12
Price: £4,895
View Tour Page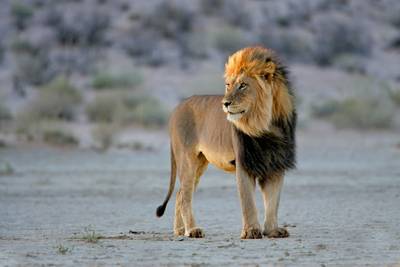 Lion
Whether your focus is birds or mammals, this is a tour to leave you satiated – and distracted! The Kruger is South Africa's premier national park, and many past tours have recorded 40 or more species of mammals and 300 species of birds – at the same time! Most of the icons are here: Lions, Elephants, White Rhinos, Leopards, Giraffes, plus a variety of less frequently encountered mammals such as African Wild Dogs, Sable Antelope and Greater Kudu. Colourful birds are everywhere, with a range of Weavers, Bush Shrikes and Sunbirds. On the way to the Kruger we stop at Dullstrom, where the high-altitude grasslands are home to unusual antelopes, Blue Cranes and Gurney's Sugarbird.
Time of Year: February, November (Birds); March, October (Mammals)
Days: 10
Price: £2595 (Birds), £2795 (Mammals).
View Bird Tour Page
View Mammal Tour Page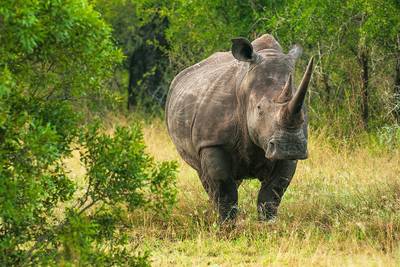 White Rhino
Get in touch
For further information, on our holidays, call 01962 733051 to speak to our friendly office experts, or email us using the contact form below. We'll get right back to you!