Whale Watching Cruises – See Whales in their Wild Habitat
Seeing whales in the wild is one of the top 10 things most people want to do during their lifetime. Scanning the water, waiting to hear a blow or see a dorsal fin, is one of the top wildlife experiences in the world, and it can get addictive! A sighting of whales in their natural habitat is consistently rated in the top 10 wildlife experiences in the world. These gentle giants of the ocean hold a special place in our hearts. Our dedicated small group tours offer the thrilling opportunity of an up-close-and-personal encounter in the wild; scanning the water, waiting for the sound of a blow or the sight of a dorsal fin is both thrilling and addictive.
Naturetrek Whale Watching Tours
Our dedicated small group whale-watching holidays encompass a range of destinations all over the world to offer the best chance of sightings on short trips or longer cruises. Whether it's a day excursion in the UK or an extended 14-day cruise to an exotic far-flung location, we offer the chance to encounter these giant cetaceans in all of the world's oceans, from the tropics to the Polar regions.

Depending on the location, our itineraries can focus on one or several of the planet's 86 key species, including Blue and Killer Whales, or form part of a broader wildlife-watching experience to encounter dolphins, birdlife and other marine species. Led by expert biologist or naturalist guides, our tours often allow participants to get thrillingly close to one of the most fascinating animals on Earth. We've been organising specialist wildlife tours for 32 years and our experience, passion and knowledge have earned us a reputation as the best in the business. Our range of whale-watching holidays is so popular that we are rapidly expanding our programme to include some of the most exciting, wildlife-rich places in the world.
Why book a Naturetrek whale & dolphin watching holiday?
Expert biologist-led & wildlife photographer-led holidays
Dedicated whale-watching tours focusing on one or a few key species
Many of our whale-watching tours offer the chance to see dolphins as well (and vice versa)
A range of tours from day trips out on small boats to week-long liveaboard cruises
A chance to look for cetaceans in all of the world's oceans, from polar waters to the tropics
A wide range of the world's 86 species are seen on our whale-watching holidays, including Blue Whales & Killer Whales
A wide range of the world's dolphin species have also been seen, from Bottlenose and Risso's, to Spinner, Striped and Heaviside's
Featured Whale Watching Holidays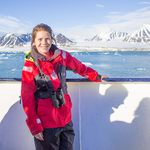 Our Whale Watching specialist recommends
"The crème de la crème of whale watching has to be Baja California, where Grey Whales and Humpback Whales are the highlight, however other destinations shouldn't be overlooked. For the best whale-watching in Europe, the Azores is pretty hard to beat. Here, there are Sperm Whales all year round (best seen in August on our Whales and Dolphins of the Azores tour) and, in spring, Blue, Fin and Sei Whales pass through on their annual migration (we offer two tours, one on the island of Pico and one on São Miguel). Our tour to Iceland also offers good whale-watching for Humpback Whales and Orca. If you'd prefer a more far-flung and tropical adventure in search of less-known whales, then head to the Solomon Islands for Bryde's Whale and Omura's Whale (plus hundreds of dolphins!)."

Sara Frost - Tour Leader & Marketing Manager