Birding Tours Led by Expert Naturalists

The majority of our wildlife tours focus primarily on birds, allowing us to offer a huge choice of bird holidays. On most of our birdwatching tours we aim to see a wide variety of species, while taking time to enjoy other wildlife as well as cultural highlights and architecture.
Featured Birdwatching Tours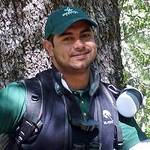 Our Bird Watching Specialist Recommends
"Try Coto Doñana & Extremadura for an excellent introduction to Europe's wetland and steppe birds. I would recommend our bargain holiday, 'Nepal – A Birdwatching Tour' for those interested in Siberian rarities and Ibisbill, while Costa Rica offers a chance to search for arguably the world's most beautiful bird, the Resplendent Quetzal."

Byron Palacios - Tour Leader
Naturetrek Birdwatching Tours
We have one of the largest selections of professionally organised, small group birdwatching holidays around the world and all of our birdwatching tours are accompanied by at least one professional ornithologist leader with detailed knowledge of the area.
The majority of our bird tours have a relaxed, flexible approach which allows more time for photography, detailed wildlife exploration, leisure time and the region's people, culture, history and architecture, while allowing the group to see a wide range of bird species.


Here is a small selection of our many bird holidays:
Our Bargain Birdwatching Selection
Our Bargain Bird Tours are intensive birdwatching holidays suitable for the serious birder. They are led by expert English-speaking local guides (and not accompanied from the UK by a tour leader). You can expect a higher-paced tour and to spend long hours in the field.