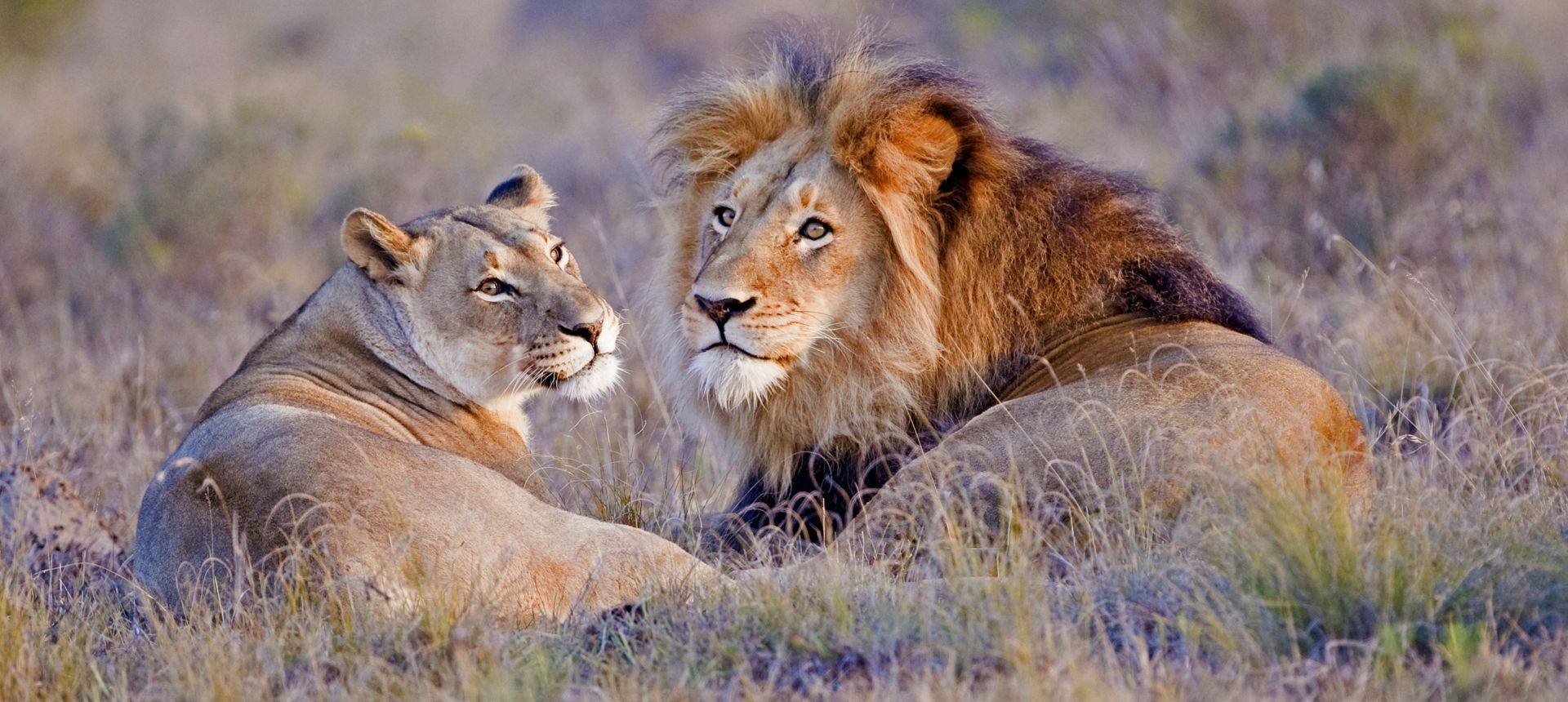 South Africa - Just Cats!
Tour Code: ZAF06
A 12-day tour of South Africa focusing on cats - including Lion, Cheetah, Leopard, Serval and African Wild Cat - and other wildlife, visiting the Kruger National Park and the world-famous Sabi Sand Game Reserve.
This wildlife holiday focuses on South Africa's feline world and offers the very best chance of seeing Africa's cats – both big and small – in the wild. We begin with 4 nights in Kruger National Park, stopping en route to admire the spectacular Blyde River Canyon. Kruger is home to Lion, Leopard and Cheetah, plus Serval, African Wild Cat and Caracal. Elephant, Giraffe, White Rhino and Wild Dog make up the supporting cast along with a colourful birdlife. Moving to Sabi Sand Game Reserve we split our remaining 4 nights between 2 exclusive lodges. Sabi Sands is especially famous for Leopards, but Lion, Cheetah and other cats are also frequently observed. Night drives open up another world of nocturnal possibilities.
A tour designed to maximise cat sightings
30+ cat sightings enjoyed on past tours!
4 nights in Kruger National Park
4 nights in Sabi Sand Game Reserve
Game walks & night drives in Sabi Sand
Visit Blyde River Canyon, third largest canyon in the world
Elephant, Giraffe, Wild Dog & other African mammals
Abundant & colourful birdlife
Learn from our expert South African naturalist leader
Can I help you?


X
Paul Stanbury
Paul graduated in Environmental Science in 1995 and joined the Naturetrek team in January 1996. His keen interests in birds and travel began when aged seven and the intervening years have taken him to many parts of the world. Paul has always had a particular interest in North American wildlife, a fascination which led him to spend the second year of his degree course studying at Western Washington University near Seattle, where he developed a detailed knowledge of the Pacific North-west and its birds. He has also travelled widely in Europe and Africa, and spent three months backpacking around South East Asia from Borneo to Thailand. At present, Paul lives in Petersfield, Hampshire, only 30 minutes from the Naturetrek office in Chawton where he is based.
Outline Itinerary
Day 3/6
Kruger National Park
Day 7/10
Sabi Sand Game Reserve
Day 11
Depart Johannesburg
Flagged as a Just Cats safari in South Africa it became so much more. Thanks to the expertise of our tour leader and local guides and trackers we saw virtually everything there was to see in terms of animals and birds. To see the big five virtually every day as well as all the other animals resting, hunting, feeding, mating etc was a real privilege. And they were all so close so views were spectacular. A never to be repeated experience I feel.

B.J. Hampshire
Food & Accommodation
All meals are included in the price, except for lunches on Days 2 to 7. Allow £70.
We stay in comfortable national park lodges in Kruger and private game lodges in Sabi Sand Game Reserve. All rooms have private facilities.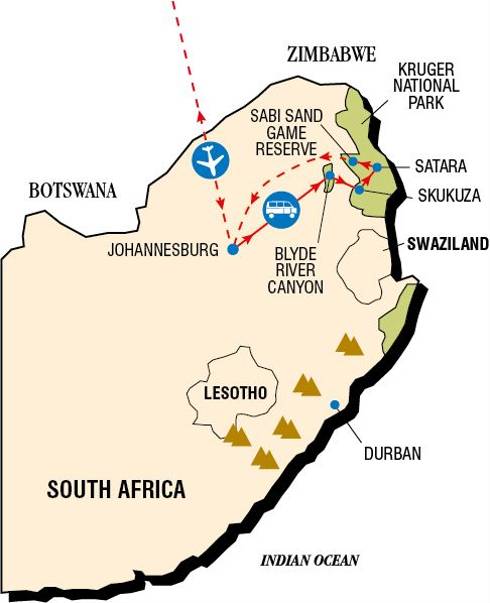 Tour Downloads
Africa is blessed with an unrivalled abundance of mammals and other wildlife. Huge herds of game still roam vast national parks which they share with an equally impressive array of birds, reptiles and other fauna and flora. However, there is one family of animals without which no visit to Africa would be complete: the cats. The 'Big Cats', and their smaller relatives, hold a special appeal for many of us. Not only are they beautiful, sleek and powerful animals, but they are also elusive and superb masters of camouflage, able to shun the limelight and only reveal themselves to the fortunate few. Cats are always a challenge to find, but knowing where to go is half the battle, and although nothing is guaranteed in the world of wildlife-watching, this exciting tour has been specially designed with cats in mind and offers the very best opportunity of seeing Africa's cats, both big and small, in the wild.
Our tour begins with a flight to Johannesburg, where we meet our guide and begin the long drive to the world famous Kruger National Park. We will break the journey with a night at the Blyde River Canyon, a spectacular cleft in the mountains and the third largest canyon in the world. The endangered Cape Vulture is occasionally seen here, soaring high above the rocky escarpments, whilst other wildlife to look out for includes Verreaux's Eagle, Lanner Falcon, Greater Doublecollared Sunbird and the delightful Rock Hyrax, an unlikely cousin of the Elephant!
Completing our drive to the Kruger National Park, we enter this world famous reserve at the Phabeni Gate in the south and drive on to Skukuza, where we stay for two nights. Here begins our quest for wild cats. The southern region of the park is fairly densely vegetated, with two large river systems and numerous rocky outcrops. We will concentrate our activities along the Sabi River, where the permanent water attracts large numbers of Impala. These form the prey-base for the predators of the area and this is one of the top spots in the Kruger for finding the ever-elusive Leopard.
We next drive north to the Satara region, in the central Kruger, where we stay for a further two nights. Satara holds the highest density of Lions in the national park, due to the large numbers of Blue Wildebeest and Plains Zebra attracted here by the lush grazing and open country. Leopards also occur in the area, as do Cheetah, Spotted Hyena and African Wild Dog. We will spend our time here looking for these magnificent animals, and will undoubtedly encounter other species such as Elephant, Cape Buffalo, Common Waterbuck, Greater Kudu and Southern Giraffe as well as an incredible array of savannah birds. An evening/night drive from the camp will provide our best chance of finding one or two of the smaller, and more elusive, cat species, notably African Wildcat, Caracal and Serval.
We now leave Kruger, via the Orpen Gate, and drive into the adjacent Sabi Sand Game Reserve. This 65,000-hectare private reserve, which is part of the Greater Kruger National Park, offers some of the finest predator-viewing in the world, and the chances of seeing Lions, Leopards and Cheetahs simply cannot get any higher! The reserve was established as far back as the 1960s and, by the early 1980s, the very first private lodges were in operation. This long history of conservation, the large size of the reserve, and the ideal habitat it offers are some of the factors making Sabi Sand so special when it comes to cat-viewing. It was in this reserve that a few individual Leopards first became habituated to safari vehicles, a slow process that took over 10 years, and the result of this hard work is daily close-up encounters with these beautiful creatures. Cheetahs are also seen regularly and we hope that time and patience will be rewarded with sightings of the smaller cat species such as Serval.
We will spend four nights in the reserve, staying at two different lodges. This will give us both ample time in the field, as well as time to relax in the beautiful surroundings of our accommodation. Furthermore, all game drives in Sabi Sand are conducted in open vehicles, the perfect vantage place from which to view the reserve's abundant mammals, birds and other wildlife, and ideal for those keen on photography too. Sadly, after four nights at Sabi Sand and, we hope, a variety of memorable encounters with cats and other wildlife, we must leave the peace and tranquillity of the 'African Bush' for the hustle and bustle of Johannesburg from where we catch our return flight home.
Please contact us on 01962 733051 for details on what extensions either pre or post tour are available for this Tour.
Flagged as a Just Cats safari in South Africa it became so much more. Thanks to the expertise of our tour leader and local guides and trackers we saw virtually everything there was to see in terms of animals and birds. To see the big five virtually every day as well as all the other animals resting, hunting, feeding, mating etc was a real privilege. And they were all so close so views were spectacular. A never to be repeated experience I feel.

B.J. Hampshire

We spent many hours viewing lions, leopards and cheetahs at very close quarters admiring their looks and learning much about their behaviour. We also viewed elephants, rhinos, hippos and many smaller animals who live together with the cats in the Kruger. We were also fascinated by the variety and beauty of the bird life. All of this was made so very enjoyable by the skills enthusiasm and knowledge of the excellent guides and trackers who accompanied our trip.

K.N. West Midlands

It was a two week safari trip to South Africa. The main objective was to view the various big cats and mammals of the Kruger Park and Sabi Sands. It involved morning and evening drives in the bush. We moved to several lodges over the area. Each lodge was fantastic. The guides were exceptional and very informative and I would thoroughly recommend this holiday to anyone.

P.E.H. Cheshire

Naturetrek fulfilled my wish for a holiday of a lifetime! It was the most wonderful experience and the wildlife seen was beyond my wildest dreams. We were a small group of 7 with our 2 guides, the perfect mix. Our guides were so knowledgeable and were so happy to share their expertise with us. The tour was perfectly paced, all accommodation very comfortable with a selection of basic camps to more high end when we were at Sabi Sand. Each day got better and better and the bird and wildlife was plentiful. This tour focused on the big cats and we weren't disappointed, lions, cheetahs, magnificent leopards as well as all you would expect to see on a safari. I can't fault anything on this trip and it was a privilege to see nature at its finest.

M.J. Isle of Wight

This was a truly superb holiday, we just didn't want to leave! The local guides (Leon and Rob) were just excellent, the wildlife viewing was exceptional (certainly in Sabi sands – at least one good leopard sighting every day!) and the lodges, particularly Nkoro, were fantastic. We're thinking seriously about going back – and soon!! Thank you to Naturetrek.

A.F. Warwickshire

This was a truly amazing holiday. I realised an ambition of 20 years to photograph leopards up close. The guides were superb and professional. Couldn't have asked for better.

S.D. Powys

The two sightings of leopards in Sabi Sands, were the highlight of my trip, also the wild dogs with kill and herds of elephants. Sabi Sands, lovely setting, everyone so friendly and professional, great to end the holiday on a high.

E.L. Liverpool

The local agents were excellent, very knowledgeable and friendly. Nothing was too much trouble and they made our first visit to South Africa memorable and we would certainly like to return.

P.N. Suffolk

A fantastic wildlife experience, amazing to get so close to totally wild large (and small!) mammals, and to watch them interacting and leading their lives. Great to see that the reserves (both Kruger and Sabi) are being so well managed and that the wildlife is flourishing there. Particularly exciting were the leopards, the lions eating a kudu, the hyena den with cute cubs, and the jackal family. The game drives in Sabi are superbly well organised. Our drives in Kruger led by Leon and Rob were superb, they were both excellent leaders. Birds were wonderful and also the lizards, invertebrates, etc, so a lot more to this holiday than just the mammals.

S.W. Nottinghamshire

This was a wonderful holiday with fantastic wildlife sightings. The guiding from Toby and John was great - they are both so knowledgeable and caring.

L.G. Hertfordshire

This is a well organised and well thought out tour and one which I enjoyed very much. Lions were the stars of the holiday and we witnessed some great interactions between pride members as well as other animals including a (successful) hunt of a buffalo. Another major highlight were the Leopards we encountered, including a female with 2 cubs (aah!). The variation of locations within both the Kruger and Sabi Sands helped achieve this.

V.K. Worcestershire

We really appreciate the effort made to make this a special trip for us and to tailor each day to take most advantage of the available opportunities to sight wildlife. It was an exceptionally well organised, friendly and memorable holiday.

Mr & Mrs B. Cumbria

The itinerary was in the right order, climaxing in wonderful, intimate wildlife viewing in Sabi Sands. The ability to go off-road and to witness animal behaviour at close quarters was a privilege.

Mr & Mrs P. West Sussex