The Jaguar is South America's most iconic big cat. Notoriously secretive and stunningly beautiful, seeing one of them in their natural habitat ranks among the world's most memorable wildlife experiences. We offer dedicated Jaguar watching tours to Brazil, and the area we visit in the Pantanal offers the very best chance of anywhere in all of South America. Our groups have seen these beautiful wild cats in Tambopata, Peru (on the Macaws and Machu Picchu tour) and in the Iwokrama Rainforest in Guyana (on the Guyana – Timeless Paradise excursion), although sightings in both these localities are far less frequent than in the breathtakingly wildlife-rich Pantanal.
Featured Jaguar Watching Tours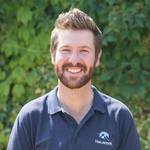 Our Jaguar Watching Specialist Recommends
"If you want a holiday dedicated to looking for these magnificent cats, you can't do any better than our 'Brazil – Just Jaguars!' tour. This tour gives you the optimum amount of time for not only finding Jaguars but also to enjoy a great range of behaviours. We've seen them hunting Caiman, swimming the river channels, mating and even having a tug of war with a Yellow Anaconda! For those who want to stay longer and explore a greater variety of habitats I'd recommend our 17-day 'Brazilian Pantanal & Iguazu Falls' tour. You'll see a host of fantastic wildlife on either trip!"

Tom Mabbett - Operations Manager
Jaguar Watching Holidays with Naturetrek
We offer one dedicated tour for seeing Jaguars (Brazil – Just Jaguars!) and we're proud to say that, to date, our 12-day excursion has a remarkable 100% record of success. The elusive big cats have also been seen on our 17-day 'Brazilian Pantanal & Iguazu Falls' holiday and shorter 10-Day 'Mammals of the Pantanal' holiday both also with 100% success.

We have a wealth of experience offering wildlife tours to South America and have developed an extensive network of the very best naturalist guides in Brazil. Our itineraries to the Brazilian Pantanal, stay at the very best locations for the right amount of time, which is what's allowed us to achieve a 100% sighting success rate. At Naturetrek it's paramount that our holidays aid wildlife conservation, and in the Pantanal the power of ecotourism to protect wildlife-rich habitat is evident – as income from tourism has grown, so too has the area of Jaguar habitat, as has the number of Jaguars. Land previously used for farming is being rewilded, and Jaguars which were previously seen as a threat to livestock are now viewed as a valuable commodity. Our holidays stay at a Jaguar research station, which is located better than anywhere to see these iconic cats.

Our Jaguar watching holidays in the Pantanal actively seek the other wonderful wildlife, such as Giant Otter, Brazilian Tapir, Ocelot, Giant Anteater, Toco Toucan and Hyacinth Macaw, plus a multitude of other exciting species.
Why Our Jaguar Watching Tours are So Successful
100% sightings on our "Just Jaguars!" holiday
Led by expert naturalist guides
Visit regions famous for their density of wild Jaguars
Up-to-date information from local contacts
Outings at optimal times of the day when the wildlife is most active
Night drives, plus early morning and late afternoon excursions
Superb local guides whose expertise and knowledge guarantee us the best sightings
We stay in the right areas for the right amount of time
What can I expect on a Jaguar watching holiday?
Explore the Pantanal by day on boat trips & in open vehicles
Night outings with spotlighting
Spend time in prime big cat habitat with two dedicated outings each day
The chance to be immersed in another culture
A host of other wildlife including Ocelots, Giant Anteaters, Hyacinth Macaws, Giant River Otters, Caimans and Capybaras
The security of a small friendly group and a highly experienced leader