The Ultimate Guide to Watching African Wild Dogs

This email address is being protected from spambots. You need JavaScript enabled to view it.
For wildlife lovers, Africa captures the imagination like nowhere else. Its national parks, game reserves and other wild places teem with the most awe-inspiring fauna on our planet, including the famous 'Big Five': Lion, Leopard, Elephant, Buffalo and Rhino. For first-time visitors to the continent, it is often these animals, alongside other icons such as Cheetah, Hippo and Giraffe, that come at the top of the 'wildlife wish list'. However, for more seasoned safari-goers it is frequently another species, much rarer and more elusive, that is the most sought-after prize: the African Wild Dog (sometimes known as the Painted Wolf). And, while Africa offers a spectacular variety of different safari options, if you want to successfully track down African Wild Dogs, you'll need to know exactly where, how and when to go; here, we reveal our top tips for finding this wonderful and fascinating species.
Best Places to see African Wild Dogs
Of all Africa's large carnivores, the African Wild Dog is perhaps the hardest to find on a traditional safari (across the continent, only the localised Ethiopian Wolf is fewer in number). They naturally live at very low densities, with each pack ranging over hundreds (or even thousands) of square kilometres, often covering great distances every day in order to find food and avoid the attention of dangerous predators such as Lions. As a result, only the very largest game reserves and wilderness areas (even by African standards) can support viable populations; furthermore, African Wild Dogs have disappeared from many areas through a combination of habitat loss and infectious diseases. This all means that there are very few places where African Wild Dogs remain common, and which can therefore offer visitors a reasonable chance of a sighting. Nevertheless, there is still a good number of options for the African Wild Dog enthusiast.
One of the very best places to look for African Wild Dogs is northern Botswana, particularly in the area around the extraordinary Okavango Delta. This region is one of the last great strongholds for the species, with a healthy population extending all the way from the Namibian border in the west to Zimbabwe's Hwange National Park in the east; there is no better place to look for Wild Dogs. Our 'Botswana's Desert & Delta' tours have an excellent success rate for sightings. For those who prefer not to travel in a group, there is a superb range of private lodges available in the heart of African Wild Dog country which we can easily include in a tailormade itinerary.
Of all Africa's many protected areas, the Selous Game Reserve in Tanzania supports the largest remaining single population of African Wild Dogs, with around 800 individuals. However, as Selous is around 50,000 square kilometres in size, even here they are few and far between! Our 'Selous & Ruaha - Undiscovered Tanzania' tour has produced regular sightings over the past few years, both in Selous and in the nearby Ruaha National Park, another stronghold. Once again, both reserves offer wonderful private lodging options for tailormade clients. Another great benefit of these lesser-known parks is that they are far less crowded than destinations in northern Tanzania such as the Serengeti.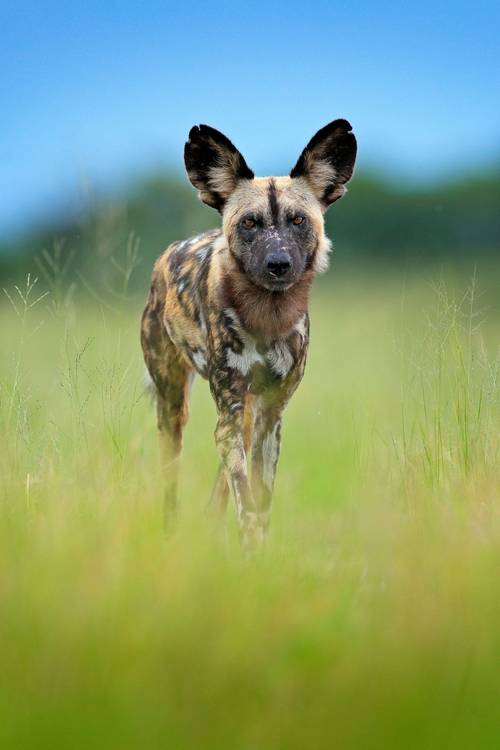 South Africa's Kruger National Park is another large reserve that protects a viable population of African Wild Dogs. Although there are only around 250 individuals in the park, they are concentrated in the game-rich southern area between the Sabie and Crocodile Rivers, which can make them easier to find. In addition, Kruger's excellent network of tarred and dirt roads means that it's possible to drive considerable distances in a day – perfect for tracking down such a wide-ranging species. As with all the locations on this list, finding African Wild Dogs here requires a healthy dose of good fortune, but our mammal-watching tours to Kruger have enjoyed a success rate of over 50% in the last few years. As well as group tours, Kruger is the perfect destination for a tailormade holiday, either on a self-drive safari or in one of the many luxurious private reserves and concessions around the park, such as the world-renowned Sabi Sand; there are even several properties on which African Wild Dogs regularly den.
South Africa also has an extensive network of private game reserves, many of which are home to African Wild Dogs. While these smaller reserves are usually large enough to support only one or two packs, they can often provide an excellent chance of sightings. The 750-square-kilometre Madikwe Game Reserve, on the border with Botswana near Gaborone, has Wild Dogs as its flagship species, while the Tswalu Kalahari Game Reserve (the largest private reserve in South Africa at over 100,000 hectares), has a thriving dog population as well as other exciting species such as Ground Pangolin. These reserves are excellent destinations for tailormade travellers who wish to see African Wild Dogs while enjoying all the benefits of a private safari.
Zambia's
South Luangwa National Park is a reserve with a growing population of Wild Dogs, and our mammal-watching tours here turn up dogs more often than not. For another tailormade option, we can also suggest Mana Pools National Park in Zimbabwe; this is where the 'Painted Wolf' episode of the BBC's 'Dynasties' series was filmed, and it offers the chance to see African Wild Dogs along the spectacular banks of the Zambezi River.
How to see African Wild Dogs
The best approach for seeing African Wild Dogs is to go to the right place. There is practically nowhere that they are truly guaranteed, but visiting the strongholds listed above will give you the best possible chance. Nevertheless, there are several strategies you can adopt to maximise your chances of a sighting.
Firstly, make sure you travel with expert local guides. African Wild Dogs may be elusive and highly unpredictable, but having a guide who knows their behaviour intimately can make a huge difference. On all Naturetrek holidays, both group tours and tailormade, we ensure that you are travelling with dedicated, knowledgeable guides who really care about helping you find your target species. In certain areas, guides may even be familiar with particular individuals within a pack, understanding their personalities and using this to your advantage.
While large wilderness areas such as northern Botswana are perhaps the very best places to look for African Wild Dogs, smaller private reserves can sometimes offer more predictable sightings, especially if you only have a few days to spare. As these reserves often only contain one or two packs, guides usually have a very good idea of their current or recent location, which can make finding them much more straightforward. One or two individuals within the pack could even be radio-collared, enabling guides to track the dogs precisely. African Wild Dogs are also highly intelligent predators, and have learnt to use the border fences of private reserves to trap their prey; this can make it easier to find them when they're on the hunt.
If you've decided to do a tailormade self-drive safari, then although you won't be able to benefit directly from a local guide, we will advise you on the best routes to take and where you can obtain the latest local information.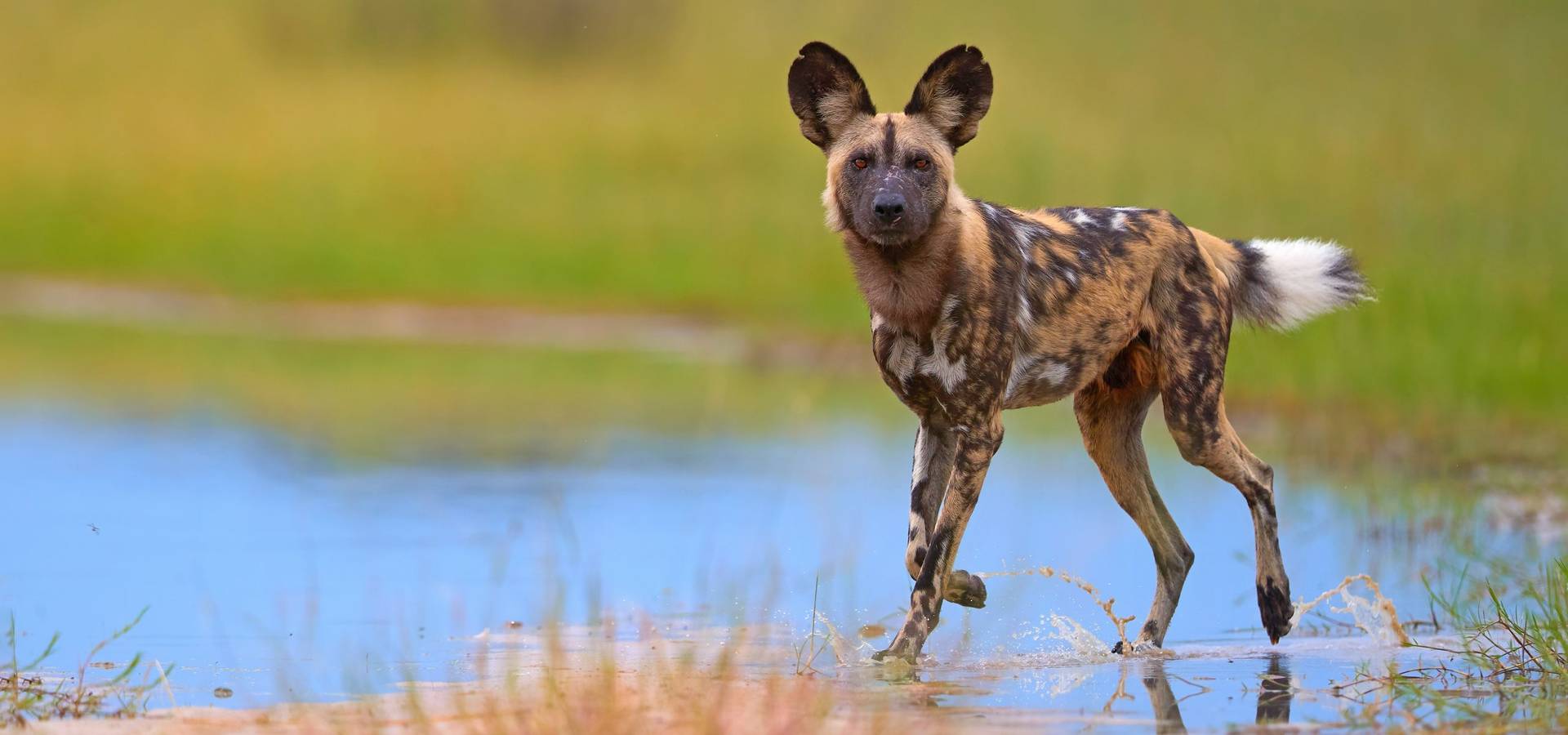 When to see African Wild Dogs
African Wild Dog packs defend permanent territories, and are therefore generally found in the same areas year-round. However, there are certain aspects of their behaviour that can make them easier to see at particular times of year.
Across southern Africa, African Wild Dogs breed during the cooler dry season, typically between June and August. Throughout the rest of the year, a pack could range over hundreds of square kilometres, but during this period they are confined to a much smaller area within the vicinity of their den. If you are travelling with excellent guides, who know how to locate den sites, then the breeding season can provide guaranteed daily sightings, including, with luck, of very young pups. Particularly for tailormade clients, we can advise on lodges and reserves with fantastic track records at locating African Wild Dog dens.
However, African Wild Dogs often choose to breed in remote or inaccessible areas, and if a den site simply cannot be located (or if it's far from any vehicle track) then a whole pack could go unobserved for several months. Sometimes it's simply a matter of luck. However, after a couple of months, the new pups begin to join the pack as they move around and hunt. At this time, the pack will be mobile enough that they may move into more accessible areas, even if they weren't seen at all during the denning period. On the other hand, with pups in tow African Wild Dogs cannot travel great distances, which can make them easier to track. This time immediately following the breeding season (around August to October in southern Africa) can therefore produce consistent and excellent African Wild Dog sightings (plus the pups are adorable at such a young age!).
During the green season, when southern Africa experiences most of its rainfall (generally November to March), African Wild Dogs' movements are restricted neither by denning nor by the presence of young pups. This is the time of year when they cover the greatest distances, and range over the widest areas. Although you might think this would make them more elusive, this can also be an excellent time to look for Wild Dogs. For example, in recent years our tours to Zambia's South Luangwa National Park have enjoyed more reliable sightings during the green season, as African Wild Dogs move away from their breeding areas and closer to the main safari lodges. With the rains also comes a surge in green growth, which can make the vegetation quite hard for animals to navigate in many reserves. At this time of year especially, African Wild Dogs love to travel and hunt on roads and tracks, which offer a much more efficient route through the dense bush. If you and your guide happen to be in the right place at the right time, a special sighting awaits.
Ultimately, however, although each season has its own unique flavours and appeal, there is no bad time of year to look for African Wild Dogs, and our holidays (both group tours and tailormade) have enjoyed wonderful encounters with this incredible species throughout the year
Expert-guided African Wild Dog Holidays
We offer a variety of holidays on which you can search for African Wild Dogs, all of them led by expert naturalist guides. Several of our group tours have African Wild Dogs as a focus, and regularly produce memorable sightings. Tours on which there is a good chance of African Wild Dogs include:
For those who prefer not to travel as part of a group, we can design a tailormade itinerary that gives you the very best chance of finding African Wild Dogs. While a group tour would always target Wild Dogs as a priority species, a tailormade experience guarantees that you can take the time to focus on your personal priorities, be they African Wild Dogs or anything else. If you would like to discuss taking a holiday to look for African Wild Dogs, as well as a wealth of other exciting African wildlife, please give us a call on 01962 733051, or email This email address is being protected from spambots. You need JavaScript enabled to view it..