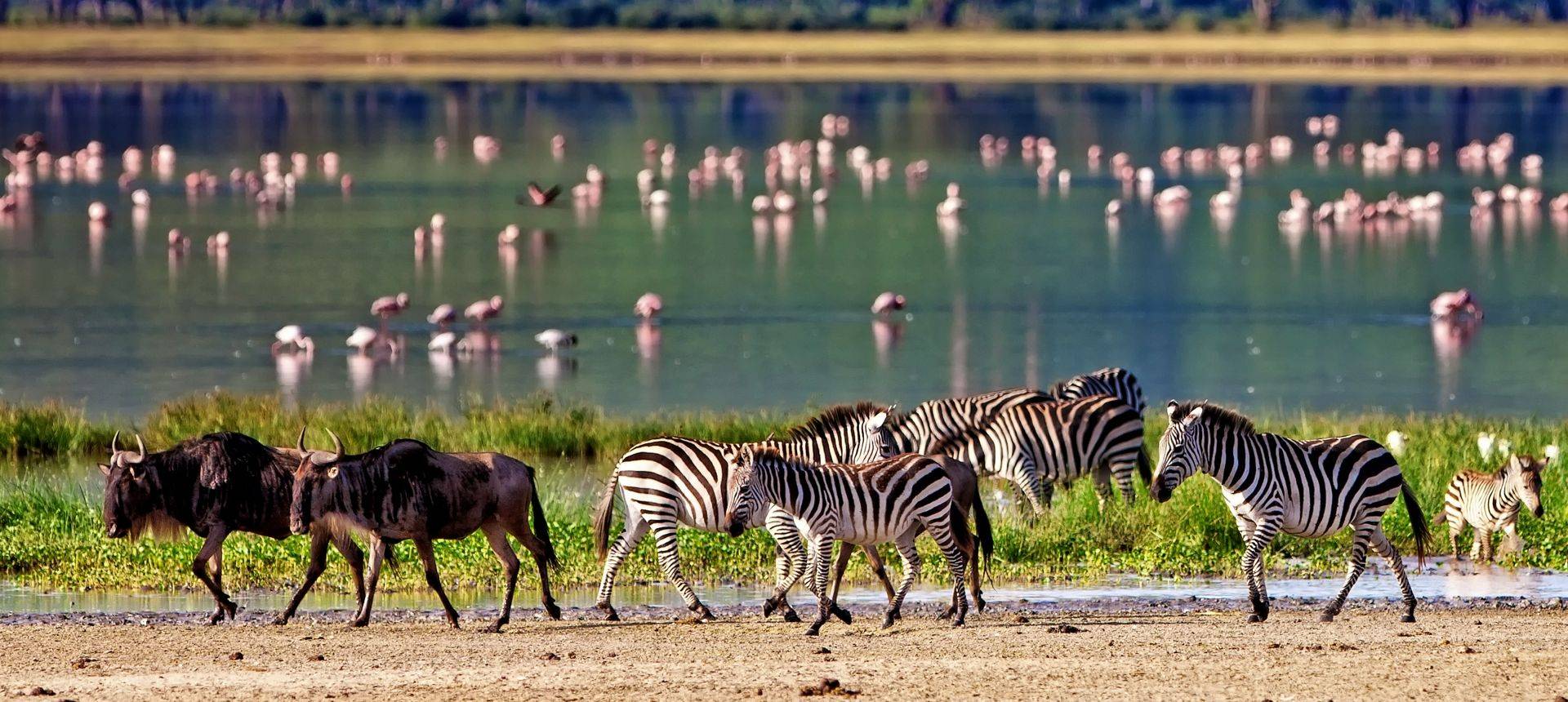 Tanzania Highlights
Tour Code: TZA01
A 15-day birdwatching and mammal-viewing safari through the magnificent national parks of Arusha, Tarangire, Ngorongoro, Lake Manyara and Serengeti.
The string of national parks that lie along Tanzania's northern border with Kenya offer some of the best game and wildlife viewing in all of Africa. Starting in Arusha National Park, beneath the snow-capped peak of Mount Kilimanjaro, this popular wildlife safari next moves to Tarangire National Park home to Elephants, African Buffalo, Masai Giraffe and Lions. We then explore Lake Manyara, set in the Great Rift Valley, before entering the world-famous Serengeti for 4 nights split between the central and south of the reserve. Between December and April 1.2 million Blue Wildebeest, and thousands of Plains Zebra and gazelles, crowd the Serengeti's short grass plains alongside Masai Giraffe, Elephant, Thomson's Gazelle, Lion, Cheetah, and numerous birds. Stopping enroute at Olduvai Gorge we end in the spectacular Ngorongoro Crater one of the world's natural wonders and a fitting finale to the tour.
Visit the world famous Ngorongoro Crater
Witness the Wildebeest migration on the short-grass plains of the southern Serengeti
Game drives in Arusha, Tarangire & Lake Manyara National Parks
Visit Olduvai Gorge, 'The Cradle of Mankind'
Abundant birdlife
Lion, Cheetah & Bat-eared Fox all likely
Comfortable landcruisers with opening roof & guaranteed window seat
Led by expert natural history guide
Can I help you?

For expert advice call +44 (0) 1962 733051

Operations Manager

X
Paul Stanbury
Paul graduated in Environmental Science in 1995 and joined the Naturetrek team in January 1996. His keen interests in birds and travel began when aged seven and the intervening years have taken him to many parts of the world. Paul has always had a particular interest in North American wildlife, a fascination which led him to spend the second year of his degree course studying at Western Washington University near Seattle, where he developed a detailed knowledge of the Pacific North-west and its birds. He has also travelled widely in Europe and Africa, and spent three months backpacking around South East Asia from Borneo to Thailand. At present, Paul lives in Petersfield, Hampshire, only 30 minutes from the Naturetrek office in Chawton where he is based.
Outline Itinerary
Day 3
Arusha National Park
Day 4/5
Tarangire National Park
Day 6/8
Ngorongoro Crater
Day 9/12
Serengeti National Park and Olduvai Gorge
We believe Tony Williams is one of the best natural history tour leaders we have met. His knowledge of birds was extensive and he helped everyone to spot as many different species as possible...We greatly enjoyed seeing such a wide variety of mammals and birds in Tanzania and we intend in due course to travel again with Naturetrek.

J. & J.G. Devon
Food & Accommodation
All meals are included in the price, except for lunch on day 2 and dinner on day 14.
We stay in comfortable safari lodges with private facilities.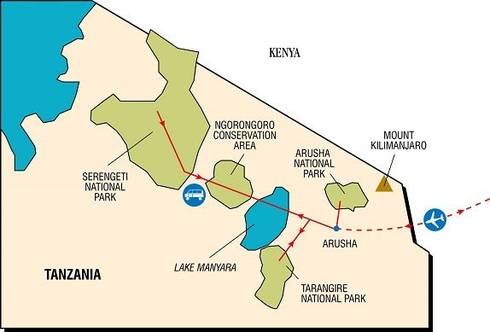 Tour Downloads
Tour leaders
Zul Bhatia

Tour leader

Rob Mileto

Tour leader

Tony Williams

Tour leader
The magnificent game-laden lands of Africa are unique. Some of the best of them are in Tanzania. Here, Lions and Cheetahs may still enjoy a meal, free from the gaze of all-encircling tourist buses, and the largest concentrations of mammals anywhere in the world may be found. With a remarkable 35% of its area set aside for the preservation of this unique heritage, Tanzania offers such globally threatened species as the Black Rhinoceros a measure of protection that hopefully may save them from extinction.
On this tour we concentrate on northern Tanzania, an area of superlatives and variety. We explore beautiful soda and freshwater lakes, the great grasslands of the Serengeti, and the spectacular Ngorongoro Crater. Covering such a range of habitats and altitude zones, we will encounter a great variety of mammals, and also birds, for conveniently the national parks harbour the best of African birdlife, from the giant Ostrich to tiny finches and colourful weavers.
We begin our holiday in Arusha National Park, a microcosm of Tanzanian scenery. Spectacularly set between the huge volcanic peaks of snow-capped Kilimanjaro and rugged Mount Meru, the park is a verdant wilderness where monkey-filled rainforest encompasses the undisturbed Ngurdoto Crater and the beautiful Momella Lakes that hold Hippos, waterbirds, and the reflection of Mount Kilimanjaro. African Buffalo, Olive Baboon, Bushbuck, Warthog, Masai Giraffe and Guereza Colobus may be seen; whilst, amongst an abundant birdlife, we will look out for African Pochard and Maccoa Ducks on the lakes, and White-eared and Brown-breasted Barbets in the woodland.
We drive next to Tarangire National Park, where thousands of animals from the southern Masailands must come regularly in search of water from the Tarangire River. In the park's rolling bushland and savannah, punctuated with spectacular Baobab Trees, African Buffaloes, Eland, Impala, Elephants and Lesser Kudu may be found, together with such bird species as Crested Francolin, Yellow-collared Lovebird, Brown and Orange-bellied Parrots, Northern Pied Babbler and Magpie Shrike. Next we visit the legendary Ngorongoro Crater. Permanently watered, the crater's 225 square kilometres support a year-round residential population of thousands of mammals. Amongst great herds of Blue Wildebeest, African Buffalo and Plains Zebra, we will see Lions, Black-backed Jackals and Spotted Hyenas. Most notably, the crater is perhaps the best place in all of Africa to see the endangered Black Rhinoceros.
Birdwatching is excellent at Ngorongoro; the lakes and rivers attracting abundant wetland species, and the grasslands holding Ostriches, bustards, Secretary Birds, eagles and vultures. On the crater rim the lush montane forest holds an entirely different range of species which we may encounter around our lodge and on early morning and evening walks. Here we will also meet the people of the Masai tribe, proud, elegant and well attuned to their environment.
The Serengeti National Park's 14,673 square kilometres of acacia-dotted plains hold 1.3 million Blue Wildebeest and 2,000 Lions; its selection of other mammals and birds is mouth-watering. We have four full days to sample the wealth of this great African wilderness.
Leaving the Serengeti we will stop at the Olduvai Gorge —'Cradle of Mankind' — the famous archaeological site where Dr. Leakey discovered the 2-million-year-old remains of the Nutcracker Man, alongside those of prehistoric elephants and giant ostriches. Even today it is an area teeming with game.
Lake Manyara is our last port of call. Its hotel and pool, beautifully perched on the wall of the Great Rift Valley, overlook the forest, plains, and flamingo-lined lake of the national park where we will search for its particularly large Elephants, tree-climbing Lions, and abundant birdlife.
Please contact us on 01962 733051 for details on what extensions either pre or post tour are available for this Tour.
We believe Tony Williams is one of the best natural history tour leaders we have met. His knowledge of birds was extensive and he helped everyone to spot as many different species as possible...We greatly enjoyed seeing such a wide variety of mammals and birds in Tanzania and we intend in due course to travel again with Naturetrek.

J. & J.G. Devon

We had some truly amazing sightings and views of most animals and the whole experience was far beyond my expectations.

S.R. Cambridgeshire

This is the 3rd successive trip we have taken with Naturetrek and each has been excellent in its own way. The holiday fulfilled our wish-list for wildlife so we were very happy with our choice. We really had an exceptional holiday and enjoyed wonderful scenery and wildlife - I am sure we will be using Naturetrek again in the near future!

D.B. Berkshire

Having Zul as tour leader and guide was an asset, his knowledge of birds and wildlife made the holiday so enjoyable. He ensured that the entire group saw whatever had been spotted. His sense of humour made it all the better. We saw so many beautiful sightings. I had tears in my eyes seeing and hearing a mother Cheetah calling her young baby - eventually she went to find her baby and brought it to the kill. Magical. Edward and Roman from Ranger Safaris were marvellous drivers and guides. We nick-named Edward Eagle-eyes, always with an eye open to tell us of a bird or animal that we could easily have missed as they are well camouflaged. My friend and I both say it was one of our best holidays for birds and animals. The group that we were with seemed to get on well together. It was a really memorable holiday: I would love to go again. I am sure that my friend and travelling companion S.J. sends her thanks and best wishes too.

B.G. Glamorgan

Zul Bhatia was a brilliant leader - and I have very high expectations! The drivers are a real credit - they were excellent! Nothing was too much trouble. The whole trip was a wonderful experience! Thank you for enabling me to have the opportunity of sharing in it!

M.V. Worcestershire

This holiday was more than I expected and thoroughly enjoyed. I would recommend it to anyone who was visiting Africa for the first time and who wanted to meet such friendly people.

J.Y. Nottinghamshire

The Wildlife sightings were simply amazing, Lion, Cheetah, Leopard, thousands & thousands of Zebra & Wildebeest, fantastic bird sightings and highlights of 12 Lions in one tree and Wildebeest calving. Tour guides were 1st rate, very friendly and knowledgeable, accommodation was fantastic with views in Tarangire & Ngorongoro outstanding, food excellent and spending a couple of nights in tented accommodation very special. The whole holiday was a fantastic experience, well run, and excellent itinerary.

D.W. Bedfordshire

A superb tour which fully lived up to expectations. I saw 370 bird species and mammal sightings included 16 cheetahs, 10 Black Rhino, Lions galore and 1m+ Wildebeest. Timing of the tour was perfect, coinciding with incredible numbers of animals in the Southern Serengeti. The leaders were really excellent.

D.M. Kent

Tanzania is a beautiful country in habituated by friendly, cheerful people who were always ready to help. The scenery was superb. The weather was excellent, the food and accommodation were all 'A' grade. Zul was an excellent tour leader who knew his subject well and was always ready to inform and guide us on our trips – he had a good sense of humour too! (great fun!). Our driver Yahaya was a very knowledgeable man who had the eyes of a hawk and was responsible for spotting wildlife long before anyone else. He was also a very good driver, a comforting thought when travelling on the off tarmac roads. I was inspired by the determination of the kids at school who were so keen to do well and the quality of the work I saw was so good…I could go on and on but I won't! Jambo!

R.V. Hampshire

This was a truly fantastic and memorable safari experience, of which one can say that it really exceeded expectations. The excellent quality and content of the itinerary was complemented by an outstanding leader in Zul who was knowledgeable, enthusiastic, friendly and sociable, and an efficient, helpful and friendly driver with a vehicle appropriate for the tour. Zul's fluency in the local Swahili language was an invaluable asset.

P.C. Leicestershire

The trip leader was excellent - knowledgeable, personable and helpful. He enhanced the trip.

S.H. Essex

An excellent trip, with a first class leader and an excellent driver. We thought the itinerary was well planned to give a variety of habitats and species.

J.A. London

The knowledge and helpfulness of the tour leader, and the knowledge and consideration of our driver/guides made this one of our most memorable trips.

C.W. Lincolnshire

Beautiful lodges, excellent guides, brilliant tour leader. A really good trip.

Mr & Mrs B. Oxfordshire

I thought the trip leader and drivers were exceptional with both their knowledge and professionalism making sure everyone got the best out of the trip.

L.B. Norfolk

I loved it all. The scenery and wildlife was unbelievable. We were so privileged to see such amazing creatures so close up. The accommodation, food and service was excellent. The drivers and the leader (Nick Acheson) were fantastic.

L.A. East Sussex

The overall quality of the tour was excellent, I would recommend Naturetrek to anybody who wants to go on a wildlife trip. The organisation was first class, a really great trip.

K.W. Merseyside