African Wildlife Holidays – See Africa's Big Five
Why choose our African wildlife safaris?
When people think of visiting Africa, safari holidays are regularly at the top of the list. Riding in an open-top jeep along dusty tracks and looking out across the sun-baked savannah teeming with big game is arguably one of life's best experiences.
For the wildlife enthusiast, Naturetrek Africa safari holidays offer unparalleled opportunities. The continent holds a staggering variety of wildlife, including some of the world's most iconic mammals and birds. Many of these animals are incredibly abundant in number and relatively easy to observe, guaranteeing that our African safari tours are full of amazing sightings.
From the Okavango Delta in Botswana and Zambia's South Luangwa National Park, to Namibia's Etosha National Park and Kruger in South Africa, our African wildlife safaris ensure that the continent is truly unmissable.
Classic African safari holidays
We offer classic safari-style packages to Botswana, Zambia, Kenya, Tanzania, South Africa and Namibia. On these African safari tours you will stay in or very near the prime game-rich areas such as national parks and reserves, heading out daily for wildlife watching in vehicles. There will usually be additional chances to join night drives and look for nocturnal species.
On the majority of our African wildlife safaris, even those in our bargain range, we are able to use superb accommodation, even in remote locations … and tented, fully serviced camps with private facilities are the norm.
Expert naturalist guides
All of our African safari tours are led by expert naturalist guides. Our bargain tours are led solely by local naturalists, while on most of our other safaris there is a Naturetrek naturalist leader from the UK in addition to local guides.
What wildlife might I see?
Africa is the best place in the world for seeing large concentrations of big game such as Elephant, Lion, Buffalo, Giraffe and Wildebeest. On Naturetrek's African safari tours we visit some of the world's most famous national parks and reserves such as the Serengeti and Masai Mara as well as some more remote regions, in search of a superb variety of the continent's mammals from Hippos and Leopards to bushbabies and African Wildcats.
The birdlife is staggering. Naturetrek's African wildlife safaris offer a chance to search for a superb variety of species, from flamingo-lined lakes in the Rift Valley and giant Ostriches strutting across endless savannah, to tiny finches and colourful bee-eaters.
---
Our specialist recommends...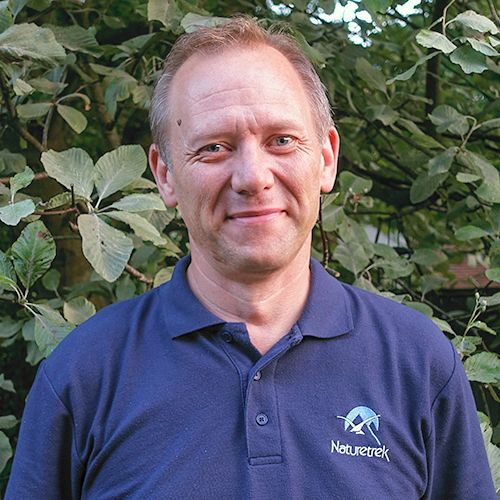 "We offer a superb choice of expert-led African safari holidays ranging from 9-day Zambian Bargain Mammal and Zambian Bargain Bird safaris to a 17-day bird watching and mammal viewing safari through Namibia, Botswana and Zambia. Prices start at about £1,895 for a 10-day safari."

Paul Stanbury - Operations Manager