Wildlife Photography Workshops with Expert Tuition
Our dedicated wildlife photography workshops are aimed at wildlife photographers of varying levels of experience and ability, including beginners with ambitions to learn and improve, keen amateurs looking to hone their skills, and accomplished photographers seeking exceptional photographic opportunities.
Featured Photography Tours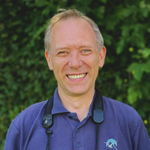 Our Photography Specialist Recommends
"Our 'Mull's Otters and Eagles' holiday provides fantastic opportunities to photograph charismatic wildlife in a stunning natural setting, allowing plenty of time to hone your technique with the aid of an expert photographer (me!). If you're looking for a long-haul option, our 20-day photography holiday to Madagascar has it all; unique wildlife and landscapes, bizarre and beautiful subjects for macro photography, stunning night skies for astrophotography and a popular leader with outstanding credentials."

Paul Stanbury - Operations Manager
Naturetrek Wildlife Photography Holidays
We work with outstanding photographers who share our goals of spending quality, informed time watching – and capturing – once-in-a-lifetime moments. Joining one of our wildlife photography tours will not only improve your technique and sharpen your reflexes, but will also optimise your chances of capturing memorable, high-quality images of some of the world's most sought-after species. Group sizes on these holidays are strictly limited, not only to allow you plenty of room in which to work, but, just as importantly, to enable you to benefit from the dedicated time of our expert leaders. Our leaders aim to challenge your approach to photography, giving you the chance to pursue new avenues of creativity. They are also expert naturalists, enabling them to provide insight that will help you see your subjects in a new light, and improve your ability to predict and capture interesting behaviour.
Our tours offer:
Expert advice on how to get the most out of your equipment
Expert advice on composition and photographic technique
Photo editing tuition fills time that is unproductive for shooting
Extended time in hotspots to allow a focus on target species such as Jaguars, Tigers, bears, puffins and otters
Picturesque landscapes, visited at optimal times
Limited group size
Like-minded travelling companions