Join us for a Virtual Open Day
We normally run Open Days at our Mingledown Barn offices on the first Friday of every month. Due to the Coronavirus pandemic, we are not able to do this, so we are now offering Open Days online instead!
Our next three Open Days:
Watch our Moth-trap Online
On this page, at 11:30am on each Open Day, you can join moth expert Dave Shute as he reveals the contents of our moth-trap, which we will have recorded that morning. Tune in here to see what species we have caught overnight in our meadow!
Species list from our August 7th Open Day
Pebble Hook-tip
Chinese Character
Satin Lutestring
Least Carpet
Small Fan-footed Wave
Riband Wave
Single-dotted Wave
Dark-barred Twin-spot Carpet
Small Phoenix
Lime-speck Pug
Clouded Border
Brimstone Moth
Dusky Thorn
Scalloped Oak
Peppered Moth
Willow Beauty
Pine Hawkmoth
Poplar Hawkmoth
Pale Prominent
Yellow-tail
Rosy Footman
Dingy Footman
Scarce Footman
Common Footman
Four-spotted Footman
Buff Ermine
Ruby Tiger
Heart and Dart
Shuttle-shaped Dart
Double square-spot
Six-striped Rustic
Clay
Smoky Wainscot
Coronet
Copper/Svensson's Copper Underwing
Straw Underwing
Dun-bar
Common/Lesser Common Rustic agg.
Rosy Rustic
Uncertain/Rustic agg.
Nut-tree Tussock
Straw Dot
Micros:
Small Magpie
Mother of Pearl
Udea prunalis
Catoptria pinella
Euzophera pinguis
Endotricha flammealis
Pseudagyrotoza conwagana
Cochylis atricapitana
Species list from our July 7th Open Day
Drinker
Peach Blossom
Buff Arches
Blood-vein
Small Fan-footed Wave
Riband Wave
Yellow Shell
Phoenix
Barred Straw
Clouded Border
Scalloped Oak
Swallow-tailed Moth
Willow Beauty
Engrailed
Common White Wave
Poplar Hawkmoth
Elephant Hawkmoth
Small Elephant Hawkmoth
Buff-tip
Yellow-tail
Rosy Footman
Scarce Footman
Common Footman
Buff Ermine
Heart & Club
Heart and Dart
Green Arches
Broad-barred White
Clay
Smoky Wainscot
Common Wainscot
Shoulder-striped Wainscot
Common/Lesser Common Rustic agg.
Uncertain/Rustic agg.
Marbled White Spot
Burnished Brass
Plain Golden Y
Spectacle
Fan-foot
Small Magpie
Evergestis limbata
Common Plume
Mother of Pearl
Udea prunalis
Species list from our June 5th Open Day
Common Swift
Small Elephant Hawkmoth 
Marbled Brown 
Orange Footman 
White Ermine
Heart and Dart
Flame Shoulder
Setaceous Hebrew Character
Small Square-spot
Shoulder-striped Wainscot
Brown Rustic
Rustic Shoulder-knot
Marbled Minor
Middle-barred Minor
Treble Lines
Mottled Rustic
Vine's Rustic
Burnished Brass
Straw Dot
Small Magpie (a micro species)
Book a video appointment
Our Operations Managers will be available to chat to you over a video call throughout the Open Day, every hour, on the hour. To book an appointment: please call Annie on 01962 733051 or email Annie to register your name, tour (or area) of interest, and to arrange a time for a specialist to call you. Please note, you will need a laptop or smartphone with internet access for the video call, which we will do via "Zoom" (and will provide you with a link to connect you to your booked Operations Manager).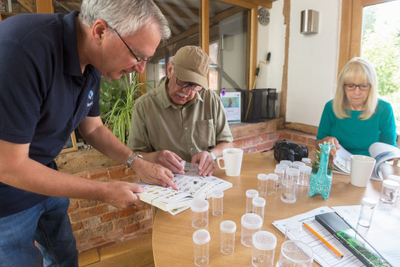 Identifying moths with Dave Shute (Tom Ambrose)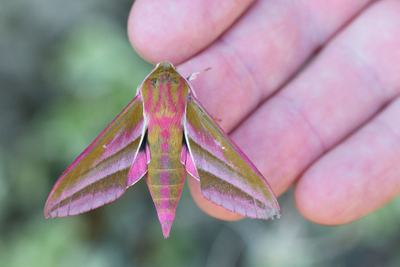 Elephant Hawk-moth (Tom Ambrose)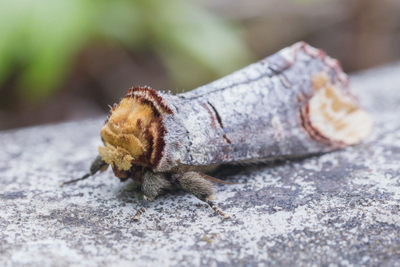 Buff-tip moth (Tom Ambrose)
Review
"We would like to thank you for your exceptional special open day on 14th June. Your hospitality and in depth knowledge of moths, butterflies and orchids made for such an interesting morning! We thoroughly enjoyed ourselves."
K.P. and D.P., Berkshire, June 2019