Read about highlights from recent tours to the Maldives, Antarctica, Japan, Siberia, Spain, Sri Lanka, India and the USA…
'Our time spent cruising around the beautiful Maldivian islands and atolls resulted in some superb marine wildlife encounters', writes tour leader, Sara Frost.
'We enjoyed lovely warm evenings anchored off remote tropical islands, a dazzling variety of colourful fish, numerous turtles and dolphins and a visual daily feast of innumerable shades of turquoise! The highlight was the group's encounter with a group of six Manta Rays while snorkelling. We enjoyed a morning's excitement as the Mantas appeared and disappeared alongside us, their huge mouths wide open as they fed on the plankton, with all of the group getting fantastic close-up views!
Every morning and evening, the group enjoyed a pre-breakfast and pre-dinner snorkel on coral reefs, where the colour and variety of fish was wonderful! Regal Angelfish, parrotfish, sea cucumbers, many different types of butterflyfish and wrasses, Maldive Anemonefish, reef squid, triggerfish, Moorish Idols, both White- and Black-tipped Reef Sharks and Hawksbill Turtles were just a few of the highlights! Back on board, while cruising between atolls, islands and reefs, seven confirmed species of cetacean were seen: several groups of Spinner Dolphins (including one huge group of at least 500), Pan-tropical Spotted Dolphins, both Common and Indo-Pacific Bottlenose Dolphins, plus Fraser's Dolphins, Risso's Dolphins and two groups of Pilot Whales – the first being very inquisitive and spending an hour with us spy hopping alongside the boat! All in all, it was a wonderful trip that will never be forgotten.'
Our next 'Mantas, Dolphins & Coral Reefs – A Maldives Cruise' departs on 7th February 2020 and costs from £4,795. For more information, please email This email address is being protected from spambots. You need JavaScript enabled to view it. or call Kerrie Porteous on 01962 733051.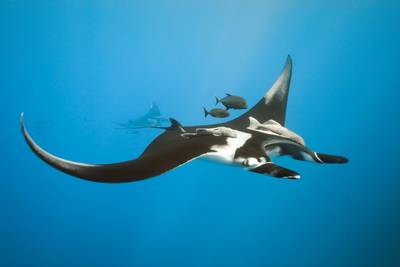 Manta Ray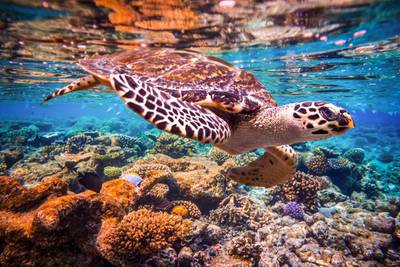 Hawksbill Turtle
'Our 23-day adventure to the Falklands, South Georgia and Antarctica was the trip of a lifetime, seeing huge colonies of King, Gentoo, Adelie, Rockhopper, Chinstrap, Magellanic and Macaroni Penguins. Rocky shores were full of lounging Antarctic Fur Seals and Southern Elephant Seals at locations such as Gold Harbour and Grytviken', write tour leaders, Ed Drewitt, Peter Dunn and Tim Melling.
'In the productive waters of South Georgia and the Antarctic Peninsula we were rewarded with views of whales all surfacing at once, with Fin and Humpback Whales dominating the cast alongside smaller numbers of Orcas, Sei, Antarctic Minke, Dwarf Minke, Southern Bottlenose and Gray's Beaked Whales. The Antarctic Peninsula was a magical landscape of ice, rock and sea with stunning hanging glaciers, huge icebergs and thousands of penguins. Here we sailed in beautiful warm sunshine, encountering many pods of Orcas and resting Leopard, Weddell and Crabeater Seals on ice flows.
The accompanying variety of birds during our two-day sea journeys between the main islands made for constant enjoyment with hundreds of albatrosses, prions, diving petrels, shearwaters, petrels and skuas. Peale's, Hourglass Dolphins and Commerson's Dolphins also joined us closer to the Falklands and South Georgia. We also visited nesting Black-browed Albatrosses and Wandering Albatrosses, the longest-winged bird in the world. The expedition was top and tailed with wildlife watching around Ushuaia, and a visit to the Tierra del Fuego National Park at the beginning. Both gave us the opportunity to see the many birds, flowers, trees and landscapes that exist in this region – the stepping stone south to Antarctica.'
Our next 'The Falklands, South Georgia & Antarctica – Solar Eclipse' cruise departs on 22nd November 2021 and costs from £16,595. For more information, please email This email address is being protected from spambots. You need JavaScript enabled to view it. or call Paul Stanbury on 01962 733051.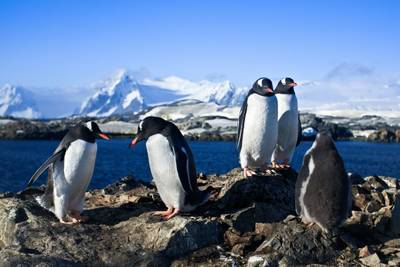 Gentoo Penguins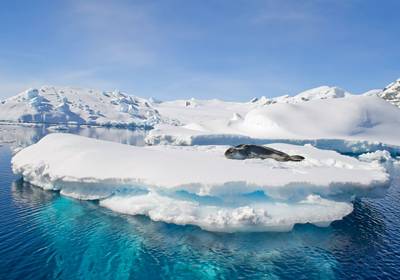 Leopard Seal
'Hokkaido is a very special place to visit and was the highlight of the tour for our group. Our first stop was at one of the crane sanctuaries. Here, an initial glance showed a small flock of Red-crowned Cranes in the field, along with some Whooper Swans, but a closer inspection revealed a much greater number scattered through the trees beyond. Periodically some would take off or land to a noisy, trumpeting chorus. During our few days here we would see these elegant birds squabbling, feeding, flying, displaying and dancing', writes tour leader, Alison Steel.
'En route to Rausu, majestic Steller's Sea Eagles standing sentinel on a harbour wall were our introduction to the coastal wildlife. These huge birds dwarf their White-tailed cousins and both of these magnificent species were seen in large numbers when we headed offshore to the edge of the pack-ice. An incentive of fish brought them close in to our boat and it was extremely difficult to know which way to look as birds swooped around on all sides. Unbelievable numbers congregated on the ice, arguing over fish or looking for the next opportunity to grab a morsel. The grace and precision with which these big birds could pluck a fish from the water's surface was incredible.
On our last night here another huge bird made an appearance. Just beyond the hotel window, an enormous Blakiston's Fish Owl arrived for its supper, much to our delight. Appearing out of the darkness, it landed next to a tiny pond and intently peered into the water. After making its choice, a couple of flaps from its giant wings saw it grab a fish and lift it out onto the bank, where it proceeded to devour its 'catch'. Twice more it took a fish in quick succession before fading back into the night, leaving us all elated at having finally been able to see this fantastic creature and at such close quarters!'
Our next available 'Wild Japan in Winter' tour departs on 20th February 2020 and costs £5,595. For more information, please email This email address is being protected from spambots. You need JavaScript enabled to view it. or call Paul Stanbury on 01962 733051.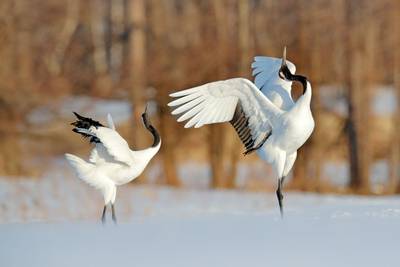 Red-crowned Cranes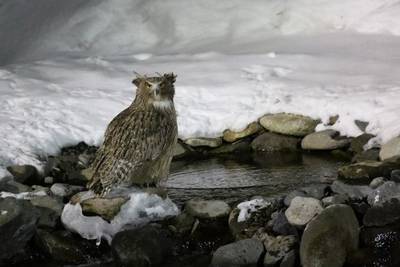 Blakiston's Fish Owl (Keith Rogers)
'Picture a wild Tiger, and the verdant jungles of tropical Asia may spring to mind. However, the world's largest cat has another stronghold thousands of miles away, in the vast taiga forests of the Russian Far East. In February, I visited this remote land in search of the iconic Siberian Tiger', writes Operations Assistant, Ben Chapple.
'After a night in the regional hub of Khabarovsk, we made the rugged 200km drive to the Durminskoye Reserve. On the way we passed a large gathering of White-tailed Eagles, and as we ventured deeper into the wilderness the signs of unseen creatures became increasingly evident – the snow preserved the past activity of Manchurian Deer, Wild Boar and Sable, while we also flushed several Hazel Grouse from the frozen roadside.
In Durminskoye I met Alexander Batalov, an extraordinary man who has devoted his life to protecting Tigers. Over the next few days we explored the forest by jeep, snowmobile and on foot, checking camera traps and finding abundant evidence of the big cat – great white prints the size of dinner plates, thick orange hairs wedged into scratching posts, and deep gouges in the bark of trees. Alexander also relayed thrilling stories of his encounters with the elusive beast, including one evening (just a month before my visit) when a Tiger had strolled nonchalantly past the kitchen window during dinner! Every night we would scroll through new camera trap images, seeing photographic evidence not only of many Tigers, but also of Red Fox, Raccoon Dog and Eurasian Lynx.
While I wasn't lucky enough to see a Siberian Tiger in the flesh, it was exhilarating to feel their presence all around me. Plus, there's always next time…'
Our next 'On the Trail of the Siberian Tiger' tour departs on 29th February 2020 and costs £5,895. For more information, please email This email address is being protected from spambots. You need JavaScript enabled to view it. or call Ben Chapple on 01962 733051.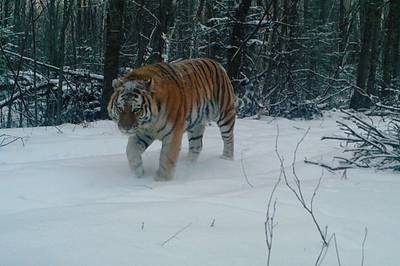 Siberian Tiger (Camera trap photo)
Tiger track
'This trip began in the stunningly located Moorish village of Alquézar, perched precariously on the edge of Aragón´s Vero Gorge', writes tour leader, Niki Williamson.
'As the last grasps of winter still clung to the hillsides, we were thrilled to catch superb views of wintering Wallcreepers on several occasions, as well as Red-billed Choughs, Black Redstarts and Blue Rock Thrushes. At the Fondo Amigos del Buitre feeding station, we got up close and personal with over 300 Griffon Vultures, which were joined by Golden Eagles, Red Kites, Northern Ravens and to our excitement, four awesome Lammergeiers.
Out on the open expanses of the plains of Gallocanta, we were surrounded by the haunting, creaky song of Dupont´s Larks as the sun rose on a frosty morning. Views of Short-eared Owls, Hen and Marsh Harriers, Merlins and Black-bellied Sandgrouse were greatly enjoyed, as were those of huge flocks of Calandra Larks, Linnets, Rock Sparrows, Corn and Reed Buntings and nine Great Bustards. This was, of course, set against a constant background of the bubbling calls of tens of thousands of wintering Common Cranes, which we were able to watch migrating right over our hotel!
We ended the trip amongst the vast landscapes of El Planerón nature reserve, providing a majestic background to the cacophony of lark-song from Skylark, Thekla, Calandra, Lesser Short-toed Lark and even a noon Dupont´s Lark.
A truly memorable – some might say even dream-fulfilling – trip!'
Our next 'Wallcreepers & Cranes in Northern Spain' tour departs on 24th October 2019 and costs £1,395. For more information, please email This email address is being protected from spambots. You need JavaScript enabled to view it. or call Andy Tucker on 01962 733051.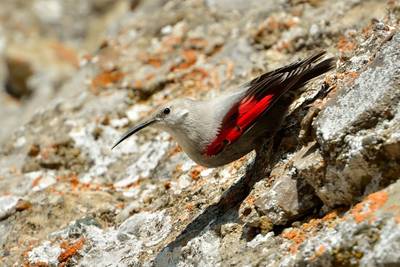 Wallcreeper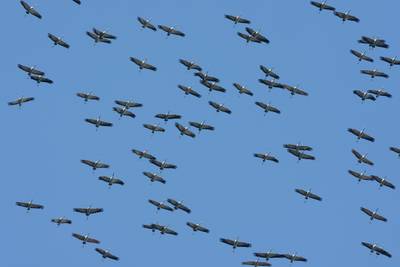 Common Cranes
'A Leopard with her three cubs perched on top of a rock stole the show and was the highlight of our "Sri Lanka – Wildlife & History" tour in February', write tour leaders, Suminda Dodangoda and Jayaba Jinasena.
'We were also lucky enough to enjoy many other spectacular sightings of Asian Leopards in the Udawalawe National Park. During our time here we made a special visit to the Udawalawe Elephant Transit Home, which focuses on rehabilitating orphaned Elephants before re-introducing them to the wild. Here, we thoroughly enjoyed seeing young Elephant calves being fed and playing! Lucky tour members taking part in our extension were treated to some terrific sightings of Blue Whales and Spinner Dolphins.
From the cultural sites visited on this tour, Sigiriya's Lion Rock and the ancient city of Polonnaruwa proved to be the most popular, giving the group a wonderful insight into the religion, way of life, culture, architecture, urban planning and war craft of a civilization more than 1,500 years old. We also particularly enjoyed the colourful dance show we attended in Kandy.
A total of 206 bird species, 23 species of mammals and 13 species of reptiles were seen throughout the tour and the extension – some of the very best wildlife and history to be found in this fascinating country!'
Our next 'Sri Lanka – Wildlife & History' tour departs on 2nd November 2019 and costs £3,195. For more information, please email This email address is being protected from spambots. You need JavaScript enabled to view it. or call Rajan Jolly on 01962 733051.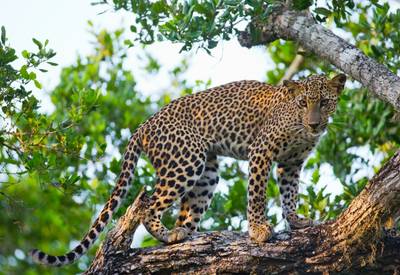 Leopard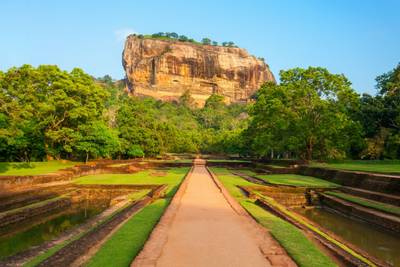 Sigiriya rock
'Our "Sri Lanka – Blue Whales & Leopards" tour was another terrific success, with fantastic sightings of some of the best of Sri Lanka's wildlife', writes tour leader, Dhanushka Samarasinghe.
'Blue Whales were encountered on all three days of our sea excursions, which also included sightings of many Spinner Dolphins. The Leopards at Yala also graced our presence, giving us some amazing views, along with many other mammals including Asian Elephant, Sambar and Spotted Deer, Mouse Deer, Grizzled Giant Squirrel, Wild Boar, Water Buffalo, Ruddy Mongoose, Stripe-necked Mongoose, Grey Langur, Purple-faced Leaf Monkey and Toque Macaque.
We also encountered some great birds, including many endemic species, especially during the extension to Sinharaja. In total, we saw 20 species of mammals, 10 species of reptiles and 156 bird species.
Our next 'Sri Lanka – Blue Whales & Leopards' tour departs on 16th November 2019 and costs £2,595. For more information, please email This email address is being protected from spambots. You need JavaScript enabled to view it. or call Rajan Jolly on 01962 733051.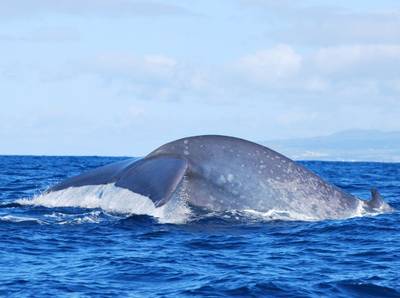 Blue Whale
'On the recent Naturetrek "Sri Lanka – Endemic Birds" tour we had some spectacular views of Sri Lanka Whistling Thrush, Sri Lanka Scaly Thrush and Serendib Scops Owl', writes tour leader, Indika Jayatissa.
'We saw all 34 of the endemic bird species, with an overall count of 195 species of birds, not to mention many mammals, reptiles, amphibians and butterflies. The views we had of Sri Lanka Leopard in Horton Plains National Park were a real highlight on this tour, but we also enjoyed the sightings of Asian Elephant, Golden Jackal and Eurasian Otter, amongst others, while those on the tour extension had amazing encounters with three adult Blue Whales and a calf!'
Our next 'Sri Lanka – Endemic Birds' tour departs on 10th August 2019 and costs £2,495. For more information, please email This email address is being protected from spambots. You need JavaScript enabled to view it. or call Rajan Jolly on 01962 733051.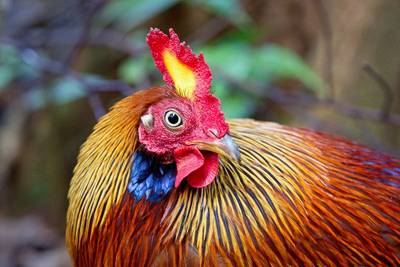 Sri Lankan Junglefowl (Tony Mills)
'Colossal numbers of Spinner Dolphins and a decent sized pod of Bottlenose Dolphins were sighted during our "Sri Lanka – Wilpattu National Park & Kalpitiya" holiday', reports tour leader, Mukesh Hirdaramani.
'Amongst the many highlights of our stay in Kalpitiya, the sighting of a Whale Shark and a pair of Killer Whales stole the show. Although these mammals are present in our coastal waters, sighting them in the waters off Kalpitiya is very rare. To our delight, we were observing a male and female together, surrounded by thousands of Spinner Dolphins. It was fascinating to see both species side by side, since Killer Whales are known to prey on other dolphins. Maybe they had something else on their minds that day!
We were thrilled, too, by the land mammals, especially our excellent views of Sloth Bear and Leopard, not to mention the fantastic birds and all the other wildlife! The extension for Blue Whales was also very successful, with good sightings of Blue Whales, Spinner Dolphins and Green Turtle.
Overall, an impressive 23 species of mammals, 150 bird species and 12 reptile species were recorded on the tour.'
Our next 'Sri Lanka – Wilpattu National Park & Kalpitya' tour departs on 9th November 2019 and costs £2,595. For more information, please email This email address is being protected from spambots. You need JavaScript enabled to view it. or call Rajan Jolly on 01962 733051.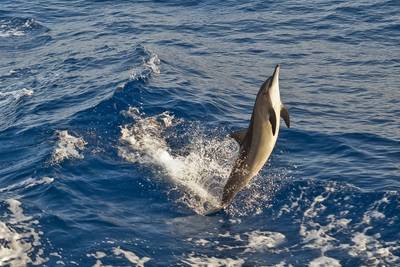 Spinner Dolphin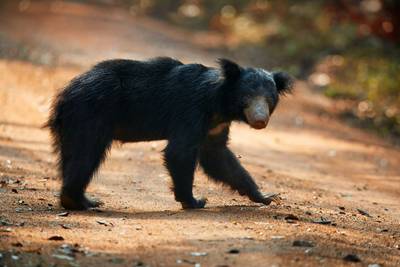 Sloth Bear
'Our "India - Tiger Direct!" tour, as the name suggests, took our clients straight into the heart of Tiger country', reports tour leader, Kaustubh Mulay.
'We had absolutely amazing safari experiences, enjoying nine different sightings of Tigers, with some breathtaking views of these majestic animals. We also saw three Leopards, two packs of Wild Dogs, on both occasions on a hunt, and had great views of Sloth Bear and Jungle Cats. In addition, the rut of the Barasingha was a sight to behold! The dense bamboo and Teak forests of Tadoba, the open Teak forests in hilly terrain at Pench, and then the dense Sal forests and beautiful grasslands at Kanha formed the backdrop for a great diversity of other mammals and some great birds, as we explored these three prime Tiger landscapes. As ever, it was a memorable trip!'
Our next 'India – Tiger Direct!' tour departs on 3rd November 2019 and costs £2,595. For more information, please email This email address is being protected from spambots. You need JavaScript enabled to view it. or call Rajan Jolly on 01962 733051.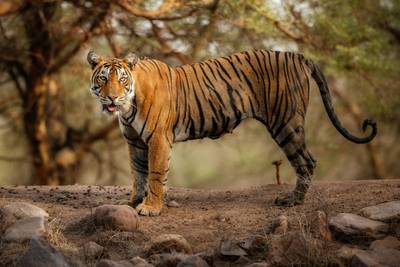 Tiger
'Florida in February is the perfect way to escape the winter weather and enjoy a great introduction to the wildlife of North America', writes tour leader, Matthew Capper.
'We explored the full range of habitats including pinelands, coastal marshes, mangroves, impressive cypress swamps and the wetlands of the world famous Everglades National Park.
Some of the highlights out of the near 150 species of bird recorded included Scissor-tailed Flycatcher, Painted Bunting, Burrowing Owl, Crested Caracara, Magnificent Frigatebird and American White Pelican. In addition, the wetlands hosted a wonderful array of herons, egrets, ibis, storks and spoonbills, some of them so close you could almost reach out and touch them.
Florida is the only place in the world that hosts both Alligator and Crocodile and we caught up with both, as well as plenty of Bottlenose Dolphins and West Indian Manatee.
As well as being treated to the wildlife, we found time to wander along the stunning white sands of the beach on Sanibel Island, looking for shells and watching the sun set into the Gulf of Mexico – the perfect way to enjoy the sunshine State.'
Our next 'Florida' tour departs on 4th February 2020 and costs £2,295. For more information, please email This email address is being protected from spambots. You need JavaScript enabled to view it. or call Andy Tucker on 01962 733051.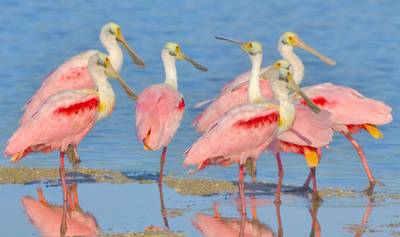 Roseate Spoonbills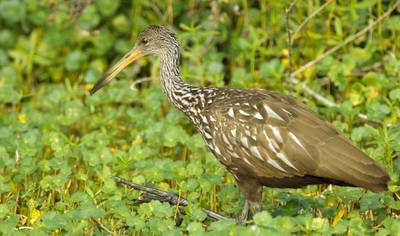 Limpkin