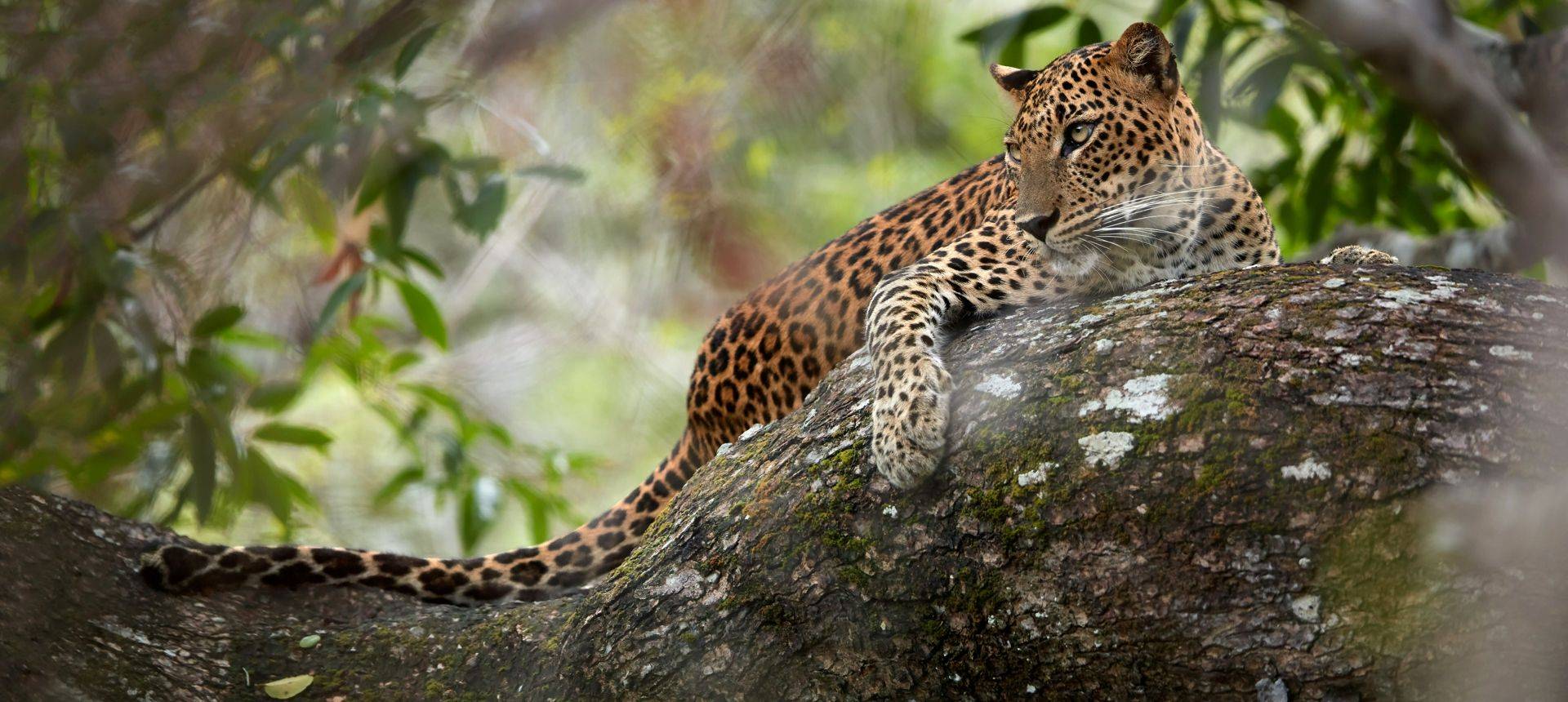 Sri Lanka - Blue Whales & Leopards
Tour Code: LKA06
A 10-day holiday in search of Blue Whales off Sri Lanka's south coast, as well as the Leopards and other wildlife of Lunugamvehera and Yala National Parks.
The delightful tropical island of Sri Lanka is now regarded as one of the best places in the world to see Blue Whales between the months of November and April. This unique wildlife holiday begins with three days of whale-watching excursions from the south coast of the island where small numbers of Blue Wales are reliably found in the deep water just a few kilometres offshore. After observing the Blue Whales, and other cetaceans such as Spinner Dolphins, we conclude the tour at Yala National Park, one of the finest reserves in Asia where the resident Leopards frequently oblige visitors by offering viewing opportunities and a wealth of wildlife includes Indian Elephants, wild Water Buffalo, Spotted Deer, Sambar, crocodiles and many species of birds.
The most reliable place in the world to see Blue Whales
Other cetaceans include Spinner Dolphins & Bryde's Whale
Leopards in Yala National Park
Plus Spotted Deer, Indian Elephant, Water Buffalo & crocodiles
Fabulous butterflies & reptiles including giant Water Monitors
Superb birdwatching
Very comfortable tourist hotels with swimming pools
Enjoy a wonderful selection of tropical fruits
Extend holiday to include additional cultural & wildlife sites, eg. Sinharaja Forest
Expertly guided by a top Sri Lankan or British naturalist
Can I help you?

Outline Itinerary
Day 2
Arrive Colombo; transfer Mirissa
Day 3/5
Whale-watching excursions from Mirissa.
Day 6/8
Lunugamvehera and Yala National Parks.
From start to finish the holiday was brilliant. One hotel in particular was superb and everything ran like clockwork. The days were busy (which we loved) but there was also an opportunity to rest in between trips, should you need it. The two wonderful tour leaders went above and beyond to make sure our holiday was packed with wildlife and other experiences. Their knowledge of the area was second to none and their contact with local people meant we even ventured into people's back gardens to view birds! It was all done sympathetically and we were grateful for the generosity of the people of Sri Lanka. We were delighted to learn that their generosity offered them a little financial reward. The tour leaders even took into account the weather and changed the itinerary to suit, but not before consulting the group first. 

S.W. North Yorkshire, Feb 19
Food & Accommodation
All included in the price.
Comfortable tourist hotels; all rooms have private facilities.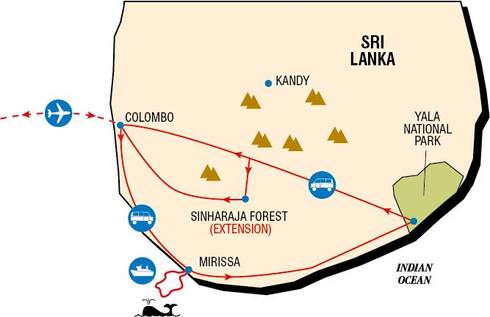 Tour leaders
Andy Smith

Andy lives in north-east Dorset with his wife and the youngest of his six children. A keen birder and naturalist for as long as he can remember, Andy has enjoyed a diverse career divided between nature conservation work in Britain and Ireland, school teaching and wildlife tour leading. He has now led over 75 tours for Naturetrek and his travels have taken him to various parts of Europe, Africa, Asia, the Americas and Antarctica. When not busy leading tours, Andy teaches teenagers at an independent small school project near Ringwood in east Dorset.
The Great Whales are a source of wonder and fascination to most of us land-based humans, as we struggle to comprehend their alien, unfettered existence roaming the mysterious depths of the world's oceans. Indeed, we seem to possess a seemingly insatiable desire to savour the experience of being close to these magnificent creatures and, wherever feeding or breeding imperatives bring numbers of whales to congregate in a particular area, there will invariably be local boatmen taking visitors to enjoy a few precious moments sharing the ocean with these leviathans. The largest of all the cetaceans, indeed the largest of all mammals, the Blue Whale has always been something of an enigma, a true ocean wanderer living a pelagic lifestyle which rarely brings it with any predictability close to land. Gradually, however, scientists are beginning to gain some understanding of the enormous migrations undertaken by Blue Whales and one discovery has been their regular appearances close to the south coast of Sri Lanka between November and April. It is this annual event that we will be taking advantage of during this new tour in a country that has long been a Naturetrek favourite.
Arriving in the capital, Colombo, we head south, skirting the towering escarpments of the central Hill Country before travelling through a landscape of palms, rice paddies and roadside ponds to the Indian Ocean coast where we stay for four nights at a comfortable resort hotel. Doubtless the excellent amenities of the establishment will be a welcome diversion during our spare time, but each morning we will undertake a whale-watching cruise from a nearby port. During these 4-hour excursions we will sail up to 12 kilometres offshore and, whilst seeing wild creatures can never be guaranteed, we expect to have multiple sightings of Blue Whales.
Never a gregarious creature, the sightings are usually of single animals, or perhaps a cow and calf, but it is possible to encounter as many as 10 whales during these outings and the expertise of the captain will be an important element in finding our quarry. Despite averaging 25 metres in length and reaching a weight in excess of 100 tons, Blue Whales can be surprisingly elusive, but in these calm waters the mighty 9-metre-high blow is often the first indication of their presence near the surface. Whilst concentrating each day on observing Blue Whales, other smaller cetaceans are also likely to entertain us. These may include Bryde's and Pilot Whales, and Bottlenose, Pantropical Spotted, Striped and Spinner Dolphins, the latter regularly appearing in pods of several hundred individuals. Although the occurrences of Blue Whales in Sri Lankan waters have been known to researchers for many years it is only now that opportunities exist for visitors to see these impressive animals and, in recent years, our Naturetrek groups have been rewarded by close encounters, often of numerous individuals, in this most idyllic of settings.
After this ultimate in whale-watching experiences we return to dry land to seek another highly impressive mammal in Yala National Park. In recent years diurnal Leopards have been a regular attraction in this superb reserve and we will travel by jeep for full-day game drives, with the possibility of suddenly coming upon a Leopard adding an exciting frisson to every visit. Wildlife abounds in Yala and each drive is likely to produce sightings of Indian Elephant, Wild Boar, Spotted Deer, Sambar, mongooses, crocodiles and lizards as well as a stunning profusion of colourful birdlife. No visit to Yala ever disappoints, but it is the sight of a somnolent Leopard draped across the branches of a tree or padding along a track before disappearing into the undergrowth that creates a memory to last a lifetime. During the final three days of the tour we will be staying at a very comfortable hotel just outside the park and with no fences to constrain the inhabitants it is by no means unusual to see a Wild Boar wander through the grounds or even to find an elephant browsing in the garden!
Yala is a magical place and a perfect venue in which to complete a tour that combines the best of Sri Lankan wildlife, both marine and terrestrial, with the most comfortable of accommodation. It will be with some reluctance that we will finally depart from here and return to Colombo for a return flight back to colder climes; but, for those unwilling to leave, we offer an extension to Sinharaja Forest Reserve, the largest and most important lowland rainforest in Sri Lanka, and home to so much of the island's endemic flora and fauna.
Over 80% of the island's endemic bird species occur in the forest and resident species include the spectacular Blue Magpie, Red-faced Malkoha and Orange-billed Babbler; 60% of the trees are found nowhere else in the world, and most of the other flora and fauna has a similarly high level of endemism. Its importance was acknowledged by recognition as a World Heritage Site in 1988.
Extension: Sinharaja Forest Reserve extension
3 days from £695
Over 80% of the island's endemic bird species occur in the forest and resident species include the spectacular Blue Magpie, Red-faced Malkoha and Orange-billed Babbler; 60% of the trees are found nowhere else in the world, and most of the other flora and fauna has a similarly high level of endemism. Its importance was acknowledged by recognition as a World Heritage Site in 1988.
Outline Itinerary
9/11
Sinharaja Forest Reserve
EXTENSION NOTES
This extension can be booked during the online booking process or by calling us on 01962 733051.
An extension cannot be booked independently from the tour
From start to finish the holiday was brilliant. One hotel in particular was superb and everything ran like clockwork. The days were busy (which we loved) but there was also an opportunity to rest in between trips, should you need it. The two wonderful tour leaders went above and beyond to make sure our holiday was packed with wildlife and other experiences. Their knowledge of the area was second to none and their contact with local people meant we even ventured into people's back gardens to view birds! It was all done sympathetically and we were grateful for the generosity of the people of Sri Lanka. We were delighted to learn that their generosity offered them a little financial reward. The tour leaders even took into account the weather and changed the itinerary to suit, but not before consulting the group first. 

S.W. North Yorkshire, Feb 19

A well organised visit that was conducted fluently by our excellent guides. Unfortunately the blue whales had left the area we visited far earlier than normal in persuit of their food the krill. Great efforts made by our guides and the boat crew to find the whales with greatly extended trips to sea. Despite the lack of whales the trips were extremely enjoyable and resulted in the sighting of whale sharks, hammerhead shark, various dolphins, a ray, flying fish and a turtle. Hotel at our base of Mirissa was very good and the staff efficient and attentive. An onward journey to Yala provided some interesting scenery and some bird spotting. The wildlife at Yala was more obliging than the whales and we saw a good range of mammals and birds; this did include a good long sighting of a leopard descending a tree, going for a short walk and then climbing another tree to have a cat nap. Wide selection of Sri Lankan and European food served up at Cinnamon Wild Lodge where we stayed. Onwards once again for about half our group and one guide to Sinharaja Forest and the Blue Magpie Lodge, the remainder of the group either doing their own extension or returning home. Blue Magpie Lodge may be described as small and simple, but the staff were superb and the food a wonderfully varied diet of typical Sri Lankan dishes, GREAT. Plenty of birds and wildlife on view from the roofed open air dinning room, although a Sri Lanka blue magpie did not visit us, we had to search the nearby Sinharaja forest for them and had some very good view of them and many other bird species. This was not exclusively a birding trip, so to see 25 of Sri Lanka's 33 endemic species seemed to be exceptionally good for a non-birder. Early start to get one last birding trip in started or final day and after a find last lunch at the Blue Magpie Lodge we were off on a scenic journey back to Colombo and a night at the Airport Garden Hotel. Another good hotel,great food and no noise from the nearby airport allowed a good nights rest before we started our journey home. A memorable holiday to a very welcoming country and people, very tempted to return and not just to see blue whales.

O.C. Oxfordshire

8 days in Sri Lanka with plenty of opportunities to see a wide range of wildlife. The main aim was to see blue whales and leopards but we saw so much more. The birds were too many to list, the boat trips delivered dolphins and turtles, and the safari days brought sightings of elephants, monkeys, water buffalo and sloth bear to name a few. Our guides were absolutely fantastic with knowledge of everything from history to butterflies and they knew the right places to visit for bird watching and unusual sights. The hotels we stayed in were very comfortable and the food was excellent. All in all it was one of the best holidays I have taken.

J.E. West Midlands

Wildlife great - saw lots of Blue Whales and a Leopard... many birds and other animals.

R.H. Buckinghamshire

One of the best holidays I've had - will need to return to Sri Lanka. We were fortunate enough to see in excess of 30 blue whales, and the other wildlife (including leopards) were most obliging.

J.Y. Nottinghamshire

This was my first wildlife holiday with an organised group. I cannot fault it in any way - the guides and drivers etc. in Sri Lanka were very accommodating and made us all feel like a team. I cannot imagine how this could be improved.

Mr & Mrs S. Rhondda Cynon Taff

Susanthe was amazing - so knowledgeable and also very accommodating of personal requirements. A really nice guy. Couldn't have asked for better. Fantastic holiday, from initial enquiry to return home service has been perfect.

D.S. Highlands

Fantastic wildlife plus some interesting cultural visits. Upul and Saman were both lovely, patient and knowledgeable guides.

E.R. Lincolnshire

It was well organised and our two very good guides ensured that everything ran smoothly.

D.W. Derbyshire

Both Upul and Saman were attentive, friendly, flexible, knowledgeable and great senses of humour which made the trip most enjoyable.

Mr & Mrs L. Hertfordshire

Without a doubt it was absolutely the best holiday we have ever had. The group was lovely and the two leaders Nick and Dhammi were superb. I was lucky enough to see several Blue Whales on my birthday and my birthday cake wish to see leopards too was amply rewarded. I just want to say a huge thank you to everyone at Naturetrek who worked together to make it such a memorable 50th birthday holiday for me. It was a long saved-for trip of a lifetime and worth every penny.

Mr & Mrs S. Hampshire