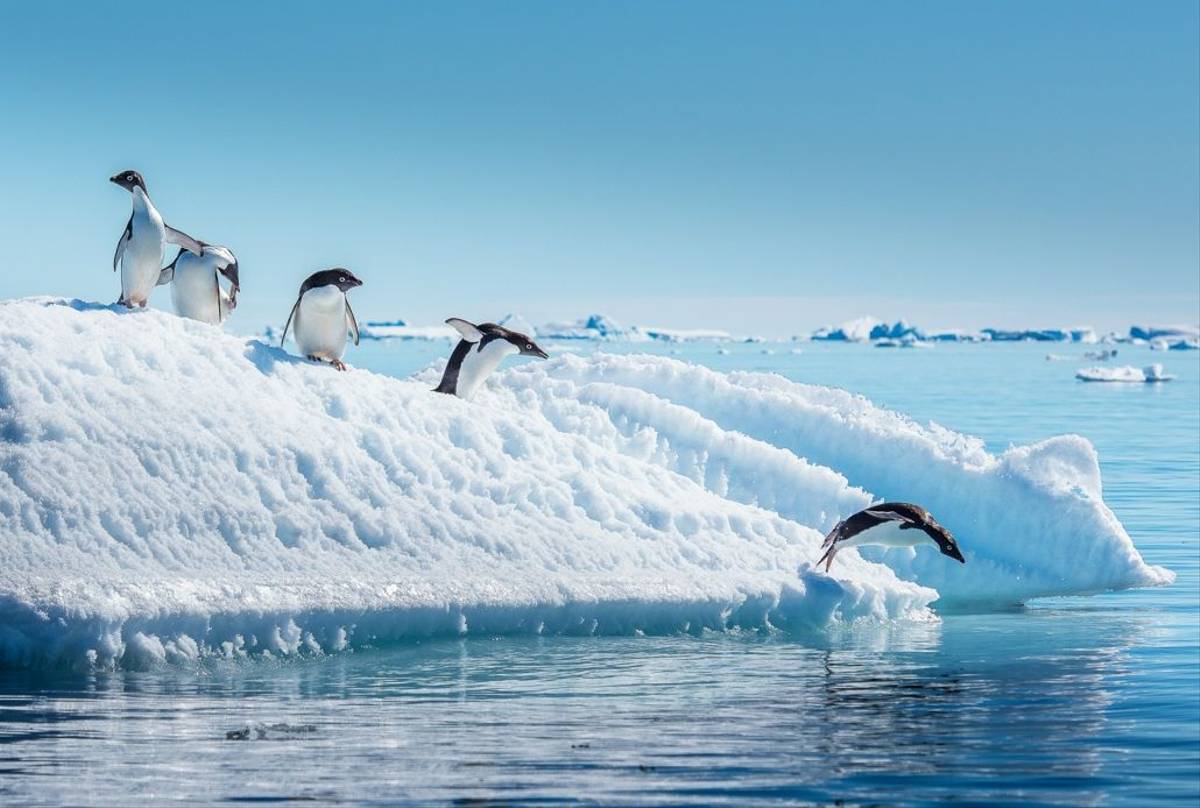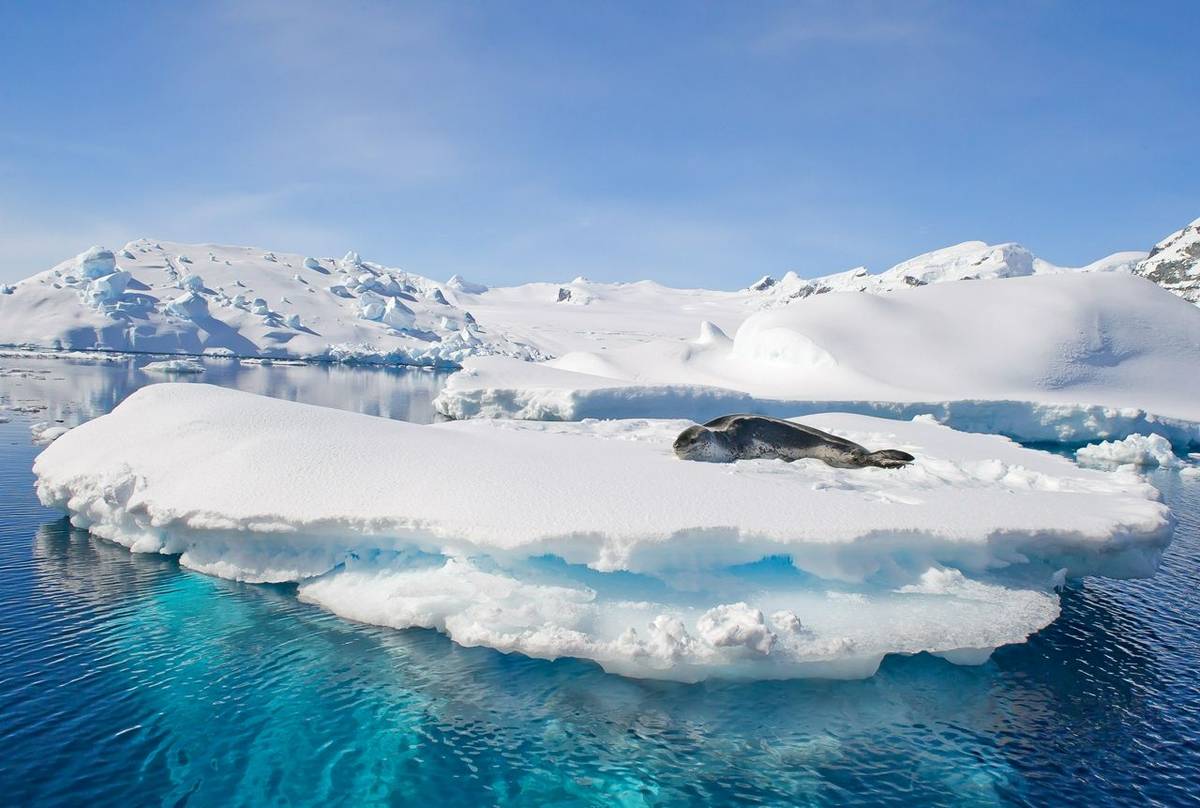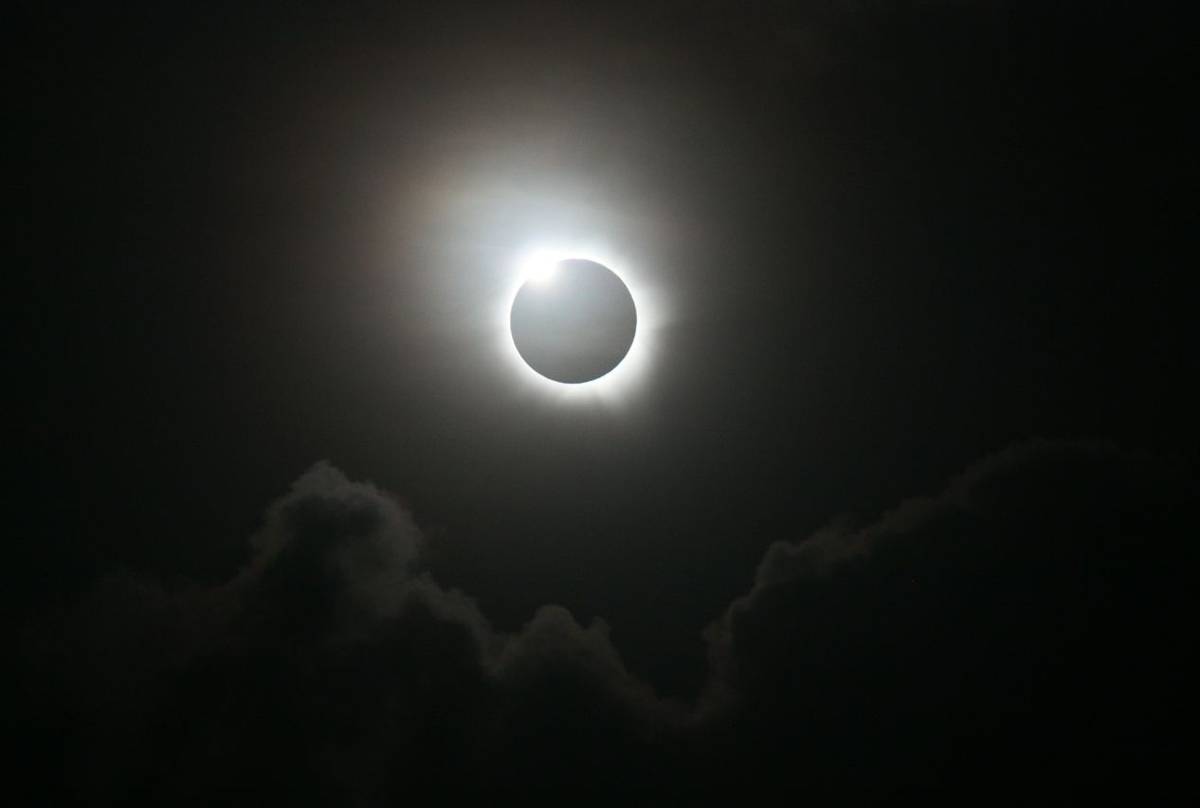 TOUR ITINERARY AND REPORTS
Antarctica, The Falklands, South Georgia - 2021 Solar Eclipse
Tour Code: ATA02
A 24-day wildlife holiday including a 19-night voyage from Ushuaia in Patagonia to the Falklands, South Georgia and the Antarctic Peninsula. The ship will be in position to witness a total solar eclipse in the Weddell Sea.
24 days from
£16,595 (Inc flights)
Land only price from
£15,295
Add this tour to your favouritesRemove from Favouritesstar_border star

Add To Favourite
Highlights
TOUR ITINERARY AND REPORTS
SUMMARY
In November 2021 Naturetrek will be chartering the 116-berth, ice-strengthened, MV Ortelius for the ultimate in wildlife and eclipse cruise. This 24-day holiday includes a 19-night expedition voyage to the Falkland Islands, South Georgia and the Antarctic Peninsula. We begin with a flight to Ushuaia at the southern tip of Argentina where we board our vessel and - with a variety of albatrosses and petrels in our wake - cross the Southern Ocean to the Falkland Islands, our first port of call. We have two days here to enjoy the colonies of Rockhopper Penguins and Black-browed Albatrosses before heading out to sea once more for South Georgia, home to millions of penguins and other seabirds. We spend three days here amidst spectacular scenery and huge seabird colonies including a landing at the vast King Penguin rookery at St Andrews Bay. En route to the South Orkneys, the ship will position for a total solar eclipse.  Finally, we have four days to enjoy the majesty and grandeur of the Antarctic Peninsula and South Shetland Islands watching out for ocean giants such as Humpback, Southern Right and Fin Whales before heading back out to sea, across the Drake Passage and back to Ushuaia.
Join Naturetrek on our exclusive wildlife charter
Focus: birds, mammals & scenery of the Falklands, South Georgia & Antarctica Peninsula
Small ship cruising on the ice-strengthened MV Ortelius
A total solar eclipse - An amazing celestial alignment
Enough Zodiacs for everyone to leave the ship at the same time!
Visit Rockhopper Penguin rookeries on the Falkland Islands
Enjoy 3 days exploring South Georgia
Spectacular Antarctic scenery & numerous huge icebergs
Mammals include Southern Elephant Seal, Leopard Seal & Weddell Seal
Visit Chinstrap, Adelie & Gentoo Penguin colonies, South Shetland Islands & Antarctic Peninsula
Look for cetaceans such as Orca, Humpback Whale & Commerson's Dolphin
Escorted by Naturetrek naturalist guides, eclipse experts & expedition leaders
Grading
Day walks only, easy and optional although often over snowy and icy terrain.
Antarctica is a land of superlatives. It is the coldest, windiest, driest, iciest and highest of all the major landmasses of the world. It is a continent of extremes, but also one of extreme beauty! Those fortunate enough to explore its icy shores cannot fail to be awe-struck by the shear grandeur of the landscape, the towering glaciers, rugged snow-covered mountains and huge ice-bergs calved into a myriad of shapes by the relentless pounding of the Southern Ocean. This encircling ocean is, in turn, one of the richest of all seas and the basis for the food-chain that supports Antarctica's huge concentration of wildlife. Every spring, as the pack-ice slowly retreats, millions of penguins, seabirds and other creatures leave the vastness of these turbulent waters to converge on the continent to breed and raise their young. By late January the breeding season is at its peak, penguins and albatrosses are busily feeding chicks and the race to fledge is in full swing before darkness descends once more heralding the return of winter's even icier grip. 
In November 2021 Naturetrek is taking full charter of the 116-berth, ice-strengthened MV Ortelius, with the aim of repeating the itinerary, and success, of our recent 30th anniversary cruise around the Falkland Islands, South Georgia and Antarctic Peninsula. Taking a full charter of the Ortelius was key to the success of our 2016 expedition for it allowed us to design the itinerary to include only the very best wildlife sites and full the ship with like-minded Naturetrek clients. It also allowed us to bring along a selection of our most experienced naturalist tour leaders ensuring that all aspects of natural history were covered and that our group enjoyed three weeks of unforgettable wildlife sightings and breathtaking scenery. In 2021 we have timed our Antarctic expedition to coincide with one of nature's greatest events – a total solar eclipse. On the 4th December the Ortelius will be in position, along the line of totality to witness this spectacle from the Weddell Sea.
We begin the holiday with a flight to Buenos Aires in Argentina, and then to Ushuaia, the southern-most city in the world. From here we board our ship and head out along the Beagle Channel and into the Southern Ocean. En route to the Falkland Islands there will be plenty to entertain us as the ship will be accompanied throughout by a wonderful variety of exciting seabirds. These are sure to include plenty of Black-browed Albatross and Southern Giant Petrels, plus the occasional Wandering Albatross. Indeed, an undoubted highlight for many will be our first sighting of a 'Wanderer' gliding effortlessly over the ocean held aloft by the longest wings in the avian world.
We now have two days to enjoy the scenery and wildlife of the Falkland Islands. Arriving from Britain the visitor finds a landscape which brings to mind the northern isles of Scotland and there is an essentially British feel to life here, although the wildlife is excitingly different! We will visit Rockhopper, Magellanic and Gentoo Penguin rookeries, plus colonies of Black-browed Albatross which nest on windswept tussock-covered slopes. King Penguins also nest here in smaller numbers whilst in the surrounding seas we will be looking out for Commerson's and Peale's Dolphins.
A further two days of pelagic bird and whale-watching brings us to the isolated island of South Georgia, home to some of the world's great wildlife spectacles. For the next three days we will enjoy the mountains, glaciers and abundant wildlife of this remote outpost, including the vast King Penguin colony at St. Andrew's Bay. Huge Elephant Seals crowd the beaches and create a somewhat grumpy obstacle course for the thousands of Macaroni and Chinstrap Penguins as they make their way to their huge and raucous colonies. Light-mantled Sooty Albatross also breed here and we will also take a quick break from the wildlife to visit the grave of Ernest Shackleton, one of history's great Polar explorers. The whale-watching around South Georgia can also be superb with sightings of Humpback, Fin and Southern Right Whales all likely.
From South Georgia we cross into the Weddell Sea and one of the heaviest ice concentrations around Antarctica. Our ice-strengthen ship will try to get into the pack-ice as best we can to get into a good position for the total solar eclipse. These rare events occur when the Moon passes across the face of the Sun and, for a few minutes, darkness falls and we are able to see outer atmosphere of the Sun extending like pearly wisps from the sun's disk. Other phenomena such as Baily's beads, solar prominences and shadow bands may also be observed during totality.     
Moving on, we visit the South Orkneys and South Shetland Islands before arriving at the Antarctic Peninsula itself, a truly awe-inspiring landscape that dwarfs the ship and its inhabitants. Flock after flock of Gentoo and Adelie Penguins porpoise rapidly through the water on their way to and from numerous breeding colonies. South Polar Skua and the ghostly white Snow Petrel are also to be seen here, whilst beneath the waves the summer bloom of plankton and krill attract in ocean giants such as Humpback and Antarctic Minke Whales. The mighty Orca also patrols these waters and the menacing, almost reptilian, outline of the Leopard Seals is frequently seen as they lie hauled up on ice floes awaiting their next unfortunate penguin snack!
We will have four days in which to absorb the majesty and grandeur of the Antarctic Peninsula before heading back out to sea for the final time to cross the Drake Passage, past Cape Horn, back to Ushuaia and ultimately home.
DETAILED INFORMATION
Outline Itinerary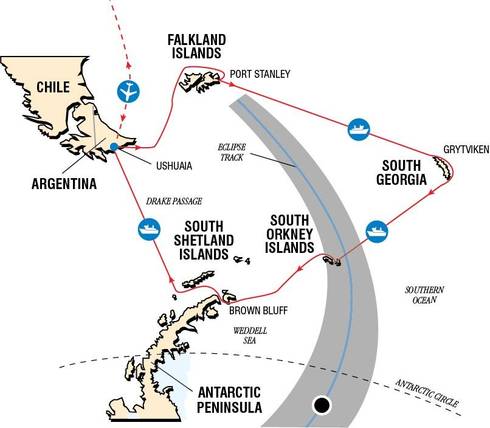 Day 3
Board the M/V Ortelius
Day 13
Total Solar Eclipse
Day 16/19
Antarctic Peninsula and the South Shetlands
Day 20/21
At sea (Drake Passage) finishing in the Beagle Channel
Day 22
Disembark at Ushuaia
Day 23/24
Buenos Aires and fly to London
cloud_downloadDownload Full Itinerary
What's Included?
Flights
Accommodation:

For this cruise we have exclusively chartered the 116 berth ice-strengthened MV Ortelius. All cabins have private facilities. In Ushuaia and Buenos Aires we use comfortable tourist hotels with private facilities. The above prices are based on quad cabin accommodation. Please download the tour itinerary or call the Naturetrek office on 01962 733051 for twin cabin prices and further cabin upgrade options.

Food:

All included in the price with the exception of meals in Ushuaia and Buenos Aires.
DATES AND PRICES
2021
Departures
Availability
Cost
Mon 22nd Nov - Wed 15th Dec
SPACES
£16,595
Flights:
Most Naturetrek tours include flight costs ex-UK. If flights are not included, we indicate that here.
Flights are included in the tour cost
Regional Departures:
On certain tours it is possible to depart from a regional airport (rather than London). If a regional departure is possible, we indicate that here.
Regional Departures are available. Call 01962733051
Land only cost:
The "Land Only" cost is the tour price you will pay if you choose to arrange your own flights/transport.
£15,295
Room sharing options:
If a customer on this departure has already expressed an interest in sharing a room it will be flagged here. We will identify if there are sharing options for male, female or both.
Male sharing available, Female sharing available
Why Naturetrek?
At Naturetrek we craft expertly-guided group and tailor-made wildlife holidays and cruises to all seven continents. On one of our holidays, you can be assured that our passionate team will enable you to experience and enjoy the best of the world's wildlife and natural spectacles in as comfortable and rewarding a manner as possible, caring as best we can for the environment in the process. We are proud to provide:
The widest choice of wildlife holidays worldwide
Tours managed and led by naturalists, for naturalists
Outstanding value and exceptional customer service
Furthermore, as a Naturetrek client, our office team are always to on hand to help you – so if you have any queries about your holiday, whether before or after you have booked, we will be delighted to answer them on the phone. Please just give our team a call!