Our new Day Trips continue to prove hugely popular with over 1,000 places filled so far! Thank you all so much for your support! For us, it has been wonderful to have been positive and proactive again and to have put a smile on so many people's faces. Our tour leaders are thoroughly enjoying leading them! Many and varied highlights from our first few day trips have included Honey-buzzards in Ashdown Forest and the Forest of Dean, 'the' Lammergeier in the Peak District, Roseate Terns off Northumberland and Devon, egg-laying Emperor and Golden-ringed Dragonflies, and a plethora of wildflowers and other special wildlife.
Read the highlights from the tours so far below.

The mixed weather that has been experienced in the forest has had little effect on the quality of wildlife found on the seven trips so far. Clients have enjoyed sightings of a Hobby mobbing a pair of Honey-buzzards, whilst a female Goshawk rising on thermals was another 'wow' moment. Dartford Warblers have been seen on every trip thus far, though have always remained elusive. Lovely summer days brought out a range of Odonata with Golden-ringed Dragonflies, Brilliant Emeralds, Black Darters, Small Red Damselflies and egg-laying Emperor Dragonflies providing the most interest.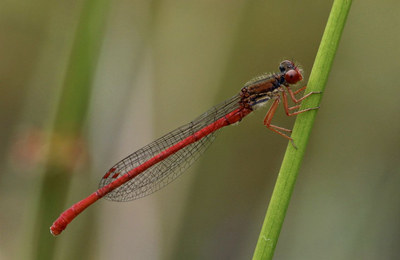 Small Red Damselfly (Matt Eade)

Good weather has ensured our groups have found one of the rarest breeding butterflies in the UK – the High Brown Fritillary – with relative ease when strolling across the bracken-covered slopes. Although similar looking, several Dark Green Fritillaries have also been identified, whilst other butterflies have included the White Admiral, Grayling, Purple Hairstreak, Silver-washed Fritillary and several Peacocks. Birds have also been prolific, while a female Goshawk circled for a prolonged period causing a moment of joy among the group. Spotted Flycatchers, Dippers and an unusual sighting of a Crossbill have also been excellent sightings.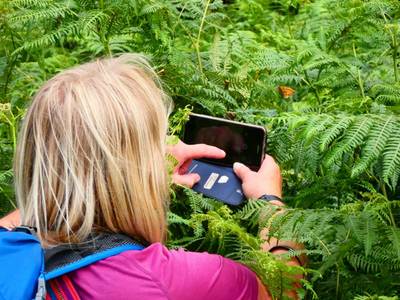 Photographing Britain's most threatened butterfly; High Brown Fritillary (Matt Collis)

Our groups have been spoilt for choice when it comes to this wonderful forest. A juvenile Dipper has provided much pleasure, as have the regular encounters with Goshawks and Hawfinches, whilst at dusk Nightjars have shown superbly. However, it was to be a Honey-buzzard that provided the most excitement… not just for our clients, but also for our guide who quickly snapped a picture of this Gloucestershire rarity. Small groups of Wild Boar have added a mammalian touch to proceedings, but an egg-laying Golden-ringed Dragonfly will certainly last long in the memory of those that saw it.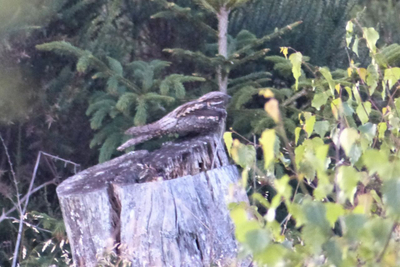 Nightjar (Tom Mabbett)

Curlews 'whauping' overhead has been the mesmerising sound along the River Tees, though dancing Lapwings and 'piping' Oystercatchers were just as appreciated. Pride of place, though, goes to the Snipe which switch-backed above us, tail feathers akimbo and producing that amazing bleating sound. A Short-eared Owl, Merlin and Dippers have been favourites too. Butterflies have been scarce, but we found some interesting plants including Mountain Pansy, Moonwort, a hay field full of Yellow Rattle and two nice insect-eating plants in Round-leaved Sundew and Butterwort.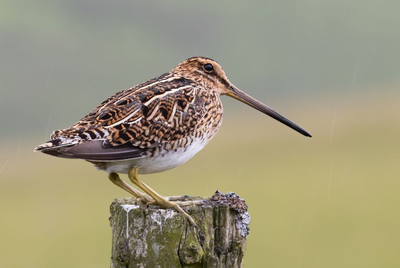 Snipe (Tony Marsh)

Despite the grey days in rural Shropshire, our clients were soon greeted by the lovely yellows, blues, purples and pinks of the myriad wildflowers. We luckily found four species of orchid too: Common Spotted, Pyramidal, Common Twayblade and Fragrant Orchids – the latter a particular favourite! Searches of the scented turf found us Wild Basil, Betony, Cat's-ears, Mouse-ears, Hawkweeds, Woundworts, Yellow-worts, Ragworts, St. John's Worts and oh so many others. Into the bargain we saw Raven, Green Woodpecker, Peregrine, Common Buzzard… and even found a beautiful Slow Worm!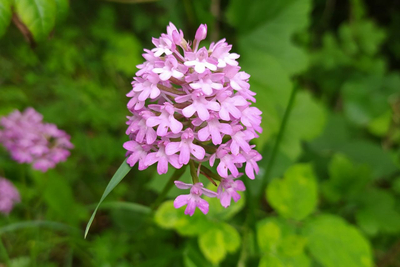 Pyramidal Orchid (Rob Mileto)

A long list of exceptional bird species has brought much excitement to our groups who have walked this stunning coastline. Ground-feeding Cuckoos and 'reeling' Grasshopper Warblers were among a wide variety of bird species found. Even offshore, a sighting of a Roseate Tern was most appreciated as it fed with other commoner seabirds, namely Common Terns and 'rafting' Common Scoters. Even inland, waders have shown well and have included everyone's(?) favourite wader – the Avocet! The stunning flora of this unique coastline has included Bloody Cranes-bill, Bush Vetch, Whorled Loosestrife and Common Spotted Orchids.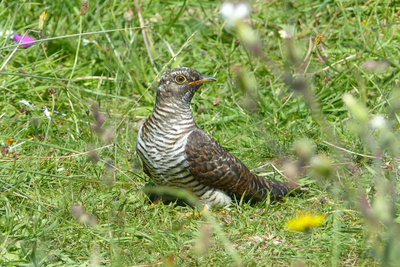 Cuckoo (Andy Bunten)
 
The stifling hot weather encountered along the sandy beaches of Dawlish ensured our clients were promised a mixed bag of excellent wildlife. The undoubted highlight was a Roseate Tern roosting on the beach with a small group of Black-headed Gulls (a scarce encounter along the south coast!), though observing summer-plumaged Dunlins and Sanderlings was splendid. Butterflies were making the most of the glorious conditions, with Small Coppers showing off their incredible colours.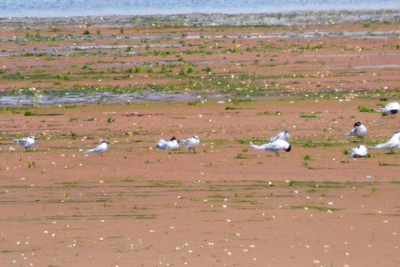 Roseate, Sandwich & Common Tern and Black-headed Gull (Matt Collis)
On the Knepp Estate ...
Our only group to visit this estate couldn't have asked for better weather for a lovely walk through the re-wilding landscapes of Knepp. The public footpaths allowed excellent views of many exceptional butterflies, including an unexpected Brown Hairstreak! Three separate Purple Emperors also put in brief appearances, whilst a further 16 species of butterfly were found. The famous White Storks were wonderful to see, especially the nearly-fledged individual that was doing regular jumps and wing stretches as it stood close to the nest. A flock of seven storks were also seen using the thermals to wander farther afield.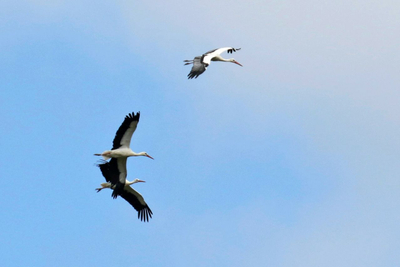 White Stork (Matt Eade)

This famous landscape has become that bit more famous in recent weeks with the arrival of a first-summer Lammergeier that has taken up some form of residence across the moorlands. Two of our groups have already been lucky enough to lay eyes on this incredible vulture… who'd have thought that! Vultures aside, our groups have enjoyed traversing these landscapes, finding along the way an array of birds, including Red Grouse, Whinchats, Golden Plovers, Curlews and Ring Ouzels. The sight of Cotton Grass stretching across the damp moorlands has been another fine sight.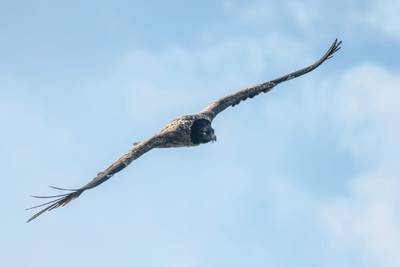 Lammergeier (Tim Melling)
This excellent forest has provided many ornithological highlights for our groups. Birds of prey are well represented in the forest and clients have enjoyed watching both Honey-buzzard and Goshawk from the various viewpoints. Hawfinches and Crossbills were also encountered, as were many Redstarts and some Dartford Warblers. The top bird located, though, had to be a close view of a 'foraging' Lesser Spotted Woodpecker – now a very difficult bird to locate, especially in July!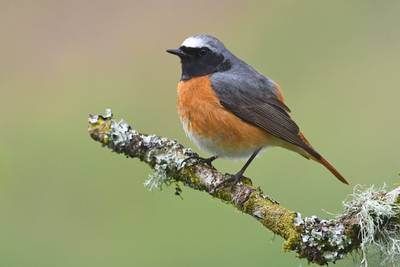 Redstart
The coastal marshes are well known for their wader flocks during the winter months, yet, our groups that have visited here have been able to witness the return of these waders. Species such as Curlew and Dunlin were early returners from their breeding grounds further north. The local breeders were still busy looking after their chicks – Avocets, Lapwings and Little Ringed Plovers especially. Other great birds have included a Dartford Warbler, Peregrine and the magnificent Little Terns!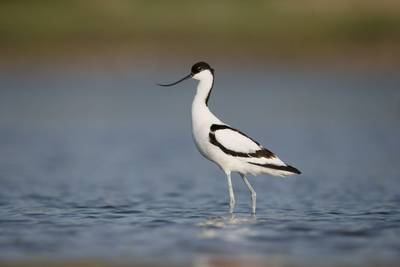 Avocet
The diversity of this SSSI has been noted on all of our trips here. A total of 16 species of butterfly have been recorded, including the majestic Marbled White. A vast range of Odonata has also been found with many hawkers seen hunting in the various bays: Brown Hawker and Southern Hawker, whilst smaller dragonflies have included both Ruddy and Common Darters. Some great birds have also been found – a Common Redstart was most likely a passage migrant, whilst a Hobby overhead and Marsh Tits in the bushes have also been enjoyed.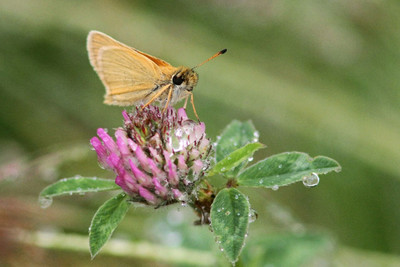 Essex Skipper (Neil McMahon)
Reviews:


'The Upper Teesdale workshop was brilliant and Andy Bunten was an exceptional guide. So very knowledgeable and an expert spotter, but equally important he had great communication skills so that no-one felt remotely patronised or afraid to ask the most basic of questions. The organisation of the day was impeccably planned too. This was my first naturetrek outing but I have friends who regularly use you and have spoken of your trips in glowing terms. So I will certainly look at your website and I will hope to travel with you at some point in the future.' 
KS – Teesdale


'We had a lovely day on Monday; Matt was terrific - particularly with us being beginners at bird watching! The other attendees were very interesting and one in particular was extremely knowledgeable. So we learned a lot - just got to remember it now! We are looking at the other day trips available to see if we can do another one.' 
Ashdown Forest


'I wanted to write to thank you for organising your new One-Day trips. It's an excellent idea and something to give hope to many people, who are keen to get out and about, and to experience the beauty of nature closer to home. Our trip to the Ashdown Forest on Friday was excellent. The weather was kind to us, a lovely sunny, English summer day, but it was our guide, Matt Eade, who made it special. Quite how Matt managed to arrange Goshawk, two Honey-buzzards, Hobby, Treecreeper, and a whole host of other species was remarkable.
Spotted Flycatcher is the personal favourite of my husband Simon – and Matt knew where to find two of them. Simon was over the moon!  
It was a top day. Matt was informative, very knowledgeable, engaging, encouraging, always happy to help, provide insights and share his knowledge and experiences. He paced the walk just right, thoughtful about short breaks where needed. I worked for 8 years as a Tour Director around Europe and I know how exceptionally hard it can be to keep everyone happy!' 
Ashdown Forest


'The trip exceeded our already high expectations. Andy Bunten was kind, humorous, thoughtful and his knowledge of the wildlife truly exceptional. It was a real pleasure and privilege to be in his company.' 
KE – Teesdale


'So nice to be on a Naturetrek trip again and had a thoroughly enjoyable day with Russ and our other companions. Everyone just got on even though we had not met before. Looking forward to our next day trip!' 
LD – Smardale


'We had a great day, thank you.  Matthew Capper was an excellent guide, giving us a wealth of information about the ecology, conservation and social history of the area as well as the wildlife, and having an amazing ability to detect birdlife out of nowhere.  The Lammergeier before we'd even left the meeting point was of course spectacular, but it was Matthew's commitment to searching for the birds and Mountain Hares which would have been personal highlights which impressed me even more.  You can't guarantee sightings, but he could not have looked harder!  We also appreciated his patience and good humour, and his determination to make sure that all 5 of us got to see everything. These day trips are a brilliant idea. We are really looking forward to our next Naturetrek Day in a couple of weeks.' 
AB – Peak District