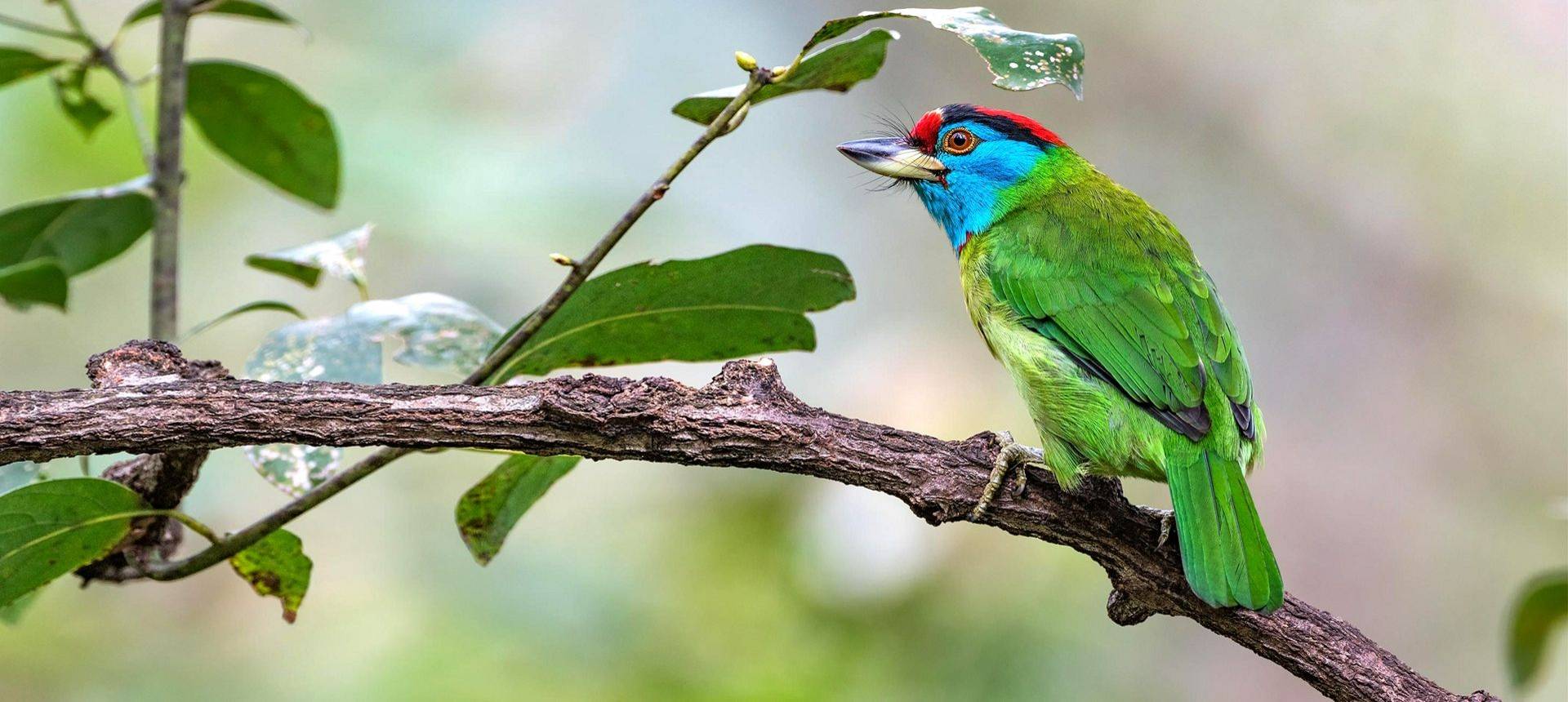 Nepal - A Birdwatching Tour
Tour Code: NPL04
A 11-day birdwatching tour of Koshi Tappu Wildlife Reserve, Chitwan National Park, and the forested hills of the Kathmandu Valley - Nepal's top three sites!
Nepal is not to be missed, and on this tour we take you to the country's three premier wildlife reserves – Chitwan National Park, Koshi Tappu Wildlife Reserve and the forested hills of the Kathmandu Valley. Beginning in Kathmandu we'll take in some of the valley's cultural and architectural highlights as well as do some birding, before transferring to Chitwan National Park where we'll look for such sought-after species as Red-headed Trogon, Lesser Racquet-tailed Drongo and White-tailed Rubythroat. Our next stop is Koshi Tappu Wildlife Reserve, one of Asia's finest wetlands, where birds we'll look for include Swamp Francolin and Striated Marsh Warbler, and mammals include wild Water Buffalo and Nilgai. We'll explore on foot and by boat before reluctantly starting our journey home.
Good chance of seeing about 300 bird species during the holiday
Visit the finest bird watching sites in Nepal
Superlative Himalayan birding & very good value!
Birding on Phulchowki Mountain, the most bird-rich site in the Kathmandu Valley
Look for Himalayan Pied Kingfisher, Ibisbill & Brown Dipper
480+ bird species in Chitwan National Park
Indian Rhino, langurs, Sambar & Hog Deer, Chitwan
Bird Nepal's terai (lowland) habitat for species such as White-rumped Needletail Swift
Led by expert local naturalist guides
Can I help you?

Outline Itinerary
Day 4/6
Koshi Tappu Wildlife Reserve
Day 7/9
Chitwan National Park
This holiday consisted of a fortnight visiting three nature reserves in rural Nepal. All three consisted of different habitats and every day guided tours were arranged with the emphasis on seeing the very wide variety of bird life that is present in the country. Many mammals and reptiles were also seen and every opportunity was taken to enjoy all parts of the parks. The guides were of very high quality and went to great lengths to please all tour members and keep everybody interested. The camp, while understandably simple, were clean, efficiently run and all staff were extremely helpful and friendly. The food was excellent and varied. Interspersed with the visits to the reserves we also spent a few nights in Kathmandu. This provided interesting variety and allowed us to leave much of our luggage in storage rather than carry everything all around the country. All in all a very enjoyable and well thought-out holiday.

J.D. West Sussex
Food & Accommodation
Included in the price, except for main meals in Kathmandu. Allow ?35.
Simple but comfortable hotel and jungle lodge; a comfortable tented camp at Koshi; all have private facilities.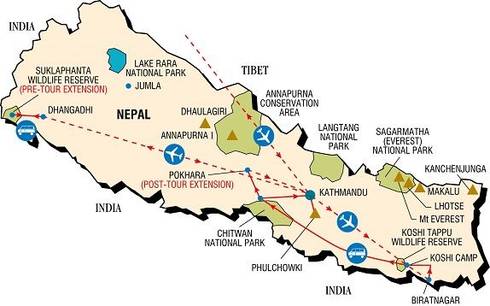 Tour Downloads
Tour leaders
Nick Acheson

Tour leader

Peter Dunn

Tour leader
Nepal is not to be missed. It is one of the most spectacular countries on earth, inhabited by the most friendly and endearing people, and boasts an incredible 840 species of birds within a land-locked area only the size of England and Wales! This holiday is designed to introduce you to the finest birdwatching areas of this Himalayan kingdom, at a sensible cost. We should see in the region of 300 bird species, together with a good selection of larger mammals, birdwatching at altitudes up to 2,740 metres in the Kathmandu Valley, and down to nearly sea level in Chitwan and Koshi Tappu.
We will begin our holiday in Kathmandu, Nepal's fascinating capital that combines medieval and modern in unique fashion. Our three nights here will allow us to enjoy some of the valley's cultural and architectural highlights. Beautiful pagoda-style Hindu temples, Buddhist stupas (shrines), and elaborate royal palaces punctuate Kathmandu, and provide homes for the Barn Owls that may be seen floating over the city at dusk, together with Night Herons and scores of ghostly Indian Flying Foxes.
It is Phulchowki mountain, however, that will be the focus of our attention during our time in Kathmandu. Driving as close to its summit as conditions allow, we will enjoy our first views of the magnificent snow-clad Himalaya. From here we will spend a full day descending from Phulchowki's 2,740-metre crown, where frost and snow cling to a temperate forest of spruce, fir, oak and rhododendron, to the subtropical forest around the mountain's base at 1,520 metres. The birdlife on this forested mountain is the richest in the valley, no one visit producing the same long list of bird species. Here we will undoubtedly enjoy our first Himalayan woodpeckers, minivets, warblers, flycatchers, laughing-thrushes, yuhinas, sunbirds, flowerpeckers, rosefinches, and possibly some of the mountain's more unusual species such as Grey-sided Laughing-thrush, Nepal Parrotbill and Cutia.
Leaving Kathmandu, we will fly to Biratnagar, a bustling town situated in the Gangetic floodplains of south-eastern Nepal. Heading east, the flight provides spectacular views of such Himalayan giants as Mount Everest, Lhotse, Kanchenjunga and Makalu. On arrival at Biratnagar, we will travel by road for a couple of hours to Koshi Tappu Wildlife Reserve for a 3-night stay. Our base, Koshi Camp, is situated on the edge of the reserve, part of a vast expanse of open water, marshes, lagoons, sandbanks, mudflats and dry woodlands that lie to the north of the great Koshi barrage. This is one of Asia's finest wetlands and a fabulous birdwatching area. Almost all of Nepal's long list of wildfowl, waders, storks, ibises, herons, egrets, terns and gulls occur here, plus a great variety of landbirds, especially warblers and birds of prey. Well in excess of 100 species of birds may be seen daily in this wonderful area, including such local specialities as Swamp Francolin, Red-necked Falcon and Striated Marsh Warbler. This region is also the last refuge of the wild Water Buffalo in Nepal, and other mammals to be seen here include Fishing Cat, Jungle Cat, Asiatic Jackal, Hog Deer, Nilgai (or 'Blue Bull' — the subcontinent's largest antelope), and the rare Ganges River Dolphin. We will explore the area on foot and in inflatable boats.
Next we make the long drive from Koshi to Chitwan, passing through Nepal's lowlands. Chitwan National Park is a World Heritage Site that protects 932 square kilometres of dry deciduous forest, tropical evergreen forest and riverine grasslands. A larger number of bird species (over 480) has been recorded here than in any other part of Nepal due to Chitwan's diverse habitats and tropical lowland situation. We can expect to see a third of these during our 3-night stay. The park holds a similar wealth of mammals, including the endangered Indian Rhinoceros, Wild Boar, Sambar, Muntjac, Spotted and Hog Deer, and Rhesus and Common Langur Monkeys. Tigers, Leopards, Sloth Bears and Gaur (the Asiatic bison) may also occasionally be seen, as well as the Marsh Mugger and fish-eating Gharial Crocodiles. We will explore the park on foot, by jeep, and other means.
Finally, we head back to Kathmandu from Chitwan along the scenic Narayani and Trisuli Rivers. It is here that we hope to finish our holiday on a high note by locating the Ibisbills that winter here.
For those wishing to extend their holiday, our pre-tour extension to the grasslands of Suklaphanta Wildlife Reserve offers a very different and very special range of birds and mammals; alternatively, if you would like to remain longer in Nepal, we highly recommend a stay at the stunningly located Tiger Mountain Pokhara Lodge which offers some of the finest mountain views in the world.

Please contact us on 01962 733051 for details on what extensions either pre or post tour are available for this Tour.
This holiday consisted of a fortnight visiting three nature reserves in rural Nepal. All three consisted of different habitats and every day guided tours were arranged with the emphasis on seeing the very wide variety of bird life that is present in the country. Many mammals and reptiles were also seen and every opportunity was taken to enjoy all parts of the parks. The guides were of very high quality and went to great lengths to please all tour members and keep everybody interested. The camp, while understandably simple, were clean, efficiently run and all staff were extremely helpful and friendly. The food was excellent and varied. Interspersed with the visits to the reserves we also spent a few nights in Kathmandu. This provided interesting variety and allowed us to leave much of our luggage in storage rather than carry everything all around the country. All in all a very enjoyable and well thought-out holiday.

J.D. West Sussex

I have nothing but praise for Suchit Basnet who not only proved to be an excellent guide but has a first class attitude to his job.

R.B. Yorkshire

We both thought Som was quite exceptional. He clearly had a good relationship with the drivers, hotel staff and camping organisations and was patient and expert in his birding, ensuring that everyone in the group got his attention and guidance. We cant praise him highly enough.

M. & B.D. Kent

This was an outstanding trip and Suchit is an excellent ornithologist... He was tenacious in searching out our wish list birds, especially the elusive Ibisbill. Ground organisation was impeccable - whether it was a jeep, aircraft, dugout canoe or elephant, all arrived on time and took us where we wanted. The birds were great... but the mammals (leopard included), the culture, the company and the accommodation were bonuses.

T. & J.K. Yorkshire

The local agents were first class, hospitality, attention to detail, enthusiasm and professionalism were all at a premium.

P.M. South Yorkshire

We looked upon the trip to Nepal as the trip of a lifetime, and in no way did it disappoint – just hoping now that there will be more!

P.P. Cornwall

I had never taken an 'organised' trip before and was warned that I might find the tour restrictive. But the holiday was superb. Many, many thanks to everybody involved. Hathan was very hard-working, very organised and a real gentleman. Great trip all round. Great wildlife.

D.W. Norfolk

Well what can I say? Probably the best foreign trip I've undertaken (and I've done a few!). Keep up the good work!

S.E. West Midlands

Suchit Basnet was absolutely brilliant - enthusiastic, knowledgeable, helpful, friendly, humorous and well organised.

H.L. South Yorkshire

We were so well treated at Tigerland Safari Lodge and Koshi Camp; they are both lovely places. Our guide was very helpful and knowledgeable.

N.M. Norfolk

A very enjoyable and interesting tour. Everything went well, the leaders and drivers were excellent and attentive, and we saw a great deal of wildlife.

J.C. Denmark