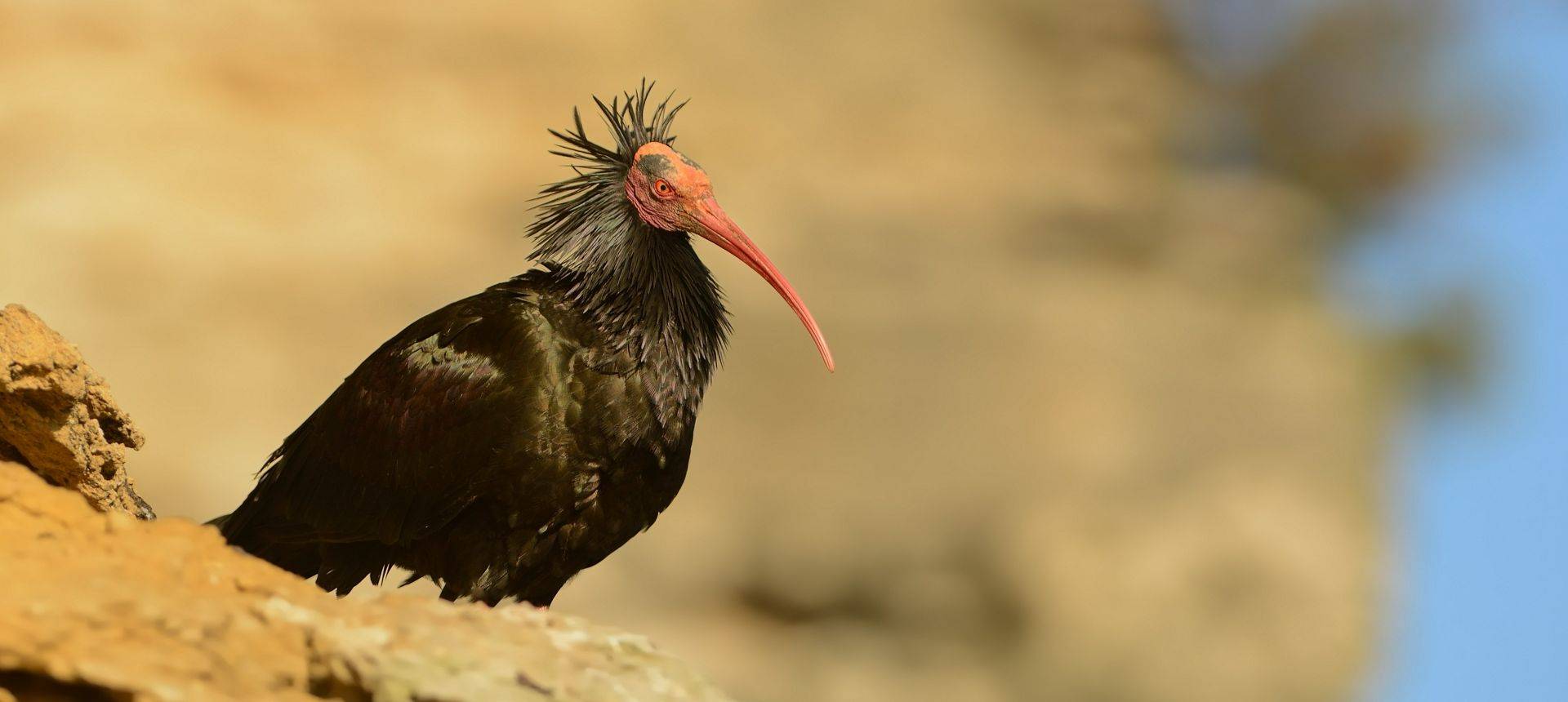 Birding Southern Morocco
Tour Code: MAR01
A 10-day birdwatching tour to the deserts, oases and mountains of southern Morocco's kasbah country.
Imagine birding in an oasis of date palms or an orchard of blossoming almond trees, surrounded by a warm desert, and beneath a clear blue sky and the spectacular snow-capped High Atlas Mountains, rising as high as the Alps. This is the dramatic Kasbah country of southern Morocco and the region on which we will focus during our quest for some of northern Africa's most exciting species. This comprehensive birding tour of southern Morocco, finely tuned over 20 years of operation, heads south from Marrakech, out into the Sahara at Merzouga before wending its way back west to Morocco's dramatic Atlantic seaboard at Agadir.
The best of North Africa birding – at an unbeatable price
4WD excursion into the Sahara desert at Merzouga for Houbara Bustard, Desert Warbler, Desert Sparrow and Cream-coloured Courser
Bald Ibis, Tristram's Warbler, larks and wheatears galore plus many other specialities
A popular mix of charming hotels set against stunning, varied scenery
The best Moroccan back-up and bird tour driver in the business
Possibilities to extend your stay in bustling and colourful Marrakech
Can I help you?


X
Andy Tucker
Andy is an Aquatic Biology graduate (Aberystwyth) and worked in fisheries consultancy for a year after graduation before travelling to south-east Peru to work as a guide in the Amazon rainforest. During his year there he balanced guiding with his fisheries research and, after a brief spell back in England, returned to a full-time guiding post at Sacha Lodge in the Ecuadorian Amazon. Andy has travelled widely in Central and South America and his fluent Spanish is a huge advantage during our tours both across the Atlantic and in Spain. Andy has birdwatched for as long as he can remember and counts himself lucky to have seen so many fantastic bird and wildlife spectacles around the globe. He joined the Naturetrek team in 1998 and, while now kept busy as General Manager, is involved in the operations of a wide variety of tours in Latin America, Western Europe and North Africa.
...the organisation of the itinerary could not be faulted. The inclusion of coffees and picnic/restaurant lunches was much appreciated. The trip leader and driver went out of their way at all times to make sure the whole party were catered for in hotels, while travelling, and in getting the best views of the birds.

R.G. Clackmannanshire
Food & Accommodation
All included in the price.
An interesting mix of characterful and comfortable hotels, all with private facilities.
Imagine birdwatching in an oasis of date palms, surrounded by a warming desert, beneath a clear blue sky and a spectacular snowclad mountain range that is as high as the Alps. The temperature is perfect; at home it is chilly and grey! This is southern Morocco: the dramatic kasbah country of central southern Morocco, impressive pictures of which decorate so many brochures and tourist board offices, but which remains a little too inaccessible for the majority of the country's visitors. It is this region, in particular the desert, oasis and mountain habitats that border the beautiful Dades and Draa Valleys — two rivers to the south of the High Atlas mountains that never reach the sea — on which we will focus in our quest for southern Morocco's birds.
We begin our journey with a flight to Marrakech. This old imperial capital of Morocco, surrounded by olive and palm groves, and with the towering snowy peaks of the High Atlas forming such a magnificent backdrop, has a truly wonderful atmosphere. We may have time to briefly explore the fascinating souks, mosques, mausoleums and palaces of the Medina (old city) and, as the sun sinks, we may sample the excitement generated by the open-air entertainers and attendant crowds in the Jemma el Fna — Marrakech's central square. Such cultural induction, followed by a delicious dinner of traditional Moroccan cuisine, will surely provide a fitting start to our holiday. Alternatively, there will be the chance to visit the High Atlas to search for African Crimson-winged Finch.
We next take a spectacular drive south over the snowbound High Atlas mountains to Ouarzazate, a French garrison town beside a Glaoui kasbah, sandwiched between the High Atlas and Anti-Atlas mountains where we will stay for one night. From here we will drive eastwards along the Dades Valley to Boumalene Dades, where an overnight stay will enable us to explore the Dades and Todra Gorges; the former with its bizarre limestone erosions and impressive ksour (fortified villages) and kasbahs, the latter a dramatic narrow gorge whose towering pink cliffs are home to Crag Martins and Bonelli's Eagles. By contrast, a wide and stony desert close to Boumalene may reward us with a variety of larks, sandgrouse, and possibly Houbara Bustard.
We now continue our journey eastwards to Erfoud, through an increasingly desolate and barren landscape, broken only by the occasional oasis. A stay of two nights here, in this 'gateway to the Sahara', will allow us the chance to enjoy some of the best desert birding that Morocco has to offer. The palmeries and gardens of Erfoud are the haunt of large numbers of Common Bulbuls and a good variety of other passerines, but it is the sandy wadis and stony desert not far from the town, and the first great sand dunes of the Sahara at Merzouga, two hours to the south, that will warrant most attention. Here we will search for such elusive species as Desert Sparrow, Houbara Bustard, Cream-coloured Courser and Fulvous Babbler, plus a variety of 'desert' larks and even sandgrouse. The ruins of Rissani, fast being consumed by the travelling sands of the Sahara, are also worth a visit, illustrating as they do a fascinating 1,000-year period of Moroccan history.
Breaking the journey in Ouarzazate, we now return westwards to Taroudant, an attractive ochre-walled town, and 16th century imperial capital of Morocco, set at the head of the fertile Sous Valley. The long drive to Taroudant will not be without interest. Thick-billed Larks, Thekla Larks, Barbary Falcons, and other pre-Saharan species may be seen on the way, whilst fine views of the High and Anti-Atlas mountains, and the historic kasbah at Taliouine, are further ingredients of a satisfying drive.
At Taroudant, from our fine hotel that nestles in the city walls, we will visit the Argana woodland and olive and citrus groves of the nearby Sous Valley. Here we may find such species as Black-shouldered Kite, Spotless Starling, Spanish Sparrow, and a variety of finches and warblers. In particular we will be looking for the very local Fulvous Babbler, a sought-after inhabitant of palm groves. We complete our tour with two nights in a very comfortable hotel on Morocco's Atlantic coast, at Agadir. From this base we are within easy striking distance of the Oued Massa lagoon and Tamri, where recent Naturetrek groups have had great success locating the endangered Bald Ibis. This small wetland is one of the most rewarding birdwatching sites in Morocco, and amongst its spectacle of herons, ducks, waders, gulls, terns and raptors, we have a good chance of some less common species such as Greater Flamingo, Bald Ibis, Tawny Eagle and Black-headed Bush Shrike. Even some American and southern African vagrants regularly appear here!
Finally, at the end of our week of spring sunshine and avian activity, we will catch a convenient, direct flight home from Agadir.
Please contact us on 01962 733051 for details on what extensions either pre or post tour are available for this Tour.
...the organisation of the itinerary could not be faulted. The inclusion of coffees and picnic/restaurant lunches was much appreciated. The trip leader and driver went out of their way at all times to make sure the whole party were catered for in hotels, while travelling, and in getting the best views of the birds.

R.G. Clackmannanshire

I thoroughly enjoyed every minute of the holiday...we covered a lot of ground and I feel that we had an experience of the real Morocco. The scenery and birds were superb, far surpassing my expectations. I'm not a very experienced bird watcher but Andy Smith was very patient and made sure that we all saw the bird in sight. He has exceptional birding skills but is also very good with people. A big thank you to him for helping to make this such an enjoyable and memorable holiday. Thank you too to our driver for his cheerfulness and for lovely lunches. This was our first Naturetrek holiday and it wont be the last. Thank you to all concerned.

A. McK. South Glamorgan

This holiday has been a brilliant way to explore Morocco as well as seeing lots of birds. The variety of the hotels was good fun and the two that we two nights in saved the hassle of totally living out of the suitcase. Our driver was super – ever helpful and a good 'spotter' as well. The group turned out to be the best I've travelled with and Tim was ideal.

G.R. Cheshire

I really enjoyed the variety of habitats we saw across Morocco, and was not too bothered by the distances travelled, especially as we normally had plenty of stops to break the journey. Mustafa was a great driver and had a great personality, with no end to his talents. With all his knowledge of the country and where to go and who to see, he could soon run the country! Tim was great – full of infectious enthusiasm all the time, which kept our spirits up. His birding skills were great, and his knowledge of natural history in general was amazing, as was his willingness to share his knowledge. I found this a particularly enjoyable feature of the trip.

R.R. Cheshire

I have been on several birding holidays as this is my husband's passion – not mine! However, your guides made the whole experience interesting. I especially enjoyed the chance to see some of the history and culture of the country.

J.J. Worcestershire

Thank you for organising a quite wonderful tour of Morocco. The variety of landscapes and habitats visited was excellent, the hotels and transport all worked out well. I saw many species that were new to me, but most special was the visit to the Merzonga Oasis, a haven of water and shade and good feeding for thousands of warblers and flycatchers. Very many thanks to all at Naturetrek!

P.G. Greater Manchester

The leader was a very knowledgeable birdwatcher and knew his stuff. The co-leader knew his birds and respected the needs and abilities of the group, going that extra mile to make everyone happy. That's what you get from the best company in its field. Here's to next time!

I.F. Lancashire

I particularly appreciated finer details given by Andy Smith on various points to look out for when identifying the birds. Very helpful. Also a wide peripheral knowledge in other botanical areas. James Bray was also a help with butterflies. An excellent holiday.

G.H. Worcestershire

I would particularly like to commend Andy Smith as a brilliant leader. Not only was he excellent at spotting birds, even from a moving van, he was always most helpful at getting people to see the birds themselves. As I was a novice with a telescope, he was both encouraging and attentive, and would always check that I had 'got onto' the bird.

D.M. Northumberland

Every day was well organised and even on the days when we were travelling, we had plenty of stops and saw some fantastic birds, including Scrub Warblers. This was a fabulous trip where I saw some amazing birds, wonderful scenery and experienced a part of Moroccan culture. Our leader Richard Bashford was excellent and I learned a great deal through his expertise.

P.H. Nottinghamshire

This was an excellent trip, well led by a very enthusiastic leader in Ricahrd Bashford. We are considering repeating this trip at another time of the year.

L.D. Nottinghamshire

The itinerary took in superb scenery and an excellent range of habitats and birds. We would have 'missed out' on the cultural side but for our decision to do the extension, thanks to Andy Tucker and the local guides for arranging this. The overall package, we felt, was genuinely excellent and we really enjoyed a holiday of great interest and variety.

Mr & Mrs L. Kent

From the High Atlas to the desert to the coast, this was a great trip looking for birds in the various habitats. The Atlas Mountains were stunning and we were also treated to swathes of wild flowers in several locations. The weather was kind and we saw so many birds - thanks in part to our superb guide Chris, ably assisted by our lovely local guide, Mohammed. We had a really nice group and with many eyes, we didn't miss out on the birds. We had lots of traditional Moroccan food - tagines a-plenty! The mint tea was delicious but the Saffron tea a rather acquired taste! Accommodation was good throughout - we particularly enjoyed the riad in Taroudant with its beautiful flower-clad courtyard and delicious food. Morocco is a fascinating country to visit and Naturetrek covered all the areas we wanted to visit and made this a truly memorable trip.

A.D.W. Bedfordshire

We visited a great variety of locations across Southern Morocco ranging from snowy mountain passes in the Atlas mountains, sand dunes on the edge of the Sahara desert and the Atlantic coast with huge awe-inspiring waves. We saw many of the birds characteristic of those areas including the rare bald ibis, sandgrouse in the desert sheltering from a sandstorm as well as more widespread Moroccan species such as bulbul, house bunting and the African versions of blue tit, chaffinch and magpie. ...we had both varied and comfortable accommodation and our tour leader was both experienced and very knowledgeable. We also had a local guide who was informative about local history and custom as well natural history. 

R.P. Northamptonshire

We recently returned from our Morocco trip and had a fascinating time. We are certainly glad we opted for the extension and it was really interesting to see the Kasbahs and the troglodyte-storage/housing and the salt mine operation. We paused the second day with a picnic on the edge of Skoura Palmerie in a beautiful spot of absolute peace, with the snow-capped High Atlas in the distance against a blue sky and male Tristram's Warbler in the tamarisk above our heads. Our appreciation to the two guides for their friendly assistance and knowledge.

Mr & Mrs L. Worcestershire

We have just returned from our first Naturetrek tour and our first guided tour and first visit to Morocco, we enjoyed the tour and the tour leader worked hard to make the trip a success.

Mr & Mrs T. Kent

Excellent leader, very knowledgeable and helpful when identification was tricky. Good sense of humour also made this trip a joy to be part of.

D.A. Berkshire

Great trip. Tour leaders did an excellent job of locating the wildlife. Saw all the birds I had targeted, as well as most of the other specialities of the region.

D.G. Canada

Both leaders were very knowledgeable, friendly and attentive to individual needs and questions - a very pleasurable experience having co-leaders on such an expedition.

J.S. Tyne & Wear

I am not a birdwatcher but came with my wife to see the country and birds. Peter and Stuart were excellent leaders. I was made welcome and never felt 'left out'.

D.J. Wiltshire

We had a fabulous trip and our group was very sociable. The experienced birders passed on their knowledge to the less keen. Richard Bashford was an excellent guide - very patient; he reminded everyone every day to hand in their room keys, put on sun tan cream, drink water, check luggage etc. And collected lost hats (mine) and one lens cap (my partner's). He was enthusiastic and we all viewed the birds through his amazing telescope. We learnt a great deal from him and he made sure the inexperienced birders were not ignored. Our driver, Mohammed, drove us safely the whole trip and I never felt anxious once and I am a really nervous passenger! A wonderful experience and I'm so glad I took the plunge to go on the trip. Our first tour of this sort.

D.P. Cambridgeshire

This was my second trip with Naturetrek and with Richard Bashford as leader. Richard has an unrivalled knowledge of birds and is an excellent leader, not too fussy and with the confidence to vary the itinerary. The journey to the desert was good in that Richard organised a very good breakfast at the Medina after making the most of the desert experience.

J.B. Devon

We'd like to say a special thank you to Chris - an excellent tour leader; he's a first-rate birder with excellent people skills. He makes everyone feel at ease and special and copes unflappably with any problems.

C.J. Oxfordshire

This was a wonderful tour largely thanks to the fact that Chris Murphy is an absolute star in every way; the other guests were all great too. Mohammed, our driver, was magnificent and fed us wonderfully every day. The itinerary was great in covering so large an area. The birds were terrific and I personally saw every species that I had wanted to see on the tour (with more than ten lifers, which is rare for me these days in the Western Palearctic) and, on the whole, the hotels were great. I'd just focus a bit more on two of these points. Birding with Chris Murphy was an absolute joy. He is a fantastic birder with terrific knowledge, but the way he affirms everyone in the group and gave huge encouragement to inexperienced and experienced guests was simply inspirational. I hope very much to tour with him again with Naturetrek.

A.G. Oxfordshire