Our expert staff in the office have been reflecting on their wildlife highlights of 2018 – from swimming with Whale Sharks in the Maldives to seeing Steller's Sea Eagles in Japan. 2018 was a busy year for us all and we look forward to sharing more wonderful wildlife adventures with you in 2019!
Website Manager Sara Frost: Mantas in the Maldives
It's difficult to choose only one fantastic wildlife highlight from tour leading in 2018 – a year that included such memorable events as snorkelling over vibrant coral reefs in Indonesia, sailing alongside a mother Sperm Whale and her calf in the Azores and sitting atop the cliffs of St. Kilda in blistering sunshine, looking down upon hundreds of thousands of nesting Fulmars, Guillemots, Razorbills and Puffins! But… I'd have to settle on our cruise in the Maldives, which I led this year in February. The highlight was our encounter with a group of Manta Rays; we had already enjoyed a morning's excitement swimming with these graceful creatures, but that evening, we anchored in a lagoon and set up lights at the back of the boat to attract plankton (in the hope that something larger may come along!). I was half way through delivering an evening presentation in the saloon, when a crew member called from the back of the boat: "MANTA! MANTA!"… and a stampede of eager guests ensued! (I tried not be offended, I had thought my presentation on fish farming was rather fascinating.)
At the back of our boat, two large Manta Rays were elegantly swimming in circles and 'barrel rolling' as they fed on the abundant plankton attracted by our lights. Manta Rays have unique spots on their undersides, which we photographed and sent to the Manta Trust to assist their sightings data. We quickly learned that these two individuals were young males, one called Joaquim and the other (rather wonderfully) called Kevin. Both had been seen numerous times around that particular atoll, and they made our evening by spending an unbelievable FOUR hours at the back of our boat! You can see the video here, which I filmed just from the back of the boat.
An additional mention must also go to the superb snorkel the group had with a Whale Shark – a young individual, 5 metres in length, which obligingly swam slowly (well, for a Whale Shark!), enabling our group to swim with it and marvel at its elegant beauty. To top this off, on most mornings and evenings, we enjoyed a pre-breakfast and pre-dinner snorkel on coral reefs, where the colour and variety of fish was wonderful! Butterflyfish, parrotfish, pufferfish, reef squid, both White-tipped and Black-tipped Reef Sharks and Green Turtles were just a few of the stars! Back on board, while cruising between atolls, islands and reefs, three confirmed species of cetacean were seen: a huge group of Pan-tropical Spotted Dolphins, along with numerous Spinner Dolphins (occasionally mixing with the Spotted Dolphins and all taking it in turn to enjoy pole position on the bow wave) and Indo-Pacific Bottlenose Dolphins. All in all, it was the Maldives at its best!
Our popular 2019 Mantas, Dolphins & Coral Reefs: A Maldives Cruise is now fully booked, but we are delighted to have just released two dates for February 2020! Click on the tour link to book your place, or call Kerrie Porteous on 01962 733051 or email This email address is being protected from spambots. You need JavaScript enabled to view it. for further details.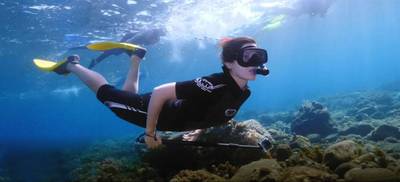 Sara snorkelling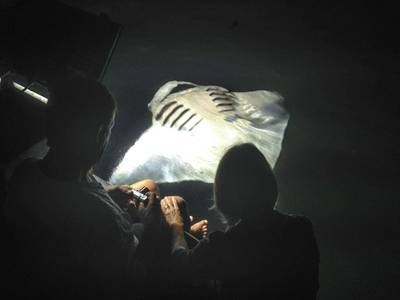 Manta Rays at the back of the boat (Sara Frost)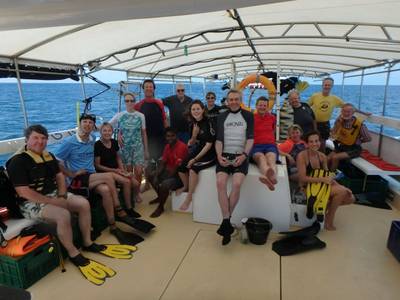 Sara and group en route to snorkel
Operations Manager Kerrie Porteous – Bird Island, Seychelles
In September I spent two glorious weeks co-leading our tour to the Seychelles. These Indian Ocean islands are beautiful and wild, with stunning white sand beaches, jungle-clad, mountainous interiors, and a vibrant Creole culture. Every day had its own highlight, but for me, the 3 nights spent on the remote Bird Island included some of the best wildlife watching I have ever had the privilege to enjoy.
We flew to Bird on a small Twin Otter aircraft. On the approach to land, the grass airstrip erupted around us as Common and Lesser Noddies took to the air in their hundreds. Bird Island is a private island, nature reserve and eco-lodge all rolled into one. Birding is about as easy as it gets – the bird list inside my bungalow included Madagascar Fody and Lesser Noddy! Fairy Terns hover at head height, just waiting for you to take their photo, and White-tailed Tropicbirds sit contentedly on their nests at the foot of the trees which line the path to the restaurant. It's also the perfect place to resolve some "ornithological confusions", with Common and Lesser Noddies covering most branches, Greater and Lesser Sandplovers grazing the grass together outside our bungalows, and Great and Lesser Frigatebirds swirling together in the skies overhead each evening. A third of the island is given over to a Sooty Tern colony, with around 75,000 pairs nesting here from May to October. Perhaps half of them were still there when we stayed in September, and visiting the colony first thing in the morning or just before dusk was an incredible (and incredibly noisy!) experience.
We also enjoyed some of our best snorkelling from Bird – with Green Turtles feeding on the sea grass, bright, colourful Threadfin Butterflyfish, Picasso Triggerfish, numerous pufferfish, goatfish, several Longfin Spadefish and, during one outing, an Octopus and a Porcupine Ray! And it wouldn't be right to reminisce about Bird Island and not give a mention to the wonderful Aldabra Giant Tortoises that roam the island. The most famous is Esmerelda, who is the world's largest tortoise (and not, it turns out, a lady tortoise, but a gentleman! He's kept his name though…). My favourite tortoise, however, had to be the one that stayed hidden in the undergrowth outside my bungalow each day, waiting for me to come back from our afternoon snorkel. As soon as I started up the shower at the back of the bungalow to wash my mask and fins, he'd move with a speed that I didn't know Giant Tortoises possessed, and join me for a cooling shower and a drink!
I could have stayed so much longer, but all too soon we were sitting in the lodge bar, waiting for our plane to come and pick us up. But Bird Island had one last surprise in store, as shortly before we were due to depart, our guide Gemma ran to the bar with visible excitement. She'd just found a nesting Red-billed Tropicbird, within sight of where we were sitting, a first for Bird Island and indeed a first for the Seychelles! What a marvellous end to a most splendid stay.
Our next Seychelles holiday departs on 22nd September 2019 and costs £5,295. Click on the tour link to book your place, or please call Kerrie Porteous on 01962 733051 or email This email address is being protected from spambots. You need JavaScript enabled to view it. for further details.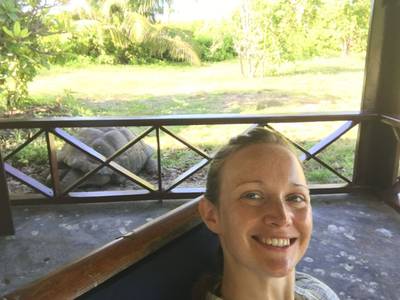 Kerrie at Bird Island Lodge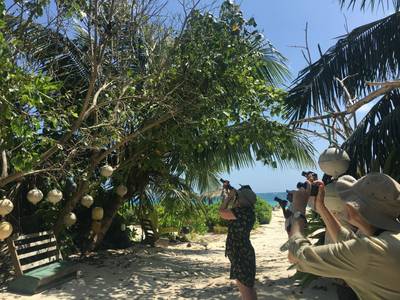 Birding on Bird Island (Kerrie Porteous)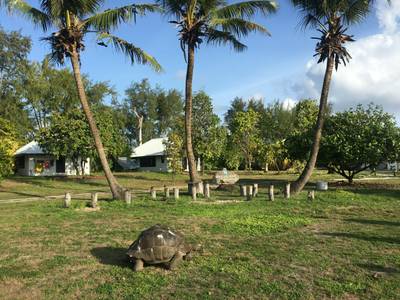 Aldabra Giant Tortoise (Kerrie Porteous)
Operations Manager Alison Steel: Papua New Guinea
My wildlife/travel highlight of the year has to be the time I spent in Papua New Guinea (or 'PNG' as it is often called) in April. I was there on a fact-finding recce to discover more about what this amazing country has to offer. During my time in PNG I visited three contrasting areas, two on the main island and the other on New Britain. Each area was very different, so choosing just one highlight is almost impossible!
Kimbe Bay, a location on the north coast of New Britain Island, offers excellent snorkelling and diving just offshore. The intensity of the colour on the reefs and the variety of fish was fantastic. I had wonderful views of clownfish in their anemones, luminous nudibranchs crawling on the coral, brilliant red sea fans and feather stars waving gently in the current, bright blue sea stars the size of a dinner plate, dainty Christmas Tree Worms with their delicate fronds of various hues, large brain corals, sponges and several dainty seahorses swimming past at close quarters.
The higher montane forests around Rondon Ridge are well known for birds, including a variety of bird-of-paradise species. Early in the morning the Blue Bird-of-paradise can be heard singing just a short way up the hill from the lodge. Its song is very melodic, sounding not unlike a fairground steam organ symphony. Despite only having a very small amount of time for birding in this beautiful area, I still managed to see three bird-of-paradise species – Blue Bird-of-paradise, Superb Bird-of-paradise and Princess Stephanie's Astrapia, with its long streamer-like tail, all close to the lodge.
The Sepik area is clothed in humid lowland forest and the main method of travel here is by boat. On our approach by light aircraft we saw the network of lakes and rivers spread out below us. All around the air seems to hum with insects, punctuated with the calls of exotic-sounding birds. An early morning excursion produced surprises round every bend in the river. Fantastic Palm Cockatoos, flocks of iridescent Metallic Starlings skimming over the water surface and a bizarre, displaying, Twelve-wired Bird-of-paradise were seen, along with a variety of colourful parrots and lories. The lodge gardens are also excellent for birds, with bright myzomelas (PNG's sunbirds) and Rainbow Bee-eaters frequently being seen from the accommodation and main lodge verandas, as well as numerous butterflies.
Our 'Papua New Guinea's Birds of Paradise and Culture' holiday next departs 24th September 2019 and costs £10,495. Click on the tour link to book your place, or please call Alison Steel on 01962 733051 or email: This email address is being protected from spambots. You need JavaScript enabled to view it. for further details.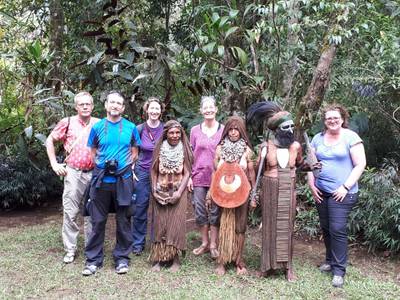 Alison (third from left)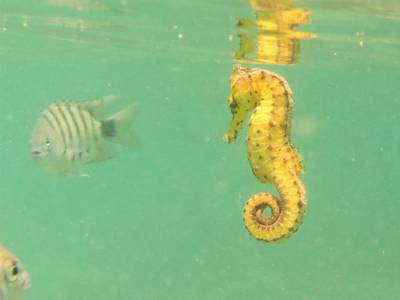 Yellow Seahorse (Alison Steel)
Operations Manager Paul Stanbury – Steller's Sea Eagles in Japan
It was mid-February on Japan's northern-most island of Hokkaido. I was standing on the top deck of a small boat next to the tall harbour wall that protects Rausu's fishing fleet from the worst of the winter storms. In fact, the wall was doing a splendid job that very day, protecting the ice-encrusted boats from the strong wind and horizontal snow that was whipping around our feet and sticking to the lenses of our cameras. Although cold, our minds were focused elsewhere and our eyes were fixed on the huge Steller's Sea Eagles that were standing – at eye level – on the snow-covered wall only a few metres away! Several fish had been thrown onto the snow by the deckhand and the eagles were now squabbling over the scraps, oblivious to their audience and oblivious to the arctic conditions swirling around them. Every so often one would glance our way and fix us with its piercing yellow eyes, the brisk wind ruffling its thick neck feathers whilst the powder snow whipping around its huge, velociraptor-like, talons. Being so close to these majestic birds – one of the largest raptors in the world – is always an unforgettable experience, but on this occasion our encounter was made all the more special by the all-enveloping wind and snow and watching this amazing species at home in its element!
The following day the sun came out and we returned to Rausu Harbour for more eye-to-eye encounters with the Steller's Sea Eagles. The conditions were much more benign and over 150 eagles lined the sea wall, mostly Steller's but with plenty of White-tailed mixed in. White-tailed Eagles look so huge and powerful when we see them soaring over the Scottish islands, but here they are dwarfed by the Steller's and notably deferential to their larger cousins. When you have over 100 Steller's Sea Eagles lined up in front of you, with more flying overhead and others swooping down for fish alongside the boat, it's easy to forget that this species has been classified as 'vulnerable' by the IUCN and has a global population (which is decreasing) of only 5,000 or so individuals. Seeing so many was a privilege and one of the undoubted highlights of my time in Japan co-leading our inaugural 'Wild Japan in Winter' tour earlier in the year. The supporting cast were pretty good too, however, and included wonderful views of Blakiston's Fish Owl (the largest owl in the world) on three consecutive nights, flocks of Red-crowned Cranes dancing in the snow, Japanese Waxwing, Ancient Murrelet, Dusky Thrush and families of Japanese Macaques huddled around their hot-spring. Even so, for me the most memorable encounter of the whole tour was our time spent in the midst of the blizzard with the Steller's Sea Eagles, it was how I'd always pictured these amazing birds in the past and the way I will always remember them in the future!
Our next available 'Wild Japan in Winter' holiday departs 15th February 2019 and costs £5,495. Click on the tour link to book your place, or please call Paul Stanbury on 01962 733051 or email: This email address is being protected from spambots. You need JavaScript enabled to view it. for further details.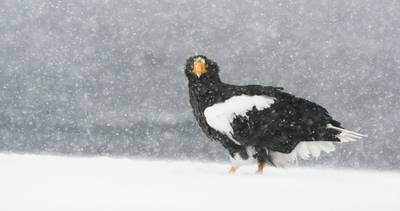 Steller's Sea Eagle (Paul Stanbury)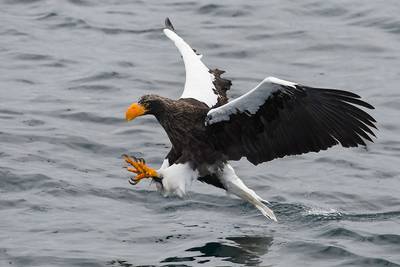 Steller's Sea Eagle (Paul Stanbury)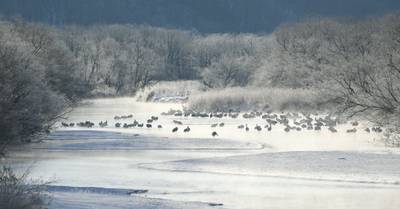 Red-crowned Cranes, Otowa Bridge (Paul Stanbury)
General Manager Andy Tucker: an unexpected Indian Pangolin, India
For my wildlife highlight of 2018 I'm going to pick a moment from a tailormade family holiday to India during the October half term. Travelling with my wife, Maritza, and four children, Carrie (15), Jack (14), Ben (11) and Nicholas (4), we had pitched up for 4 nights at Singinawa Jungle Lodge, just outside Kanha National Park, having already enjoyed a flying visit to Delhi, Agra and the Taj Mahal.
Half way through our stay, we set out on another early morning game drive. Carrie stayed back at the lodge to revise for her GCSE mock exams, and Maritza and Nicky also decided to stay back in order to catch up on sleep. I had warned them that in doing this they'd inevitably miss out on an elusive Tiger - and that proved to be the case later that morning! However, the wildlife highlight was in fact not the Tiger, but an Indian Pangolin, which we saw scurrying across the road in the buffer zone on our way to the Mukki gate of the park.
Naturetrek has operated hundreds, if not thousands, of tours to India across its 32-year history, but we're not aware of any of our groups ever having had an encounter with this bizarre-looking animal. Heavily hunted and poached for its meat and scales, Indian Pangolins are listed as 'Endangered' on the IUCN Red List, and it probably goes straight to the top of the list of the rarest mammals I've ever seen, vying for position with a Short-eared Dog that I saw many years ago (again by chance) in the Ecuadorian Amazon.
Later in the morning we saw a Tiger within the park (one of those magical encounters with no other jeeps around) and, to cap the holiday off, Maritza, Carrie and Nicky also caught up with a Tiger in the closing stages of our very last game drive, but that's another story!
To discuss ideas for a tailormade family wildlife holiday to India, please call our India expert Rajan Jolly on 01962 733051 or email him at This email address is being protected from spambots. You need JavaScript enabled to view it..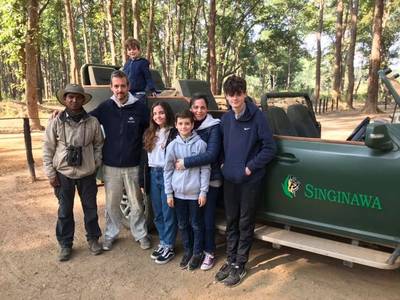 Andy and his family at Singinawa Jungle Lodge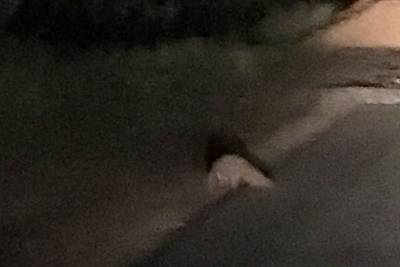 Indian Pangolin (Jack Tucker)
Operations Manager David Phillips: Stargazing in Namibia
Despite visiting many countries on the African continent, until this year I had never travelled in Namibia, so, when the opportunity arose to lead our 'Namibia Night and Day' tour I was very keen to see the country that I had heard so much about! Two weeks in Namibia took me from Etosha, the country's premier national park in the north, to the deep-red sand dunes of the Namib-Naukluft National Park, via the rugged landscapes of Damaraland and the aptly-named Skeleton Coast. I found the sheer diversity of Namibia very appealing.
The tour was filled with scenic and wildlife highlights, but as a keen astronomer I was particularly thrilled with the star-filled night skies. Once the sun had set over this arid land the stars began to appear with the four brightest stars in the sky emerging in a line at dusk. Those of us accustomed to the northern hemisphere constellations seen from our light polluted homes were overwhelmed by the vast number of stars visible. The Southern Cross and Alpha and Beta Centauri shone like diamonds against a velvet sky and the Milky Way, full of subtle structures and dust lanes, arched from horizon to horizon. Telescopic views of star clusters, nebulae, galaxies and planets brought awe-filled gasps from all.
While many people consider seeing the big mammals of Africa as the goal of a safari tour, and I certainly enjoy them, it is the unexpected encounters that thrill me the most. One evening outside my room in Etosha, just as the stars were starting to appear, I had my first ever view of a Southern Lesser Galago (bush baby) jumping between the trees. These diminutive primates are strictly nocturnal, becoming active around dusk and I consider myself very lucky to have seen one in the twilight.
Our next 'Namibia Night and Day' holiday departs 29th March 2019 and costs £5,995. Click on the tour link to book your place or please call David Phillips on 01962 733051 or email: This email address is being protected from spambots. You need JavaScript enabled to view it. for further details.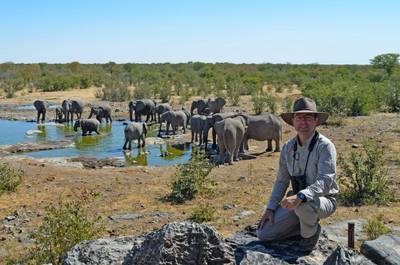 David Phillips in Etosha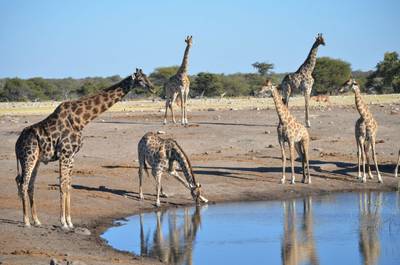 Giraffes (David Phillips)
Website Assistant Tom Ambrose: Cocks-of-the-rock in Peru
My wildlife highlight of the year came at an unexpected time, as they so often do.
I was leading the Machu Picchu extension to our 10-day 'Birding the Peruvian Amazon' tour. I had spent the day up at the iconic ruins and was now following a concierge of the Machu Picchu Pueblo hotel, who was leading me to my room. It was getting dark as we walked through the hotel's extensive grounds, and my attention was drawn to the electric orange Cock-of-the-Rock images emblazoned on signs, uniforms and merchandise. Having previously had little luck with the species, my expectations of seeing it were low; we were only to spend one night here after all. We eventually reached my room, where I wearily dropped my heavy bags, excited by the prospect of a hot shower and some relaxation after a busy day. At that moment, an unmistakable sound pierced my consciousness. I instantly switched gears. I hurriedly ripped open my bag to gather my camera and binoculars, then ran outside for some impromptu birdwatching! Andean Cock-of-the-Rocks are not a subtle bird and are as easily recognisable by sight as by sound. In front of me were three magnificent males, their ostentatious plumage in stark contrast with their dark green surroundings. I excitedly ran and alerted what members of the group I could find, and together we followed the three birds as they pranced through the verdant canopy above, shattering the otherwise peaceful dusk with their discordant crowing.
Our next 'Birding the Peruvian Amazon' tour departs on 5th June 2019 and costs £2,895. Click on the tour link to book your place, or please call Andy Tucker on 01962 733051 or email: This email address is being protected from spambots. You need JavaScript enabled to view it. for further details.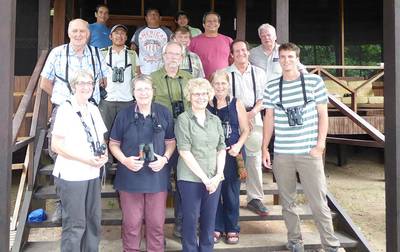 Tom (far right) and group at ARCC lodge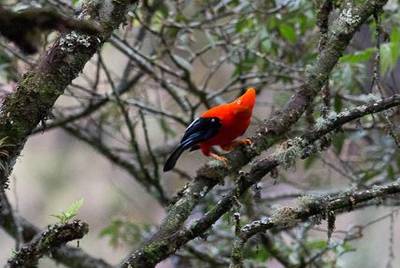 Cock-of-the-rock (Tom Ambrose)
Operations Manager Rajan Jolly – Elephants in Sri Lanka
The alluring island of Sri Lanka offers a huge variety of habitat and wildlife, and is a perfect holiday destination for a varying degree of wildlife enthusiasts. After a seven year absence, I had the opportunity to see the beautiful island again and was amazed and reminded by what it has to offer.

Without a doubt, I would say the jewel of the crown and the highlight of my trip was seeing elephants at 'The Gathering in Minneriya'. Elephants have always been known for their intelligence and social skills and if you ever want the opportunity to observe this closely, it is at 'The Gathering' at Minneriya National Park. During the dry season (July to September) water supplies reduce drastically in this region. To cope with this, the elephants congregate around the Minneriya reservoir where low water levels reveal a rich and fertile reservoir bed that allow grasses to grow. These elephants come from areas beyond the reservoir and at times herds with numbers as large as 300 – 400 can be seen. 'The Gathering' peaks during August and September at the height of the drought.
It is such a spectacular sight with hundreds of elephants huddled together in groups. They can be seen with their families socialising, playing, munching, sleeping, having a mud bath, protecting each other and even finding their mates. It is like an open invitation to their Annual Ball!
It is a unique phenomenon of nature and can only be witnessed in this park. In fact it is so amazing it was listed as the Top no. 6 in the Lonely Planets' guide to wildlife spectacles of the world.
Our 'Sri Lanka's Mammals' tour gives you the opportunity to visit Minneriya National Park and see 'The Gathering', and next departs on 5th July 2019 and costs £3,295. To book your place, please click on the tour link, or call Rajan Jolly on 01962 733051 or email This email address is being protected from spambots. You need JavaScript enabled to view it. for further details.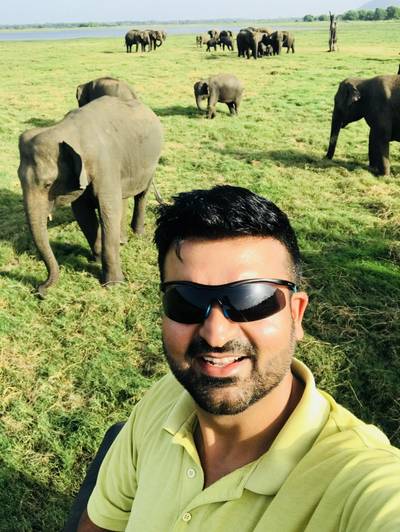 Rajan Jolly, Minneriya
Operations Assistant Lara Broom – Birding in Colombia
I've always wanted to travel to South America – perhaps because of the diversity of wildlife, the tropical weather, the culture and the people or a combination of all of these! Therefore, I jumped at the opportunity to join a birding familiarisation trip to Colombia in April, most specifically to the Northern Colombia Birding Trail.
This area hosts the tallest coastal mountain range on earth — the Sierra Nevada de Santa Marta. It's not just the spectacular scenery that makes this part of the world special; as many as twenty species of endemic birds can be found just within this mountain range. It is hard to find a specific wildlife encounter that marked my trip – having never birded in South America I was completely overwhelmed by all the new species that I added to my life list. One of the highlights must be the Santa Marta Woodstar – this very shy and tiny species of hummingbird was the very first endemic species we saw on the way up to El Dorado Lodge.
I will also never forget the moment I arrived at my room at this lodge and looked out at the view: this was, without a doubt, one of the most special places I have ever been lucky to visit. The sun was just setting and spreading its orange hue over the humid montane forest and snow-capped mountains. The booming noise of the Howler Monkeys dominated all the other noises, with flocks of Scarlet-Fronted Parakeets flying over. Later that night a Spectacled Owl also flew over us!
Our 'Colombia – Santa Marta Endemics' has several departures from January – March 2019, and costs £2,895. Click on the tour link to book your place, or please call Andy Tucker on 01962 733051 or email: This email address is being protected from spambots. You need JavaScript enabled to view it. for further details.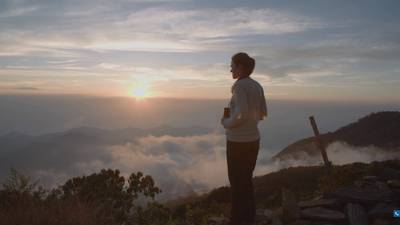 Lara at El Dorado Lodge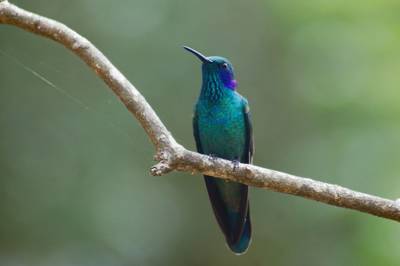 Lesser Violetear (Lara Broom)
Tailormade Manager Georgie Head – Zambia
My year has been jam-packed with wonderful wildlife highlights from Cassowaries in Queensland to Mountain Gorillas in Rwanda, and so choosing just one standout moment has been incredibly tricky! If I did have to choose, however, I think my first visit to Zambia will leave the most lasting impression. I've wanted to visit the country since I first heard of pioneering conservationist Norman Carr who developed the first walking safaris in what is now the South Luangwa National Park in the 1950s. It was here, in the Nsefu sector of the park only a short distance from Norman's first bush camp, that I had one of my favourite wildlife encounters. South Luangwa has a reputation as being one of the best places in the world to see Leopard, and during my 10-day safari I was lucky enough to see five of these most mesmerising of cats. Even after such wonderful encounters, however, I was still itching with excitement when on my final day our guide received a radio call to say that an adult female had been spotted in a gulley close by. Racing to the site we waited patiently for her to emerge but after around 10 minutes with no sign, we had all but given up hope. Moving closer to the gulley for a final look, we finally found her resting in the shade, waiting for the scorching heat to dissipate before exerting her energy and attempting a kill. We watched her for a long while, admiring her beautiful rosettes, piercing eyes and powerful stature before she began to move further down the gulley in search of prey. Sadly she could not evade the shrill warning whistles of the Puku grazing above and so it wasn't long before she gave up her stalking attempts. Completely unconcerned by our presence she walked straight past our vehicle, almost within touching distance, as she returned to the relative safety and quiet of her baobab tree. This was an encounter we had all to ourselves, something that isn't unusual in the South Luangwa. The park's combination of limited tourists and abundant wildlife is becoming increasingly rare and, in my opinion, it is this that cements its status as one of the finest wildlife reserves in all of Africa.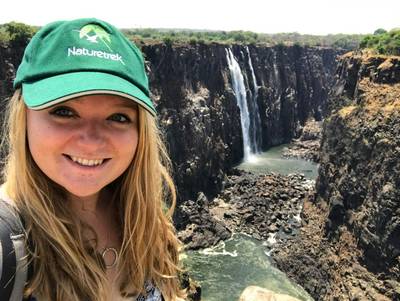 Georgie at Victoria Falls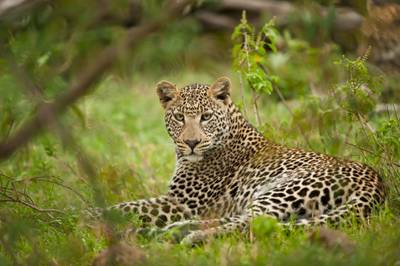 Leopard
Operations Assistant Tim Russ: Owls in Sweden
My highlight this year came over the course of an evening, whilst co-leading on our 'Sweden in Spring' tour. The evening began with a visit to an open glade, the supposed haunt of a pair of Great Grey Owls, which had left us frustrated the night before, when the owls failed to show. However, this evening it was not long before the Great Greys appeared and started to hunt. They systemically circled the glade, stopping periodically to perch, affording us great views. Buoyed by this early success, we headed deeper into the woods, keen to see what else awaited us. As we travelled, we caught sight of a Ural Owl through a small opening in the trees; although the sighting proved fleeting, we were all excited to add another owl to our tally. Owl species number three then appeared, this time a particularly feisty Pygmy Owl. No bigger than a starling, this diminutive owl gave us superb views and a vocal display to match, as it hopped around in the tops of the conifer trees issuing its territorial call.
The evening was rounded off nicely when the ghostly silhouette of a Long-eared Owl was spotted on the way back to the hotel. We stopped and watched, straining our eyes in the darkness to keep the bird in sight before it disappeared into the night.
That one evening yielded four species of owl, with over a hundred different species of bird seen overall during the long weekend and several mammals to boot!
Our next 'Sweden in Spring' holiday departs 9th May 2019 and costs £1,695. To book your place, please click on the tour link, or call Kerrie Porteous on 01962 733051 or email This email address is being protected from spambots. You need JavaScript enabled to view it. for further details.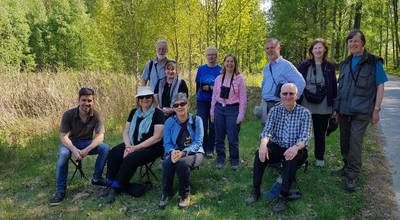 Tim (far left) and group in Sweden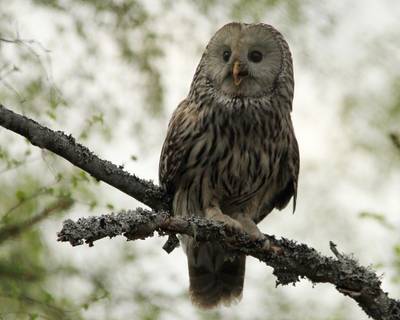 Ural Owl (Tim Russ)
Operations Manager & Tour Leader Tom Mabbett: the Wonderful Wildlife of Borneo
In October I headed out to Borneo to lead our 'Borneo's Mammals - Deramakot Forest Reserve' holiday, a tour jam-packed with wonderful wildlife! On the Kinabatangan River we enjoyed special encounters with no fewer than seven different Orangutans, troops of Proboscis Monkeys and trumpeting Pygmy Elephants with Silvered Langur and our first Slow Loris amongst other mammal highlights. Rhinoceros, Wrinkled, Asian Black and Oriental Pied Hornbills were found with Collared, Stork-billed and Blue-eared Kingfishers abundant, as huge Saltwater Crocodiles cruised across the river. Exciting wildlife was around every corner. Leaving the river we stopped off at the fascinating Gomantong Caves, packed with hundreds of thousands of swiftlets and bats with a small troop of Maroon Langurs at the cave entrance and yet another Orangutan!
Reaching Deramakot it was all about the night time. Heading out for prolonged spotlighting sessions is extremely exciting and the range of species encountered was superb. We enjoyed multiple views of the bizarre Colugo, gliding from tree to tree, a Binturong was watched feeding before sleeping on a branch and the tiny Lesser and Greater Mouse Deers were numerous. Gorgeous Leopard Cats were found and the unique Moon Rat was a treat with many more Slow Loris sightings too. Malay, Bornean Striped and Island Palm Civets were commonly encountered with a photogenic Bearded Pig proving popular at the HQ. In the daytime we tracked down gibbons after hearing their incredible calls and more Orangutans were enjoyed with a family party found on one evening very special. This included a huge male Orang, with his partner close by carrying a tiny youngster, peering down at us. The birdlife is first class with any fruiting trees holding numerus bulbuls, Greater and Lesser Green Leafbirds, along with various spiderhunters and flowerpeckers. Bornean Falconets were hunting butterflies at close quarters with both Red-bearded and Blue-throated Bee-eaters common around the lodge. We weren't in luck on this occasion with finding our ultimate target, the magnificent Clouded Leopard, but it was great fun trying and we certainly tried very hard on this holiday! Other groups were lucky in 2017 and 2018 and I certainly hope for more success in 2019 and beyond. I will be back!
Our next 'Borneo's Mammals - Deramakot Forest Reserve' holiday departs 7th October 2019 and costs £3,795. To book your place, please click on the tour link, or call Tom Mabbett on 01962 733051 or email This email address is being protected from spambots. You need JavaScript enabled to view it. for further details.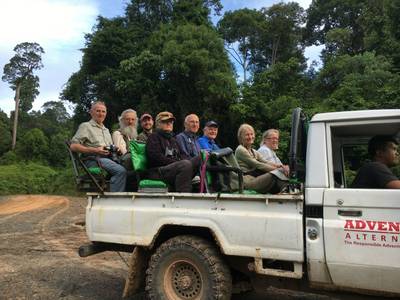 Tom in Borneo (third from left, by Mike Robinson)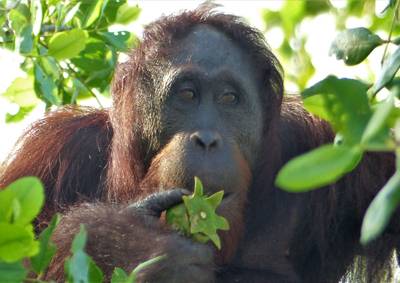 Orangutan (Tom Mabbett)
Tailormade Assistant Lara Semple: Uganda's Primates
My wildlife highlight of 2018 has to be exploring the rich and vibrant country of Uganda, a haven for primates and those who wish to see them. There are many species of primate here including 13 monkeys – three of which are nocturnal – and two species of ape. Olive Baboons and Vervet Monkeys live in many different habitats, whilst Patas Monkeys are found on the plains of Murchison Falls National Park and Chimpanzees, Red-tailed Colobus, Black-and-White Colobus and Red-tailed Monkey call Kibale Forest home. The largest and most impressive of them all, however, is the Mountain Gorilla which can be found within the 'Impenetrable Forests' of Bwindi. Here I was treated to the ultimate highlight of my trip, the sight of a 200 kilo silverback Gorilla delicately selecting his vegetarian breakfast just a few metres away within the dense mountain forests it calls home. It was a very humbling moment. He was the new leader of his group, having recently displaced the old silverback, and it was obvious he was still building strong bonds with the females. The park rangers told us that they hoped two of the females were pregnant and that soon the next generation will be born into the family. The females ate in a wide circle around the silverback and kept regularly in contact with one another using low frequency grumbles. As we left the Gorillas and made our way down the mountain, it was a time to reflect on the experience. I was very impressed with the Gorilla project in Bwindi which has been running since 1990 and, not only works to habituate the Gorilla families we had come to see, but also works to conserve the forests in which they live. Today, the Bwindi Impenetrable National Park is home to approximately half of the world's 1,000 remaining Mountain Gorillas. Fortunately their population is rising, thanks in no small part to the work of the conservation organisations and the funding provided by eco-tourism. Both are working together to provide alternative livelihoods for the local people and to reduce the pressure on all the forest's inhabitants. The rangers are passionate about the animals in their charge and work extremely hard to deliver a safe (for both the Gorillas and tourists) and unforgettable experience with this iconic species. Gorilla trekking should be top of all wildlife enthusiasts' wish lists!

See Gorillas and a host of primates on our next 'Uganda – Mammals & Mountains' holiday, departing 10th January 2019 for £4,595. To book your place, please click on the tour link, or call Alison Steel on 01962 733051 or email This email address is being protected from spambots. You need JavaScript enabled to view it. for further details.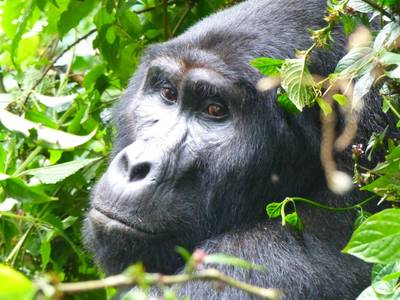 Eastern Gorilla (Lara Semple)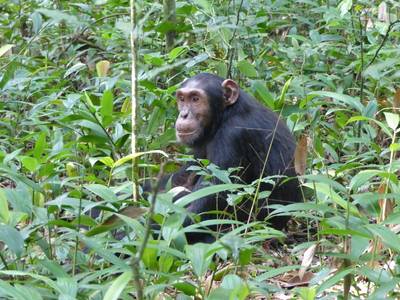 Chimpanzee (Lara Semple)