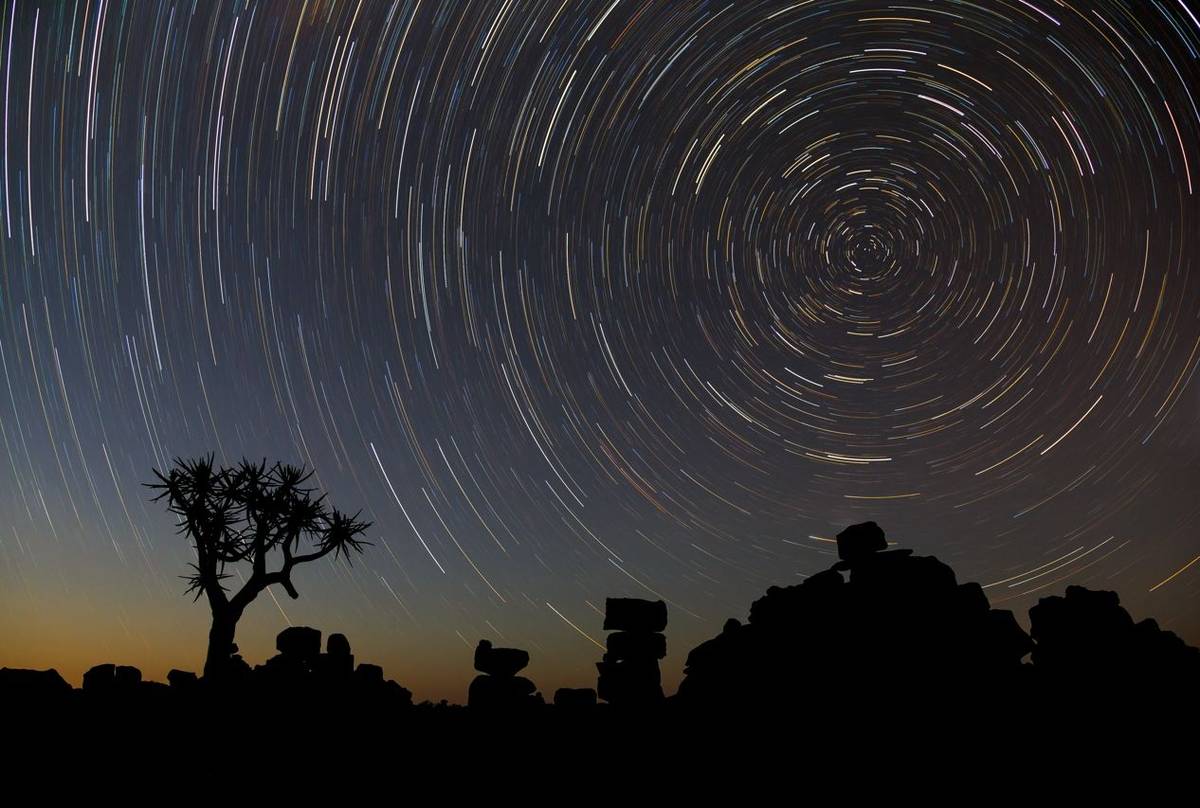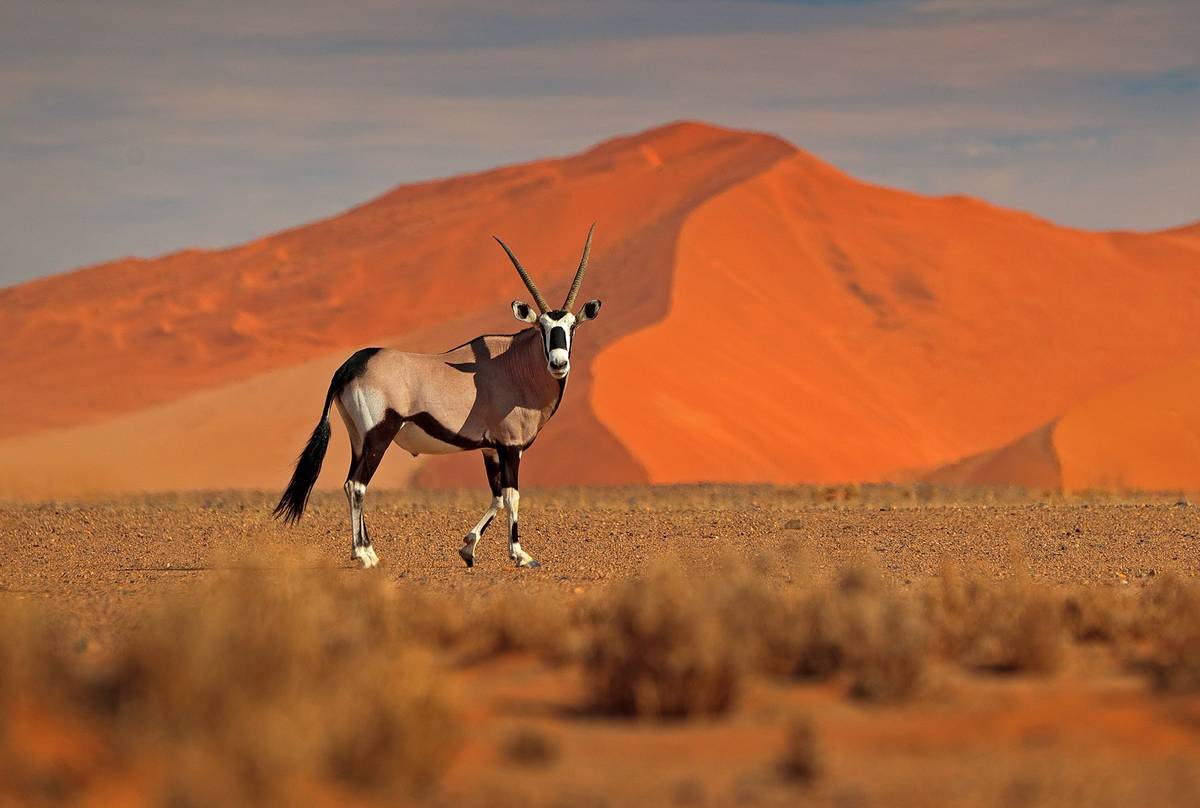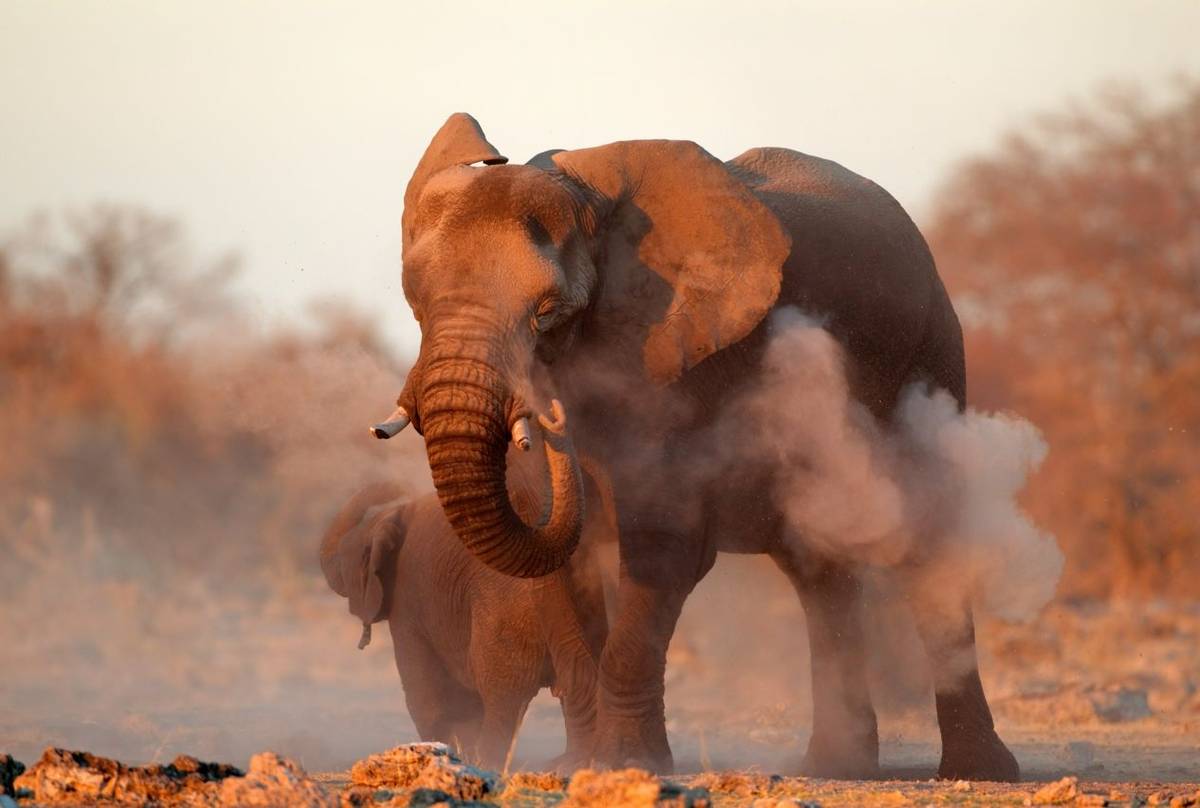 Tour Itinerary and Reports
Namibia Night and Day
Tour Code: NAM04
By day we'll drive through spectacular landscapes and seek out Namibia's wonderful wildlife. By night we'll have telescopes trained on Namibia's famously dark skies to see planets, star clusters, galaxies and the superbly rich Milky Way.
14 days from
£6,595 (Inc flights)
Land only price from
£5,275
Add this tour to your saved toursRemove from saved toursstar_border star

Add to Saved Tours
Highlights
Tour Itinerary and Reports
Summary
Namibia has developed a reputation for transparent skies, free from light pollution and our focus on this tour is to enjoy the country's wildlife and scenery by day and skies at night. At the time of our holiday, the richest part of the Milky Way will be visible high in the sky, along with astronomical treasures such as star clusters, nebulae and the Southern Cross. Namibia's wildlife is no less spectacular than its scenery and its night skies. The magnificent Etosha Pan and the Okonjima Reserve boast a high density of mammals and birds.
Guided stargazing of the stunning southern night sky, including Large and Small Magellanic Clouds and the galactic centre of the Milky Way
Classic African wildlife, including elephants, lions and giraffes; found in Namibia's premier national park - Etosha
Desert wildlife including chameleons, geckos and snakes, as well as the desert-adapted elephants of Damaraland
Visit the ancient petroglyphs at Twyfelfontein
Explore the spectacular sand dunes of Sossusvlei
Grading
A mix of gentle walks, game viewing and drives.
Namibia's famously dark skies, stunning desert scenery and superb wildlife make it a natural choice for a Naturetrek astronomy tour. With a population of just over two million spread across a land that is more than three times the size of the UK, this sparsely populated county offers truly breath-taking night skies. By day this tour will visit Namibia's National Parks to enjoy the spectacular wildlife and landscapes, but as night falls, with expert guidance we will explore the southern skies with telescopes and large binoculars. 
The tour is timed to span the period in which the moon lies between the Earth and the Sun and is therefore absent from the night sky. This is the best time to see the fainter nebulae, galaxies and star clusters that are more difficult to see with a bright moon in the sky. depending upon the departure we will look at the planets in our solar system. Through a telescope it is possible to see the belts Jupiter's atmosphere and the rings of Saturn. The Southern sky is rich with star clusters, with the two brightest globular clusters, ω Centauri and 47 Tucanae, taking centre stage. Other 'classic' celestial sights from southern latitudes include the Milky Way's neighbouring galaxies: the Large and the Small Magellanic Clouds, the Southern Cross and the stars Alpha and Beta Centauri.   
Our holiday begins in Windhoek, Namibia's capital, from where we drive to the Rooisand Reserve – a wonderful opportunity to use the telescopes during a two-night stay.
West of Rooisand lies the Namib Desert with its spectacular dunes which are amongst the highest dunes in the world.  These sculpted red dunes glow as the evening light bathes them and as evening gives way, a night full of stars will follow.
Continuing to Swakopmund you will enjoy a day tour into the desert to discover the lizards, chameleons and snakes that comprise Namibia's 'little five' living in the dunes.
At Twyfelfontein in Namibia's Kunene region (formerly known as Damaraland), we enter a wilderness of rolling, bush-covered hills and plateaux. Here we will stay at the Twyfelfontein Country Lodge and explore this unique environment with its many rock engravings and paintings. We will also hope for a chance encounter with the region's Black Rhino, Lion or and 'desert adapted' Elephant.
Moving north to Etosha we'll enter one of the finest parks in Africa. At its heart is the Etosha saltpan, an enormous shallow depression — over 100 kilometres across — with numerous perennial springs around its edges which attract large concentrations of birds and mammals. This is one of the last places in the world where Elephant and Black Rhino can both be seen, plus predators such as Lion, Cheetah and Leopard, and antelopes ranging in size from the giant Eland to the diminutive Damara Dik-dik.
Finally, we head south to the private game reserve of Erindi (Okonjima in 2020). The expansive savannah is home to a wide range of mammals and birds and whilst there we enjoy exhilarating game drives in open-sided vehicles.
DETAILED INFORMATION
Outline Itinerary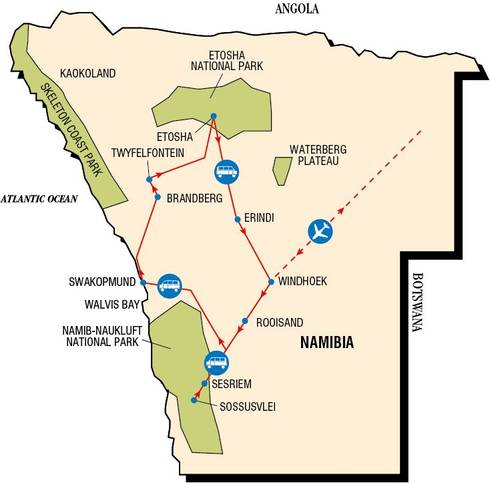 Day 2/3
Arrive Windhoek transfer to Rooisand
Day 4/5
Sossusvlei's magnificent sand dunes
Day 7
Living Desert Tour / Brandberg
Day 9/10
Etosha - Namibia's flagship reserve
Day 11/12
Okonjima Nature Reserve
Day 13
Return to Windhoek for flight home
cloud_downloadDownload Full Itinerary
What's Included?
Flights
Accommodation:

All accommodation has en-suite facilities.

Food:

All meals included
Dates & Prices
2022
Departures
Availability
Cost
Tue 12th Jul - Mon 25th Jul
SPACES
£6,595
Flights:
Most Naturetrek tours include flight costs ex-UK. If flights are not included, we indicate that here.
Flights are included in the tour cost
Regional Departures:
On certain tours it is possible to depart from a regional airport (rather than London). If a regional departure is possible, we indicate that here.
Regional Departures are available. Call 01962733051
Land only cost:
The "Land Only" cost is the tour price you will pay if you choose to arrange your own flights/transport.
£5,275
Why Naturetrek?
At Naturetrek we craft expertly-guided group and tailor-made wildlife holidays and cruises to all seven continents. On one of our holidays, you can be assured that our passionate team will enable you to experience and enjoy the best of the world's wildlife and natural spectacles in as comfortable and rewarding a manner as possible, caring as best we can for the environment in the process. We are proud to provide:
The widest choice of wildlife holidays worldwide
Tours managed and led by naturalists, for naturalists
Outstanding value and exceptional customer service
Furthermore, as a Naturetrek client, our office team are always to on hand to help you – so if you have any queries about your holiday, whether before or after you have booked, we will be delighted to answer them on the phone. Please just give our team a call!