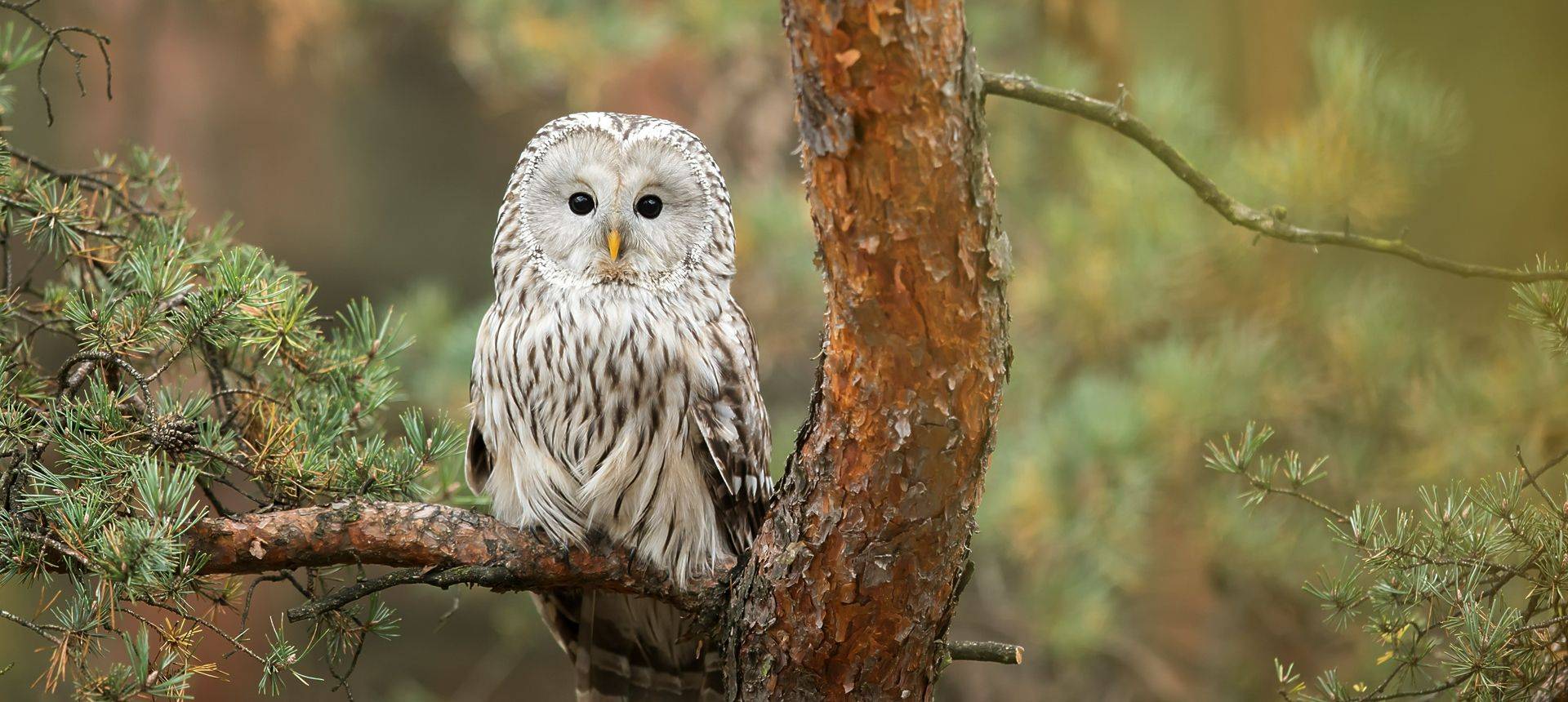 Sweden in Spring
Tour Code: SWE02
A 4-day, long weekend break to the forests and wetlands of Svartadalen (the Black River Valley) in central Sweden in search of owls, woodpeckers and other northern specialities.
The patchwork of habitats around Svartadalen (the Black River Valley) in central Sweden is home to an exciting variety of northern birds. Perhaps the most sought-after inhabitants of these northern forests are the owls and we'll be searching for several species; watching in the evening for a Great Grey Owl to appear in the forest, often perching within several metres of its human admirers, is an unforgettable experience. We'll devote a morning to searching for up to six species of woodpeckers, while on another day we'll turn our attention to Svartadalen's wetland birds, such as Black-throated Diver, Black Tern and Spotted Crake. Our comfortable guesthouse is within easy reach of the main birding areas.
7 species of owl possible including Great Grey, Pygmy & Eagle Owls
Join local ringers as they ring Ural Owl & Tengmalm's Owl chicks
Icterine Warbler, Pied Flycatcher, Hazel Grouse & Capercaillie
Three-toed, Grey-headed & Black Woodpeckers
Slavonian Grebes in breeding plumage
Black Tern, Spotted Crake & Bittern in wetland areas
Listen for calls of Common Crane, Corncrake & Thrush Nightingale
Led by an expert naturalist & photographer guide
Can I help you?

Outline Itinerary
Day 1
Fly Stockholm; transfer Svartådalen
Day 4
Birding, Svartådalen; then transfer Stockholm and fly London
This holiday delivered everything that could be expected. The service and quality of the accommodation was excellent. Could not fault it at all and the guide Daniel Green certainly knows how to deliver.

R.S. Rhondda Cynon Taff
Food & Accommodation
All food is included in the price.
We stay in a comfortable rural guesthouse, where all rooms have private facilities.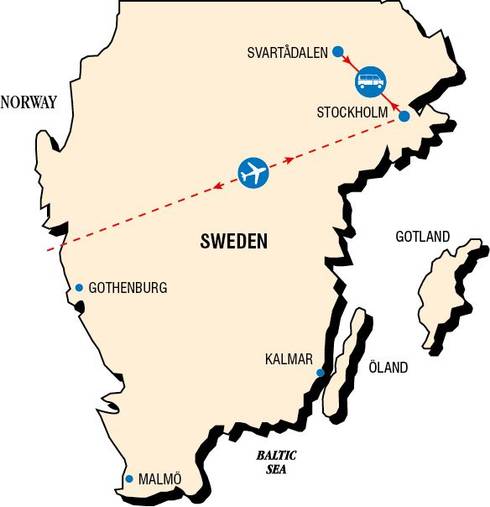 Tour Downloads
Tour leaders
Daniel Green

Daniel has been a keen birdwatcher since his early childhood. With the Svartadalen, or Black River Valley as it is known in English, as his local turf, Daniel is able to pursue his lifelong fascination with the cranes which gather there every Autumn in huge flocks before flying south for the winter. As well as birds, Daniel is also interested in butterflies, moths and dragonflies. He is driven by the joy of sharing experiences in nature with other people and he has been one of the pioneers of Swedish birding tourism since 2002; he's also been in charge of most British birding trips to central Sweden since then. Along with his interest in wildlife, Daniel also enjoys cooking and writing. His CV includes 12 years as a gourmet chef, a career as a newspaper journalist/photographer and, lately, serving as editor for the second biggest Bird Magazine in Sweden, Fagelvannen.
This spring, why not head north with the migrants on this exciting Naturetrek break to central Sweden. Within just a couple of hours of leaving the noise and bustle of Heathrow Airport, we will be exploring a peaceful rural landscape of forests, lakes and wet meadows, the stillness only broken by the trumpeting of a passing flock of Cranes, the 'crex crex' call of a Corncrake, or the lively song of a Thrush Nightingale. The patchwork of habitats within and around Svartådalen (the Black River Valley) are home to an exciting variety of northern birds. Here we find ourselves at the southernmost fringes of the boreal forest, that great swathe of conifers, dotted with a myriad lakes, that stretches north to the treeline and then both east and west to wrap the planet's northernmost latitudes in a girdle of green. Whilst birds such as Three-toed Woodpecker, Capercaillie and Hazel Grouse are much appreciated by British birders, the most sought-after denizens of these northern forests are the owls. Here live the great and the small of the owl world, from the diminutive Pygmy Owl to the majestic Great Grey and Eagle Owls. Add to these extremes Ural, Tawny, Long-eared and Tengmalm's Owls, plus an exciting supporting cast of woodpeckers, warblers and waders, and you have the makings of an unforgettable long weekend of boreal birding.
Our holiday begins with a flight to the Swedish capital of Stockholm. Here we meet our guide, Daniel Green, and drive for a couple of hours to the forests, lakes and marshes of Svartådalen. En route we will stop for our first Swedish birds, amongst them Slavonian Grebes, resplendent in their breeding dress, plenty of Fieldfares, and perhaps an Icterine Warbler or Crested Tit. We will be based for the next three nights at a comfortable guesthouse located within easy reach of the main birding areas. On our first evening we will position ourselves beside a meadow at the edge of the forest and hope for an appearance by the star target of this weekend. Over the past decade several pairs of Great Grey Owls have moved south into the forests bordering Svartådalen and one particular pair has become especially tolerant of people, often perching, unconcerned, within several metres of human admirers. The sight of a Great Grey Owl perched on a post or swooping low over a meadow must be one of the most breathtaking in the avian world and is sure to leave us entranced by its piercing yellow eyes and sheer mesmerising beauty!
Having hopefully encountered one of Europe's largest owls, we next turn our attention to the smallest. Pygmy Owls are no larger than a Starling and tend to emerge just before dark. Although difficult to find, Daniel knows exactly where to look and on one evening we will go in search of this diminutive predator. Not all owlwatching is limited to the hours of dusk and darkness, for additionally we will join local ringers as they ring Ural Owl and Tengmalm's Owl chicks. Since the adult birds usually roost in the nest boxes alongside their young, we hope to be treated to rare and privileged views of these elusive and strictly nocturnal birds.
Our exact itinerary for the weekend will be flexible, dependent on the weather and the advice of our guides. One morning, however, we will devote to the carpenters of the avian world, the woodpeckers. Our local guides are expert at finding even the most elusive of woodpeckers, and up to six species can be seen in a single morning, amongst them Three-toed, Greyheaded and Black Woodpecker. Other species to look out for during these walks include Capercaillie, Black and Hazel Grouse, Redstart, Pied Flycatcher and Wryneck.
As exciting as the forests can be, we must not ignore Svartådalen's wetlands. Black-throated Divers nest commonly on the forest lakes whilst, in the Black River Valley, Black Terns and Little Gulls hawk for insects over the flooded fields and Thrush Nightingale, Scarlet Rosefinch and Red-backed Shrike nest in adjacent scrub and willow thickets. Reedbeds hold Bitterns and Spotted Crakes, and overhead soar White-tailed Eagles, Honey Buzzards and Marsh Harriers. There is even a chance of a mammal or two, for Elk, Roe Deer, Red Squirrel and Mountain Hare are all common, whilst Wolf and Lynx still roam the region, although the latter are only seen by a very fortunate few!
Our long weekend to Sweden must sadly draw to a close with a short journey back to Stockholm for our return home.
Please contact us on 01962 733051 for details on what extensions either pre or post tour are available for this Tour.
This holiday delivered everything that could be expected. The service and quality of the accommodation was excellent. Could not fault it at all and the guide Daniel Green certainly knows how to deliver.

R.S. Rhondda Cynon Taff

Daniel Green worked very hard throughout the holiday to show us all the birds that were there. He could not have done any more!

P.G. & M.W. Lancashire

The opportunity to see owl chicks being ringed was a fantastic experience. Daniel, our guide, was excellent and really looked after us, making sure we got all we could out of this short but exceptional holiday.

J.P. Nottinghamshire

I enjoyed the whole trip – every minute was devoted to bird watching and every effort made to ensure we would see as many different species as possible. Superbly organised – both leaders were enthusiastic and knowledgeable.

B.P. Hampshire
2019
Departures
Availability
Cost
Thu 9th May - Sun 12th May
5
£1,695
Flights:
Most Naturetrek tours include flight costs ex-UK. If flights are not included, we indicate that here.
Flights are included in the tour cost
Regional Departures:

On certain tours it is possible to depart from a regional airport (rather than London). If a regional departure is possible, we indicate that here.
Regional Departures are available. Call 01962733051
Land only cost:

The "Land Only" cost is the tour price you will pay if you choose to arrange your own flights/transport.
£1,445
Single Room Supplement:
£120