Read about highlights from recent tours to The Gambia, Jamaica, India and Bhutan, Tanzania, Sweden and Spain …
The Gambia is the smallest country in mainland Africa but boasts a bird list of over 570 species. Into the bargain, it is only six short hours away and our 'Gambia in Style' holiday is accommodated for eight glorious days at the plush Mandina Lodge, listed in the book '1001 Escapes to Experience Before You Die'.
'This January, 10 guests and I enjoyed a relaxed and luxurious break exploring some of the best birding sites at the western end of this gem of a country', writes tour leader Rob Mileto.
'Most days started with a peaceful canoe ride along mangrove-lined creeks, spotting birds like Giant Kingfisher, Violet Turaco and the stunning Blue-bellied Roller, followed by a short walk to find the likes of Senegal Parrot, Bearded Barbet and the elusive Guinea Turaco. Returning to the Lodge for a delicious brunch around 10am, the day was then at leisure in the flower-filled Lodge gardens with the occasional dip in the swimming pool, sometimes joined by White-throated Bee-eaters coming to drink!
Typically, at around 4pm, we either set off on a gentle bird walk in the adjacent forest, or on a sunset cruise crowned by an island full of roosting egrets and herons. Dinner was around 8pm, which was enjoyed whilst being serenaded by the song of fruit bats! So, if you like your wildlife watching in comfort and with lots of downtime to relax, then "The Gambia in Style" tour may well be the trip for you!'
Our next 'The Gambia in Style' tour departs on 12th April 2019 and costs £2,295. For more information, please email This email address is being protected from spambots. You need JavaScript enabled to view it. or call Kerrie Porteous on 01962 733051.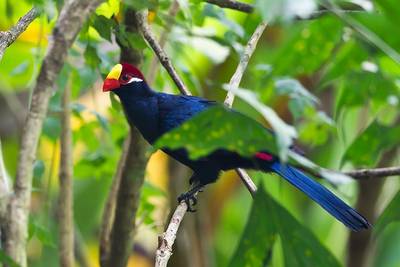 Violet Turaco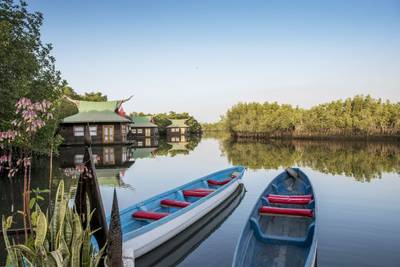 Mandina Lodge
With over a hundred species recorded and all 28 endemic birds seen, the birding trip to Jamaica ('Jamaica – An Island of Endemics') earlier this month proved particularly successful.
Staying on the north coast at the Green Castle Estate proved to be the ideal venue, as it provided many of the endemic birds plus a rich haul of North American wood warblers. Utilising the local knowledge and excellent birding skills of local guides, the group enjoyed multiple sightings of many of the Jamaican specialities which, of course, included Jamaican Owl, the endemic cuckoos and both Red-billed and Black-billed Streamertails. Other highlights included White-tailed Tropicbird, Northern Potoo and the second smallest bird in the world – the Vervain Hummingbird. As well as being treated to some stunning birding, the group enjoyed warm, sunny conditions for much of the trip, comfortable surroundings, tasty food and exposure to the vibrancy and friendliness of the people of Jamaica; what more could anyone ask for?
Our next 'Jamaica – An Island of Endemics' tour departs on 3rd February 2020 and costs £2,895. For more information, please email This email address is being protected from spambots. You need JavaScript enabled to view it. or call Tom Mabbett on 01962 733051.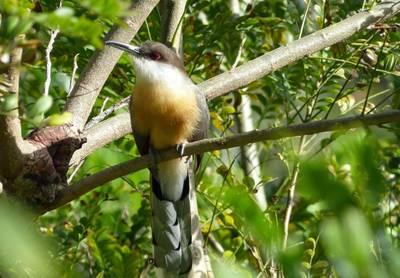 Jamaican Lizard Cuckoo (Tom Mabbett)
1. Tiger Direct
'Inevitably, the biggest highlights of our Christmas "Tiger Direct" tour, were the magnificent Tigers,' writes tour leader Gangadhar Latey, 'but we also had great sightings of other mammals, especially Leopard, and some fantastic birds as well.
During the pre-extension trip to Tadoba, we were eagerly anticipating the arrival of its most famous tigress, Maya, and her two adult cubs. On cue she appeared from behind us, calling out to her two cubs, who promptly followed her. What followed was just magical: we spent over an hour with these Tigers, watching them frolicking and displaying typical childish behaviour common the world over! Our evening became even more exciting when one male cub actually stalked a Wild Boar, just narrowly missing him. On our final morning in the national park we saw five Tigers, Wild Dogs and also Crocodiles on a single safari! Could it get any better?
Well, it appeared it could, as on Christmas Day in Pench, we saw a Tigress with two six-month-old cubs, Wild Dogs, Jackals and a Leopard with its kill of a Spotted Deer which it had pulled up onto a big rock, clearly visible from the road. The following morning three Leopards were seen at the carcass and on our last day in Kanha, we actually saw a Tigress stalk and kill a Spotted Deer!
Highlights in Satpura included amazing views of Sloth Bear digging in a termite mound, a male Leopard, Jungle Cats and an enormous Marsh Mugger Crocodile. The supporting cast included Gaur, Sambar and Chital aplenty, plus such avian specialities as Black-rumped Flameback, Brown Woodshrikes, Racket-tailed Drongos, Crested Serpent Eagle and even a beautiful Crested Hawk-Eagle searching for its breakfast.'
Our next available 'India – Tiger Direct' tour departs on 3rd November 2019 and costs £2,595. For more information, please email This email address is being protected from spambots. You need JavaScript enabled to view it. or call Rajan Jolly on 01962 733051.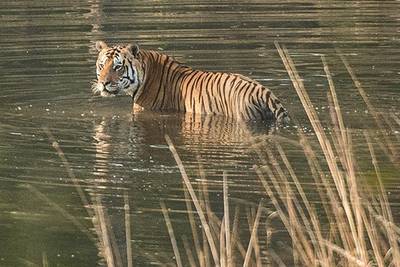 Tiger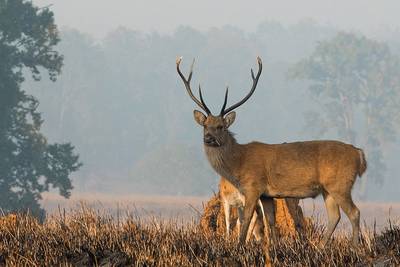 Swamp Deer
2. Northern India & the Himalayan Foothills
'Last year's November "Northern India & the Himalayan Foothills" tour was a great success, with 315 species of birds and 19 species of mammals', writes tour leader Harish Sharma.
'We followed a wonderful itinerary that took us to a wide variety of habitats, from wetlands to dry savanna woodlands and from semi-scrub and Sal forest to the bird-filled slopes of the Himalayan foothills. This Naturetrek tour offers many special species, including Indian subcontinent endemics and among the many highlights were two pairs of Greater Painted Snipe, several Indian Coursers, Long-billed Thrush, Golden Bush Robin, Blue-bearded Bee-eater, Pin-tailed Green Pigeon, Oriental Pied and Great Hornbills, Black Bittern, and a magnificent pair of Sarus Cranes. We managed to see the critically endangered Indian Vulture which was a "target" species for some of the group, while other raptors included Indian Spotted and Greater Spotted Eagles, Booted and Imperial Eagles, Lesser Fish Eagle, Collared Owlet, Dusky Eagle Owl, Brown Fish and Tawny Fish Owls.
In addition to the birds, we had brilliant encounters with wild Asian Elephants, superb views of Golden Jackal and several species of mongoose, deer and monkey.
All of the above, together with delicious food, lovely countryside and stunning Himalayan scenery, plus a visit to the world famous Taj Mahal, and perfect sunny weather throughout the tour, ensured that this holiday will remain in our memories for many years to come.'
Our next 'Northern India & the Himalayan Foothills' tour departs on 8th November 2019 and costs £3,495. For more information, please email This email address is being protected from spambots. You need JavaScript enabled to view it. or call Rajan Jolly on 01962 733051.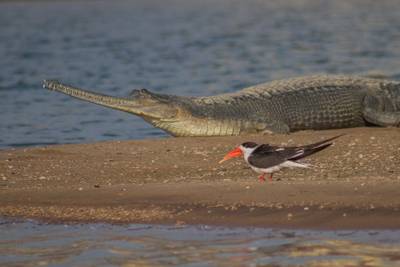 Gharial and Indian Skimmer (Harish Sharma)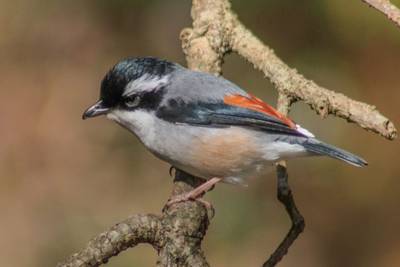 White-browed Shrike-babbler (Harish Sharma)
3. India – Assam, Darjeeling & Bhutan
'The "India – Assam, Darjeeling & Bhutan" tour has always been my favourite', writes tour leader Sujan Chatterjee.
'This trip offers the widest variety of habitat, temperature and also altitude. Some of the highlights in Bhutan were the fantastic mountain scenery, the superb metallic-blue Himalayan Monal Pheasant on Chele La Pass, the trek to the Tiger's Nest Monastery and the outstanding Bhutanese hospitality. We also had unbeatable views of some of the most enigmatic birds, such as the White-bellied Heron which was seen on the Fortune River. Darjeeling, of course, has its own unique character and enjoys spectacular views of the Himalaya and its magnificent Kanchenjunga (although unfortunately the weather was not in our favour during our visit!), whilst our ride on the world famous Toy Train gave us a huge amount of pleasure. Assam, as usual, was fantastic: the grasslands of Kaziranga gave us lots of Indian One-horned Rhinos, Smooth-coated Otters, fantastic views of Asiatic Water Buffaloes, Pallas's Fish Eagles, and Lesser and Greater Adjutant Storks. Driving along the highway in Kaziranga gave some superb views of Black Giant Squirrel and Capped Langurs but our favourites were the families of Hoolock Gibbons in the jungle; we had three great sightings – a single male, a family of three and a couple.
Last but not least was the Sundarbans extension. This vast mangrove is home to several species of kingfisher: the glorious gems of Common Kingfisher, Pied Kingfisher, White-throated Kingfisher, Black-capped Kingfisher, and the fantastic Brown-winged Kingfisher were all seen. Amongst the reptiles we saw the Spot-tailed Pit Viper, Water Monitor and the mega Saltwater Crocodile. Finally, although we do not expect to see a Tiger on this trip, we were extremely lucky to have views of a fantastic Tigress sitting on the muddy banks of a river; amazing!'
Our next available 'India – Assam, Darjeeling & Bhutan' tour departs on 3rd November 2019 and costs £5,295. For more information, please email This email address is being protected from spambots. You need JavaScript enabled to view it. or call Rajan Jolly on 01962 733051.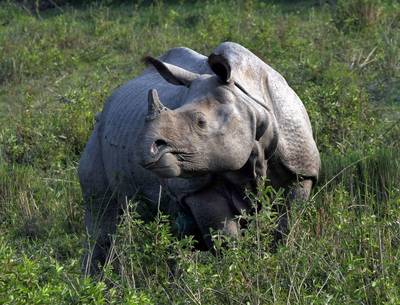 Indian Rhino (Clive Pickton)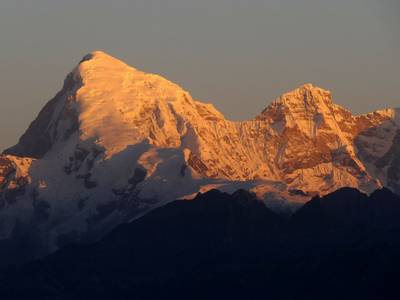 Jomolhari Mountain (Clive Pickton)
'This January, 11 intrepid guests and I headed out on the "Tanzania Highlights" tour in search of the region's best wildlife', writes tour leader Rob Mileto.
'Starting on the forest-clad slopes of Arusha National Park, in the shadow of Mount Meru, we were entertained by troops of Colobus, Blue and Vervet Monkeys and enchanted by their endearing youngsters. From here it was on to Tarangire, famous for its Elephants, and we could understand why when, in an exhilarating experience, several curious individuals came right up alongside the vehicle! After a day at Lake Manyara, where we bagged over 50 bird species in a single afternoon, we made our way to the world-renowned Serengeti and timed our arrival perfectly to coincide with the great migration. We drove through seemingly endless herds of wildebeest and zebra and saw many attendant predators including a tree-climbing pride of Lions, hunting Cheetah, Leopard and even the elusive Serval! The grand finale was the Ngorongoro Crater where we were treated to excellent views of young Lion cubs, Black Rhino and more Serval, amongst many other species. Tanzania is a wonderful country and we certainly saw many of its highlights!'
Our next 'Tanzania Highlights' tour departs on 31st October 2019 and costs £6,595. For more information, please email This email address is being protected from spambots. You need JavaScript enabled to view it. or call Tim Russ on 01962 733051.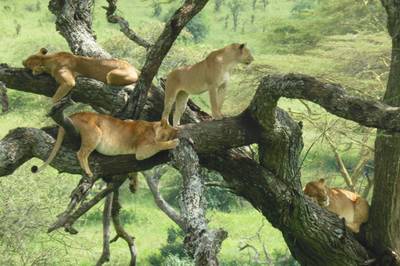 Lions (Julian Swindell)
'Our inaugural "Northern Lights and Wildlife in Swedish Lapland" tour was a huge success', writes tour leader Marcus Eldh.
'We saw the Northern Lights several times, and wildlife sightings included Moose, Reindeer and Wolverine, plus Crested, Willow and Siberian Tits! Spending a morning getting to know Siberian Huskies, followed by a Husky safari was a highlight of the tour for many, as was the final night when we camped in traditional Sami-style tents in the forest.'
Our next available 'Northern Lights and Wildlife in Swedish Lapland' tour departs on 15th January 2020 and costs £2,895. For more information, please email This email address is being protected from spambots. You need JavaScript enabled to view it. or call Kerrie Porteous on 01962 733051.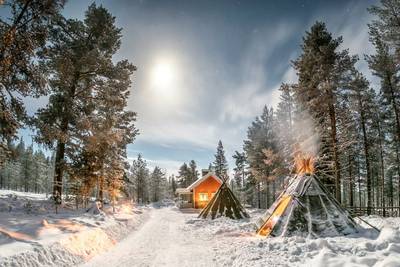 Sapmi Nature Camp (Ann Miles)
After an amazing autumn/winter season in 2018/9, tour leader Byron Palacios looks back over several of our Iberian Lynx tours, which have been full of stunning wildlife encounters and great views of one of the rarest felines in the world! Pioneering tours to see Iberian Lynx back in 2006, Naturetrek was the only tour operator for many years to cover both of the main Iberian Lynx geographical regions (Coto Doñana and Sierra Morena), focusing on the main core areas and covering over 29 different territories where the Iberian Lynx actively breeds.

Writes Byron, 'Each tour begins with a 4x4 vehicle exploration of Doñana National Park's wilderness, where we have access to a few Iberian Lynx territories. Every tour during the past season also gave us the opportunity to enjoy a good array of both resident and winter visitors such as Short-toed Snake Eagle, very active Iberian Magpies, Griffon Vultures, Bluethroat, Penduline Tit, Little Bittern, Marbled Duck, Red-crested Coot, Black Stork, hundreds of Common Cranes, Lesser, Great Spotted and Iberian Green Woodpeckers, amongst many others. All of this wonderful wildlife is spread throughout different habitats in the park: Mediterranean forest, dehesas and marismas, all enhanced, of course, by great encounters with the mysterious Iberian Lynx! Everyone enjoyed amazing extended views of single and paired cats, which fascinated us by displaying their hunting skills and we were even lucky enough to witness mating behaviour.
Having made the most of the Doñana National Park and the beautiful village of El Rocío, we moved on to our second base, the mountains of the Sierra de Andújar, right in the heart of the Sierra Morena. We were enthralled by the mind-blowing landscape of the mountainous Mediterranean forest adorned by granite boulders, rocky cliffs and rivers; perfect scenery for Red and Fallow Deer, Wild Boar, European Mouflon, Spanish Ibex and powerful Golden and Spanish Imperial Eagles. These species, amongst further encounters with Iberian Lynx, made our expeditions a feast of fine European wildlife!'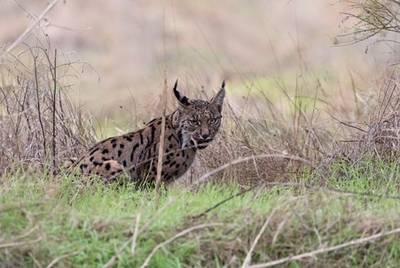 Iberian Lynx (Byron Palacios)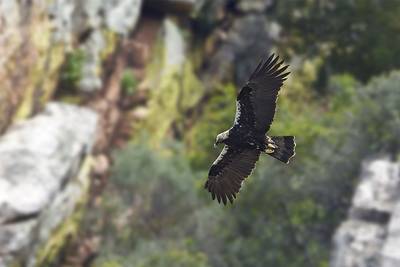 Spanish Imperial Eagle
Join Byron and Naturetrek's 'Realm of the Iberian Lynx' expeditions every autumn and winter to experience this fabulous part of Spain! The next departure leaves on 28th October 2019 and costs £1,195. For more information, please email

This email address is being protected from spambots. You need JavaScript enabled to view it.

or call Andy Tucker on 01962 733051.