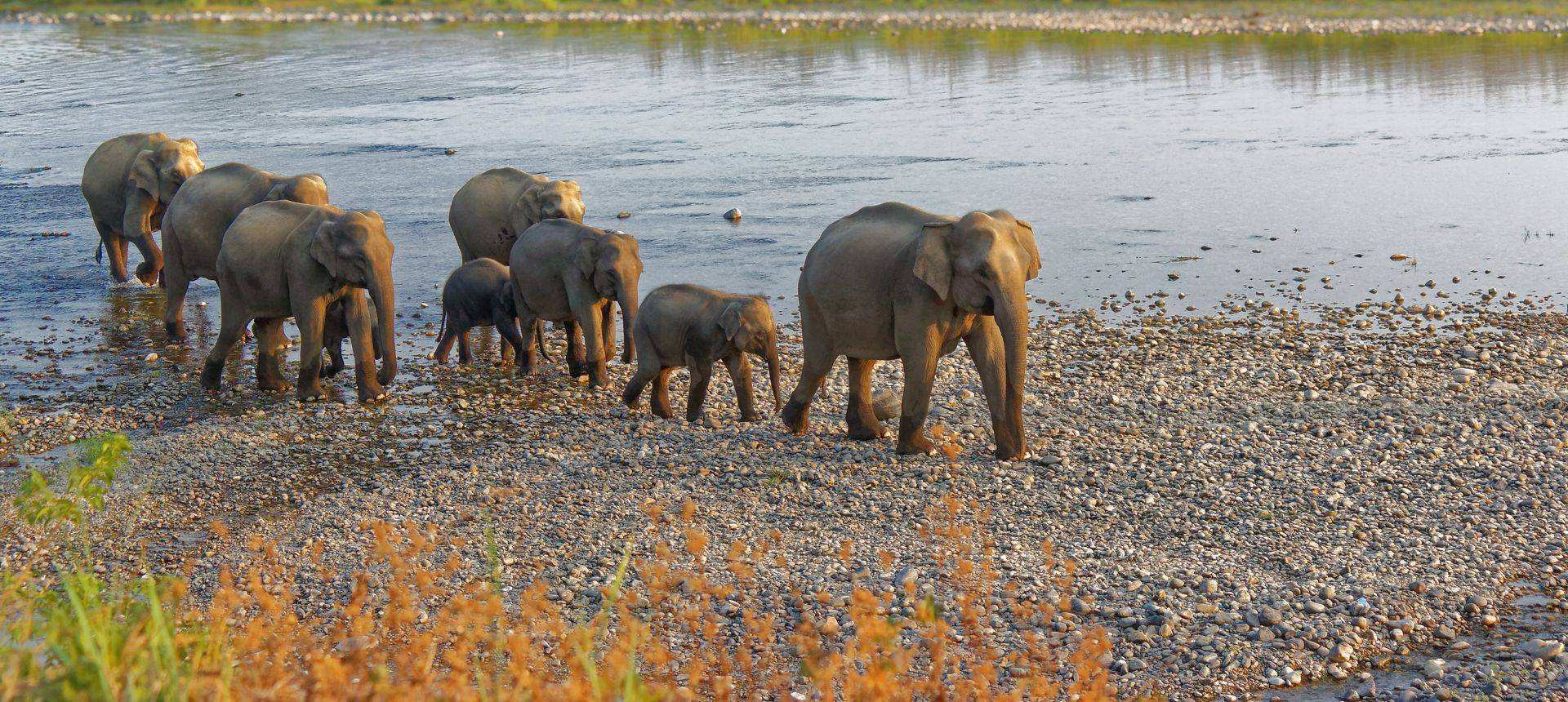 Northern India & the Himalayan Foothills
Tour Code: IND29
A 17-day classic birdwatching and wildlife holiday visiting Bharatpur and the Himalayan foothills of northern India.
Northern India offers some of the finest birdwatching in Asia, spiced with the additional thrill of seeing such magnificent mammals as Indian Elephant and Tiger. The itinerary for this perfect introduction to Indian avifauna begins at Bharatpur Reserve in Rajasthan before moving to the picturesque surroundings of Corbett National Park and then finally higher into the Himalayan foothills as we visit the former hill-station of Nainital. Over 300 bird species are likely during this holiday including waterbirds, raptors and a splendid range of Himalayan specialities augmented by winter visitors from Siberia. An equally impressive variety of mammals includes Indian Elephant, Tiger, Nilgai, Sambar and Spotted Deer whilst an historical perspective is provided by sightseeing
Perfect introduction to birdwatching in India
Storks, herons & wildfowl… to laughing-thrushes, babblers & forktails
Great Black-headed Gull, Olive-backed Pipit, Red-flanked Bluetail & Siberian Rubythroat
Ibisbill, Lammergeier & Wallcreeper amongst highlights
Chance of Tiger in Corbett National Park
Plus Indian Elephant, Nilgai, Smooth Otter and various deer & monkeys
Superb scenery, including the Western Himalaya from Nainital
Sightseeing tours of Agra including the Taj Mahal
Reptiles, including Gharial & Mugger Crocodiles plus huge Rock Pythons
Expertly escorted by an Indian Naturetrek naturalist
Can I help you?

We have just returned from N. India and wish you to know that it was one of the best holidays we have ever had. Of course, the paramount ingredient is the quality of the leader, which was excellent.

D. & M.W. Lancashire
Food & Accommodation
All included in the tour cost, except for main meals in Delhi. Allow ?30.
A mixture of comfortable hotels and simple tourist lodges, most with private facilities.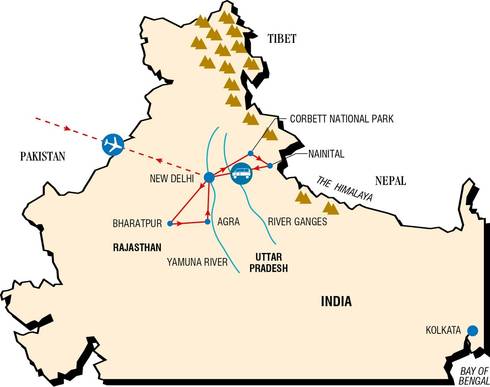 Tour leaders
Nick Acheson

Nick Acheson grew up watching Bitterns and Bog Bush-Crickets in North Norfolk. A year spent in the Camargue and Crau during his French literature degree inspired him to seek bigger, wilder landscapes and, on completing his MSc, he moved to Bolivia. Here he spent ten glorious years ringing James' Flamingos and austral migrant flycatchers, lamping for Maned Wolves and Giant Armadillos, working with Aymar , Quechua and Chiquitano indigenous people on sustainable development projects, teaching yoga, and whistling sweet nothings to Golden-headed Quetzals. Yoga then took him to India, where he has spent almost three years tracking Tigers and Snow Leopards, cruising on the Brahmaputra, and speaking clumsy Hindi. On return to the UK he worked for two years for Norfolk Wildlife Trust and he continues to work freelance for NWT, RSWT and the Hawk and Owl Trust. When not shedding tears to the sound of Indris in Madagascar or watching Walruses and Belugas from zodiacs in the arctic, he thinks, writes and listens to Bach in a flint cottage by a duckpond and swims in the sea off North Norfolk.
The marshes, forests and Himalayan foothills of northern India must surely represent most birdwatchers's dream holiday destination, combining as they do the mystic appeal of the east with a stunningly varied avifauna. The itinerary for this exciting tour is acknowledged as providing the classic Indian birdwatching tour and by concentrating on three main centres, allows plenty of time to absorb the range of different species evident with each change in elevation. The frustrations of travel in this vast country are also kept to a minimum.
Our tour begins in the capital city, Delhi, but even in the densest urban areas of India, birds are rarely absent and the circling clouds of Black Kites over the city are an astonishing sight for European eyes. The outskirts of the city offer an excellent chance to gain an introduction to Indian birdlife and it is easily possible to see 80 or more species at Sultanpur National Park and Bird Sanctuary, where we spend our first day.
Keoladeo Reserve at Bharatpur in Rajasthan is one of the most outstanding wetland areas in Asia and we will spend four days exploring this paradise for birds. Here we will find jheels crowded with huge numbers of wildfowl and waterbirds, savannah inhabited by dry country birds, and patches of forest frequented by woodpeckers, barbets, minivets and many other woodland birds. Turning our attention skywards we will see clouds of storks, eagles and vultures soaring on the thermals over the marshes and during our walks we will frequently meet these raptors, perching tamely in waterside trees causing endless identification headaches. Every corner of this relatively small reserve is full of interest and after we have savoured the initial spectacle of the geese, ducks, storks and herons that crowd the wetlands, we can devote time to looking for wintering flycatchers and northern visitors such as Olive-backed Pipit, Siberian Rubythroat and Dusky Warbler. Elsewhere Dusky Horned Owls peer down from bulky stick nests, Painted Snipe bob at the edges of swampy pools and nightjars perch motionless in their day-time roosts. Although we may find nearly 200 bird species during our stay, not all the attractions are ornithological and other Bharatpur residents include huge Rock Pythons, Nilgai, Spotted Deer, Sambar, Smooth Otters and even the rare Fishing Cat.
After pausing for a day to admire the Moghul splendours of the Red Fort and Taj Mahal at Agra, we travel back to Delhi then into the forested hills and wide river valleys of the Corbett National Park which was named after the famous hunter-turned-conservationist, Jim Corbett. Indian Elephants, Wild Boar and herds of deer browse the vegetation in this superbly scenic reserve, the latter providing prey for a healthy population of Leopards and Tigers. We will search by jeep for these elusive predators, although the abundance of ground cover provides plenty of hiding places to conceal somnolent big cats during the daylight hours and sightings are always a bonus. Easier to find are the rare fisheating Gharial Crocodiles which occur along the fast-flowing Corbett rivers, sharing this habitat with Blue Whistling-thrushes, Plumbeous Redstarts and White-capped River Chats. Mysterious Ibisbills descend from the higher mountains to spend the winter months on some of these rivers and Wallcreepers are often to be seen probing for insects in the crevices of riverside boulders. At Corbett, our base is a comfortable hotel just outside the park boundary, where we are free of the prohibition on walking that applies inside the reserve and can more easily enjoy the superlative birdwatching.
Our final destination takes us deeper into the Himalayan foothills to spend four nights at the hill resort of Nainital. The increase in elevation to over 2,000 metres will bring a new selection of birds, including representatives of such typical Himalayan families as laughing-thrushes, forktails and accentors, plus wintering gems from the north like the Red-flanked Bluetails, which can often be found in our hotel garden. If conditions permit, the icy peaks of the western Himalayan mountains may be observed from a ridge above the resort, evidence of our proximity to this most impressive of mountain ranges which exert such influence on the avifauna of the region.
At the end of our stay in this most idyllic of locations we return to Delhi but, before reaching the capital, we have one last natural history treat as the road crosses over the sacred River Ganges and we may be rewarded by views of the rare Gangetic Dolphin in the waters below the bridge. A fine conclusion to a tour which provides a staggering variety of birdwatching and natural history encounters.
Please contact us on 01962 733051 for details on what extensions either pre or post tour are available for this Tour.
We have just returned from N. India and wish you to know that it was one of the best holidays we have ever had. Of course, the paramount ingredient is the quality of the leader, which was excellent.

D. & M.W. Lancashire

14 (days) were in heaven... the hotel in Delhi, both building and service, were exquisite... Paul Jepson (leader) was excellent... we had wonderful sightings of a tiger on our elephant trip.

A.W. Lancashire

I have to say that I cannot fault Naturetrek on any aspect, and cannot think of anything negative to say or constructive to add. The way that we were dealt with, especially when I was taken ill on holiday (thankfully short lived) was exemplary. Please pass on our thanks to Lester and Harish for their contribution in making our holiday so memorable. I would have no hesitation in recommending Naturetrek to anybody who will listen and look forwarded to travelling with you again.

I.N. Hertfordhsire

I would like to emphasize how excellent the 2 guides were... Harish a brilliant and extremely knowledgeable bird spotter. He found some as if by magic as I doubt if any of us would have seen them without him.

K.L. Wiltshire

This was another excellent trip, especially the days in the Himalayan foothills (where it was not cold!)... Thank you for organising yet another fantastic holiday. This was our 12th trip with Naturetrek, and we are looking forward to the next one!

R. A. Herfordshire

I have travelled on business and holiday to 59 countries on all 7 continents and can honestly say that this trip to India was one of my greatest adventures yet....Taj Mahal and the Himalaya made the trip a great all round opportunity to tick three 45 year old Bucket List items in one trip.

Mr. G South Africa
2019
Departures
Availability
Cost
Fri 8th Nov - Sun 24th Nov
SPACES
£3,495
Flights:
Most Naturetrek tours include flight costs ex-UK. If flights are not included, we indicate that here.
Flights are included in the tour cost
Regional Departures:

On certain tours it is possible to depart from a regional airport (rather than London). If a regional departure is possible, we indicate that here.
Regional Departures are available. Call 01962733051
Land only cost:

The "Land Only" cost is the tour price you will pay if you choose to arrange your own flights/transport.
£2,995
Single Room Supplement:
£795