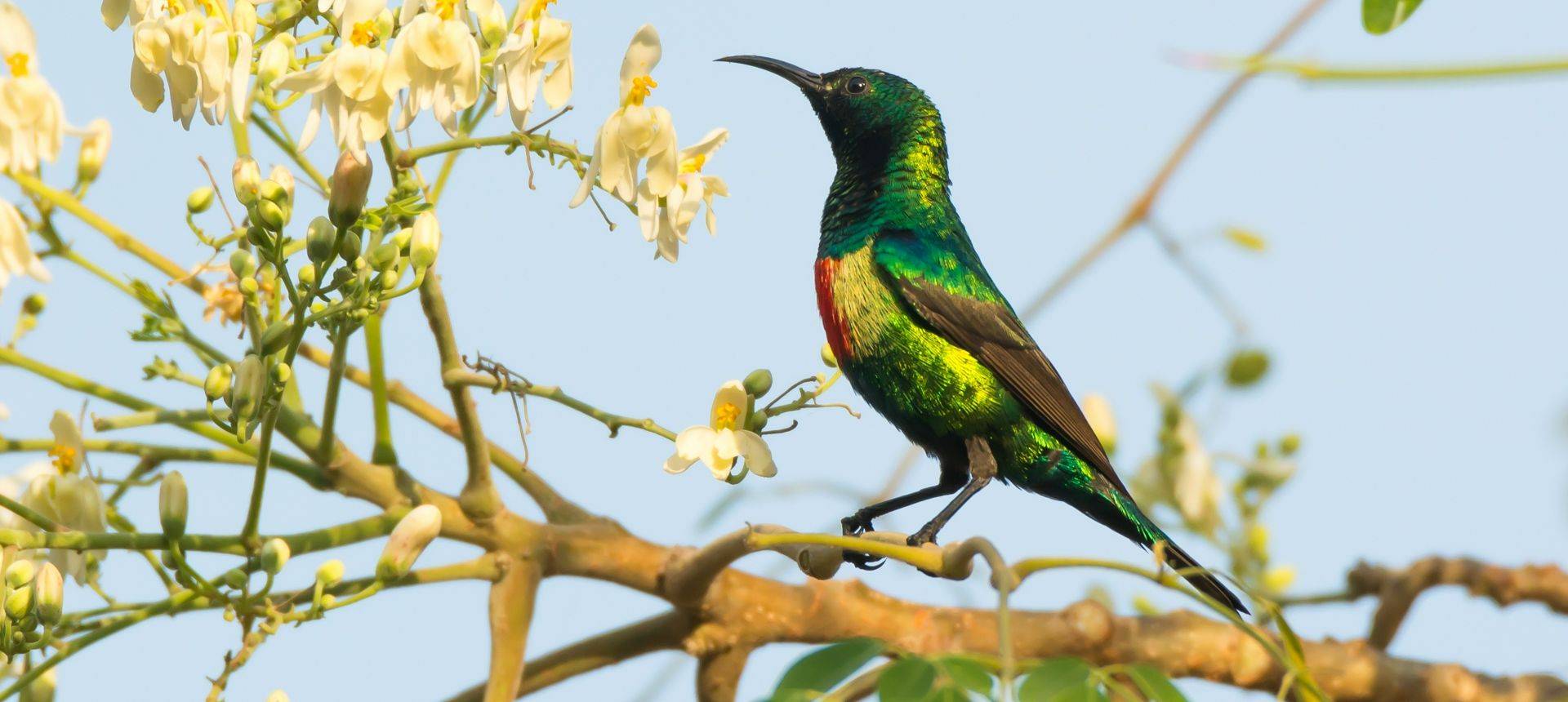 The Gambia in Style
Tour Code: GMB02
An 8-day holiday enjoying the spectacular birdlife and other natural history of The Gambia, based in the tranquil and relaxing surroundings of the exclusive Mandina Lodges.
Of all the tropical destinations for European birdwatchers, The Gambia has arguably the most allure for drawing birders of all skill levels back year after year, from complete beginners to the highly experienced. Many of its 570+ species are extremely easy to see and many wonderful birds can be seen without even leaving your resort. We will be based for the week at the superb Mandina Lodges, a delightful riverside resort which is surrounded by the 1,000-acre Makasutu Forest in south-west Gambia. Exotics are found here in abundance as well as more familiar wintering European migrants. Our friendly local guides will take us on morning and afternoon tours, often by boat, into the surrounding area in search of herons, egrets, ibises, jacanas, kingfishers, sunbirds, raptors, rollers and glossy starlings. Other wildlife of interest includes Nile Monitor Lizards and a variety of primates, and back at the resort you may choose to unwind each day with a swim in the pool, or simply enjoy birdwatching from the beautiful grounds!
A leisurely 8-day, single-centre, birdwatching holiday
Easy, yet exciting & varied, birding from a luxurious base
Stay at the picturesque riverside Mandina Lodge in The Gambia's Makasutu Forest
Lodge & Makasutu Forest listed in the book '1001 Escapes Before You Die'
Rollers, kingfishers & bee-eaters plus sunbirds & orioles galore
Excellent photographic opportunities
Led by expert naturalist guides
We also offer a specialist Photographic departure to Mandina Lodges.
Can I help you?

Outline Itinerary
Day 1
Fly Banjul and transfer Mandina Lodges
Day 2/7
Natural history excursions from Mandina Lodges
We stayed at an Ecolodge on a tributary of the River Gambia, and could see the wildlife from our upgraded floating lodge on the river. We had safaris on foot or by canoe most days around the lodge, and on two days we went further afield. It was a birding tour, however we also saw various monkeys, reptiles and the resident baboon troupe who we liked! The food was delicious!

B.N. Kent, Dec 18
Food & Accommodation
Breakfast and dinner are included throughout the holiday, lunches are not. We recommend allowing around £10-15 per lunch.
Mandina Lodges consists of nine comfortable and discreetly positioned individual lodges. All the lodges are en-suite, and all have one king-sized bed, with the exception of one Jungle Lodge which has two king-sized beds and can therefore be used for twin occupancy. Mangrove and Jungle Lodges are included in the standard tour price; Floating Lodges are available for an additional £195 per person. Please refer to the detailed tour itinerary for more information on the different lodge types.
Affectionately known as the 'Smiling Coast of West Africa', the Republic of The Gambia is a tiny country that packs a mighty avian punch, being home to more than 570 species. For the birder, it offers an exciting kaleidoscope of colour and variety, plus just a touch of familiarity for those of us travelling from the UK! Along with plenty of photographic opportunities (we also offer a special 'Photography' departure each year) and examples of fascinating African culture in the rural heart of West Africa, The Gambia boasts a friendly, easy-going atmosphere and an appealing combination of superlative birdwatching and a warm sunny climate, making it the perfect winter sun getaway.
We depart on a direct flight from London Gatwick to Banjul, and from here it is just a short transfer of around 45 minutes to the exclusive Mandina Lodges. This is our home for the week and it feels a world away from the bustle of Banjul and the touristic Atlantic coast, being set within 1,000 acres of the peaceful Makasutu Cultural Forest and bordering the secluded mangrove-lined tributary of the River Gambia. There are just nine striking chalets at Mandina, with some discreetly positioned over the water and others set back within the lush forest wilderness. The large pool is perfect for cooling off during the heat of the day and meals are served al fresco in the thatched dining areas. The entire setting has been thoughtfully and beautifully designed to promote a tranquil retreat from everyday life, and around the lodge guests frequently encounter such avian delights as African Golden Oriole, Yellow-fronted Tinkerbird, Bearded Barbet, White-throated and Little Bee-eaters, Pied and Blue-breasted Kingfishers, Greenheaded, Scarlet-chested and Beautiful Sunbirds, Northern Crombec and Violet Turaco. Sitting in the bar overlooking the mangroves at sunset whilst watching the herons and egrets return to their roost, it is easy to see why this place has been selected as one of the '1001 escapes to make before you die'!
On four days, during our stay at Mandina Lodges, we remain based at the lodge and explore the nearby forest, rice fields, mud flats and surrounding savannah both on foot and using traditional dugout canoes. We will set off from the lodge just as it is getting light and, as the sun warms us up, it can sometimes be hard to know where to look as parrots, turacos, rollers, bushshrikes, sunbirds, glossy starlings and beeeaters all vie for our attention! Raptors commonly seen overhead include Black Kite, Palm-nut Vulture, African Harrier-hawk, Dark Chanting Goshawk and Beaudouin's Snake Eagle, whilst Guinea Baboons are resident in the forest and are very approachable, and Green Vervet Monkeys are also commonly seen. Boat trips along the creek are sure to reveal a diverse selection of herons, egrets and other waterbirds, plus a dazzling selection of kingfishers. We will return to Mandina for a leisurely brunch and then, during the heat of the day, we will be free to relax, enjoy a dip in the lodge's beautiful swimming pool, explore the mangroves or perhaps go for an independent walk in the nearby forest. Meeting up again in the late afternoon once the air has started to cool, we will enjoy a second excursion and return to Mandina in time for a drink and dinner.
On one evening during our stay we will also enjoy a special sunset cruise to a huge egret roost, where hundreds of Cattle Egrets and Long-tailed Cormorants, plus Western Reef and Black Herons, Great Egrets and numerous darters, flock onto a small island, covering nearly every branch of every tree. During our journey to and from the roost we will take our time to scan the mangroves, looking out for species such as Goliath Heron, Pink-backed Pelican and perhaps African Finfoot.
On two days we will enjoy full day excursions away from Makasutu in order to explore some of the area's other top nature reserves. None are further than about an hour's drive away, and we are sure to include Abuko, a small forest reserve where Woodland Kingfisher, Western Bluebill, Green and Violet Turacos, and Ahanta Francolin can be found. We will also visit Tanji, a coastal reserve with sandbars that attract loafing gulls and terns, as well as a myriad of sunbirds, orioles and hornbills in the nearby scrub woodland.
Finally, after a week of easy, yet exciting and varied birding from an extremely comfortable base, we must drag ourselves away and return to Banjul for our flight home.
Please contact us on 01962 733051 for details on what extensions either pre or post tour are available for this Tour.
We stayed at an Ecolodge on a tributary of the River Gambia, and could see the wildlife from our upgraded floating lodge on the river. We had safaris on foot or by canoe most days around the lodge, and on two days we went further afield. It was a birding tour, however we also saw various monkeys, reptiles and the resident baboon troupe who we liked! The food was delicious!

B.N. Kent, Dec 18

Wildlife watching with style and comfort. Wonderful tour leader and birding expert with the assistance of local guides who were able to take us to places which a group of western tourists might not have been so welcome by villagers. A trip to see the real Gambia!

R.H. East Yorkshire, Dec 18

Vast amount of birds. Excellent Naturetrek leader - Ed gets 12 out of 10. Took time with individuals to make sure everyone was catered for both in terms of logistics and also specific interest i.e. photography. He was also very knowledgeable on birds in Gambia. Likeable chap! Staff at Mandina Lodge gave a good level of service. Chef certainly looked after us - the food was scrumptious...felt spoilt.

P.L. Norfolk

Beautiful site at Mandina - charming staff and local guides - nothing too much trouble. Very pleased the week was not exclusively aimed at birds as this gets very tedious for those with more general interest in natural history. Ed was the star turn. Not only was he cheerful, positive, organised and very helpful, he had excellent knowledge and observation skills across the whole spectrum of species in the areas, making it much more interesting for generalists. He was also very professional.

J.P. Herefordshire

I have clocked up quite a few wildlife spotting trips over the last 15 years and have to say, this was probably the most enjoyable...for several reasons: A leader jointly skilled in identification of birds and interaction with people, who allowed the local guides to run the show, only chipping in to correct any mis-id's; a well run lodge with friendly, happy staff providing tasty meals; keen local guides; facilitated by a small friendly group of clients.

J.L. East Sussex

The local guides were particularly good at ensuring that everyone got a chance to get a good view of all the birds. Where there were gaps in their knowledge, Marcus was very good at clarifying the identity of birds seen. The accommodation was excellent. Service and food was also very good.

S.C. West Midlands

We had a wonderfully relaxing week in the tranquil surroundings of Mandina Lodge. Our hosts were well organised and tended to our every need; the guides were superbly knowledgeable and enabled us to see a splendid array of birds and baboons both on foot and by canoe. We have lovely memories of being paddled serenely along the river in the early mornings and evenings. We were also taken out from the base to visit very interesting places in the vicinity such as the beach where fish are landed in vast numbers every day. In between, we had a lovely pool and base in which to relax in or out of the sun! This trip is to be thoroughly recommended to anyone interested in birds.

T.R. Cleveland

Gambia in Style lived up to its description- with exotic floating lodges in a mangrove creek but still felt close to nature, being surrounded by forest. The pace was leisurely with morning and afternoon birding - some from a canoe and afternoons free to relax (or not) with a couple of days further afield. We crammed a lot into a week and the Naturetrek tour leader was truly exceptional at bird recognition as well as having an easy going manner with group members. However, the excellence of the local guides was wonderful to experience and their enthusiasm very contagious. It made for a wonderful birthday treat.

D.W. South Yorkshire

The staff were all excellent, very friendly. Great weather, and good food. Our guides really knew the birds. Overall an excellent trip and would like to return.

P.W. Hertfordshire

The pace was just right. The leader was knowledgeable, enthusiastic, helpful and willing to be flexible. Any minor problems sorted quickly. The group 'gelled' very well. The local guides were also excellent - friendly, interested, keen to show us everything. I had my 60th birthday on the trip and it was really memorable.

A.B. Clwyd

Mandina Lodge is a lovely place with lovely staff and very good service and food.

U.W. Buckinghamshire

The tour leader Eric Barnes - one of life's gentlemen.

I.N. Hertfordshire

We thought the balance of days out and walks and canoes trips locally was spot on. Mandina itself was great. Very easy to relax during the heat of the day but just as easy to keep yourself entertained if you wished. We had a great time not only with the wildlife but also the other tour participants. We feel the key to all these trips are the guides and Mandina's guides are brilliant. Always friendly, patient and helpful in showing you what their country has to offer. They are a real asset to the Lodge. On top of that we had our Naturetrek guide as well. Marcus is one of those rare individuals who can turn a group of strangers into friends within an hour. His enthusiasm was infectious and we learnt so much from him during the course of the week. First class!

A.P. Kent

Particularly impressed with the abilities of the trip leader and local guides to spot the birds and provide background information.

M.L. Buckinghamshire

I enjoyed having more time than is usual to use the facilities at Mandina Lodges, especially the swimming pool! The adjoining gardens were ideal to potter around, with many birds to see.

J.C. Norfolk

Very relaxed with itinerary changeable according to circumstances. Very capably led by Rob Mileto, who considered the views of all participants.

J.H. Hampshire

A blissful holiday in beautiful surroundings with an itinerary that mixed prolific bird sightings with welcome periods of relaxation. Rob Mileto was a splendid tour leader, both knowledgeable and entertaining. Brilliant local guides.

M.F. Dorset

Lovely accommodation, well situated for purpose with welcoming, helpful staff. Rob was an excellent tour leader: very knowledgeable, enthusiastic and well organised. And he didn't make this non-birder feel isolated!

D.F. Dorset