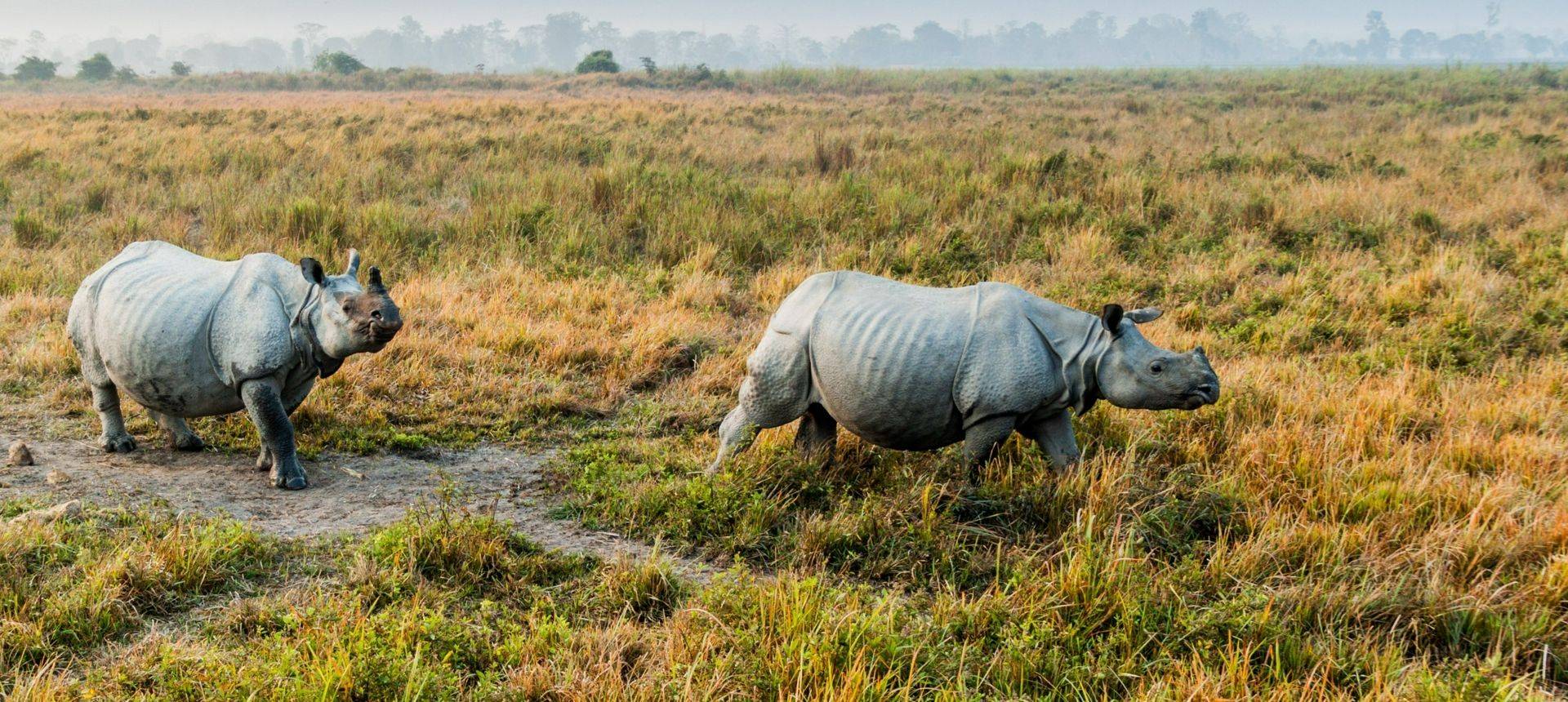 India - Assam, Darjeeling & Bhutan
Tour Code: IND05
An 19-day holiday exploring Kaziranga (the finest of India's national parks), the magical kingdom of Bhutan and the charming hill station of Darjeeling, plus an exciting optional extension to the Sunderbans.
We visit three very different destinations – each dominated by the mighty Himalayan range – for this unusual tour. First we head to Bhutan, which contains some of the world's most pristine wildlife habitats and we'll explore its forests and valleys in search of wildlife, as well as finding time to admire aspects of its unique culture. Next we spend three days in Darjeeling, enjoying both the area's wildlife and breathtaking views of the eastern Himalayan peaks before transferring to Kaziranga National Park. Situated on the Brahmaputra River in Assam, Kaziranga has a superb variety of birdlife and is probably the best place in the world to see the endangered Great Indian One-horned Rhinoceros.
The world's largest population of Indian One-horned Rhinoceros in Kaziranga
Hog Deer, Swamp Deer, Hoolock Gibbon & the chance of seeing a Tiger
Extensive bird list featuring waterbirds, raptors & Bengal Florican
Montane birds including Himalayan specialities & rarities
Unique Bhutanese architecture including spectacular temples & dzongs
Picturesque scenery in Darjeeling, including tea estates
Optional extension to Sunderbans to search for crocodiles & Tiger
Expert local naturalist guides

Can I help you?

Outline Itinerary
Day 14
Fly Guwahati, drive to Kaziranga National Park
Day 15/17
Kaziranga National Park
Overall this was a brilliant trip with excellent leadership and company, which exceeded expectations on every day.

L.N. London
Food & Accommodation
All included in the price, except for main meals required in Kolkata.
Comfortable tourist hotel in Kolkata and simple but comfortable hotels and lodges in Kaziranga, Darjeeling and Bhutan, all with private facilities.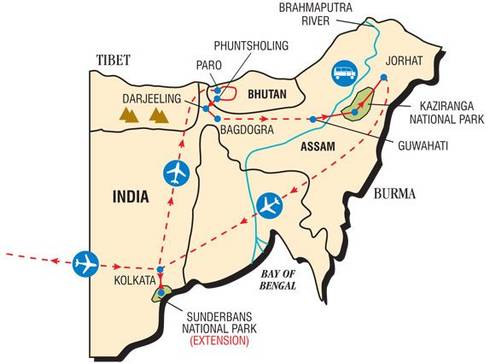 Tour Downloads
The mighty Himalaya exerts its influence over every aspect of the flora and fauna of northern India and nowhere is this better exemplified than in the three areas that we will visit during this tour: the floodplain of the Brahmaputra River in Assam, the former hill station of Darjeeling and the pristine montane forests of Bhutan. Each destination is fascinatingly different from the others but the trio combined together produce a birdwatching and wildlife tour par excellence.
Our holiday begins in Kolkata, located in eastern India on the banks of the Hooghly River. From here we fly to Paro and enter the tranquil 'Land of the Thunder Dragon', a mountainous country of boundless and beautiful rhododendron and oak forests, where remarkable dzongs and the culture, architecture and dress of a proud Buddhist people characterise a rich and unspoiled Himalayan kingdom where wildlife abounds. A 2-night stay in the high valley of Paro allows us to explore this historic valley that sits beneath snow-capped Chomolhari, one of the highest of Bhutan's Himalayan peaks. Here we will visit the huge Rimpung Dzong, the National Museum and the impressive ruin of Drugyel Dzong, and we will climb through beautiful forest to the spectacular Taktsang Monastery (or Tiger's Nest). An early morning drive will then take us to the Dochu La, a high pass clothed in wonderful oak and hemlock forest where many rare birds may be found. From here we descend to Punakha, the old capital, for a 2-night stay that will allow us to enjoy its magnificent riverside dzong and make visits to Tashithang and Jigme Dorji National Park in search of such rarities as White-bellied Heron and Blyth's Kingfisher.
At Gangtey Gompa the peaceful Probjikha Valley holds an upland mire famed for its wintering Black-necked Cranes. We are most likely to see these endangered birds on the November tour, though on both tours we will encounter the wealth of interesting birdlife to be found in the surrounding high temperate rhododendron forests. We will spend our final night in this peaceful and magical kingdom in the capital Thimpu, before a scenic drive takes us to the town of Phuntsholing that spans the Indian border with Bhutan.
Our next destination is the former colonial hill station of Darjeeling. Situated at 1,980 metres, the town is full of character and commands magnificent views of the Himalaya, in particular the world's largest (and third tallest) mountain, Kanchenjunga. Whilst here, we will have ample opportunity to enjoy the birds of nearby temperate forests, and we will also see the famous Darjeeling tea gardens. The historic town of Darjeeling, with its bustling streets, contains many a reminder of its 'glory days' as a summer resort for the British during the time of the 'Raj', amongst them the world-famous narrow gauge railway which laboriously loops its way up to the town from the steamy plains.
A short flight from Bagdogra will take us to Guwahati in Assam, from where we will drive to the southern edge of Kaziranga National Park. We stay here for a memorable four nights at the comfortable and evocatively named Wild Grass Lodge, from which we will undertake daily excursions into the reserve by jeep and on elephant back.
Kaziranga is a 430 square kilometre park, consisting of broad tracts of tall elephant grass interspersed with evergreen forests, shallow lakes and reedbeds. It is probably the best place on Earth to observe the very rare Great Indian One-horned Rhinoceros and it is possible to encounter as many as 40 of these prehistoric-looking beasts during a day in the field. Indian Elephants are also plentiful and herds of wild Water Buffalo watch our progress with an air of bellicose suspicion. Grazing Sambar, Hog Deer and Swamp Deer add to the diversity and provide prey for the Leopards and Tigers which roam the park, although amid so much cover they are always hard to see. Continuing our exploration we may disturb sounders of Wild Boar, sending them crashing through the undergrowth, and maybe chance upon some of the more elusive residents such as Gaur, Leopard Cat and Sloth Bear, whilst the rare Capped Langur, Assam Macaque and Hoolock Gibbon form a trio of primates that inhabit the woodlands. Despite the profusion of mammals, the birdlife is not eclipsed and a tremendously diverse bird list features many rare or local species such as Bengal Florican and Adjutant Stork.
A short flight from Guwahati or Jorhat will take us back to the bustling city of Kolkata, testing our abilities at mountain identification as we fly parallel to the great Himalayan massif, passing several of the world's highest peaks. For tour members wishing to postpone their homeward flight, we recommend a post-tour visit to the Sunderbans, the world's largest delta and mangrove swamp, renowned for its waterbirds and man-eating Tigers!
Extension:
days from £
Sunderbans is a magical place. On this 5-day extension we arrive by boat to our island resort then explore mangroves looking for a superb variety of birds, mammals and reptiles mainly in small boats.
EXTENSION NOTES
This extension can be booked during the online booking process or by calling us on 01962 733051.
An extension cannot be booked independently from the tour
Overall this was a brilliant trip with excellent leadership and company, which exceeded expectations on every day.

L.N. London

The highlights for us were the week spent in Bhutan and the 4 nights in the Sunderbans where we lived in a complex adjacent to the village which was serviced by the villagers themselves. They also performed an outstanding play for us on a traditional story about the appeasement of the Tiger God in an attempt to improve honey gathering and fishing. Our trip was enhanced by the superb leadership of Sujan Chatterjee and Karma Dorje. We understand that Naturetrek insisted that Kharma be brought out of his office job to which he had been promoted in order to lead us. This was an excellent judgement and he was a fantastic guide and an impressive individual. We also commend our Bhutanese driver, Shatoo, who never stopped working the whole of the week. He washed the bus every day and kept it spotless, even when the temperatures were below zero. He is also becoming a talented birder and on several occasions his sharp eyes spotted something before anyone else did.

R.M. & P.J. Glamorgan

The tour itinerary was just class. The contrasts between the places we visited were vivid. We have visited most continents of the world. Bhutan is the place we most want to go back to. A wonderful experience, made all the better by our tour leader, Sujan, the local guide and the hugely likeable driver and bird spotter. I cannot praise Sujan highly enough. After many tour trips, he ranks as the best tour leader/guide/friend we have ever had.

M. & W.B. Sussex