Autumn & Winter Tours in the UK

This email address is being protected from spambots. You need JavaScript enabled to view it.
As the weather begins to turn and the heat of summer fades, the UK plays host to a large number of migrating and wintering species each year, and you don't have to go far afield to catch up with some fantastic wildlife spectacles. From the thousands of geese that arrive to feed, to the smaller passerines that merge into large wintering flocks, there is plenty of variety. We have a wide selection of tours ranging from week-long tours to Scotland to weekends in Devon, and there are a few departures that still have some spaces available.
This popular tour is based on the west coast peninsula of Ardnamurchan, near Fort William, and goes in search of those magnificent monarchs of the glen – Red Deer stags – as they battle it out for supremacy and the right to a harem. We will often hear them before we see them as their roaring bellows echo around the hillsides.
We will, of course, make time for some other wildlife too, and will be on the lookout for raptors, including Golden and White-tailed Eagle, plus Twite, Pine Marten, Otter and dolphins.
View tour page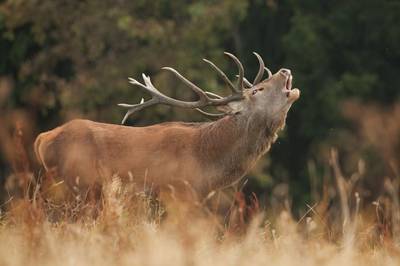 Red Deer
Each year thousands of geese descend on Islay and their noisy, honking chorus can be heard around the island throughout much of the autumn and winter. Barnacle, White-fronted, Pink-footed and Greylag Geese make up the main flocks, but Brent Geese and the odd Canada Goose can also be seen.
On Jura we will go on safari Scotland style, watching Red Deer out of the tour vehicle rather than antelope. We are also likely to come across some of the Otters that reside here, either on the hunt for their next meal or relaxing on the shoreline. There are thought to be more Otters here per mile of coastline than anywhere else in the UK.
View tour page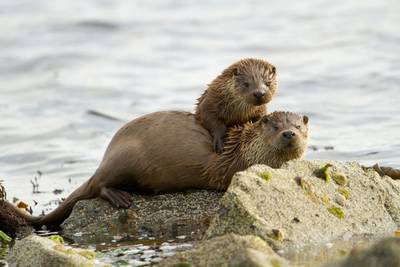 Otters
As well as taking in the amazing influx of geese on Islay, this tour also goes to the wonderful Isle of Mull where we will be looking to catch up with Otter, Red Deer, Golden and White-tailed Eagle, Hen Harrier, Slavonian Grebe and all three species of diver. Both islands have much to offer by way of stunning scenery, charming villages and perhaps a visit to one of Islay's whisky distilleries.
We will be based in two lovely hotels, with friendly staff, wonderful food and very comfortable rooms.
View tour page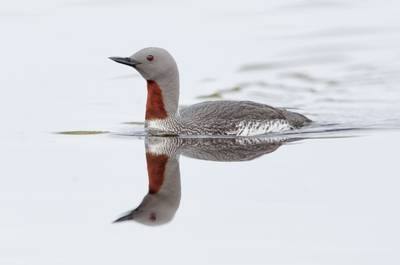 Red-throated Diver
Winter

---
Later this year and early next we will be running a variety of winter tours, where the colder weather can make for some magical wildlife encounters.
The winter months are an excellent time to visit Norfolk. As well as the huge numbers of wintering wildfowl, such as sea ducks, geese and swans, a number of smaller birds can also be found here, including Shore Lark, Snow and Lapland Bunting and Twite. Occasionally Barn Owl is seen during the day, hunting on silent wings over the marshes and fields. As well as Cley, we will also be visiting Titchwell, Holkham and Welney, where thousands of Whooper Swans gather; the largest wintering population in Britain.
View tour page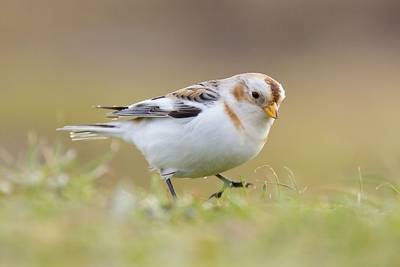 Snow Bunting
There is something truly special about watching a starling murmuration and this winter tour is specifically designed to coincide with the most likely times to see this wonderful spectacle. Towards dusk, thousands of Common Starling gather together prior to going to roost and the patterns they make as they wheel around the sky in an enormous flock are spectacular.
The levels and moors are also important for wildfowl such as Pintail, Shoveler, Wigeon and Gadwall. Bittern may also make an appearance, along with wintering Merlin, harriers and Barn Owl.
View tour page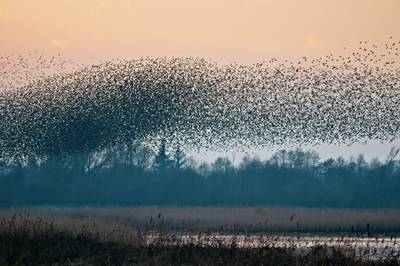 Starling murmuration
Devon enjoys a more temperate climate than much of the UK and even during our coldest months a number of over-wintering species can be found here, not least the Pied Avocet, with its long legs and slightly upturned bill, which can often occur here in some numbers. There is also a small population of Cirl Bunting that resides here all year round, and the heaths hold Dartford Warbler and the odd Great Grey Shrike.
View tour page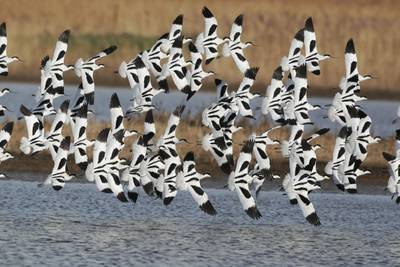 Avocets
This tour to the New Forest offers the opportunity to see some of the fantastic birdlife that can be found within the forest at this time of year, as well as along the coastal fringes of the Solent. Some of the key species that we hope to find include Hawfinch, Goshawk, Brambling, Merlin, Crossbill, Lesser Spotted Woodpecker, Peregrine, Little Egret and Slavonian Grebe.
View tour page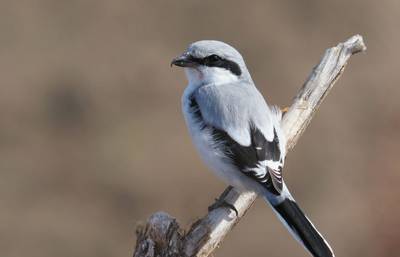 Great Grey Shrike
The forest is a remnant of the ancient woodland that once covered much of mainland Britain, consisting of an area of mixed woodland that includes Beech, Alder and Hornbeam. As we explore the forest tracks and trails we will be looking for flocks of Crossbill, Brambling, Hawfinch, Redpoll and Siskin. Goosander and Mandarin Duck can be seen at some of the lakes while Goshawk may be visible above the trees. We might also come across some of the Wild Boar that now reside here. Although these are mainly nocturnal, an evening excursion will improve our chances of seeing one.
View tour page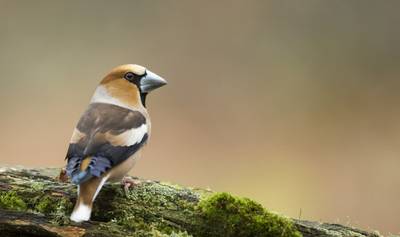 Hawfinch
A new tour for this year, the Solway Coast tends to avoid the worst of the winter snow storms, making it the perfect wintering location for many northern geese species. Indeed, the entire population of Svalbard race Barnacle Geese make their way here each year, along with Greenland White-fronted Geese, Pink Footed Geese and Greylag Geese, as well as the occasional rarity. With visits to the hides at WWT Caelaverock and RSPB Mersehead we'll be able to get some fantastic views.
We will also be looking for waders, grebes and divers around the coastline, while inland we will admire both the small, in the form of Willow Tit, and large, in the shape of the graceful Red Kites that wheel around the sky. At the end of each day we will be aiming to find one of the local Hen Harrier roost sites to watch as these magnificent birds come in for the night.
View tour page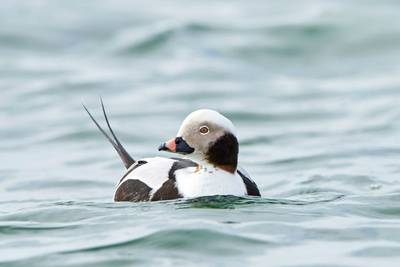 Long-tailed Duck
This exploration of the birding sites found around and near the coast of Suffolk takes us to some iconic locations such as Minsmere and Walberswick, as we go in search of wintering birds and newly arrived migrants such as Bearded Tit, Bittern, Marsh Harrier, Woodlark, Reed Bunting and Black-tailed Godwit.
An 'in Style' tour is not complete without a great hotel and we will be staying at the lovely Wentworth Hotel in Aldeburgh, a family run affair for nearly 100 years, where they believe in providing an excellent service, with a menu that offers an array of creative dishes made with fresh, local produce. It's sure to be a great weekend!
View tour page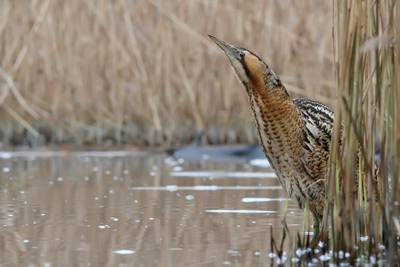 Eurasian Bittern
Get in touch
For further information, on our holidays, call 01962 733051 to speak to our friendly office experts, or email us using the contact form below. We'll get right back to you!