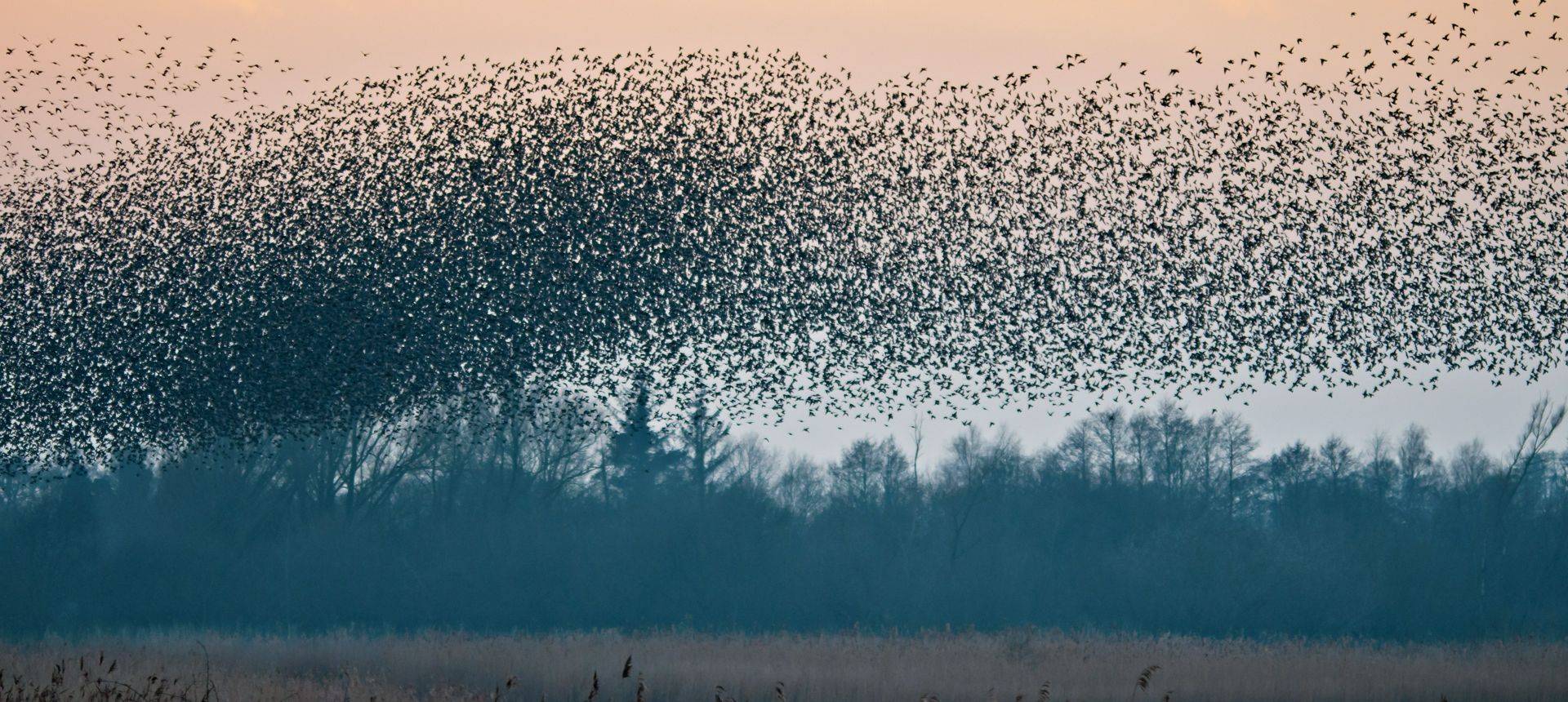 The Somerset Levels
Tour Code: GBR11
A short birdwatching break, focusing in particular on the spectacular winter congregations of Starlings found on these ancient moors and wetlands.
The magical movements and acrobatics of a million roosting Starlings. Bitterns. Huge congregations of wintering wildfowl, Lapwings and Golden Plovers. Birds of prey; amongst them the possibility of  Barn Owls, Marsh and Hen Harriers, Peregrine and for the very fortunate Merlin. These are just some of the possible highlights on offer at this special expanse of seasonally inundated lowlands that spans 650 square kilometres between the Quantock and Mendip Hills. This ancient habitat, that until recently had fallen victim to drainage and other modern farming demands, has now been restored to much of its former glory by the RSPB and other conservation bodies. It is a heartening modern-day conservation 'success story'!
Enjoy the aerial artistry of a million-strong Starlings as they gather at dusk prior to roosting
The optional opportunity to return at dawn to watch the Starlings emerge from the roost
Bittern, Great White Egret, and Bearded Tit regularly seen
Special effort to find the Cranes which have been re-introduced to the area and now breed.
Birds of prey including Marsh Harrier and Peregrine with large concentrations of wintering wildfowl & waders
A 3-star hotel, with award-winning restaurant, beside the cathedral in the historic market town of Wells
Led by expert naturalist guides
Can I help you?


X
Tom Mabbett
Tom
Tom has been fascinated by wildlife and the natural world since childhood. At primary school he learnt all the British bird species, and he's been watching and enjoying them ever since! Trips to the Wildfowl and Wetlands Trust (WWT) Slimbridge further fuelled his passion for birds and, when Tom's family bought 10 acres of land, he created his very own nature reserve on it! After gaining a degree in Biology from Exeter University, Tom set off in search of some of the planet's incredible wildlife, first travelling slowly around the world, and then returning to Australia. As well as seeing a wonderful variety of the world's birds on his travels, he also spent a lot of time beneath the surface of the ocean, scuba diving in Thailand, Australia and Fiji. Two of Tom's many highlights were diving with mighty Bull Sharks and swimming alongside gigantic Whale Sharks. Since returning to the UK Tom has worked in school wildlife clubs and also worked at WWT Slimbridge. Having grown up in the Cotswolds, a lot of Tom's spare time has been spent recording the birds and reptiles of this area's commons and wetlands. He also travels in search of overseas wildlife as often as he can, and amongst the European destinations that Tom and his brother have explored have been Hungary, France, Spain, Holland and, most recently, snow-clad Poland in the depths of winter to focus on mammal-tracking. Tom has now lead and co-led over 20 Naturetrek tours in France, Spain, Italy, Portugal, Finland, Belgium, Greenland, Guyana, La Palma and Scotland as well as short UK breaks including the Somerset Levels and Forest of Dean. Tom remains a very popular leader with our groups and when not out in the field works within our busy operations team at our new office in Chawton. Please feel free to contact Tom on 01962 733051 or email tom@naturetrek.co.uk with any questions or to discuss a future tour.
Outline Itinerary
Day 2/3
Somerset Levels; Avalon Marshes; King's Sedgemoor; West Sedgemoor.
We stayed at the Swan Hotel in Wells, which was very convenient for the Levels. The food was very good, and the staff were charming. Our 2 days were spent in different areas of the Levels, each quite different to the other. The weather was considerably better than the forecast, only 2 showers when we were luckily in the excellent hides, of which there are plenty. The local pubs we ate in served very good food. Matt Collis and Chris Griffin were both excellent guides, very friendly and helpful to novice birders. Their local knowledge of the area was first class, and they managed to get us to the exact spot where the starlings were going to roost, the best murmuration they had seen in years. We thoroughly enjoyed the whole trip, and recommend it to all levels of bird watchers.

M.B. Essex, Feb 19
Food & Accommodation
Breakfasts and 3-course evening meals included in the price.
A comfortable 3-star hotel, with an award-winning restaurant, in the historic market town of Wells; all rooms have private facilities.
The Somerset Levels, a magical expanse of seasonally inundated lowlands that spans 650 square kilometres between the Quantock and Mendip Hills, is a conservation 'success story'! An ancient habitat that, until recently, had fallen victim to drainage and other modern farming demands, has now been restored to much of its former glory by the RSPB and other conservation bodies. Indeed the area supports such a rich variety of plant and birdlife that it is under consideration for status as a World Heritage Site.
Our visit is timed to coincide with the massive flocks of wildfowl that gather here during the winter, when internationally important numbers of Wigeon, Gadwall, Teal, Pintail and Shoveler are present. Another species found here in vast flocks is the Starling, made famous in recent years by BBC coverage. A dusk outing to watch hundreds of thousands of birds swirling over their roost sites makes for breathtaking viewing. The other star attraction of the area is the Bittern. Habitat creation has, in recent years, attracted several breeding pairs, and in winter these are joined by migrants, giving us a good chance of seeing one standing among the reeds or flying across the vast reedbeds.
There are small numbers of wintering raptors such as Short-eared Owl, Merlin, Peregrine, Marsh Harrier and Hen Harrier, and in recent winters it has been possible to watch Great White Egret alongside Little Egret with regularity. This superb bird bred in the UK for the first time in 2012 and chose the Somerset levels in which to do so, such is the extent and quality of the habitat. Another bird which we will hope to encounter is the Common Crane which has been re-introduced here as part of the Great Crane Project. It can be unpredictable as to their whereabouts but many have been lucky.
Otters do occur on the Somerset Levels, though few are lucky enough to see them on such a short visit.
There is a very special quality to the landscape and wildlife of the Somerset Levels, and there are wonderful views across Glastonbury Tor, Deer Leap and Wookey. Indeed a visit here in winter can offer a host of rewards, so please do join us on this ever-popular Naturetrek short break!
Please contact us on 01962 733051 for details on what extensions either pre or post tour are available for this Tour.
We stayed at the Swan Hotel in Wells, which was very convenient for the Levels. The food was very good, and the staff were charming. Our 2 days were spent in different areas of the Levels, each quite different to the other. The weather was considerably better than the forecast, only 2 showers when we were luckily in the excellent hides, of which there are plenty. The local pubs we ate in served very good food. Matt Collis and Chris Griffin were both excellent guides, very friendly and helpful to novice birders. Their local knowledge of the area was first class, and they managed to get us to the exact spot where the starlings were going to roost, the best murmuration they had seen in years. We thoroughly enjoyed the whole trip, and recommend it to all levels of bird watchers.

M.B. Essex, Feb 19

It was action-packed to maximise experiences over a weekend, and expertly led by the 2 leaders. The hotel was in a lovely location and very comfortable... I have nothing but praise for Naturetrek and wouldn't dream of holidaying with any other operator now. I have had 4 memorable breaks with them and have already booked 2 more this year.

G.C. Devon, Feb 19

It was a guided tour of the best birding sites on the Somerset Levels. Our tour guides took us to excellent vantage points to see numerous types of birds throughout the two days and the Starling Murmuration both evenings, which exceeded all my expectations, and the great take off of the roosting starlings one morning. Our first experience of Naturetrek and it will not be the last as the organisation was first class and the tour guides were very knowledgeable and amiable.

A.M. Kent, Jan 19

Great hotel in Wells with good room and lovely food. Organised birdwatching to places that I would never found alone with knowledgeable guides and comfortable transport. Highlight was 3 visits to the 800,000 starlings roosting on the wetland reeds with some incredible views of murmurations. The noise and movement has to be seen to be believed. One of my bucket list achieved well in above of expectations!

K.S. Hertfordshire, Jan 19

Matt and David were fantastic, so knowledgeable. In particular, Matt has incredible knowledge of birds and birdsong, plus he is a great communicator with a good sense of humour. We (myself and sister) really appreciated both leaders and their skills were complementary.
I was very very impressed! 

S.P. Avon, Jan 19

First time on a birdwatching holiday to tick a bucket list item: the starling murmuration. The starlings performed beautifully and we were in the right spot thanks to great naturalist leaders. Seems whatever we threw at them (I want to see a bittern, a kingfisher on a perch, a crane....) the guys managed to deliver. Very impressive and a great short break overall.

R.C. London

We enjoyed two days of birdwatching in a number of locations on the Somerset levels with a small group of friendly people. Our two tour guides were very knowledgeable and eager to ensure that everyone got the maximum out of the two days, even to the extent of going off itinerary to take us out before dawn to see millions of starlings leaving their roost. We had an excellent holiday and would recommend it to anyone with an interest in the natural world.

P.P. Cheshire

The time was very well organized, allowing us to appreciate different areas and maximize our chances of seeing many birds. One reason I chose the holiday was to see the starlings. We saw them come in to roost right in front of us and the sound was amazing.

K.T. Staffordshire

Within two short winter days travelling through the wetlands of the Somerset Levels I was introduced to some of the many birds that frequent these fertile peat rich wild places. The Naturetrek guides were incredibly knowledgeable and enthusiastic and with their patient guidance I saw for the first time a Bearded Tit, a Great White Egret and a Stonechat. Reacquainted with elusive Kingfisher and introduced to the starling murmuration I left Wells for home sure that I had had the very best short break possible.

O.M. Kent

A wonderful trip to see the Starling Murmuration in the Somerset Levels. Seen not once, but three times. We were also fortunate enough to see a Wildfowl Murmuration as well. It was one of the 'must see' wildlife sights.

G.C. Hertfordshire

We stayed for 2 nights at the Swan Hotel in the lovely city of Wells. On our first evening we were given interesting information which covered the history and geography of the area we were going to visit in the following days. Everything was very well organised and the two leaders were knowledgeable about the wildlife we could possibly see. Nothing seemed too much for them and when on the first day we saw a spectacular starling roost we were offered the chance to return the following morning at dawn to watch the starlings leave their roost. It was a beautiful sunrise and a thrilling sight.

P.A. South Yorkshire

This trip was really fantastic, with exceptional tour guides. We were able to see far more bird species than we would have spotted on our own. The experience of the starling murmuration was really spectacular! The food was great too.

E.R. Leicestershire

Thank you to whoever thought of this holiday and then put it together! We have driven past or through it for 20 years and never explored it!

V.A. London

Both leaders were very good, helpful and willing to help you identify birds. The accommodation was also excellent.

S.W. Worcestershire

This short holiday was made particularly enjoyable - and satisfying from the point of view of seeing wildlife - by the 2 leaders, Dave and Mike. As not particularly experienced birdwatchers, we were never intimidated by them, but their levels of local knowledge were such that we came away from the holiday feeling we had learnt a great deal from them.

Mr & Mrs W. Greater Manchester

Both guides - Ed and Charles - were excellent and, as well as having excellent knowledge of the area and its wildlife, had a real passion for the area and the birds. Their hard work in ensuring the success of the trip is much appreciated.

C.W. Warwickshire

The number of reserves covered was good and the selection of habitats - also the knowledge of the two leaders - Dave and David, was excellent - they encouraged us to ask questions freely. They were very organised and everything ran smoothly. I enjoyed the massive numbers of starlings we saw - an incredible sight and sound, and the hunting peregrine. The hotel and food were also excellent.

J.S. Devon