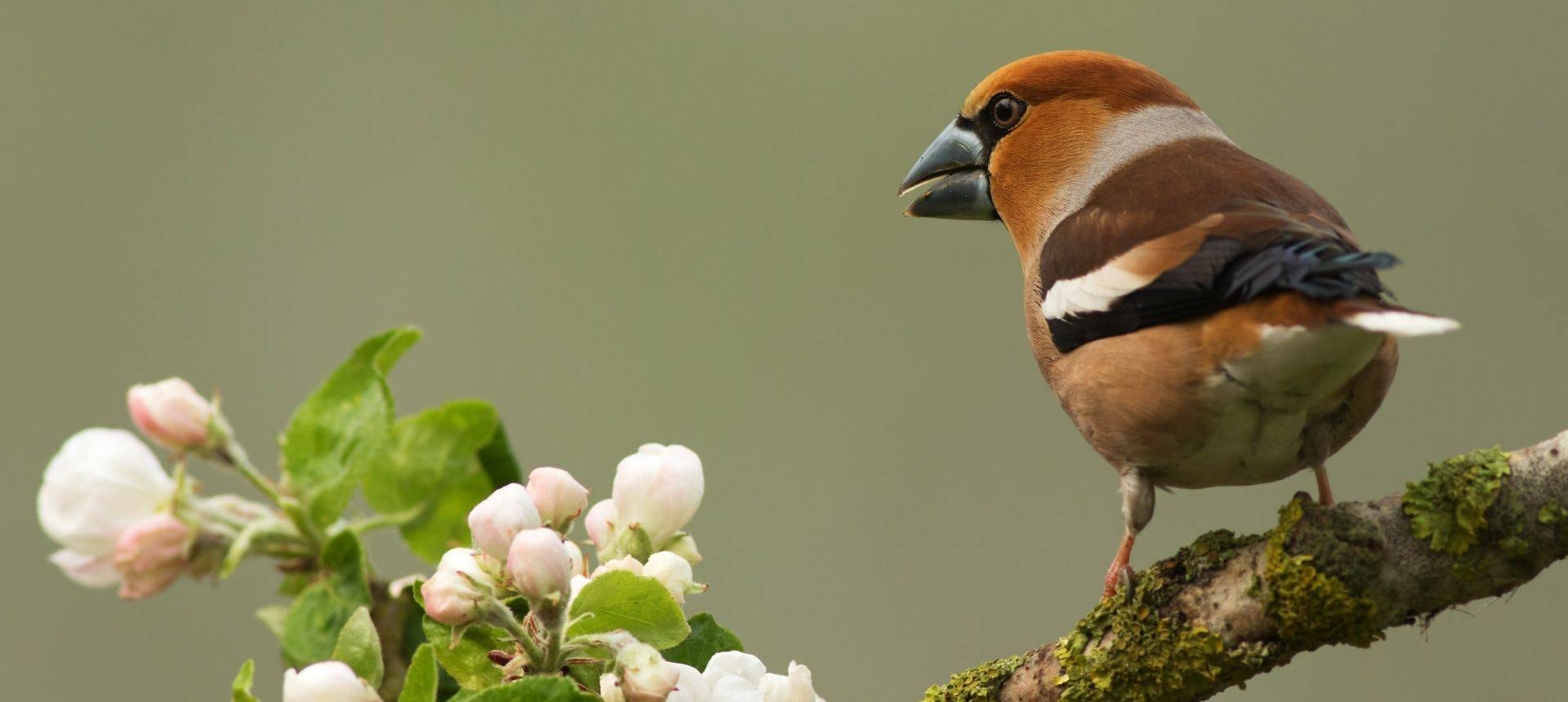 The Forest of Dean
Tour Code: GBR47
A 3-day break focusing on the birdlife and other natural history of the Forest of Dean.
The Forest of Dean covers an area of about 100 square kilometres and is England's second largest expanse of ancient woodland. From our comfortable hotel base in the heart of the forest, we will make daily walks exploring the surrounding trails during the day, and on one evening head out in search of Wild Boar! During our March holiday, we will hope to see flocks of Siskin and Redpoll as well as Brambling and one of the stars of the forest the Hawfinch. Mandarin Duck and Goosander should be present and we'll also look for Dippers on the rivers. In May the woodlands are home to Pied and Spotted Flycatchers, Redstarts and Wood Warblers along with many other species. We'll look for these and visit a clearing at dusk to look - and listen for - Nightjars. Whichever time of year you choose, this is sure to be a memorable birding break!
We offer this holiday in contrasting seasons.
Hawfinch possible on both tours (more likely in March)
Redpoll, Siskin, Crossbill and Brambling all possible
Look for declining species such as Lesser Spotted Woodpecker
In March, see Goshawks doing territorial displays
Birds of prey in the forest including breeding Peregrines 
Listen for 'churring' of Nightjars during a dusk excursion (May trip)
Led by expert naturalist guide
Can I help you?


X
Tom Mabbett
Tom
Tom has been fascinated by wildlife and the natural world since childhood. At primary school he learnt all the British bird species, and he's been watching and enjoying them ever since! Trips to the Wildfowl and Wetlands Trust (WWT) Slimbridge further fuelled his passion for birds and, when Tom's family bought 10 acres of land, he created his very own nature reserve on it! After gaining a degree in Biology from Exeter University, Tom set off in search of some of the planet's incredible wildlife, first travelling slowly around the world, and then returning to Australia. As well as seeing a wonderful variety of the world's birds on his travels, he also spent a lot of time beneath the surface of the ocean, scuba diving in Thailand, Australia and Fiji. Two of Tom's many highlights were diving with mighty Bull Sharks and swimming alongside gigantic Whale Sharks. Since returning to the UK Tom has worked in school wildlife clubs and also worked at WWT Slimbridge. Having grown up in the Cotswolds, a lot of Tom's spare time has been spent recording the birds and reptiles of this area's commons and wetlands. He also travels in search of overseas wildlife as often as he can, and amongst the European destinations that Tom and his brother have explored have been Hungary, France, Spain, Holland and, most recently, snow-clad Poland in the depths of winter to focus on mammal-tracking. Tom has now lead and co-led over 20 Naturetrek tours in France, Spain, Italy, Portugal, Finland, Belgium, Greenland, Guyana, La Palma and Scotland as well as short UK breaks including the Somerset Levels and Forest of Dean. Tom remains a very popular leader with our groups and when not out in the field works within our busy operations team at our new office in Chawton. Please feel free to contact Tom on 01962 733051 or email tom@naturetrek.co.uk with any questions or to discuss a future tour.
Outline Itinerary
Day 2/3
Explore the Forest of Dean
A very enjoyable weekend in the Forest of Dean looking for target bird species and mammals of the area. The tour leaders were excellent and worked hard to secure superb sightings of crossbill, hawfinch and goshawk as well as other bird species. Excitement was experienced by those intrepid nighttime explorers who wished to see wild boar and again the tour leaders ensured that there was no disappointment. A large and fierce looking boar was seen within minutes. Later in the evening, under a moonlit sky, a family group of approximately eight members was seen by the road side eating swedes. Torch light assisted the viewing as the group scampered away. Other mammals of the area included fallow deer and rodents.

T.S. Derbyshire
Food & Accommodation
Breakfasts and evening meals are included in the holiday cost beginning with the evening meal on Day 1 and finishing with breakfast on Day 3. Lunches are not included in the cost of this tour.
Comfortable hotel with private facilities throughout.
Situated in west Gloucestershire, and bordered by the river Wye and the Severn, the Forest of Dean is England's second largest expanse of ancient woodland. The forest — a magnificent mix of Oak, Beech, Hornbeam and other species, both deciduous and coniferous — covers an area of over 100 square kilometres and is home to an exciting variety of birds, rare butterflies and other wildlife.
This new short break focuses on the special birds and other natural history of the forest at two contrasting times of the year: winter and spring. We will be based at a comfortable hotel in the heart of the forest, from where we will make daily walks to explore the surrounding trails. Our focus will primarily be on the forest's special birdlife, though there will be an opportunity to head out after dark one evening to look for the Wild Boar which inhabit these beautiful woodlands — an encounter with one of these impressive mammals is always memorable!
During the winter and in early spring, large flocks of Siskins and Redpolls can often be heard 'chattering' amongst rows of Alders, and flocks of Brambling can be found. We will also look for Mandarin Ducks and Goosander on a nearby lake ... and for Dippers on the rivers. We will be hoping, too, to see such sought-after species as Crossbill and Hawfinch, along with such declining species as Willow Tit and Lesser Spotted Woodpecker.
As well as a comprehensive selection of commoner birds of prey in the forest, there is also a healthy population of Goshawks, which we will look out for in March when they should be displaying high above their territories; nearby, we will also look for breeding Peregrines. At the time of our late spring visit in May, the woodlands are home to both Pied and Spotted Flycatchers, Wood Warblers and Redstarts among many other species. Firecrests are also now breeding in the forest, and good numbers of Nightjars may be found in clearings — a dusk excursion to listen to the incredible 'churring' of the latter is likely to be one of the highlights of this birding break!
Please contact us on 01962 733051 for details on what extensions either pre or post tour are available for this Tour.
A very enjoyable weekend in the Forest of Dean looking for target bird species and mammals of the area. The tour leaders were excellent and worked hard to secure superb sightings of crossbill, hawfinch and goshawk as well as other bird species. Excitement was experienced by those intrepid nighttime explorers who wished to see wild boar and again the tour leaders ensured that there was no disappointment. A large and fierce looking boar was seen within minutes. Later in the evening, under a moonlit sky, a family group of approximately eight members was seen by the road side eating swedes. Torch light assisted the viewing as the group scampered away. Other mammals of the area included fallow deer and rodents.

T.S. Derbyshire

Like entering a different world, we took time to listen and look and enjoy the world around us. Guided to many different birds, their habits in flight and choice of trees or other habitat were clearly explained so our knowledge base grew. Travelling as a small group to wooded glades, lakes, a meandering stream and much more, our guide gave us the space to explore and the direction needed to make the most of each moment. Combined with being amply fed and rested in ideal hotel accommodation when we returned home we felt very blessed to have enjoyed such a special weekend away. Memories of the song thrush and siskin we saw and heard are especially precious.

P. & P.E. Wiltshire

It was a wonderful weekend in the Forest of Dean. Guided by Tom and Greg we saw about 50 different types of birds, some of which are quite rare, and also wild boar and deer. It opened up a whole new world for me as a newcomer to birding. We saw a great grey shrike sat on a tree, swooping down and picking up food for its 'larder', and good sightings of goshawks and peregrine. Tom especially was a very considerate and attentive guide, who made sure that everyone had sightings through the scope. The enthusiasm of the guides was infectious and added to our enjoyment of the experience. The weekend was relaxed, informal, the guides were very knowledgeable, the people on the course were very nice and friendly, and the hotel was comfortable and welcoming.

M.R.G. Derbyshire

A holiday with modest ambitions... simply a weekend birdwatching in the Forest of Dean... turned into a glorious weekend of birding because of our guide's skills.

R.J. Somerset

A small group [12] on a 2 day holiday in the Forest of Dean in a comfortable hotel We were led by 2 expert Ornithologists who knew the area. Many unusual birds seen including a close view of Crossbills feeding on larch cones. We were lucky late on a warm evening waiting on a clearing of the Forest till well after dusk to hear and then see Nightjars. A first for me. Then the most unusual and fantastic finale to the evening was a loud repetitive cry. This would be around 11 o'clock, in the pitch dark stumbling over tree roots with the help of a torch. The leaders gathered the group and went to look with the torch found a fluffy baby Tawny Owl on high up in a pine tree. WHILE WE WAITED THE MOTHER FLEW in and FED it. An entirely nocturnal happening which we were privileged to see. 

B.S. Merseyside

A birdwatching weekend based at the Speech House. A lovely place to stay; excellent food and accommodation and also convenient for the sites to be visited. Places visited included Symmonds Yat and Cannons Ponds. Birds seen included the Goshawk, Peregrine Falcon, Sparrow Hawk, Mandarin Ducks, Crossbills, Marsh Tits and flocks of Hawfinches, Redpolls and Siskins as well as many commoner species. We had a good leader who was very knowledgeable. All in all a very good weekend.

H.R. Bristol

Utterly brilliant leaders. Marcus was superb and so was Greg. It's the best Naturetrek trip I've ever been on. The Forest of Dean is magical.

B.C. London

Good variety of habitats. Level of information given was excellent -not too much detail unless requested. Very good introduction talk. Leaders worked well with hotel staff and position of the hotel in the forest was excellent.

E.A West Midlands

Good flexible itinerary and good mix of sites. Pleased to have reasonable amount of walking and not just getting in and out of vehicle. The leaders complimented each other well and worked well with the group.

N.A. Middlesex

I thought it was well organised with plenty of field time and the hotel/dining worked well. I enjoyed a new to me part of the country and seeing the wildlife, especially the Two-barred Crossbill and Firecrest.

T.T. West Yorkshire

The guides had an excellent knowledge of the local birds and their calls.

M.L. Cheshire

Both leaders really new where to take us to maximise time spent looking at birds. Knowledge great. I learnt lots and saw birds previously unknown!

K.A. Bristol

The whole period had been carefully planned to cover all areas, whilst still flexible enough to cope with any necessary changes and to allow time to cover birds still outstanding.

J.C. Leicestershire

Both Tom and Greg worked very hard and diligently. Their expertise and communication skills were excellent. Very cheerful and helpful. Their efforts are very much appreciated and "made" the holiday.

I.V. North Yorkshire

A well organised weekend with excellent leaders who tried hard to find difficult species, based on good local knowledge. A good range of habitats visited. I feel that I really know the Forest of Dean and its wildlife now.

P.C. Leicestershire