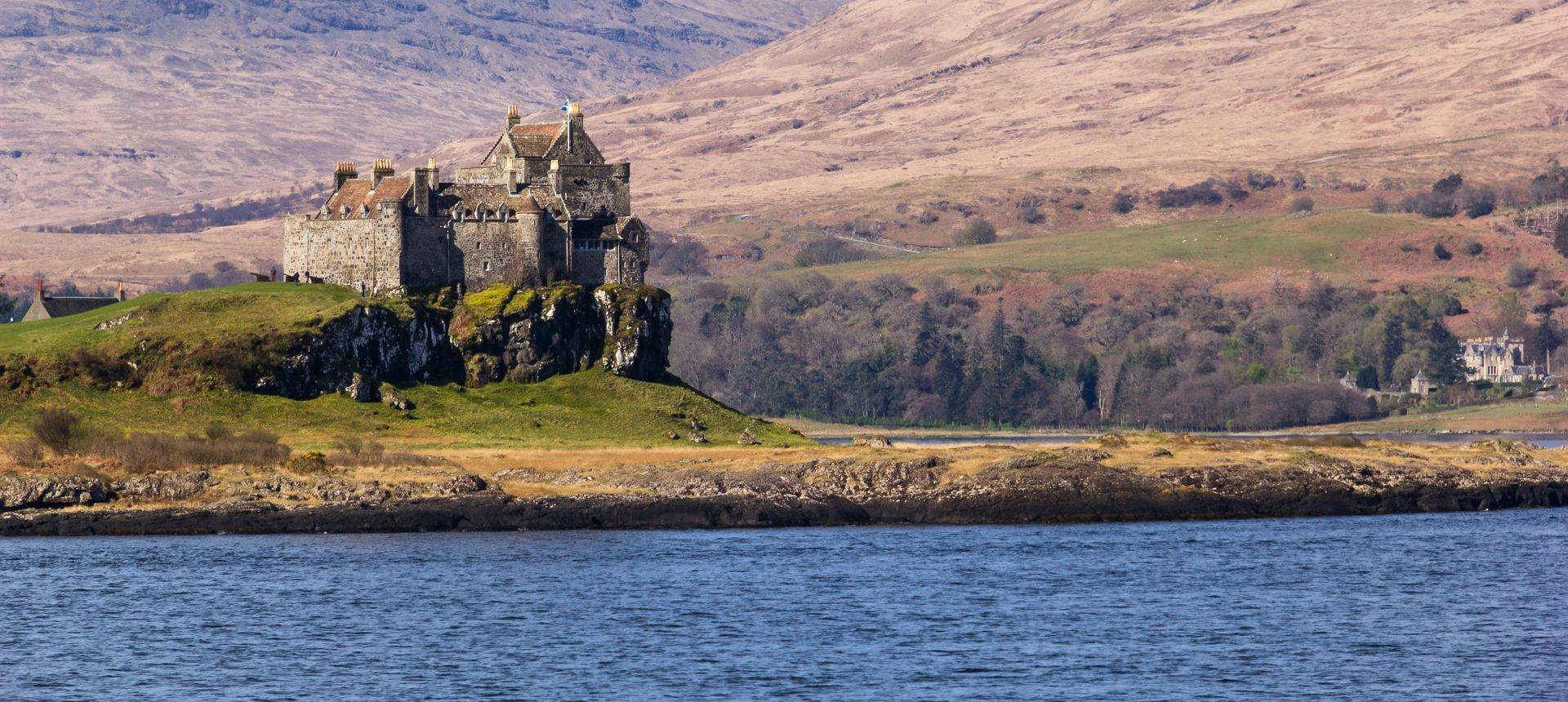 Islay & Mull ... In Style!
Tour Code: GBR31
A 7-day holiday to enjoy the wintering birds, resident mammals, spectacular scenery and rich autumn colours of two of the Inner Hebrides' most beautiful and rewarding islands, Islay and Mull - gems of Scotland's rugged and scenic west coast.
This is a 7-day holiday to enjoy the wintering birds, resident mammals, spectacular scenery and rich autumn colours of two of the Inner Hebrides' most beautiful islands, Islay and Mull – gems of Scotland's ruggedly scenic west coast. Throughout the tour we will be using the best hotels on each island respectively – themselves amongst the highlights of the holiday.
Spectacular scenery
Raptors may include Golden and White-tailed Eagles.
Thousand of Geese leaving their roost is unforgettable!
A chance to watch the charismatic Otter.
Can I help you?

The food in both hotels was excellent, and I was fortunate in having congenial fellow guests.

J.W. Somerset
Food & Accommodation
All included in the price except for lunches.
For this tour we use the very best hotel on each island, all rooms with en suite facilities.
The beautiful Inner Hebridean islands of Islay and Mull complement each other perfectly. On Islay, a varied landscape of mountains, open moorland, pastures, windswept lochans, and more gentle woods and farmland is home to a wealth of breeding birds, but even more wintering wildfowl, both sustaining a large number and variety of birds of prey. The mountains and moorlands of Mull, by contrast, are wild, rugged and unforgiving; the island's vast western sea-lochs are beloved of Otters, divers, grebes and sea-duck. There is no more dramatic time to visit than in late October … when glorious autumn colours are at their best, the Red Deer are at their most splendid, and vast numbers of wildfowl and winter storms move in, enhancing skies and landscapes. For birds of prey — their numbers enhanced by summer youngsters — and other predators, the hunt begins in earnest!
We begin with a 3-night stay on Islay, a remarkable haven for birds that is invaded each October by vast numbers of wildfowl which arrive from their Arctic breeding grounds to pass the winter amongst these lush grazing grounds. Among the most numerous of species are some 40,000 Barnacle Geese and 10,000 'Greenland' White-fronted Geese (the largest wintering population of this species anywhere in the world!). A dawn or dusk vigil at one of the goose roosts on the island is a humbling experience never to be forgotten, and amongst the vast flocks there is always the chance of finding something rarer, perhaps a Snow Goose or genuine Canada Goose from North America. Other wildfowl also occur, among them large numbers of Whooper Swans, Greylag Geese and ducks. Plenty of Great Northern Divers (often 50 or more) may be seen on each of the ferry crossings from/to the mainland, plus Black-throated and Red-throated Diver, Slavonian Grebe and many seabirds, including Black Guillemot. Ravens, Red-billed Chough, Snow Bunting and Twite may be among the land-based highlights, but the stars of the show are most likely to be the island's remarkable variety of raptors — amongst them Golden Eagle, Hen Harrier, Merlin, Peregrine and perhaps even a wandering White-tailed Eagle.
As well as exploring Islay, we may also spend time on the neighbouring island of Jura — its dramatic moors and summits (the Paps of Jura) in sharp and rugged contrast to the rolling fields and moors of northern Islay. Even more so than Islay, Jura is a particularly good location for watching mammals. Indeed its name is said to come from Viking times, when it was known as 'Dy Oer' (Deer Island), and even today there are far more deer than people on Jura — in fact, about 5,000 Red Deer to 250 people! Feral goats can be found along the west coast, along with Common and Grey Seals, whilst Otters are generally far easier to see here than on Islay. There are said to be a pair for every three miles of coastline, and views of Otters eating fish, or a mother with well grown cubs eating crab at close quarters, are unforgettable moments!
The superb single malt whiskies, which some argue are the finest in the world, are an added pleasure of a visit to these two small Hebridean islands. And alongside the superb scenery, truly spectacular wildfowl gatherings and a host of other wildlife it's easy to see why Islay and Jura are two of our favourite UK destinations.
Mull, the third largest of the Hebridean islands, is perhaps the most spectacular. We reach it during a scenic day that includes travel by ferry, road and then ferry again. It is rugged, dramatic and blessed with extensive forests and moorlands, high craggy summits and a glorious coastline. Here the population of White-tailed Sea Eagles is as dense as anywhere else in Scotland, although there are even more pairs of the majestic Golden Eagle to provide unique aerial comparisons. Many other birds of prey inhabit the island, including good numbers of Hen Harriers and Short-eared Owls. All three diver species as well as Slavonian Grebes can be seen on the sea-lochs that are the favourite home of Otters; indeed Mull must be one of the best places in Britain to observe these captivating creatures, and it is quite possible to see half a dozen or more in a day! The island is also well known for its Red Deer, which are numerous throughout, but there are also a few small herds of Fallow Deer, remnants from past introductions. As on Islay, at many places around the scenic coastline, both Grey and Common Seals can be seen from the shore, often accompanied by Black Guillemots. Mull is certainly a magical island and, weather permitting, we'll savour it in many moods from our luxury base in the south-west corner!
Please contact us on 01962 733051 for details on what extensions either pre or post tour are available for this Tour.
The food in both hotels was excellent, and I was fortunate in having congenial fellow guests.

J.W. Somerset

The bird knowledge of Pete Clement was immaculate and Martin Beaton's additional information on botany and geology was a great bonus. I enjoyed the trip!

C.W. Fife

The hotels were everything they were made out to be. The rooms were a bit basic at the Habour Inn in Bowmore but the food was superb. Tiroran House, if anything, was the other way round; the rooms and personalised hospitality were excellent and the food almost as remarkable as the Habour Inn.

R.B. Bristol

Peter's knowledge of where the birds/animals would be was excellent.

J.D. Cheshire

A very good leader with excellent knowledge of his subject. Peter Clement was a very pleasant person to be with and went a long way to make our trip memorable.

Mr & Mrs H. Kent

Both our tour leaders were experts in their field with impeccable knowledge of birds, mammals and the areas visited. Their patience at all times was unbending and their care of their visitors exceptional. We saw exactly what we went to see! This would not have happened without Dave and Terry.

R.A. Norfolk

Dave Pierce was an excellent tour leader and his knowledge made the trip very enjoyable. The small group size meant he was able to make sure everyone had an opportunity to view the wildlife.

A.D. Aberdeenshire

Overall we enjoyed the trip more than we can say! The guide was excellent both with bird-spotting and people management.

Mr & Mrs E. Essex
2019
Departures
Availability
Cost
Thu 24th Oct - Wed 30th Oct
4
£1,595
Land only cost:

The "Land Only" cost is the tour price you will pay if you choose to arrange your own flights/transport.
£1,595
Single Room Supplement:
£250