Ten Long-haul Birding Trips to Escape the British Winter

By Dominic Couzens
23rd October 2019
Dominic is a Naturetrek tour leader and one of Britain's
best known and most prolific natural history writers.
No birder really needs much excuse to take flight from the British winter. Who wouldn't swap short days, frosts, grim overcast skies and – let's face it, the Brexit saga – for sun-soaked locations with colourful birds and thrilling species that they've never seen before? In fact, why not swap winter in Britain for winter somewhere else, such as Taiwan, if it involves an adventure? The months between October and March are often great times to visit tropical locations, where the rainy season encourages birds to be conspicuous. Or you might go south of the Equator to experience the austral summer. Either way, pack your bags, your binoculars, your camera and fulfil your dreams at 10 of our favourite long-haul destinations.
Honduras is a real up-and-coming destination these days, offering some great birds that are difficult to see elsewhere. And if you're going to work hard to separate out the myriad species in the country – 740 at the last count – you might as well do so in luxury. Pico Bonito is an eco-lodge in the 'Small Luxury Hotels of the World' Group, but that should really read 'Small Luxury and Absurdly Birdy…'. No less than 420 species have been seen within 20 minutes of this safe and secluded patch of the Honduran Highlands, a 400-acre private reserve. To be honest, just knowing that Lovely Cotinga resides here should be enough to tempt you, but other good ones include Sungrebe, Great Curassow, Tody Motmot and Purple-crowned Fairy.
Departs: 11th Feb 2020
Days: 10 
Price: £2,695
View Tour Page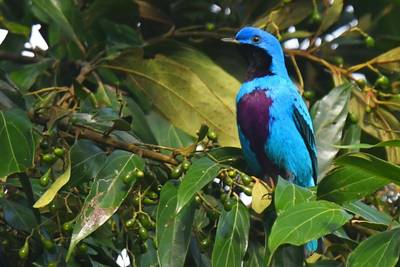 Lovely Cotinga
Exchange raindrops on your window for the Teardrop of India, and you will be plunged into a verdant land full of distinctive and exciting wildlife. By most counts Sri Lanka, owing to its isolation from the Indian subcontinent, has 33 endemic bird species, including one only described to science in 2004, the Serendib Scops Owl. Among the other goodies are the smart Sri Lanka Junglefowl, Sri Lanka Blue Magpie and Sri Lanka Frogmouth. There are many superb birds besides the endemics, and many of these are easy to see at or near the excellent network of lodges and hotels. One of the undoubted highlights is Sinharaja Forest where, not only are there many endemics, but also some of the largest mixed bird flocks in the world.
Departs: 25th Jan 2020
Days: 10 
Price: £2,295
View Tour Page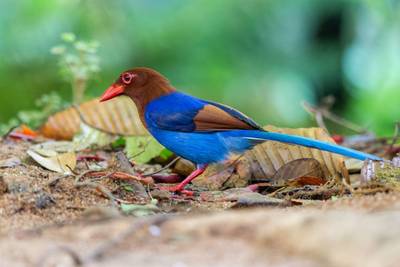 Sri Lanka Blue Magpie
If you're escaping the UK winter, you might as well do it properly and opt for a grand, 17-day tour of some of Asia's finest sites for birding – oh, and there will be Delhi, the Taj Mahal and some Tiger-searching thrown in as well. India is replete with birds, and at this time of the year the many resident species are joined by wintering migrants from the north, birds such as leaf warblers, Siberian Rubythroat and pipits. Bharatpur is one of the most famous bird sites in India, a large wetland with thousands of waterfowl, herons and raptors. Corbett is the Tiger spot, with the chance of Wallcreeper and Ibisbill from the nearby Himalayas. Meanwhile, Nainital is a highland town with still more superb montane specialities, such as Forktails and Accentors.  
Departs: 8th Nov 2019 and and 7th Feb 2020
Days: 17 
Price: £3,495
View Tour Page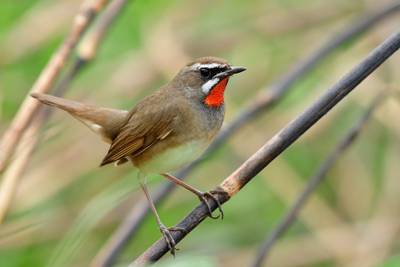 Siberian Rubythroat
There is no easier, or quicker introduction to birding in the tropics than a trip to the Gambia. After a 5½-hour flight, then a short 45-minute transfer by bus, you are suddenly transported to brilliantly lit West Africa, with its brilliantly lit birds. If you've never been before you will simply be stunned by the birds around the hotel, from sparkling, iridescent Sunbirds to gaudy Rollers and Glossy Starlings. On this tour you stay at the exclusive Mandina Lodges, a riverside resort surrounded by the 1,000-acre Makasutu Forest. You take leisurely boat trips morning and afternoon and let the birds and location wash over you, and there are some day-trips too to other locations with a different mix of birds. Ideal for beginners and experienced birders alike, this trip makes the UK seem very far away.
Departs: 6th Dec 2019 (only 4 spaces remaining!)
Days: 8 
Price: £2,395
View Tour Page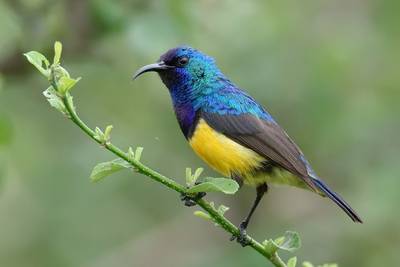 Variable Sunbird
There's nothing like an adventure to banish the winter blues, and Ethiopia provides the perfect opportunity. Phenomenally scenic, the landscapes are almost overwhelming, and there are times when you have to stop and stare, even when a thrilling rare, endemic bird is close at hand. The highlands of Ethiopia host a very special fauna, including Gelada Baboons and Ethiopian Wolf, while the birds include characters such as the bizarre Thick-billed Raven, Spot-breasted Ibis and Blue-winged Goose. This is a tour which takes in many of Ethiopia's scenic highlights and a great deal of wildlife. We visit the famous Bale Mountains, Awash National Park and Lake Langano, among other bird-rich sites. Both scenery and birds will burn rich in the memory.
Departs: 12th Feb 2020
Days: 10
Price: £2,595
View Tour Page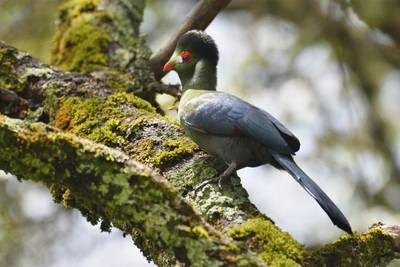 White-cheeked Turaco
Honestly, could any birder resist a trip into the far south-west of China, where it borders Vietnam and Myanmar, a province with a bird list of 800 species? Just a few of the star names that you might see on this trip include Beautiful Nuthatch, Ibisbill, Long-tailed Broadbill, Great Hornbill, Gould's Sunbird and a simply insane range of pheasants such as Temminck's Tragopan, Lady Amherst's, Mrs Hume's and Kalij Pheasant and Grey Peacock-Pheasant. From birding in the high ranges in north Yunnan that reach 6,000m, to the lush tropical forests of the south, this trip takes you into a remarkable variety of stunning places. Some of the southern localities are set up for bird tourism, with networks of hides where colourful birds come up close for spectacular views. Not every trip has everything, but this tour certainly comes close! 
Departs: 28th Feb 2020 (only 2 spaces remaining!)
Days: 16
Price: £4,995
View Tour Page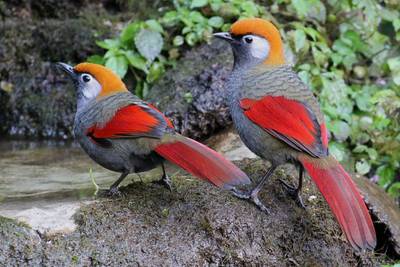 Red-tailed Laughingthrushes
The idea of a Caribbean break, away from the British winter, is almost proverbial – where better to enjoy heat, beaches and rum punches? But not everybody realises that in this lush tropical region there is much good birding to enjoy, too, and one of the very best destinations is the varied island of Jamaica. Let's face it, any island in the world with 28 endemic species is pretty special, and on this tour we should catch up with all or most of them. Indeed, we could find all but one in the grounds of our hotel, the Green Castle Eco-Retreat, set in a 1,600-acre private estate. When you tell your friends that you are looking for Jamaican Mango, Orangequit and Streamertail, you might have trouble convincing them that these are birds and not cocktails. But such are the pitfalls of Caribbean birding!
Departs: 3rd Feb 2020 (only 5 spaces remaining!)
Days: 9
Price: £2,895
View Tour Page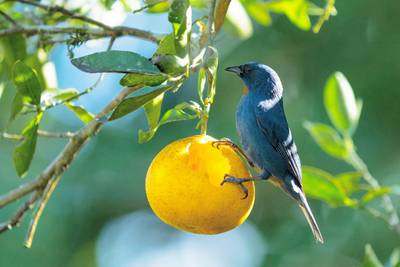 Orangequit
Anybody would love this trip to two comfortable lodges in the last remaining Atlantic forest of Brazil; the setting is wonderful, the food is great and the birds are colourful and exotic. However, if you have ever gone through the relevant bird book and dreamed of an encounter with a Swallow-tailed Cotinga, or other obscure bird, on this trip you will be in heaven. We visit two main areas, the Tres Picos State Park, for some high-altitude birding, and the Reserva Ecologica de Guapi Assu (REGUA), both famous for their many rarities. Besides the above-mentioned Cotinga, specialities include the amazing Plovercrest, Giant Snipe, Black-goggled Tanager, Buff-bellied Puffbird and Frilled Coquette. These are premier league birds in some premier league locations.
Departs: 29th Nov 2019 and 24th Jan 2020
Days: 10
Price: £2,995
View Tour Page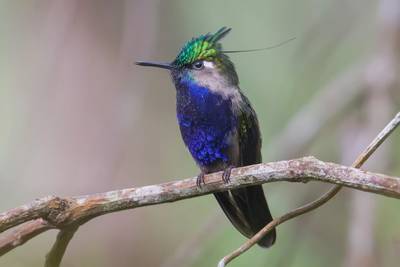 Green-crowned Plovercrest
The Americans love it – they retire here in their droves. The Brits adore it for family holidays visiting Walt Disney World and Cape Canaveral – oh, and some of them retire here too. But how about the birds? Well, it turns out that Florida is also an excellent birding location. Avian tameness is legendary – Brown Pelicans almost fly over bathers' heads on the beaches, while water birds such as herons stand over theme park water slides as though they wished to join in. And many of the birds are remarkably colourful, from scintillating Purple Gallinules to gaudy Roseate Spoonbills, and from American Flamingoes to Painted Buntings. Florida's premier site is the Everglades, a huge area of marshes with abundant wildfowl and other birds, where birding is easy. The state also has its exciting specialities, such as Florida Scrub-Jay, Snail Kite and Limpkin. If you like sun, distractions and easy birding, this tour is for you.
Departs: 4th Feb 2020
Days: 9
Price: £2,295
View Tour Page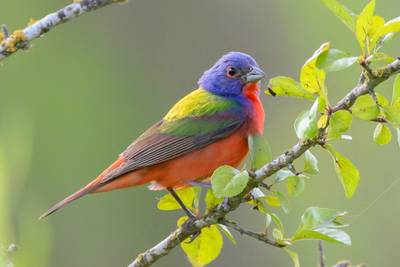 Painted Bunting
In contrast to much of the human population, most birdwatchers love winter. So, to swap the British winter for another winter, but with a delicious range of exciting new bird species, is to make a happy birder happier still. Taiwan is an island off the coast of China with excellent infrastructure, a proud and distinctive culture, superb cuisine and 28 species of endemic birds. Much of the best birding is done in delightful settings in the mountains, with targets including Swinhoe's and Mikado Pheasants, Taiwan Hill-Partridge, various thrushes, Flamecrest and the exquisite Taiwan Rosefinch and delicately plumaged Taiwan Fulvetta. However, the lowlands on the west are equally worth searching for coastal and water birds. The best prize is probably Black-faced Spoonbill (2,500 winter here), but Saunder's Gull is possible, waders are abundant and gems such as Vinous-throated Parrotbill and perhaps even Baer's Pochard are possible.
Departs: 22nd Nov 2019, 3rd Jan 2020 and 7th Mar 2020
Days: 10
Price: from £2,795
View Tour Page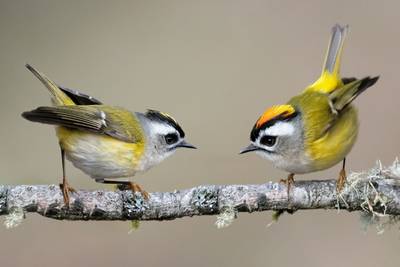 Flamecrests
Get in touch
For further information, on our holidays, call 01962 733051 to speak to our friendly office experts, or email us using the contact form below. We'll get right back to you!