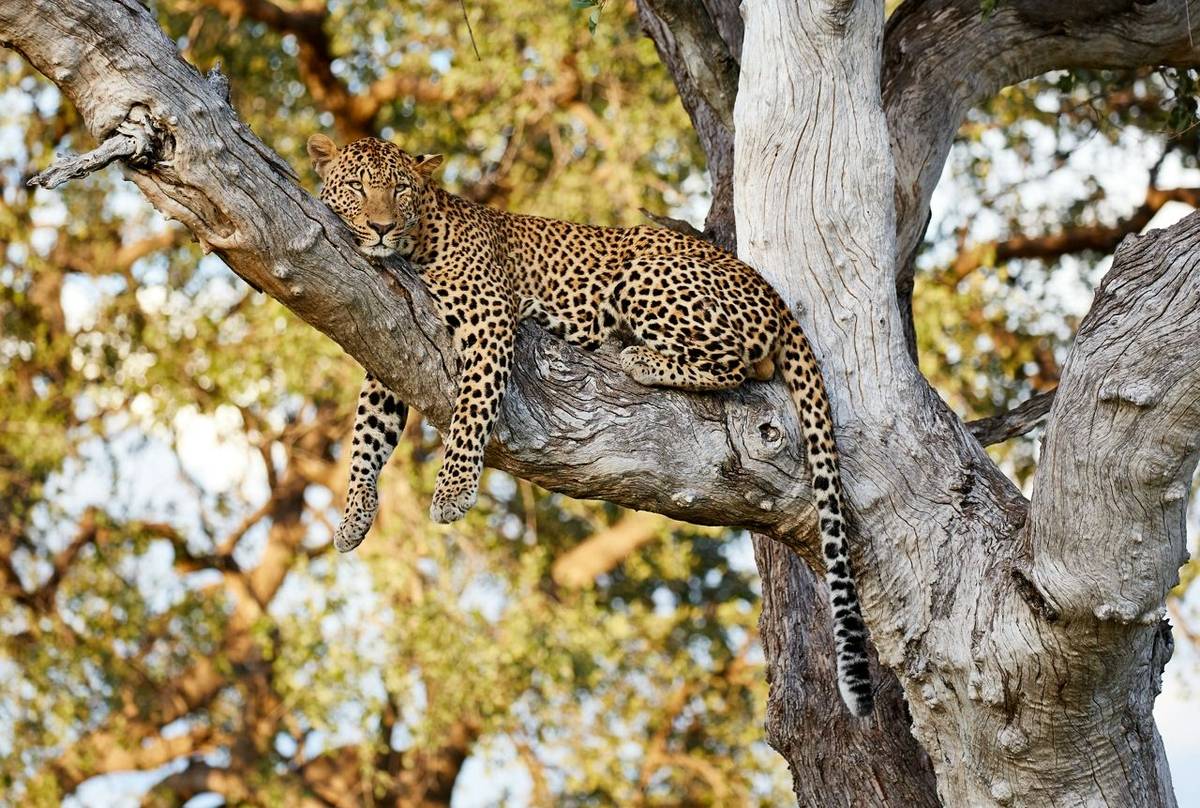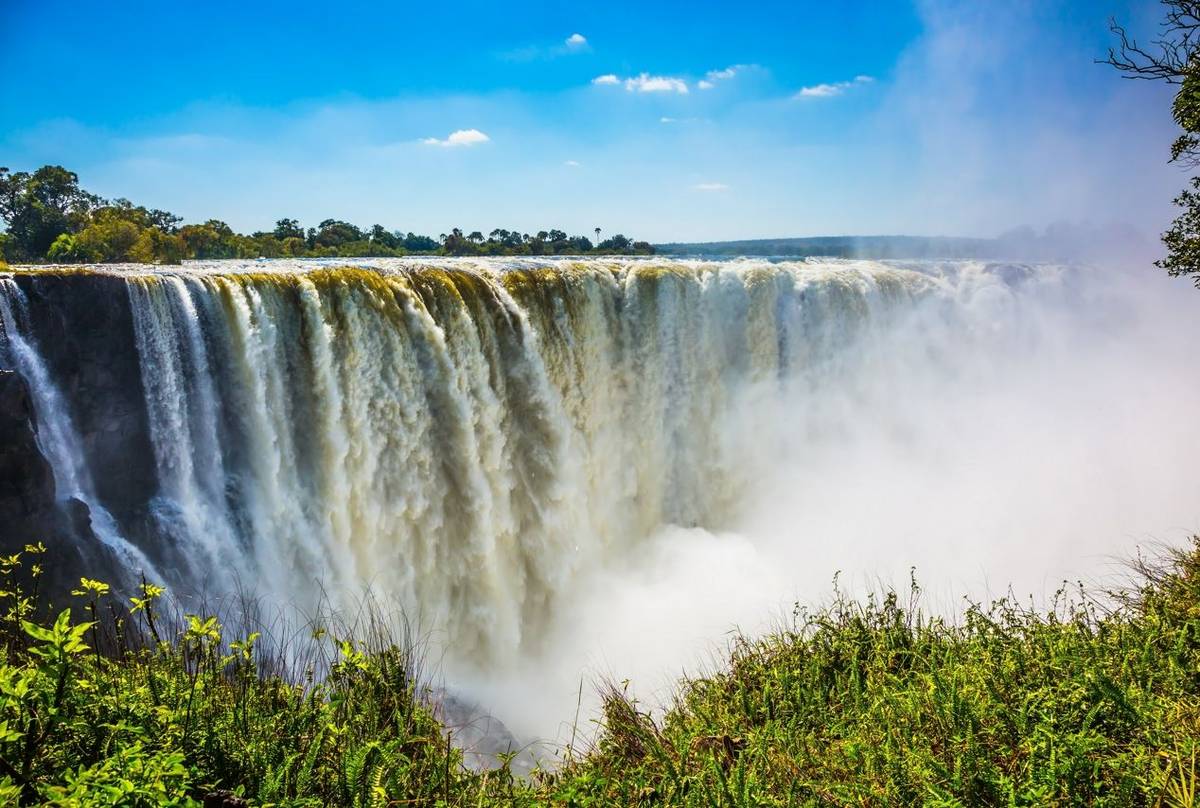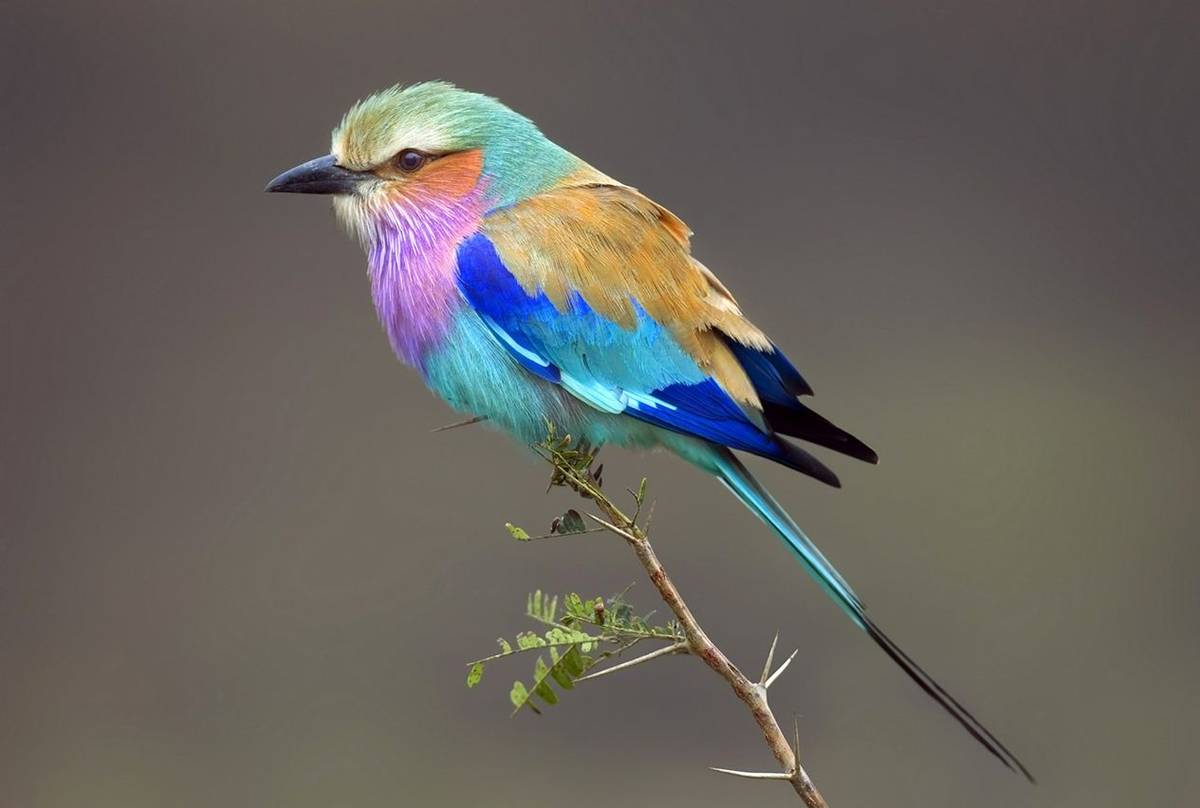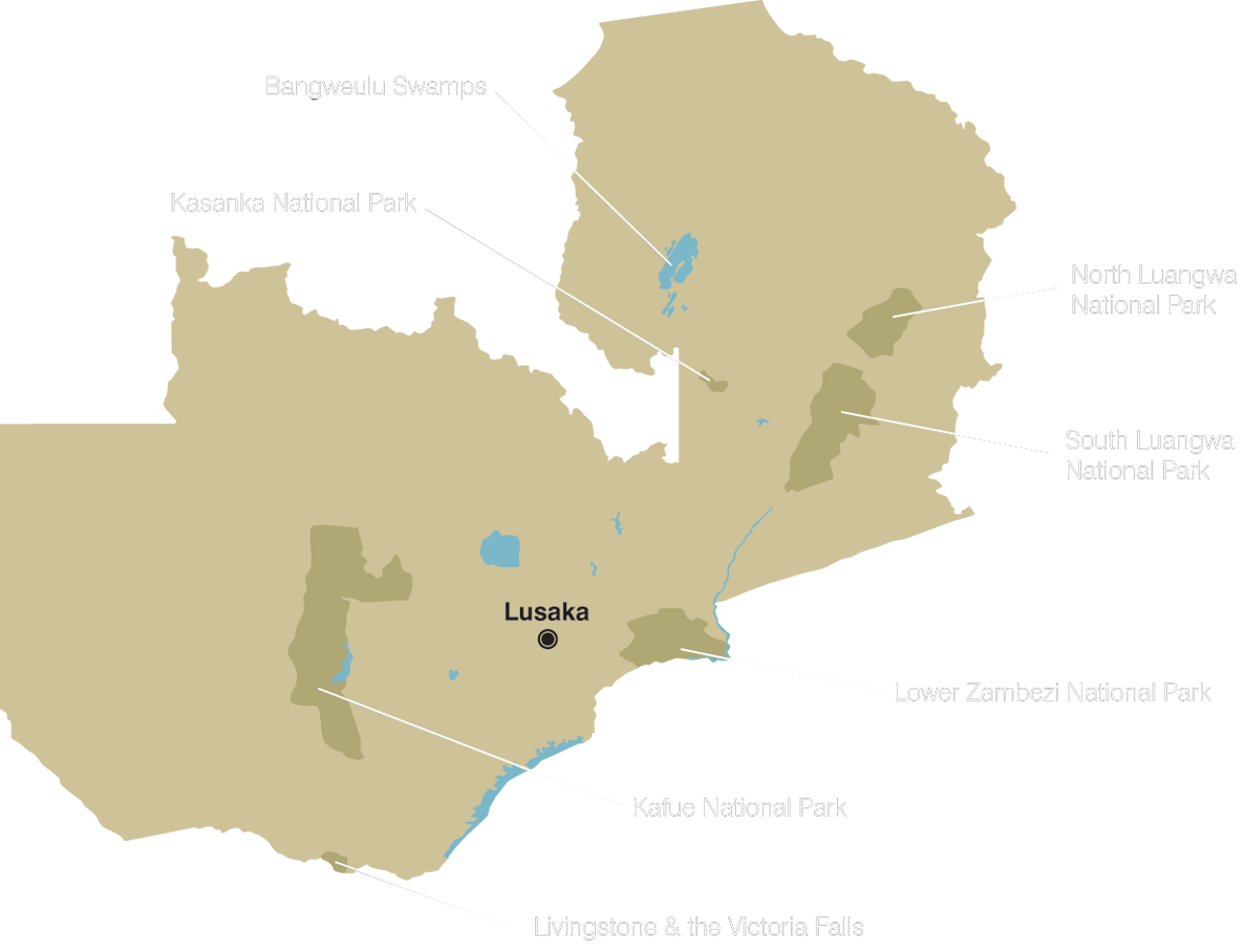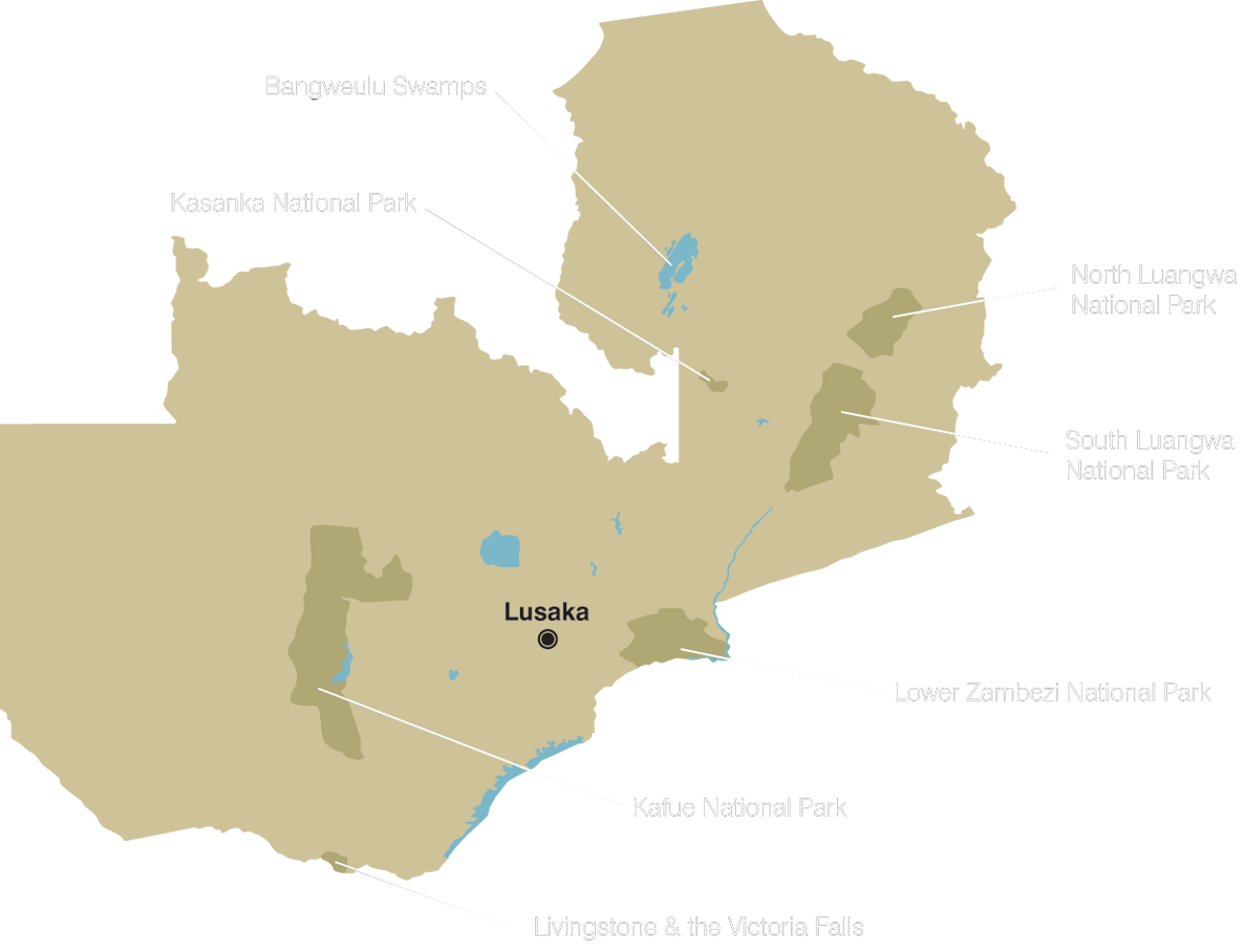 Tailormade Zambia
Tailormade
|
Tour Code: TZMB
Zambia is a vast and beautiful country boasting a number of superlative wildlife reserves including its most famous, South Luangwa National Park. This is Africa at her untamed and wild best, with sweeping grasslands, lush miombo forests, meandering rivers, placid ox-bow lakes and vibrant wetlands.
When to Visit
| | | | | | | | | | | | |
| --- | --- | --- | --- | --- | --- | --- | --- | --- | --- | --- | --- |
| J | F | M | A | M | J | J | A | S | O | N | D |
| Y | Y | Y | Y | Y | YY | YY | YY | YY | YY | YY | Y |
SAMPLE HOLIDAY: South Luangwa - Essential Africa
9 days from £4,295 (inc flights)
This itinerary allows in-depth exploration of South Luangwa's incredibly diverse habitats and wildlife.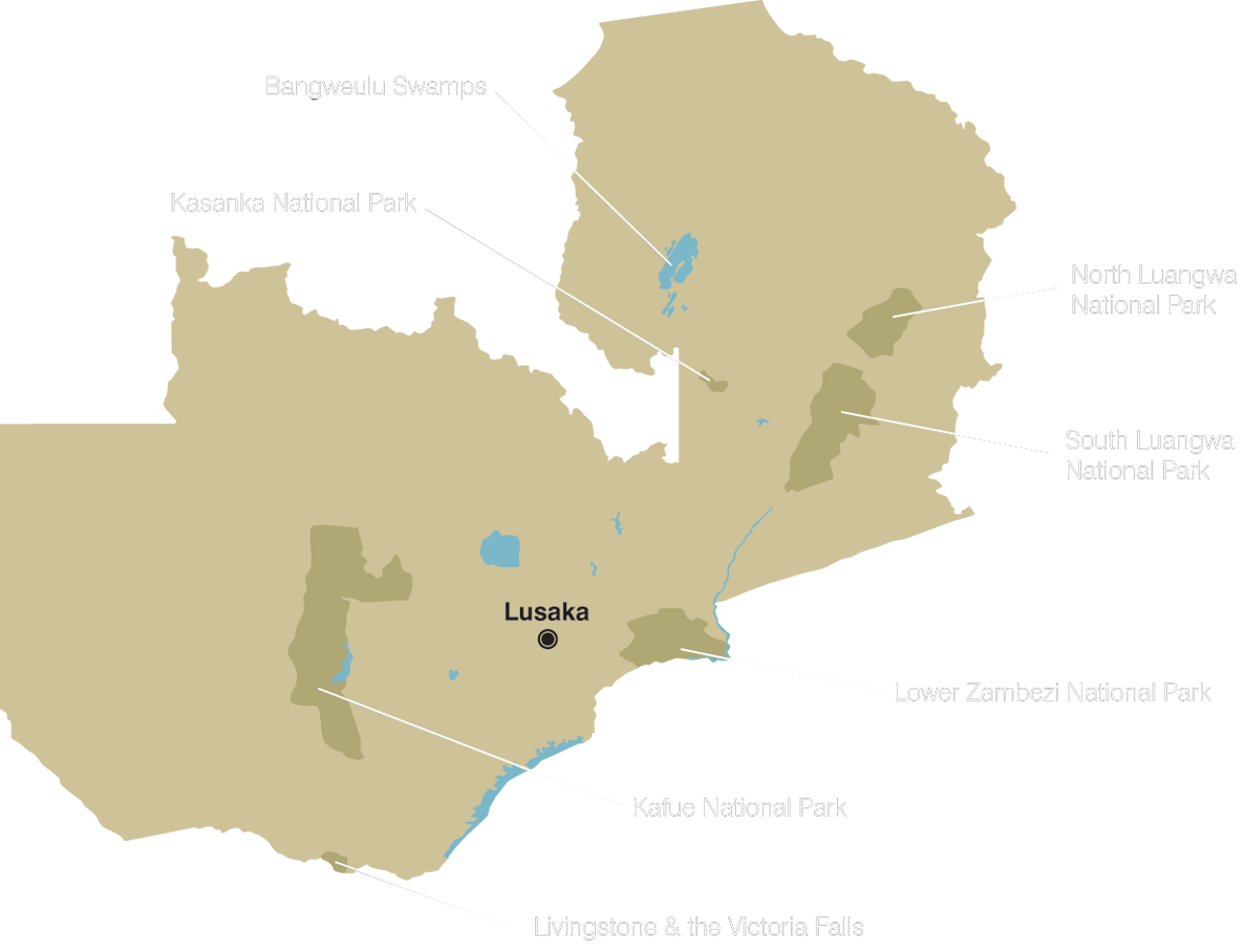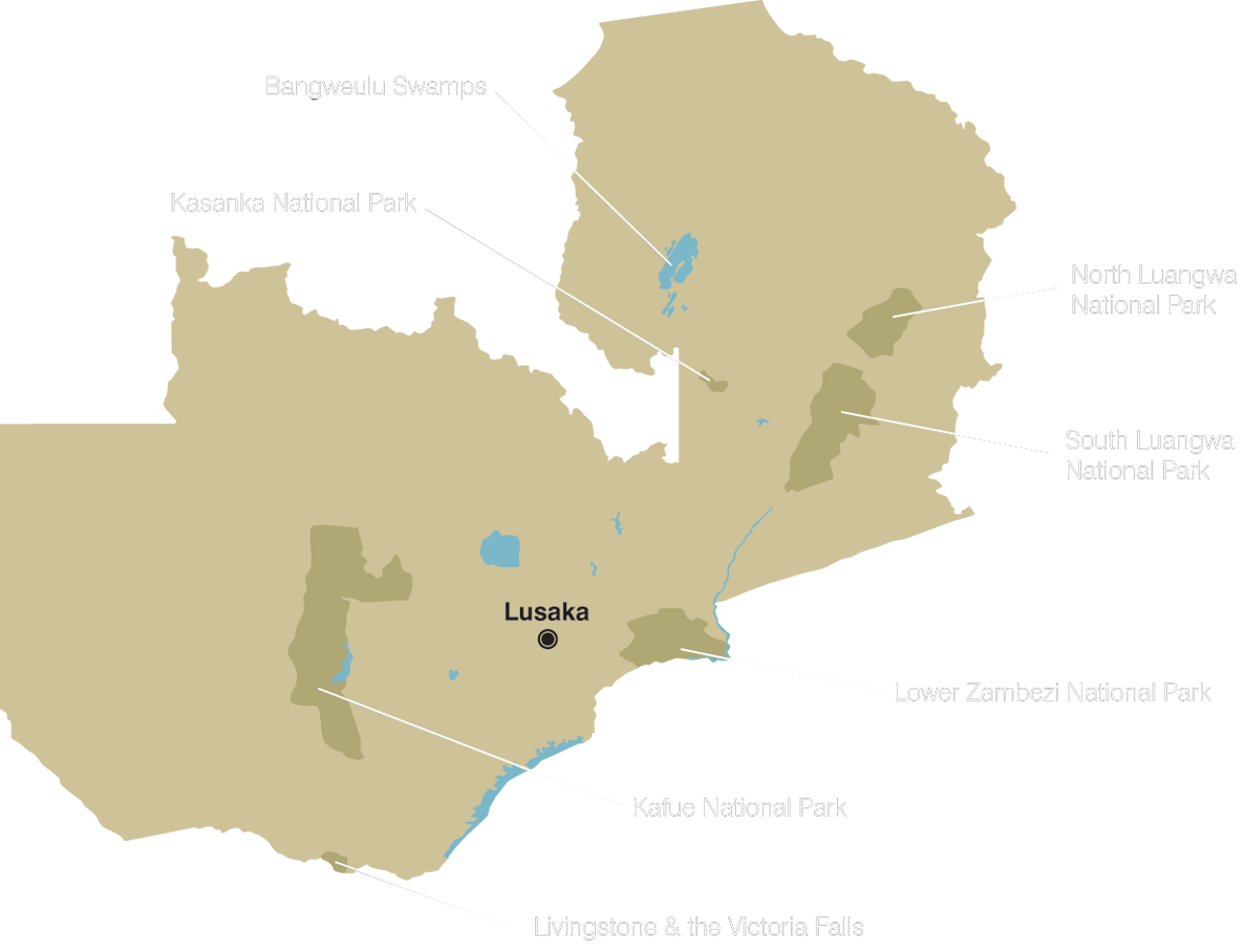 Summary
Such diverse and beautiful habitats support a rich spectrum of wildlife with excellent concentrations of game, plenty of predators such as Lion, Leopard, Spotted Hyena and the rare African Wild Dog, and over 750 species of birds. From iconic species such as the Shoebill, to dazzling colonies of Carmine Bee-eaters and such jaw-dropping wildlife spectacles as the congregation of 5 million Straw-coloured Fruit Bats, Zambia has something to offer every visitor. It was in Zambia that the walking safari was first pioneered, to cater for naturalists looking to experience Africa from an altogether different perspective. There is nothing quite like standing in front of a herd of African Buffalo or feeling the vibrations of an African Elephant's rumble pulse through your feet! With such a choice of safari activities and options, and a relatively small but highly refined safari industry offering some of Africa's very best lodges and seasonal bush camps, a safari in Zambia is 'top of the range'. Zambia's guides, too, are exceptional – quite simply amongst the best anywhere in the world!
Our Destinations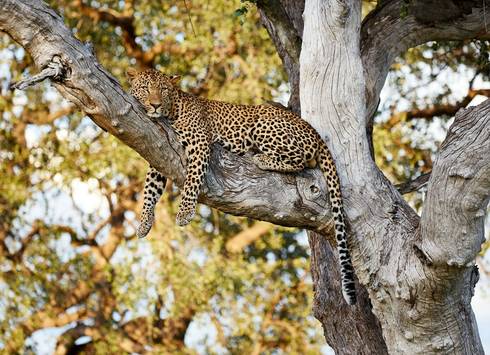 South Luangwa, bounded to the east by the Luangwa River and encompassing over 9,000 square kilometres of wilderness, is Zambia's principal wildlife reserve. Herds of African Elephant, Plains (Crawshay's) Zebra, Thornicroft's Giraffe, Puku and Impala dot the open savannahs, whilst Bushbuck and troops of Yellow Baboon shelter in acacia scrub and thickets of Strangler Figs, Sausage Trees and Combretums. Groups of Hippo laze in the waters of the Luangwa River, while Kudu, Waterbuck and African Buffalo fringe the river's banks. With such a large population of game, it is unsurprising that South Luangwa holds large numbers of predators such as Lion, Spotted Hyena and Leopard; the population density of the latter is one of the highest in the world! The birdlife is equally abundant and diverse, with such species as Saddle-billed Stork, Martial Eagle, White-crowned Plover, Lilian's Lovebird, Southern Ground Hornbill, Purple-crested Lourie, Emerald Cuckoo, White-fronted Bee-eater, Broad-tailed Paradise Whydah and the spectacular Pennant-winged Nightjar amongst the highlights. Between September and November the banks of the Luangwa River are ablaze with colourful colonies of Carmine Bee-eaters, whilst throughout the year the shrill cry of the African Fish Eagle is often heard. Zambia is also one of the few countries in which spotlighting night safaris are permitted within the national parks. These are extremely exciting, offering you a chance to see the park from a different perspective, and sightings of such nocturnal species as the Leopard, Honey Badger, African Civet, bushbabies and Giant Eagle Owl. It is hardly surprising that South Luangwa is considered one of the best national parks in Africa!
Accommodation
Kafunta River Lodge
Kafunta River Lodge is a small and exclusive lodge situated on the edge of the South Luangwa Valley overlooking the Luangwa River. The ten twin-bedded thatched chalets each have private facilities and a private verandah. The open-plan bar and dining area provides meals and service to an excellent standard and the small swimming pool is perfect for cooling off in. Kafunta's sister lodge, the remote Island Bush Camp, specialises in walking safaris. Together these two properties offer a great base to enjoy the delights of the South Luangwa National Park!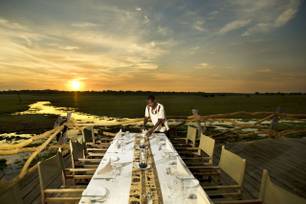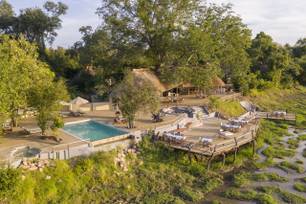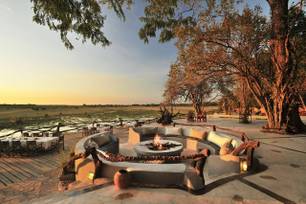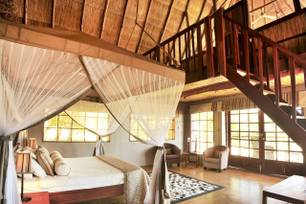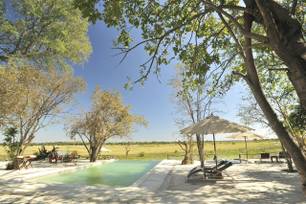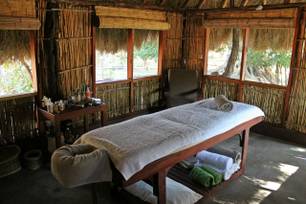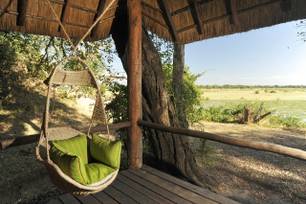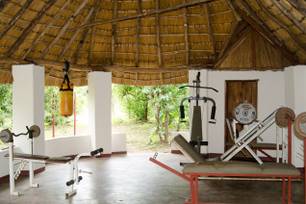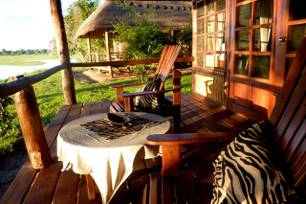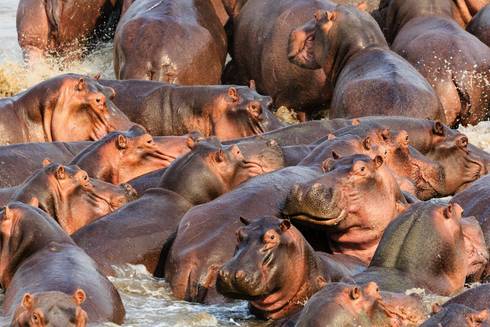 The North Luangwa National Park is a remote and wild tract of land that offers one of the most exciting wilderness experiences in Africa. Unlike other African parks, North Luangwa is mainly home to safari bush camps, as opposed to lodges, owing to its inaccessibility. These camps range from simple operations to more comfortable properties, although they all offer walking safaris as the main form of wildlife experience. A visit here isn't to everyone's taste, especially if your concept of a safari is watching wildlife from the comfort of a jeep. However, if escaping the tourist crowds and engaging with the African bush are a high priority, then North Luangwa comes highly recommended. Access to North Luangwa is generally by light aircraft from airstrips in South Luangwa, making it a great place to finish a Zambian wildlife adventure.
Accommodation
Mwaleshi Camp
North Luangwa's Mwaleshi Camp lies 10 kilometres from the confluence of the Mwaleshi and Luangwa Rivers and is set on the banks of the former. With just four chalets, each with en suite facilities and exquisitely constructed of timber and thatch around a tree, this is one of the most intimate and exclusive safari experiences both in Zambia  and elsewhere in Africa. Of the plentiful game, perhaps most impressive is the healthy population of resident Lions which predominately hunts large herds of African Buffalo that are often found in the vicinity of the camp.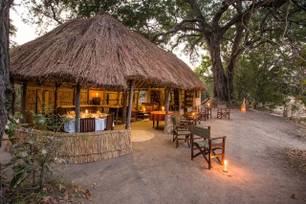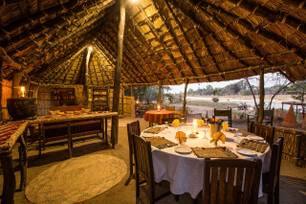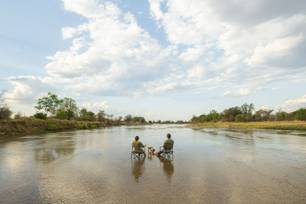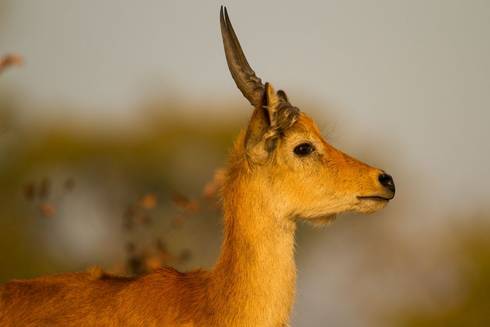 Kafue is a huge park that spans 22,400 square kilometres of grasslands that are interspersed with hilly outcrops and tracts of miombo and mopane woodland. To the north of the park are the magnificent Busanga Plains, an expanse of flooded grasslands that are accessible between June and October and support large grazing herds of Red Lechwe, Puku, Blue Wildebeest, Lichtenstein's Hartebeest, Roan Antelope, Waterbuck and Oribi. This abundance of herbivores doesn't go unnoticed and inevitably these herds are shadowed by such predators as Lions and Cheetahs. Indeed, the Busanga Plains are the best place to see Cheetah in the whole of Zambia, while Lions are often sighted resting up on low-hanging branches in the heat of the day. Despite this seemingly idyllic safari location, Kafue National Park sees only a small number of visitors in comparison to South Luangwa and remains one of the great wilderness regions of southern Africa.
Accommodation
Busanga Bush Camp
Busanga Bush Camp lies in the heart of the Busanga Plains, set within an 'island' of Sycamore Figs. From this shady spot four well-appointed tents look out over the expansive plains and marshlands, where a range of wildlife can be viewed. The open-air lounge and bar enjoys similarly expansive views.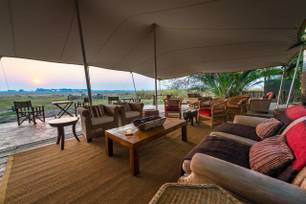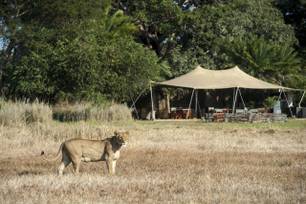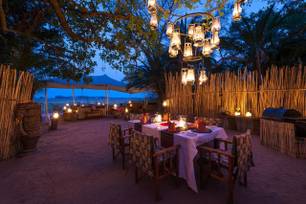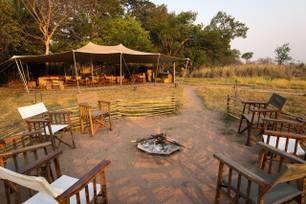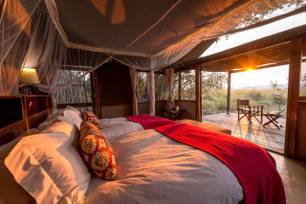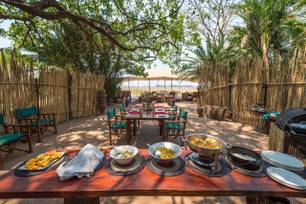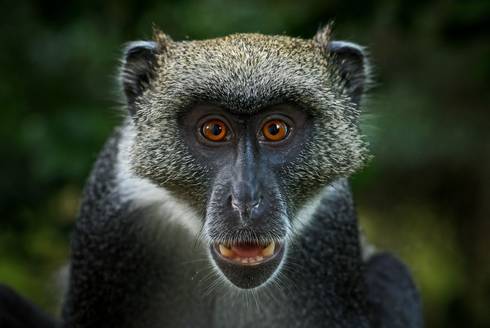 Kasanka is one of Zambia's smallest national parks, yet offers exceptional habitat diversity and a rich variety of flora and fauna. Situated on the south-eastern fringe of the Lake Bangweulu basin, close to the Congolese border, its range of beautiful habitats includes evergreen swamp forest, extensive papyrus marshes and large tracts of miombo woodland carved by meandering streams and rivers. The rare Blue Monkey and elusive Yellow-backed Duiker occur here, and the shy swamp-dwelling Sitatunga is more numerous here than anywhere else in Africa. African Elephants, Plains (Grant's) Zebras, Lichtenstein's Hartebeest, Reedbuck, Waterbuck and Spotted Hyena also occur, but the unique and outstanding wildlife highlight at Kasanka is the seasonal occurrence (between November and December) of 5 million Straw-coloured Fruit Bats. These arrive from all over central Africa to feast on forest fruits, and the dusk spectacle, as millions of bats fill the sky to embark on their night-time feeding forays, is amongst the most incredible and unforgettable of wildlife sights in Africa! For the birdwatcher, too, Kasanka is special, with species such as Red-and-blue Sunbird, Green-headed Sunbird, Anchieta's and Whyte's Barbets, Ross's and Knysna Louries, Pel's Fishing Owl and Wattled Crane amongst the highlights. Kasanka can be explored by boat, in 4WD vehicles and, if conditions are favourable, also on foot.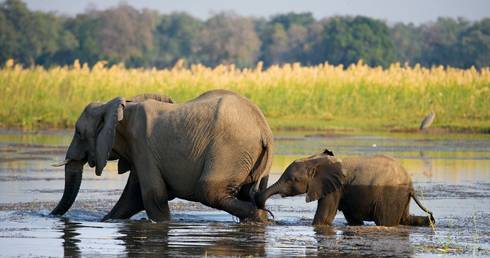 The Lower Zambezi National Park is one of Zambia's most picturesque wildlife reserves, the great Zambezi River marking the park's southern boundary and its tributaries, adjoining floodplains and ox-bow lakes drawing wildlife from far and wide. Here some of Africa's largest residents congregate in large numbers, amongst them the Hippos that laze in the languid waters and the large herds of African Elephants to be seen crossing the river. Many of the excursions in the Lower Zambezi are rightfully enjoyed from boats, which allow for much closer encounters with these large animals than would be possible from land. Nevertheless, the park's terrestrial habitats can be explored both on foot and by means of conventional game drives. Predator numbers are buoyant here, with large Lion prides in evidence as well as healthy Leopard and African Wild Dog populations, all sustained by large numbers of African Buffalo, Blue Wildebeest, Waterbuck, Impala and Greater Kudu.
Accommodation
Chongwe River Tented Camp
The Chongwe River Tented Camp lies on the banks of the Zambezi River. The ten spacious tents all overlook the river where Elephants can often be found cooling themselves in the heat of the day. The thatched tents also have their own outdoor bathroom as well as private verandah overlooking the river. Excursions from camp include either vehicle or walking safaris as well as canoe excursions.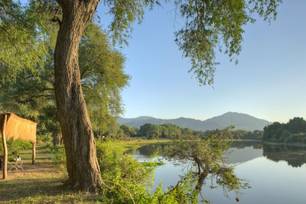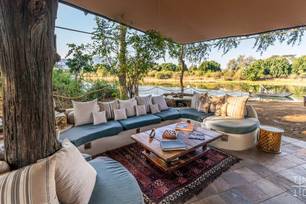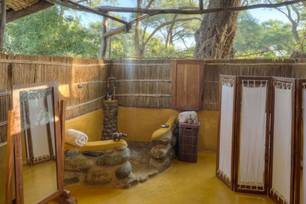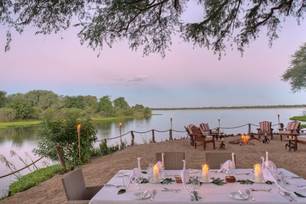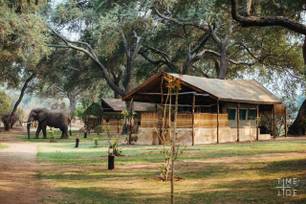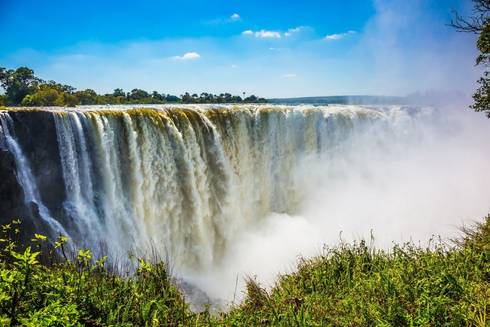 Known locally as Mosi-oa-Tunya ('the smoke that thunders'), the Victoria Falls are an astonishing natural phenomenon that many people choose to visit either at the start or the end of a Zambia holiday. Quite apart from viewing the Falls, there is a great deal to do in the vicinity. A sunset cruise on the Zambezi is a favourite, whilst the more adventurous may choose a helicopter flight over the Falls or white-water rafting on the Zambezi. The small Victoria Falls National Park and the riverine forest that lines the Zambezi is also a great area for wildlife and birds alike. Livingstone is also home to the small Mosi-oa-Tunya National Park, home to Zambia's only White Rhinos. This park may not have an especially wild feel to it (each Rhino has its own armed guard and the park is fenced in), but it is nevertheless a great place for birding.
Sample Itineraries
This itinerary allows in-depth exploration of South Luangwa's incredibly diverse habitats and wildlife.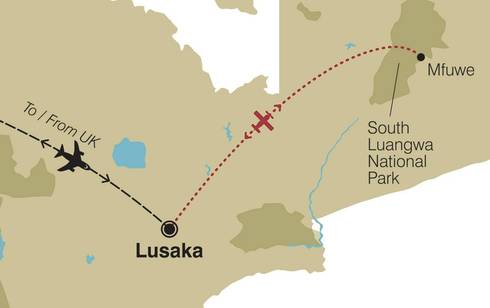 Day 2/7
South Luangwa National Park
SAMPLE ITINERARY
COST (PER ADULT)
South Luangwa - Essential Africa
from £4,295 (inc flights)
Enquire Now
Extend your holiday:
Option 1 – add on three nights at the spectacular Victoria Falls
Day 8/10 – Victoria Falls
Day 11 – Depart Lusaka
Day 12 – Arrive UK
Option 2 – the best and most cost effective beach break is on nearby Lake Malawi. You can enjoy snorkelling in the clear waters, kayaking, birding and simply relaxing on the beach. You choose for how long!
This itinerary offers the chance to visit some of Zambia's lesser known but nonetheless excellent national parks.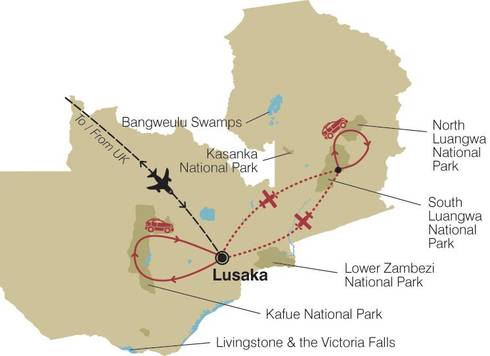 Day 2/5
Kafue National Park
Day 6/9
South Luangwa National Park
Day 10/12
North Luangwa National Park
SAMPLE ITINERARY
COST (PER ADULT)
Extend your holiday:
Option 1 – add on a few nights of relaxation in the Lower Zambezi National Park
Day 13/16 – Lower Zambezi National Park
Day 17 – Depart Lusaka
Day 18 – Arrive UK
Option 2 – Zambia can be easily combined with Malawi, Namibia and Botswana. Whilst additional travel does lead to a more expensive holiday, a combination of two or more countries does add diversity to your visit. 
The Essentials
Wildlife Guides: High quality local naturalist guides are based at every lodge and bush camp that we use in Zambia. However, should you require a dedicated expert naturalist guide to accompany you throughout your holiday we will be pleased to arrange this for you.
When to Visit: Zambia's dry season, when its skies are forever blue and the sun always shines, runs from mid- June until the end of October. This is the period when water levels are at their lowest, game is most concentrated around dwindling water sources, and when the bush is dry and visibility through it is good. Throughout this time the bush camps are open within the parks and walking safaris are permitted. By contrast, the 'green season' begins in November and ends in May; during this period the bush camps are closed and walking safaris are not permitted. However, if you don't mind the occasional downpour, the cooler weather, clearer air, better light, reduced tourist numbers, luxuriant bush in full leaf and flower, and more abundant and colourful birdlife (plus such occasional highlights as African Wild Dogs), make a visit to one or more of South Luangwa's permanent lodges (offering traditional 4WD safaris and night-time spotlighting year round) a most tempting proposition – a chance for an exclusive insight into this most dynamic and resplendent period.

| | | | | | | | | | | | |
| --- | --- | --- | --- | --- | --- | --- | --- | --- | --- | --- | --- |
| J | F | M | A | M | J | J | A | S | O | N | D |
| Y | Y | Y | Y | Y | YY | YY | YY | YY | YY | YY | Y |

Getting Around: Zambia is a large country, spanning an area the size of Hungary, Austria, Switzerland and France combined so, to visit a selection of the country's best wildlife reserves, a series of light aircraft flights is often necessary. These are generally great fun, allowing you to appreciate Zambia's geography, habitats and, often, large congregations of game from the air. Since moving from one park to another does require considerable cost and effort, it is often best to focus on one or two parks, experiencing them from a variety of lodges and bush camps, each one offering very different experiences and excursion opportunities.
Why Naturetrek Tailormade?
'A Naturetrek Tailormade holiday allows you, with the benefit of our wildlife travel expertise and destination experience, to enjoy the perfect private wildlife holiday – one that truly matches your requirements, expectations and ambitions. We will ensure the most competitive prices, superb naturalist guides and seamless ground services.
Some of the benefits of Naturetrek Tailormade travel include:
• A bespoke itinerary which is crafted by experts and designed specifically for you
• Private guiding by the very best local naturalists 
• Travel with people you know, at your own pace
• Incorporate as much culture, history or relaxation time as you wish
• Choose dates to suit you
• Select your preferred style of accommodation
• Travel with families and children of any age
Furthermore, our Tailormade team are always on hand to help and guide you along the way, with friendly advice, first-hand knowledge and inside information specific to your destination of choice. So if you have any queries about your holiday, we will be delighted to answer them. Please just give us a call!'
Similar Trips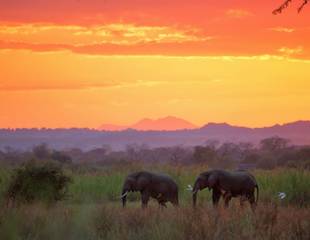 Add this tour to your favouritesRemove from Favouritesstar_border star
Malawi is a fabulous, yet surprisingly overlooked African destination. There are excellent lowland wildlife reserves, which have many species that are difficult to see elsewhere, as well as opportunities for mountain walking and lakeside relaxation.
14 days
£6,895 (inc flights)
Jan

Feb

Mar

Apr

May

Jun

Jul

Aug

Sep

Oct

Nov

Dec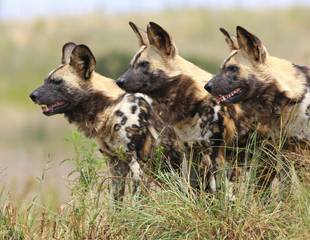 Add this tour to your favouritesRemove from Favouritesstar_border star
Botswana is one of Africa's finest wildlife destinations, offering large concentrations of game and a diverse and beautiful range of habitats. In its huge unfenced game reserves the largest herds in southern Africa roam free and wild, together with some of the continent's most spectacular and varied birdlife.
10 days
£5,995 (inc flights)
Jan

Feb

Mar

Apr

May

Jun

Jul

Aug

Sep

Oct

Nov

Dec
×
We've been nominated 'Best Safari, Wildlife & Nature Holiday Company' in the prestigious 2020 British Travel Awards. All voters will be entered into an official prize draw to win a Rhine or Danube cruise! Please click here to vote.