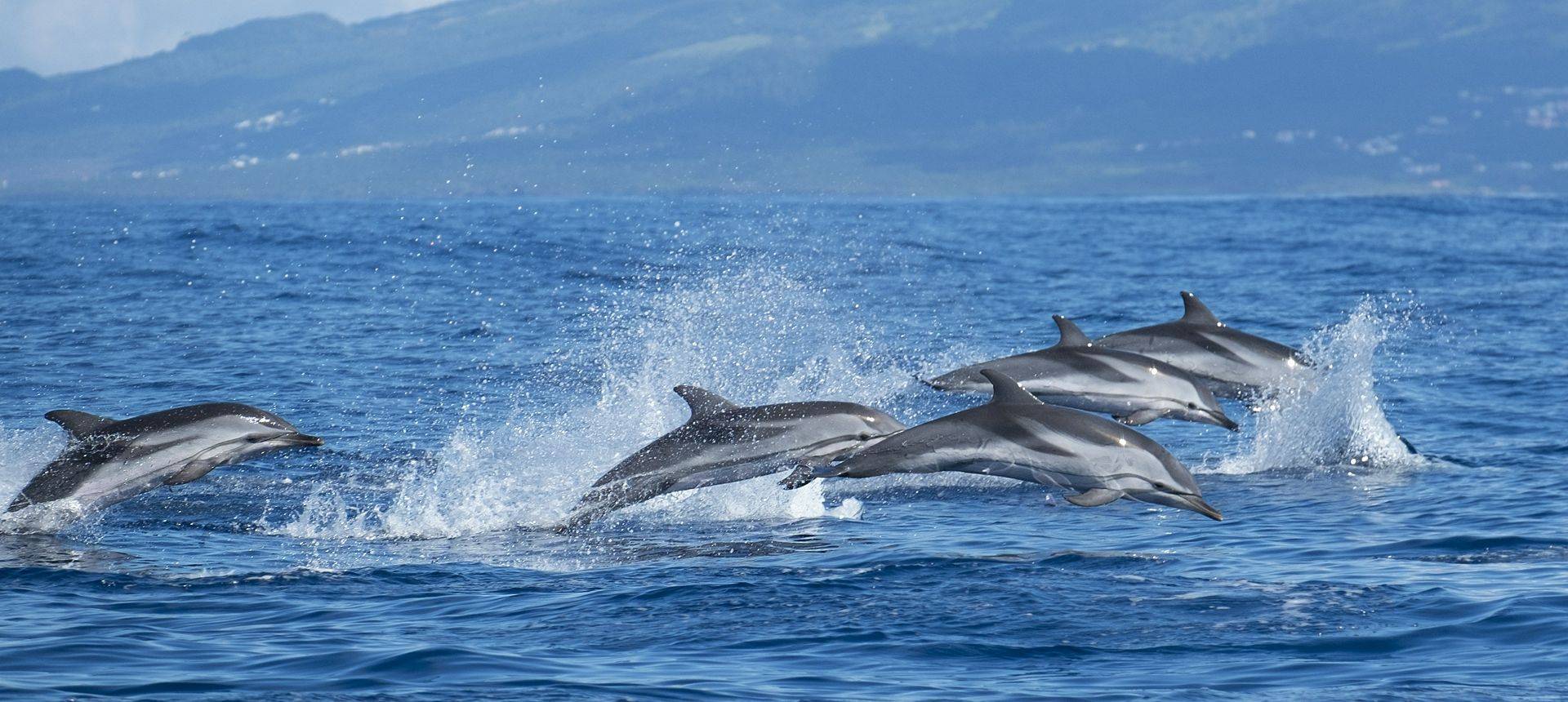 Dolphins & Whales of Madeira
Tour Code: PRT06
A 5-day holiday in search of dolphins, pilot whales and other cetaceans from the beautiful island of Madeira.
Madeira is a relatively undiscovered destination for cetacean enthusiasts and about 20 species of whale and dolphin have been recorded in its waters. The island's stable weather and calm seas offer very good opportunities for watching and photographing a variety of dolphin species, as well as the resident population of Short-finned Pilot Whales, while larger whale species such as Bryde's and Sperm Whales are also seen here. On this tour we'll be based in a comfortable hotel in Funchal, joining local marine biologists and naturalists each day for cetacean-watching cruises. As well as Bottlenose, Risso's and Atlantic Spotted Dolphins, we'll be looking for Short-finned Pilot Whale. We'll also keep a look out for Sperm and Bryde's Whales, though we'll need a slice of luck to see them! Madeira also has some special seabirds and we'll look out for Fea's and Zino's Petrels and well as rafts of Cory's Shearwaters. 
Watch dolphins, pilot whales & seabirds
Common, Bottlenose & Risso's Dolphins possible
Watch playful Atlantic Spotted Dolphins bow-riding, feeding & leaping!
Recommended for keen photographers
Resident population of Short-finned Pilot Whales
Optional dusk hike into the mountains to see breeding Zino's Petrels
Excellent 4-star hotel by the sea, plus delicious food in Funchal's old town
Expertly escorted by local marine biologists & naturalists
Can I help you?


X
Andy Tucker
Andy is an Aquatic Biology graduate (Aberystwyth) and worked in fisheries consultancy for a year after graduation before travelling to south-east Peru to work as a guide in the Amazon rainforest. During his year there he balanced guiding with his fisheries research and, after a brief spell back in England, returned to a full-time guiding post at Sacha Lodge in the Ecuadorian Amazon. Andy has travelled widely in Central and South America and his fluent Spanish is a huge advantage during our tours both across the Atlantic and in Spain. Andy has birdwatched for as long as he can remember and counts himself lucky to have seen so many fantastic bird and wildlife spectacles around the globe. He joined the Naturetrek team in 1998 and, while now kept busy as General Manager, is involved in the operations of a wide variety of tours in Latin America, Western Europe and North Africa.
Outline Itinerary
Day 2
Morning and afternoon cetacean--watching at sea
Day 3
Morning land-based excursion; evening cetacean-watching
Day 4
Full day's whale & dolphin-watching at sea
All boat trips used an excellent local guide and Rita should be complemented. Local agents in general very good.

R.P. Aberdeen
Food & Accommodation
All breakfasts plus lunch on Day 4 and included in the pricei. Dinners in Funchal are not included; allow £100 to £120 for dinners, £50 for lunches.
Charming 4-star hotel within an easy walk of the marina. All rooms have private facilities.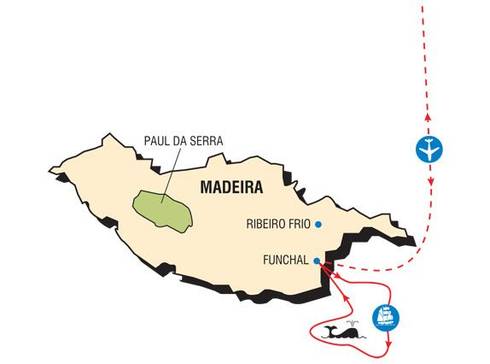 Tour Downloads
Tour leaders
Martin Beaton

Tour leader
Madeira is a truly lovely island. Blessed with a near perfect climate it offers an enticing combination of sunlight, warmth and a wealth of wildlife, and all only a few hours from the UK. Part of Macaronesia, which also includes the Cape Verde Islands, the Azores and Canaries, Madeira rises from the Atlantic Ocean over 300 miles from the African coast. Inland its volcanic landscape rises to over 1,500 metres, while beneath the sea its slopes plummet sharply to form deep canyons. Its separation from other landmasses, pleasant oceanic subtropical climate and underwater topography make Madeira a special place for wildlife both on and offshore. Inland, you will be falling over flowers such as Bird-of-paradise and hibiscus amongst a heady blend of colourful blooms that attract a wealth of butterflies and other insect-life. Such specialities as Madeiran Mahogany and the island's indigenous and rare Laurissilva forest are of further interest to the botanist. Out at sea, many special birds can be seen between late spring and autumn, among them such rarities as Zino's, Desertas and Bulwer's Petrel. However, on this tour we focus primarily on one of the less well known aspects of the archipelago's rich wildlife, its cetaceans.
Madeira is relatively undiscovered as a whale and dolphin-watching destination, yet a good variety of cetaceans are present in these waters at all times of the year, with about 20 species having been recorded so far. Bottlenose Dolphins are regularly seen, with a resident group of about 25 animals present, and these numbers are often supplemented by visits to these waters of the larger, transient oceanic Bottlenose Dolphins which can be seen inshore around Madeira. Short-finned Pilot Whales are also encountered frequently on boat trips out from the marina at Funchal and we are very likely to see these two species. There are larger cetaceans here too, and from May through to December Bryde's Whales appear to feed around Madeira on migration. We will be hoping to see this warm-water species, single animals of which, or occasionally a mother and calf, are most typically seen in Madeiran waters. Common Dolphins are among the smaller cetaceans that we will be looking out for, as well as some warm-temperate and subtropical species such as the highly acrobatic and attractive Atlantic Spotted Dolphin.
Throughout this holiday we will be based in a comfortable 4-star hotel in Funchal, from which we will join a team of marine biologists each day for dedicated whalewatching trips aboard our sailing yacht, Ventura do Mar. Each dedicated whale and dolphin-watching sortie will typically last between three and five hours, and we will be assisted in our efforts through radio contact with keen-eyed 'vigias' (look-outs) on land. Among the cetaceans we may encounter as we head out to sea from Funchal are pods of Short-finned Pilot Whale — a stocky, medium-sized and highly social cetacean which lives in closely-knit family groups and is often seen resting, or 'logging', at the surface during the day. If we are able to get close to a group we may lower a hydrophone into the water to try and listen to their vocal interactions, which are somewhat reminiscent of a squeaky door! Other, deepdiving species such as Sperm Whales and some of the elusive beaked whales, including Blainville's, are recorded each year around Madeira, but we would have to be very fortunate indeed to see one of these species during a short visit. There is also a chance of encountering Bryde's Whale, and Madeira represents the best place to see these essentially tropical whales in Europe. Our local guides have been conducting research into the social and feeding behaviour of Bryde's Whales, so we can rely on their expertise to spot these little-known and elegant roqual whales if they are present.
Although most of our time will be spent out at sea in search of whales and dolphins, there will be some opportunities to experience a variety of Madeira's seabirds, including an optional dusk excursion to see breeding Zino's Petrels, as well as some of its other special birds and wildlife inland. In addition, we will enjoy the relaxed atmosphere and balmy evenings around Funchal, with strolls around the old town, soaking in the scents of abundant flowers and perhaps mulling over our day's adventures at sea with a glass of the island's famous Madeira wine. In fact, it is really rather easy to fall for Madeira's manifold on and offshore charms!
Please contact us on 01962 733051 for details on what extensions either pre or post tour are available for this Tour.
All boat trips used an excellent local guide and Rita should be complemented. Local agents in general very good.

R.P. Aberdeen

The Sei Whales and Dolphins were excellent.

R.S. Bristol

Local guides and drivers were all excellent; knowledgeable, enthusiastic and everything ran exactly on time.

D.S. & J.M. Surrey

It was a wonderful holiday, the whales and dolphins were extremely co-operative, especially the spotted dolphins on the last day.

L.S. Dorset

The boat trips were superb including the extra one for squid fishing.

G.R. Somerset

Local leaders were excellent and managed to get us good sightings of whales and dolphins.

E.L. Liverpool

The tour leader, Ed Drewitt, was an exemplary leader - very knowledgeable and friendly and took particular care of his guests.

T. & J.D. Oxfordshire

I enjoyed my visit to Madeira we saw Whales/Dolphins on every boat trip with a shark and loggerhead thrown in as a bonus!

H.I. East Sussex
2019
Departures
Availability
Cost
Tue 11th Jun - Sat 15th Jun
SPACES
£1,195
Flights:
Most Naturetrek tours include flight costs ex-UK. If flights are not included, we indicate that here.
Flights are included in the tour cost
Land only cost:

The "Land Only" cost is the tour price you will pay if you choose to arrange your own flights/transport.
£1,045
Single Room Supplement:
£120