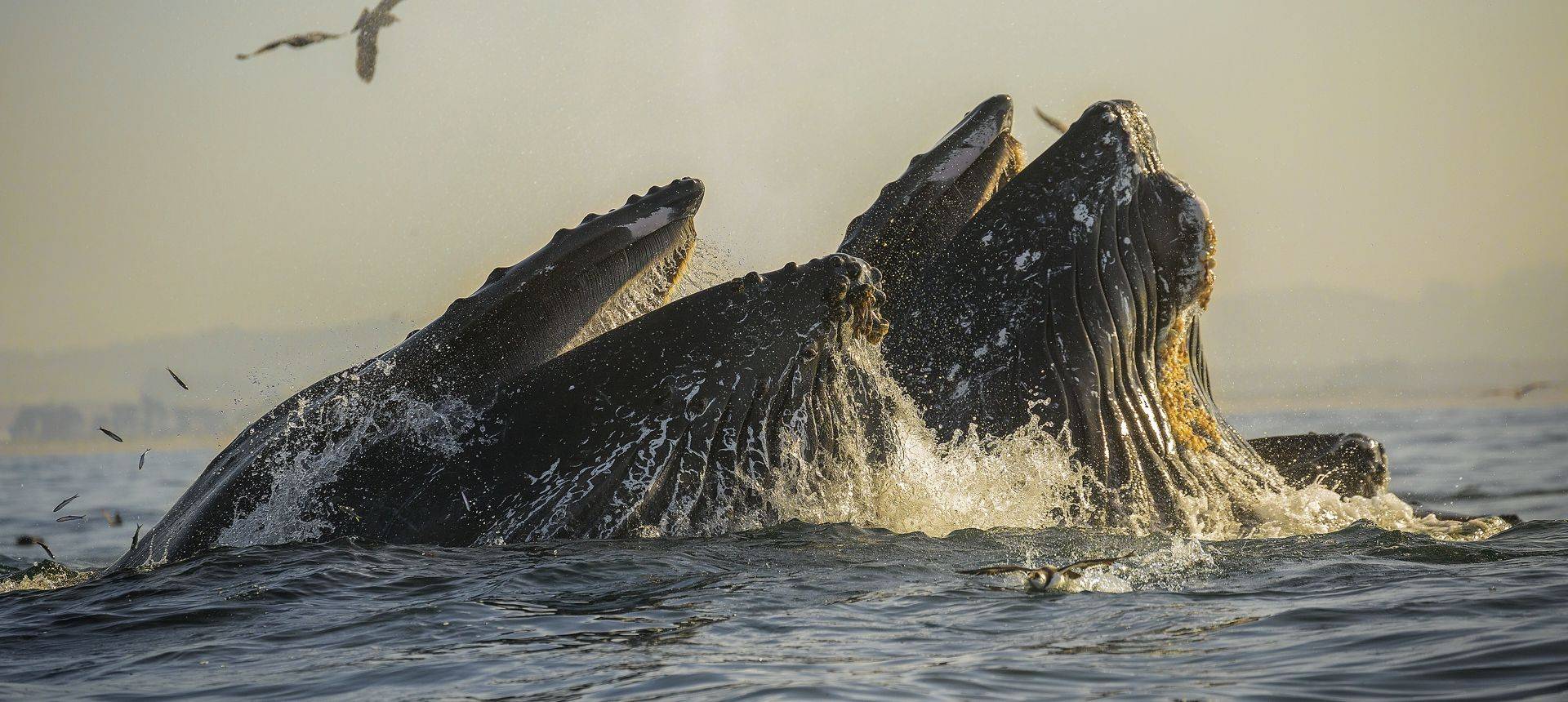 Whales & Dolphins of Monterey Bay
Tour Code: USA03
A 9-day holiday to California's Pacific seaboard to enjoy its birdlife and, particularly, the wealth of whales, dolphins and other exciting marine mammals for which Monterey Bay is justly famed.
Humpback Whales leaping clear of the ocean, pods of dolphins swimming at the bows of the vessel, a Blue Whale escorting a youngster across the Bay and a menacing group of Orcas sending fishing California Sea Lions in a frantic dash to the safety of shore. These are just a few of the amazing sights experienced by participants on our annual Monterey Bay tours. The beautiful 'Big Sur coast' of California is an ideal setting for this wildlife tour which, in addition to whale watching excursions, includes such highlights as Sea Otters, Elephant Seals, California Condor and a great selection of seabirds, all amid a setting that is strangely familiar from countless depictions on film and TV.
Superb whale watching
Possibility of Orca & Blue Whale
Entertaining Sea Otters floating on their backs while eating shellfish
California Sea Lion & Northern Elephant Seal
California Condor
Opportunity to observe bird migration at a ringing station
Fantastic selection of seabirds including albatrosses, shearwaters, petrels & skuas
Impressive coastal scenery of the 'Big Sur'
Comfortable hotel base in the Carmel Valley
Can I help you?

Outline Itinerary
Day 1
Fly San Francisco; transfer Monterey Bay
Day 2/7
A full programme of whale-watching cruises combined with land-based marine mammal and birdwatching excursions, based in Carmel Valley
Day 8
Depart San Francisco
We had very comfortable accommodation in Carmel that was our base as we went out nearly every day whale watching. On our first morning we came across a magnificent blue whale, it was going to be hard to beat that but with huge pods of dolphins, humpbacks breaching and sea otters our hopes were more than satisfied. Naturetrek organised the trip very well and the two guides we had with us were extremely knowledgeable about the mammals and birds.

J.B. Devon
Food & Accommodation
All food is included in the price.
We stay in a comfortable hotel with a pool in Carmel Valley; all rooms have private facilities.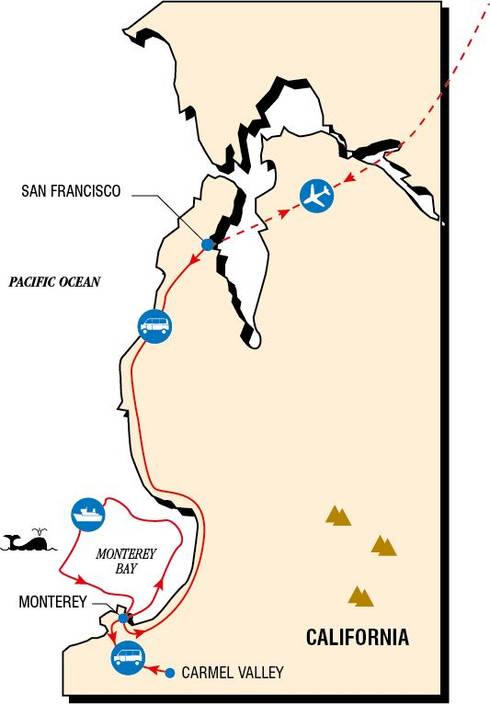 Tour leaders
Peter Dunn

Peter was born in Goole in the East Riding of Yorkshire and is a retired police sergeant with North Yorkshire Police, where he was wildlife liaison officer for 12 years. He has been a keen birder for over 49 years and organised the setting up and running of the Filey Brigg Bird Observatory on the Yorkshire Coast, where he lives close by and looks after the bird ringing. He is a full trainer for the bird ringing scheme in the UK. Peter has birded throughout most of England, Scotland and Wales, whilst overseas trips have included Spain, France, Poland, Hungary, Malta, Norway, the Balearic Islands, Morocco, Israel, South, Central and North America and the Caribbean. Peter's main interest is in Western Palaearctic species (and races) and he gives talks to local bird and natural history groups using his collection of wildlife photographs - another passion of his. Peter joined the staff of Naturetrek in 2011, responsible for the formatting of the tour reports and keeping tour checklists in order.

Ian Nicholson

Ian worked in the insurance industry for over 30 years before taking very early retirement in March 2007, and now works three days per week, leaving a 4-day weekend to spend watching birds and other wildlife. He is a qualified bird ringer, and is a member of East Yorkshire Ringing Group and Humber Wader Ringing Group. He is heavily engaged in bird survey work in his local area around York where he is involved in writing various reports, and he is also a regular visitor to various birding locations on the East Coast. He has been interested in wildlife all his life, and has travelled extensively in the UK and Europe in pursuit of this interest. Other than wildlife, his interests are mainly in sport (as a spectator these days unfortunately), particularly cricket, rugby league and motor racing.
Northern California has provided the setting for so many films and novels that its landscape seems strangely familiar. Images of the mist-shrouded Golden Gate Bridge and the undulating streets of San Francisco are part of contemporary culture, yet there is an abundance of surprises to discover as we focus, during this holiday, on the natural history attractions of the coastline which many regard as the most picturesque in the United States. The California coast is renowned for its rich marine-life, particularly the wide variety of marine mammals, and there is no better location to search for these creatures than Monterey Bay, which offers some of the best whale and dolphinwatching in North America. During the summer and early autumn good numbers of Humpback Whales are found in the Bay, along with various other species of cetacean including regular appearances by Blue Whales, the largest mammal in the world. Always nomadic and unpredictable these enormous whales are nevertheless a regular visitor to the deeper waters of Monterey Bay and sightings will be an exciting possibility on every pelagic trip in August and September. Closer to shore, we will be looking along the coastline for a variety of residents including the entertaining Sea Otter, California Sea Lions, Harbour Seals and, at one location, the rare Northern Elephant Seal.
Our base for this single-centre holiday is the delightful Carmel Valley, which is just a short drive from Monterey. It is known for its sunny, fog-free days, comfortable nights and warm ambience. Our family-run hotel is set amongst attractive gardens and we will venture out from here each day, for at least four half-day excursions during our stay, enjoying the use of a specially adapted whale-watching vessel. These rich waters are protected within the Monterey Bay National Marine Sanctuary, the largest marine sanctuary in the United States, in which nearly 30 different species of cetacean have been recorded. It is the nature of these cruises that some will be far more productive than others, but the large whales are regularly sighted during August and September, and these trips also offer the chance to observe an exciting variety of seabirds, including such species as Blackfooted Albatross, Sooty and Pink-footed Shearwaters, Ashy Storm Petrel, Sabine's Gull, skuas, and both Cassin's and Rhinoceros Auklet.
During the holiday we will also have the opportunity to spend time in search of seals, sea lions and Sea Otters. The latter, a delightful species, may be found in favoured bays, sometimes floating above beds of kelp whilst munching on Abalones. As a result of over-hunting for the fur trade, Sea Otters were almost extinct in California at the beginning of the 20th century but, in 1935, a small population of 94 was discovered and, with strict protection, this entertaining creature has gradually increased, each year witnessing the colonisation of a new stretch of coast.
The birdlife of coastal California is excitingly different from that found in inland areas of the state. Brown Pelicans and Brandt's and Pelagic Cormorants are widespread along the coast, reflecting the abundance of fish in these waters, and, as we stop at various points along the coastline, we are also likely to see a variety of grebes, auks and seaducks. Rocky bays and sandy beaches, flanked by lines of Monterey Pines, are frequented by Heermann's, Western and California Gulls, Black Turnstones, Surfbirds, Willets, Marbled Godwits, Wandering Tattlers and Black Oystercatchers, whilst passerine species may include Bushtit, Tri-coloured Blackbird and Brewer's Blackbird. Our programme will be somewhat flexible but will include visits to the Carmel Valley, where Yellow-billed Magpie is one of the attractions, as well as Cannery Row, Fisherman's Wharf and Moss Landing.
On one of the tour days we will follow the breathtakingly scenic Big Sur highway to the south where, in contrast to the previous days, we will switch our attention from the ocean to the trees and bushes of Andrew Molera State Park where large numbers of migrant landbirds can be found in favourable conditions. Nearby is the centre of the California Condor reintroduction scheme and, if we are fortunate, we may see one or two of these impressive but critically endangered birds soaring over the hillsides. Later in the day we have a further treat as we stop at a vantage-point to observe Northern Elephant Seals on one of their favourite beaches.
All too soon our stay in California will come to an end and we return to San Francisco to catch a flight back to Europe. Observing great whales at close quarters is a very special privilege and we are sure that many tour members will return from Monterey plannng their next whale-watching holiday
Please contact us on 01962 733051 for details on what extensions either pre or post tour are available for this Tour.
We had very comfortable accommodation in Carmel that was our base as we went out nearly every day whale watching. On our first morning we came across a magnificent blue whale, it was going to be hard to beat that but with huge pods of dolphins, humpbacks breaching and sea otters our hopes were more than satisfied. Naturetrek organised the trip very well and the two guides we had with us were extremely knowledgeable about the mammals and birds.

J.B. Devon

Very good trip - interesting in all the areas and aspects covered...Visit to Ventana was very interesting - even for a non-birder person like myself. Appreciate the fact that the leaders were very aware that not all of us were on the trip for birds, and that Peter and Ian took time to explain/describe what we were seeing, thus has begun to foster an interest!...Overall - had a great week, Peter and Ian were very good tour leaders and I enjoyed the company of my fellow travellers.

L.J. Herefordshire

Trip leaders worked hard and delivered in all areas - organisation, bird and whale watching, and identification. And in my case, Peter put in a great deal of effort to ensure my gluten-free diet was well catered for. Nothing seemed too much trouble for either Peter or Ed, which contributed greatly to the great holiday we all enjoyed.

M.C. Leicestershire

This was a superb trip. We were lucky in all respects: wonderful wildlife, great weather, gorgeous scenery, first class food and accommodation, and above all informative, friendly and caring team leaders.

E.O. Hertfordshire

Having Peter Dunn as our leader made all the difference. He managed to be all things to all the group. His good humour and efforts to show everything of interest was appreciated by us all.

E.W. Suffolk

The group was led by Peter Dunn whose knowledge and expertise is second to none. Peter once again proved to be an excellent leader who went out of his way to ensure all members of the group achieved the maximum benefit from their time in California.

W.B. Aberdeenshire

Our trip leader, Peter, was excellent and took great care to ensure everyone was looked after and had every opportunity to see the variety of birds and Whales. I really wanted to see Whales on this trip and it was lovely to have the opportunity to spend 4 hours plus Whale watching and getting to see some fantastic sights such as the Blue Whales and Humpbacks lunge feeding. Lovely to have breakfast and evening meals provided - the food was very good.

J.D. Essex

Staying at one base for the duration of the holiday and being able to come back after a day out, relax and then eat without having to go out again worked well on this holiday. Food, quality and location of hotel excellent. Boat trips excellent. Lots of Whales and wildlife seen every time - saw the Blue Whale! Leader Peter Dunn excellent, ensured everyone was looked after and very knowledgeable - spotted things we would have missed on our own. Loved the tree frogs.

B.B. Kent

Pete Dunn's experience and knowledge of having done the trip for many years and Tom Brereton's enthusiasm complemented each other making this a very special trip. The adaptability of the leaders was essential due to weather conditions and fire incidences. The concentration of whales and sea birds will remain with me for a very long time. The local services used were well researched and the staff on them were very helpful and extremely knowledgeable. Time was made to see The Big Sur whose scenery was stunning and well worth the long day. The journey also gave us the opportunity to see the Elephant seals which were in the area another exceptional wildlife experience. I would recommend this trip to anyone who are interested in wildlife in all its forms or just whales and dolphins.

L.D. Nottinghamshire

I saw the BBC programme with Matt Baker in Monterey Bay and made the decision that I would like to see the sea life in Monterey Bay for real. I looked on the web and found a trip with Naturetrek that fitted the bill. In all there were 16 of us plus the two tour leaders. It was a lovely group and both leaders were very knowledgeable about the wildlife, and enthusiastic about all members of the trip seeing all the wildlife. The Lodge we stayed in was comfortable and welcoming, with excellent food. Apart from the Blue whale, we saw everything and more. Every one of our five trips on the Bay produced something special, and the land trips were well organised. The condor appeared almost as if he had been messaged to appear! I would recommend this trip to all wildlife enthusiasts.

S.J. Nottinghamshire

The trip was well planned with lots of opportunity to see Whales and birds. Peter Dunn always on hand to point out and explain all about the local wildlife. After long days out, returning to Carmel Valley, all of the dining arrangements had been taken care of. The food was excellent (breakfast and dinner) and was great to be able to talk about the events seen with the other participants.

M.H. Oxfordshire

The Whale and Dolphin boat trips were excellent. We were so lucky to have such superb sightings of not only Cetaceans but sea mammals and birds. The Contenta Lodge (Acacia) was first class. We had excellent service from the staff, the food was first rate by American standards. The rooms were spacious and the surrounding area was beautiful - we had a lovely outdoor swimming pool plus a hot tub. It was so convenient to have the food included.

R.T. & J.M. Devon

Excellent leader: Put himself out to help everyone and accommodate all people's interest. Excellent problem solving, very good knowledge/experience of a range of wildlife. Flexible accommodation and meals.

P.P. Norwich

Well planned and organised in advance - from provision of catering on site to the planning of venues where we could watch wildlife. Sightings of whales and birds and excellent contributions from the group all enhanced this holiday. A special thanks for providing two blue whales.

M.R. Devon

The whale watching trips were brilliant. The group size worked very well and everybody got along. The knowledge and expertise of the leaders were excellent, both on the boats and the land-based trips. It was great to come back to the hotel for a swim and relax in the hot tub.

Mr S & Ms C. Cheshire

Good mix of pelagic and land tours with knowledgeable and enthusiastic tour leaders. As our first trip to the States we loved California and hope to return to explore more of this country.

J.E. Lancashire

I had personally gone for the whales and dolphins, but the enthusiasm shown by both Ed and Ian on all aspects of the trip was so contagious that I was swept away by all aspects. The accommodation was above expectation and the food was excellent.

T.E. Lancashire

Boat trips were well done and fantastic. The land trips were also very good with excellent guides. I like the fact we got sufficient time to relax when we returned to the hotel in the evening.

C.H.

Both of the leaders were excellent. The hotel was delightful, and food very good. It was a well balance itinerary - we saw a wide range of species and I learnt a great deal. The group of people worked very well.

S.H. London

We saw so much and it was wonderful to share the enthusiasm and experience with fellow travellers and trip leaders alike. A special thank you to our leaders who went to great lengths to make sure we saw so much and share their knowledge with us.

P.D. Nottinghamshire