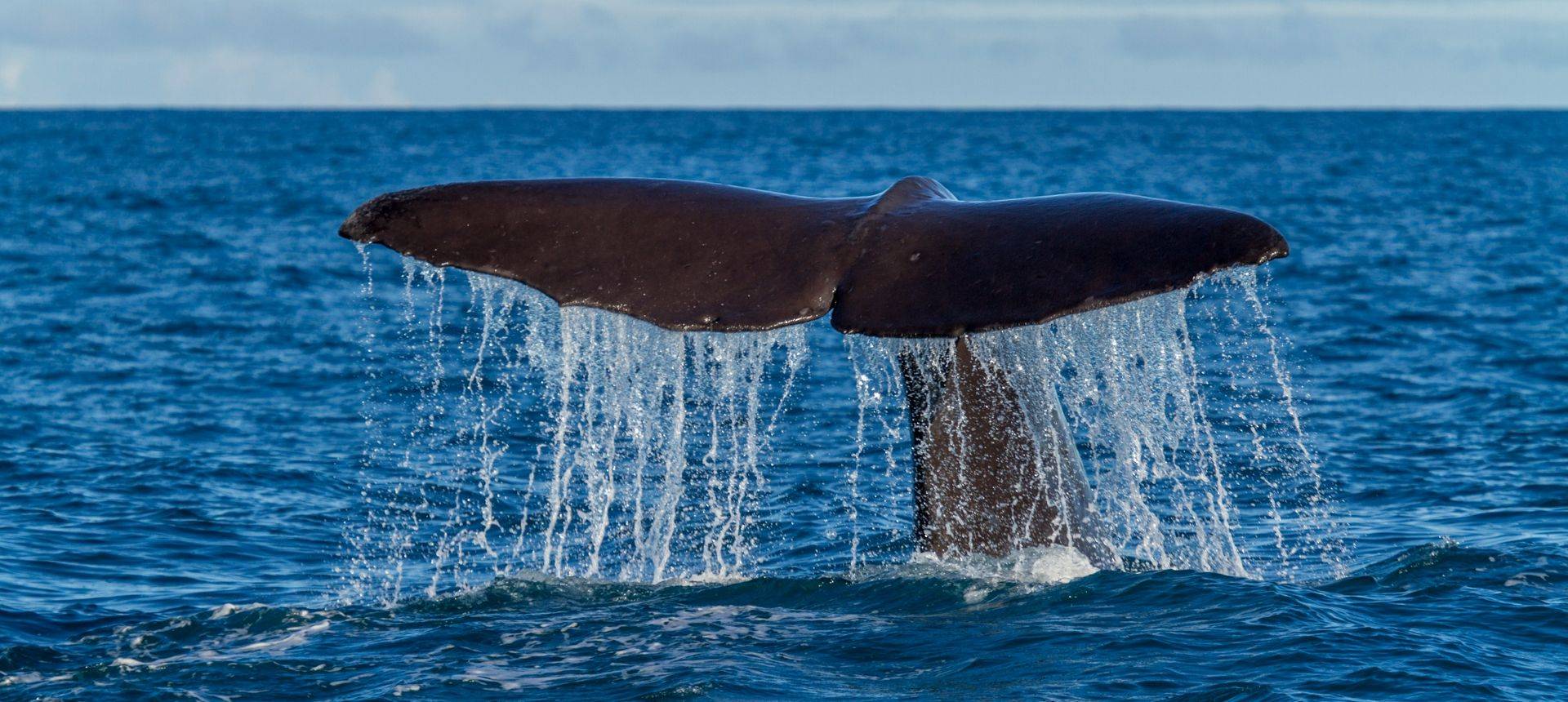 Whales & Dolphins of the Azores
Tour Code: PRT05
A 7-day holiday in search of whales and dolphins in the cetacean-rich waters of the Azores archipelago, focusing on Sperm Whales and dolphins.
On this 7-day holiday we go in search of whales and dolphins in the cetacean-rich waters of the Azores archipelago, arguably Europe's top whale-watching destination. Here we join local expert naturalists on six half-day, morning or afternoon, whale and dolphin-watching excursions, using small, fast and manoeuvrable Zodiac-style/RIB boats. Our main focus will be Sperm Whales, which are present in Azorean waters year-round. There are several dolphin species here too, among them Atlantic Spotted, Striped, Common, Bottlenose and Risso's. Picture yourself in small boat, close to the water with these animals only metres away, waiting to hear their 'blows' as they exhale at the surface … wildlife experiences don't come much better than this!
World class whale-watching – in Europe!
Look for family groups of Sperm Whales in August & September
Guided by local expert naturalists
Convenient & comfortable 3-star harbourside hotel
Potential for very close encounters from Zodiac-style boats
A chance to see Atlantic Spotted Dolphins, plus more unusual cetaceans such as beaked whales
A friendly 'village' atmosphere in the middle of the Atlantic Ocean
Can I help you?

Outline Itinerary
Day 1
Fly Faial; then ferry transfer to Pico.
Day 2/6
Whale and dolphin watching boat-trips from, and some birding and sightseeing on, Pico.
We very much want to mention how friendly all the local staff were. They did all they could to ensure we had a good trip, and they and Ed made a very good team. We wish it could have been longer.

P.E. Hampshire
Food & Accommodation
All breakfasts are provided. Allow £30 a day for lunches and dinners which are not included.
A comfortable 4-star hotel in Madalena, on Pico. All rooms have private facilities.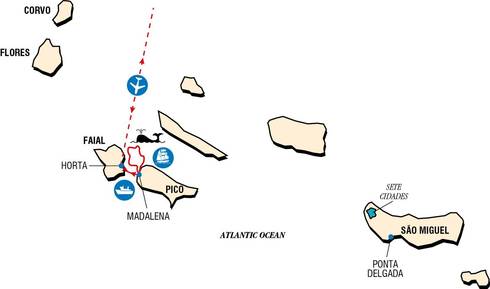 Tour leaders
Sara Frost

Sara works full time in Naturetrek's busy office as the Website and Marketing Manager. However, by training, she is a Zoologist, graduating from Newcastle University where she was also the president of the university's Zoological Society. Prior to working at Naturetrek she lived and worked in British Columbia, Canada, as a wildlife rehabilitator caring for Black Bears, Coyotes, River Otters and Raccoons on a daily basis. When she wasn't providing medical care to injured wildlife she could be found hiking in the mountains, photographing wildlife, howling with wolves and avoiding bears (usually successfully). On her return to the UK she moved to the Scottish Hebrides, where she spent three years working at sea as a wildlife guide. She also spent her summers as the Senior Wildlife Officer on a ship in the North Sea, collecting sightings data on whales and dolphins and delivering marine biology lectures to guests. Always keen to be involved with media, Sara has presented on both live radio and TV, is regularly published in wildlife and travel magazines and has worked as a guide for Ray Mears and TV film crews for several natural history documentaries. A keen cetacean spotter, Sara specialises in leading Naturetrek's cruises, mainly in the Maldives, Hebrides and Azores, although has also enjoyed leading our popular Spitsbergen cruise and has recently returned from our Bali to Komodo voyage in Indonesia.

Ed Drewitt

Ed's been a naturalist for over 25 years with a special interest in birds and marine mammals. He studied Zoology at the University of Bristol and worked for seven years as a museum learning officer at Bristol's Museums, Galleries and Archives, and then four years on the Bristol Dinosaur Project at the University of Bristol, enabling people to learn more about the city's own dinosaur! Ed is now a full time freelance naturalist, broadcaster and wildlife detective. He leads bird song and bird identification courses, gives various wildlife presentations, provides wildlife commentary on boat trips, writes for BBC magazines and gets involved with bird ringing studies, with his own bird ringing site on the Severn Estuary. He also runs a project that puts colour rings on Peregrine chicks so they can be tracked later in life. Ed has previously worked for the RSPB in Bristol and still does the commentary on their Avocet Cruises on the Exe Estuary. Ed leads on researching the diet of urban-dwelling peregrines in the UK and his findings have been published in British Birds, BBC Wildlife magazine and across the national media. He has just had a book published, the first of its kind, titled 'Urban Peregrines'. Ed is often involved with broadcasting on TV and radio, ranging from appearances on the BBC's One Show, Springwatch and Autumnwatch, Radio 4 Natural History radio, and BBC Radio Bristol. Ed loves watching wildlife around the Severn Estuary, Somerset Levels, Forest of Dean, Ashtead Common and the Chew Valley, while his adventures have taken him all around Europe, New Zealand, Australia, Canada, the Azores, the Caribbean, Madagascar, the Arctic, and the Gambia. Ed is a regular tour leader for Naturetrek throughout the year, leading exciting holidays both in the UK and abroad.
Far out in the Atlantic Ocean, midway between Europe and North America, the Azores archipelago marks the westernmost frontier of the European Community. Belonging to Portugal and stretching for more than 600 kilometres across the Atlantic, it consists of nine volcanic islands sweeping in a long arc along the Mid-Atlantic Ridge, rising to just over 2,351 metres at its highest point, Mount Pico. Situated in a privileged position between the 36° and 40° North Parallel and 24° and 32° West Meridian, the Azores enjoys a mild climate and surrounding seas that are warmed by the Gulf Stream. Surrounded by the deep waters of the Atlantic, the islands shelve steeply into the sea creating an underwater topography that is perfect for attracting some of the most exciting animals on Earth — the great whales. Once a centre for commercial whaling, those days are happily long since gone and the Azores has instead become renowned for its superb whale-watching, and is now firmly established as one of the best places in the world for seeing both whales and dolphins. Indeed, 27 species of cetacean have been recorded in these waters!
Sperm Whales are found in the waters around the Azores all year round. Largest of the 'toothed whales', Sperm Whales seem to conjure up every superlative in the book. They have the biggest brains on Earth, and are one of the deepest and longest-diving animals — typically foraging on squid at depths of about 300 to 800 metres, but regularly dive (descending at a staggering 3 metres a second!) to depths of between 1,000 and 2,000 metres. Sperm Whales are relatively easy to identify at sea and we will be looking out for their 'wonky' blow, which comes out off-centre at an angle of 45° from a blowhole positioned on the left-hand side of their enormous head. Sperm Whales prefer to give birth in latitudes of less than 40°, making the Azores an ideal location, and we should see females with calves during our August trip. We will hope to spend some time watching the whales travelling, breaching or 'logging' at the surface, and we may even be lucky enough to hear their subsurface sonar through hydrophones as they close in on squid hundreds of metres below us!
As well as Sperm Whales it is also possible to see a good variety of other cetaceans in the Azores. Common, Bottlenose, Risso's and Striped Dolphins, as well as Short-finned Pilot Whales, are seen here all year round, while Atlantic Spotted Dolphins visit the islands during the summer. We also have a chance of seeing other, rarer cetacean species — perhaps Sowerby's Beaked, False Killer or Northern Bottlenose Whales.
During this holiday we will be based on the island of Pico, in a comfortable 4-star hotel situated within a few minutes' walk of the harbour and, during our 5-night stay, we will offer six half-day, morning or afternoon, whale and dolphin-watching excursions, weather permitting. Following the traditional Azorean method of finding whales, 'spotters' will be on the look-out at strategic positions on land, ready to inform our guides the moment any large whales are seen. Once we hear the word, we will go into action quickly, setting out to sea in fast and manoeuvrable Rigid Inflatable Boats for trips lasting about three to four hours; the thrill of being close to whales measuring up to 30 metres long in a small craft is one of the world's top wildlife experiences!
Most of our time will be devoted to whale and dolphin-watching, but we will find a couple of half days on each tour on which to look for some of the region's birdlife. During the summer, Pico supports a breeding colony of Cory's Shearwaters, and the Azores Bank and Princess Alice Bank are among the few places in Europe where Wilson's Storm-petrel may be seen without having to spend an extended period at sea! In late spring it is still possible to see vagrant or migrant bird species, with August and September being a good time for vagrant American waders. We may also, at any time, encounter other marine-life at sea, such as Portuguese Man O' Wars, sharks, turtles and flying fish. These small unspoilt islands are friendly places, where you can start to feel at home within a short time, and faces become familiar quickly. Offering in addition some delicious food and wines, excellent local guides, and a rugged and fascinating geography, the Azores are a real pleasure to visit. 
Please contact us on 01962 733051 for details on what extensions either pre or post tour are available for this Tour.
We very much want to mention how friendly all the local staff were. They did all they could to ensure we had a good trip, and they and Ed made a very good team. We wish it could have been longer.

P.E. Hampshire

Ed was absolutely fantastic. His caring was top notch. All other helpers were very attentive as well. Our safari was great and this holiday was a huge wow.

Mr & Mrs W. East Yorkshire

Tour leader (Ed Drewitt) excellent. His care, attention to detail and enthusiasm made the trip. Variety and quantity of Cetaceans seen.

S.T. Scunthorpe

The holiday was perfect and could not be made any better.

A.T. Scunthorpe

This was my first holiday alone and all my anxieties were unfounded. The organisation and attention to detail were excellent and most of this praise should be attributed to our leader, Ed Drewitt. Our sightings did not disappoint although there was no guarantee - we were extremely fortunate to see so much! I firmly believe that without Ed as our leader, the holiday wouldn't have been half as enjoyable, his enthusiasm and compassion was very infectious and for a novice like myself I was caught up with the delights of sightings. I would have no hesitation in booking another holiday with Naturetrek.

J.H. Norfolk

Ed is a fantastic tour guide with all the skills you could ask for. People skills, organisational skills and a huge knowledge and love for nature. He definitely helped make the trip as enjoyable as it was.

L.Q. Sussex

A good mix of like-minded people in our group made sure that everyone had a good experience. Ed was a great leader and made sure we did everything we all wanted to do or see.

M.G. West Sussex

I enjoyed the holiday as a whole thanks mainly to the wildlife and all the people involved in helping us experience it. The choice of hotel was excellent, it was very comfortable with friendly staff and great facilities.

S.G. West Sussex

Excellent, friendly, knowledgeable tour leader. Hotel comfortable, ideal location. CW Azores were efficient, experienced with a wealth of local knowledge.

C.B. Cambridgeshire

High quality sightings of 9 species of cetacean - especially Sperm Whale, Fin Whale, Northern Bottlenose Whale and the wonderful Risso's Dolphins. I really enjoyed the land day too - especially exploring the lava cave tunnels and the Cory's Shearwater chick. Great to hear the Cory's on the evening excursion too. Ed was an excellent guide - knowledgeable and very helpful. Local guide, Justin, was excellent too.

S.W. Nottinghamshire
2019
Departures
Availability
Cost
Mon 19th Aug - Sun 25th Aug
SPACES
£2,095
Flights:
Most Naturetrek tours include flight costs ex-UK. If flights are not included, we indicate that here.
Flights are included in the tour cost
Regional Departures:

On certain tours it is possible to depart from a regional airport (rather than London). If a regional departure is possible, we indicate that here.
Regional Departures are available. Call 01962733051
Land only cost:

The "Land Only" cost is the tour price you will pay if you choose to arrange your own flights/transport.
£1,695
Single Room Supplement:
£300