Read about highlights from recent tours to the USA, Brazil, Madeira, Scotland, England, Ireland, France, Spain and Bulgaria …
In the USA ...
Tour leader, Peter Dunn, reports from our third Naturetrek tour to the city of New York, where we once again enjoyed a variety of migrant birds that use the thriving metropolis's Central Park as a stop-off during their spring migration. This green oasis in the centre of a concrete jungle offers food, water and shelter to all tired migrants heading north to breed. The group mastered the subway system, found that it was relatively easy to get anywhere in the city and enjoyed 'days-out' to the wetlands of Jamaica Bay and Prospect Park in Brooklyn.
'During this short (7-day) visit we amassed a total of 119 species of birds, 24 of which are classed as warblers and all in bright spring plumage. We marvelled at the constant passage of Yellow-rumped (Myrtle) Warblers and were blown away by the bright orange and black male Blackburnian Warblers and American Redstarts. The 'treecreeper-like' antics of the Black and White Warblers in their humbug stripes were fascinating to watch and we were lucky to find a small fall of the strangely named Worm-eating Warblers towards the end of the week. Waders and duck were added to the list at Jamaica Bay, as well as the oddly named Brown Thrasher, whilst a Yellow-billed Cuckoo was watched devouring caterpillars from a nursery web.
However, this tour is not just about wildlife, it's also the city, the sights and sounds all familiar to anyone who has watched any American films or programmes on TV; the sounds of the police and fire tenders, the steam coming from the drains and all the iconic buildings. On one wet day the group members went their separate ways to visit museums and galleries, while each late afternoon and evening they had spare time to do whatever they pleased. Some took in shows, some visited famous (or infamous) landmarks, such as the 911 Memorial, Brooklyn Bridge with views of Liberty or the Highline Walk on the old railway on the west side.
Overall it was a very successful and enjoyable tour; the birds we saw were all self-found and we were accepted amongst some of the local birders who were all too willing to share information and sightings, and sometimes political comparisons, with their British compatriots!'
Our next 'Spring Birding in New York City' tour departs on 7th May 2020, prices start at £2,895. For more information please click on the link above, or email This email address is being protected from spambots. You need JavaScript enabled to view it..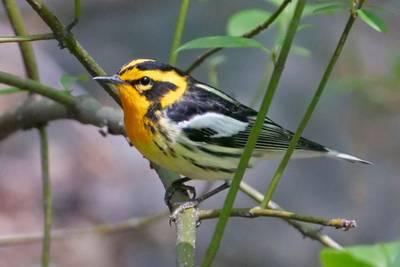 Blackburnian Warbler (Peter Dunn)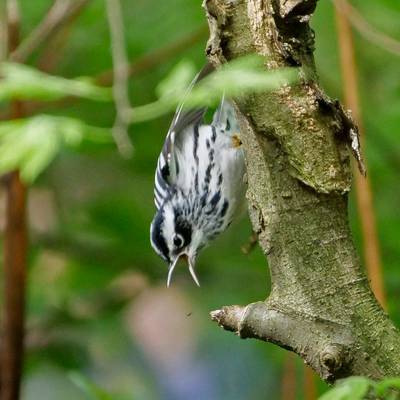 Black-and-white Warbler (Peter Dunn)
'Our Brazilian season kicked off in June with a fantastic "Brazilian Pantanal & Iguazú Falls" tour', writes tour leader Marcos Felix. 'Within hours of stepping off the plane the group enjoyed Capybaras, Southern Lapwings, Black-collared Hawks, Wattled Jacanas, Snail Kites and Bare-faced Ibis and were soon watching a wonderful Giant Anteater just 50m away from the safari truck! This incredible start set the tone for the rest of the holiday, with our group enjoying a plethora of wildlife including Hyacinth Macaws, Black Howler Monkeys, Tapir, Nacunda Night Hawks, Spot-tailed Nightjar, Ferruginous Pygmy Owl, Great Potoo and Toco Toucan.
Moving to the "Jaguar Zone" we had several unforgettable views of Jaguars walking, swimming, searching for prey on open sandbanks and calling, several of these viewings lasting for 15-20 minutes each. We also had great sightings of playful Giant River Otters. Our final stop in the Pantanal brought such highlights as a stunning male Ocelot, Black-collared Hawk catching fish just off our boat, Jabiru Storks and several species of kingfisher.
Leaving the Pantanal, we flew to the breathtaking Iguazú Falls. As well as the stunning falls (which are 1.7 miles long and up to 82 metres high), we were treated to Burrowing Owls, Black Capuchin Monkeys, Green-headed Tanager, Araucaria Tit-Spinetail, Pale-breasted Thrush and Violet-capped Woodnymph to name but a few of the many highlights.'
We have last-minute availability on 'Brazilian Pantanal & Iguazú Falls' tours, departing on 24th September and 22nd October 2019, prices start at £5,895. For more information please click on the link above, or email This email address is being protected from spambots. You need JavaScript enabled to view it..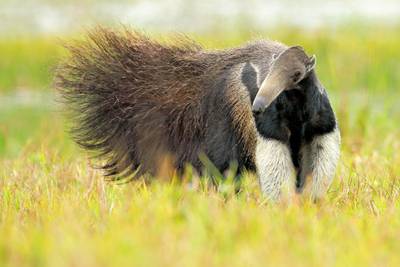 Giant Anteater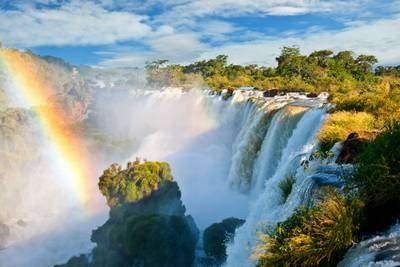 Iguazu Falls
'Naturetrek runs three consecutive tours in Madeira each June, and whilst each tour has a specific theme, we aim on each one to take a broad look at the island's natural history', writes tour leader Martin Beaton.'"Madeira the Floating Garden" explores the principal habitats and landscape and their associated flora, with a free day to allow time to explore Madeira's great, world-renowned gardens. Although the focus is the plant-life – both native and the innumerable introductions from all over the world – this year we also had great views of Madeiran Chaffinch and a family of Madeiran Firecrest with their young, as well as Laurel Pigeon. Amongst the many flowering plants Long-tailed Blue, Lang's Short-tailed Blue and Monarch butterflies added their own dash of colour.
Our Madeira "Whales and Dolphins" trip recorded six species of cetacean alongside views of the principal seabirds. Our RIB trips are mixed with trips on the sailing boat Ventura do Mar, each offering a different experience. This year's RIB trips, which enable us to travel rapidly to sightings, provided us with spectacular close views of Sperm Whale and we experienced at close hand the energetic speed of Striped Dolphin and Atlantic Spotted Dolphin.
For those also joining Madeira "Seabird Extravaganza", our first RIB trip added Short-finned Pilot Whale as a seventh species. We found the principal seabirds: Cory's Shearwater, Manx Shearwater, Bulwer's Petrel and sightings of the rare Desertas or Bungo's Petrel. Our land-based day included views of Madeiran Firecrest and Laurel Pigeon, along with Berthelot's Pipit and Spectacled Warbler. On our night-time trip to the mountains we listened to the evocative calls of the endangered Zino's Petrel with the birds silhouetted against a moonlit mountain landscape – another memorable experience.'
All three of our Madeira tours next depart in June 2020, prices start at £1,195 for the 5-day tours and £1,395 for the 8-day botanical tour. For more information please click on the link above, or email This email address is being protected from spambots. You need JavaScript enabled to view it..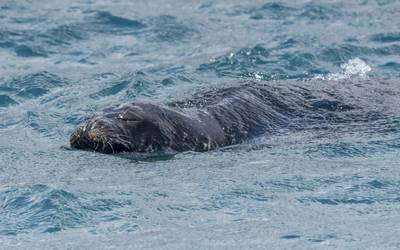 Mediterranean Monk Seal (Martin Beaton)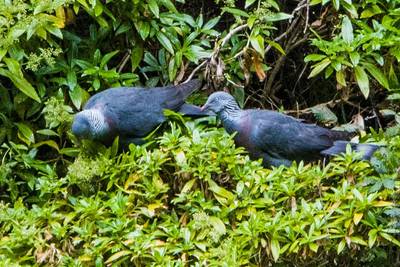 Laurel Pigeons (Martin Beaton)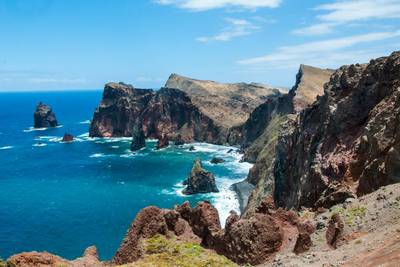 Sau Lorenco (Martin Beaton)
'Ever been on a night drive looking for wildlife? No? Well you are missing out, as participants on our second "Wild Scotland in Spring" tour can confirm', writes tour leader Matthew Capper. 'The thrill of not knowing quite what will show up in the next sweep of the spotlight is addictive and we enjoyed seeing owls, bats and deer in the beam of the torch.
A comfortable bunkhouse in the heart of the Ardnamurchan Peninsula was our exclusive base for the week and we were privileged to see Pine Marten on every single day, right outside the lounge window. Golden and White-tailed Eagles, several different otters, a rare American Black Duck, Bottlenose Dolphins and newly emerged Chequered Skippers all helped to make the holiday memorable. And no trip at this time of year would be complete without a visit to the Treshnish Isles, with Puffins walking around at your feet and Guillemots, Razorbills and Kittiwakes on every ledge. There is nothing like the hustle and bustle of a busy seabird colony, especially when the setting is so special, and we would happily have spent all day just watching the birds come and go.
Add in the stunning scenery and you have the makings of a very memorable trip!'
Our next 'Ardnamurchan – Wild Scotland in Spring' tour departs on 16th May 2020, prices start at £1,295. For more information please click on the link above, or email This email address is being protected from spambots. You need JavaScript enabled to view it..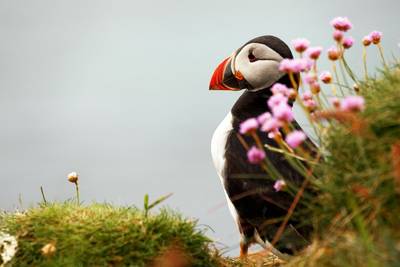 Puffin (Matthew Capper)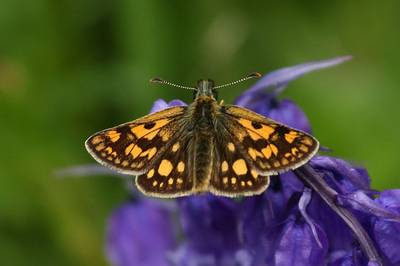 Chequered Skipper (Matthew Capper)
'A short but very successful stay on Lundy began with the early morning crossing from Bideford, with plenty of sightings of Manx Shearwaters and other seabirds resident on Lundy; breeding birds thriving here since the recent removal of introduced rats', writes tour leader Andrew Cleave. 'As we approached the island a pod of Common Dolphins came alongside briefly.
Two days of glorious sunshine followed our group as we explored the island and visited seabird colonies on the western cliffs. Thousands of pairs of Guillemots nest here and from our picnic spot we were able to watch the comings and goings of seabirds, including Puffins, on the dramatic cliffs.
We also encountered various mammal species, including many Soay Sheep and Sika Deer which roam free on the island. We were impressed by the displays of wildflowers, especially the various species which grow on Lundy's many stone walls. On the sheltered east side of the island we saw the extensive colonies of Lundy Cabbage, one of the world's rarest plants, and we also found the endemic Lundy Cabbage Flea Beetle, also at its only site in the world.
The moth-trap was checked every morning and produced a good variety. For those leaving their bedroom windows open at night, the sounds of Manx Shearwaters heading for the breeding colonies could be heard during the hours of darkness. On our departure, because of the wild weather the day before, it was decided that a helicopter would be brought into service, ending our trip in style!'
Our next 'The Island of Lundy' tour departs on 2nd June 2020, prices start at £895. For more information please click on the link above, or email This email address is being protected from spambots. You need JavaScript enabled to view it..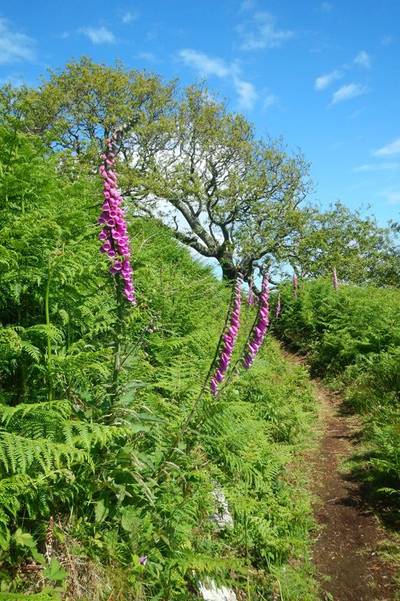 Foxgloves (Andy Cleave)
Following the success of last year's inaugural tour for RSPB Sevenoaks, this summer saw seven clients join our resident leader in Ireland, Chris Murphy, for a week of leisurely birding and exploration against the backdrop of glens, fens, sea loughs and islands of Counties Antrim, Londonderry and Donegal. Rathlin's auk stacks, the Giant's Causeway and Tory's Choughs and Corncrakes were among the highlights, while the short crossings to islands were enlivened by sightings of Puffin, Black Guillemot, Storm Petrel, Manx Shearwater and Great Skua. 'We got off to a lucky start', says Chris, 'as a stunning, full summer plumage Long-billed Dowitcher coincided its visit to Titanic Belfast with our own, and our luck was to stay in as we dodged the showers of the first two days to enjoy a natural history holiday blessed with adventure, good company and great Guinness!'
Our next 'Ireland's Wild Atlantic Way' tour departing on the earlier date of 22nd May 2020 is timed to increase our chances of seeing a Basking Shark, prices start at £1,395. For more information please click on the link above, or email This email address is being protected from spambots. You need JavaScript enabled to view it..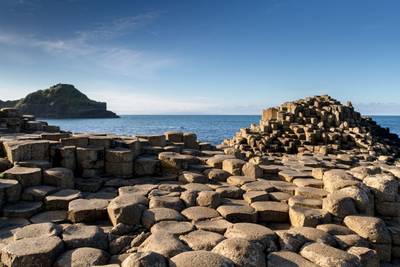 The Giant's Causeway
'The French Pyrenees tour this June experienced a mixture of weather but on the whole avoided the short periods of rain and snow and basked in the sunshine and relatively mild temperatures', write leaders Neil McMahon and David Tattersfield. 'Some of the strengths of this tour are the minimal amount of driving and time spent in the vehicles and the excellent single-centre of accommodation at our lovely hotel in Gèdre. From here the group explored the alpine valleys, meadows and cirques of this truly beautiful area, the magnificent limestone buttresses matched by the beauty of the flower meadows full of orchids and a floral kaleidoscope of colours exhibited by so many different species. The alpine plant fans were in their element with gentians, saxifrages and many more hugging the rocks and substrate all around us.
Alpine Marmots were the most obvious mammals on show, but we also saw several Pyrenean Chamois and our night drives provided glimpses of Pine Marten and European Hare. Birds were plentiful and we encountered a brief view of a Wallcreeper, watched Lammergeiers almost every day and identified 13 species of bird of prey including large numbers of Griffon Vultures. Small birds of this upland area included plenty of Citril Finches, Snowfinch and Alpine Accentor and we found several Common Rock Thrush territories. Crested Tits, Dippers and Red-backed Shrikes all attracted plenty of admirers!
Butterflies included the mountain specialists Apollo and Clouded Apollo, as well as other good-lookers such as Common Swallowtail, Camberwell Beauty, Cleopatra and plenty of fritillaries, skippers and blues.'
Further tours to this unspoilt and wildlife-rich area include an upcoming autumn tour which seeks to highlight the autumn flowering plants and to witness the spectacle of south-bound bird migration. We also have a spring festival departure in 2020, again using the regular hotel at Gèdre as our base for exciting wildlife adventures. For more information click on the links above, or email This email address is being protected from spambots. You need JavaScript enabled to view it..
'The Lot Valley tour is a fantastic introduction to the wildlife of this diverse country, with the added benefit of some culture as well, all based in a fabulous hotel, with Dipper nesting below the car park!' (writes tour leader Su Gough). 'This year's spring had been unseasonably cool, but the late season certainly didn't stop us building up an impressive tally of birds, plants, insects and more.
This is a truly beautiful region, with attractive villages perched on limestone cliffs, widespread oak woodland and farmland squeezed into the bottoms of the valleys and we take our time to explore them all. Both alkaline and acidic habitats occur locally, allowing a wide diversity of wildlife to be enjoyed and, although it's not an area known especially for orchids, the sheer number of them stunned us. Monkey Orchids grow pretty much everywhere, and we easily found 13 species and two unusual hybrids (including a Monkey-Man!). Being able to see so many plant species which are rare in the UK, such as Shepherd's Needle, in profusion is eye-opening and these attract numerous colourful and unfamiliar insects, like the beautiful Ascalaphid, or Owl Fly, Conehead Mantis and Giant Peacock Moth. Birds don't disappoint either, with Bonelli's Warblers accompanying us wherever we went, and Short-toed Eagles and Honey Buzzards putting on great displays.
We can't ignore the history of this ancient region and visits to the astonishing Peche Merle prehistoric cave paintings, as well as Cahors, the historic capital of the region with its famous Valentre Bridge, help us to really get a feel for the area.'
Our next 'France – The Lot Valley' tour departs on 7th May 2020, prices start at £1,495. For more information please click on the link above, or email This email address is being protected from spambots. You need JavaScript enabled to view it.. 
'This year's tour started on the cool side at 17-18°C, but gradually warmed, providing conditions ideal for finding and photographing odonata', writes tour leader Nicholas Ransdale. 'As a result, 41 species were seen. The emphasis here is always on getting good, diagnostic views for all participants, which we achieved with all but one species – Norfolk Hawker was seen well but in flight only. In contrast to last year, some river species had yet to emerge, but as often happens, different species were seen this year to last, including Red-veined Darter and Hairy Dragonfly. And watching the emergence of a male Yellow-spotted Emerald was a tour first! Both whiteface species were again seen, and an amazing run of Lesser Emperor sightings, some only two feet away, concluded the tour.
Amongst the butterflies, Ilex Hairstreaks and several Large Tortoiseshells were seen, a single Oberthur's Skipper and a good count of Woodland Browns.
And there was a good case for turning this year's tour into a herpetology tour! Species seen included European Pond Terrapin, Green Lizard, Asp Viper, Viperine Snake and two Grass Snakes mating... another tour first.
Participants are often surprised at how picturesque this relatively 'unsung' part of France can be. The southern Vienne, steeped in history, has rolling countryside subtly different from that of the Brenne, with its many large etangs, flatness and big skies. Lunch is usually taken at picnic sites at some of the nicest of these.
With relatively short hops between sites, this is definitely a tour for those who want to spend less time in the minibus and more time watching dragonflies!'
Our next 'Dragonflies of La Brenne & Vienne' tour departs on 10th June 2020, prices start at £1,495. For more information please click on the link above, or email This email address is being protected from spambots. You need JavaScript enabled to view it..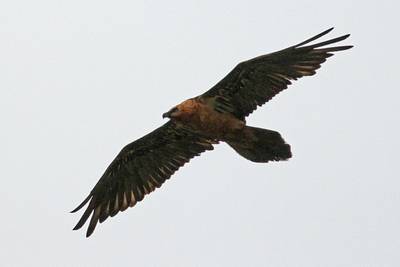 Lammergeier (Neil McMahon)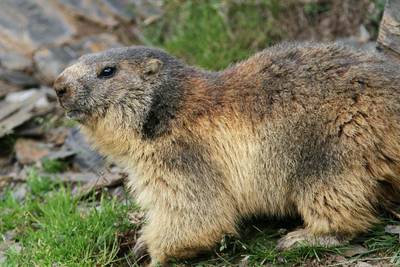 Alpine Marmot (Neil McMahon)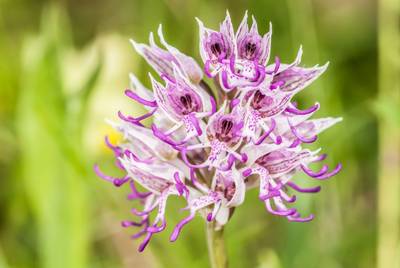 Monkey Orchid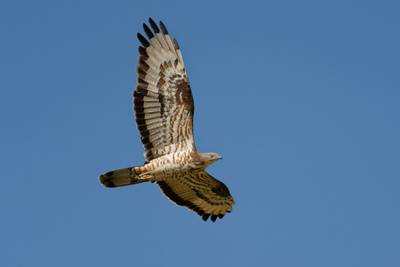 Honey Buzzard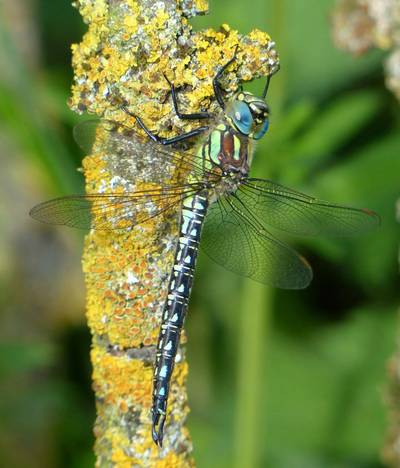 Hairy Dragonfly (Dave Smallshire)
'Our inaugural departure of the Swift Weekend exceeded all expectations! In an action-packed weekend of excellent birding, the group were treated to such southern Spanish specialities as Rufous Scrub Robin, Spanish Imperial Eagle, Rüppell's Vulture, White-headed Duck, Red-knobbed Coot, Northern Bald Ibis and Common Bulbul', write tour leaders Niki Williamson and Simon Tonkin. 
'Thanks to the wide range of habitats within reach of our base near Tarifa we were able to visit salt pans, farmland, mountains and coast, and rack up over 120 species of bird in just four days, including such delights as Western Olivaceous Warbler, Red-rumped Swallow, Western Swamphen, Kentish Plover, Curlew Sandpiper, European Bee-eater, Booted and Short-toed Eagles, Black-eared Wheatear, Crested and Thekla Larks and Tawny Pipit. There was abundant other wildlife to look at too, such as Ocellated Lizard, Moorish Gecko, Oak Hawkmoth, Swallowtail, Cleopatra and Monarch butterflies.
The gorgeous sunny weather didn't disappoint and neither did the food, featuring lavish picnics in prime habitat at lunchtime and local specialities in one of the area´s best restaurants at night, relaxing next to a stream full of Iberian Pond Tortoises!
And then there were the Swifts! What a joy to see all five of mainland Europe´s breeding Swifts – Common, Pallid, White-rumped, Little and Alpine. At times they filled the skies and we enjoyed superb views and we respectfully enjoyed stunning close-up views of White-rumped and Little Swift at their breeding colonies. All in all a great weekend celebrating this most aerially superb genus.'
Our next 'Swift Weekend in Andalucia' tour departs on 10th July 2020, prices start at £895. For more information please click on the link above, or email This email address is being protected from spambots. You need JavaScript enabled to view it.. 
'Our trip to the Picos de Europa mountains in northern Spain enjoyed a superb mix of birds, butterflies and plants, along with sunshine and incredible scenery', writes leader Matthew Capper.
'The Picos are something of a hidden gem, with some amazing wildlife. The pace of the trip was relaxed, and we all enjoyed wandering through the mountains on various day excursions, whilst also taking the time to enjoy the medieval town of Potes and the Basilica de Santa Maria in Covadonga.
Avian highlights included three species of eagle, Wallcreepers, Snowfinches, Alpine Accentors, Lammergeier and Rock Thrush. There are 58 species of butterfly in the UK and yet in the Picos, we saw 50 species in just eight days – astonishing! Add in a range of orchids and Alpine specialities such as the Trumpet and Spring Gentians and you have the makings of some special memories.'
Our next 'Spain's Picos de Europa Mountains' tour departs on 11th June 2020, prices start at £1,495. For more information please click on the link above, or email This email address is being protected from spambots. You need JavaScript enabled to view it.. 
We were based at Viña las Torres, the charming hotel on the outskirts of Trujillo, which is ideally placed for the plains and wetlands of Extremadura', write tour leaders Martin Pitt and Pete Stevens.
'After a dry and warm spring, migration was over and breeding was well advanced. However we still managed to connect with the iconic Spanish species, with everyone going away with memories of vultures, eagles, herons and sandgrouse. Who can forget the Little and Great Bustards in the brilliant evening light within sight of Trujillo?
We spent some time slowly exploring in and around the hotel. Golden Orioles were seldom quiet, and the robber bands of Iberian Magpies always in view. We were delighted by family parties of Hawfinch feeding on the thistle heads close to our front door.
One afternoon, we sipped iced drinks in the main square of Trujillo and enjoyed the historic centre of town itself, learning of its unique relationship with the conquistadors and its place in the history of the new world, before calling in on the nesting Lesser Kestrels on our way home.'
Our next 'Go Slow in Extremadura' tour departs on 10th May 2020, prices start at £1,695. For more information please click on the link above, or email This email address is being protected from spambots. You need JavaScript enabled to view it..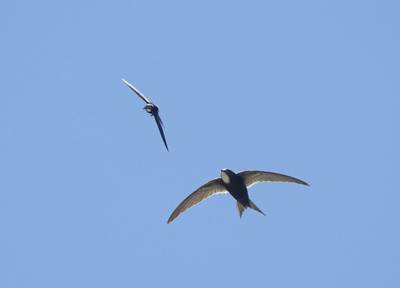 White-rumped Swifts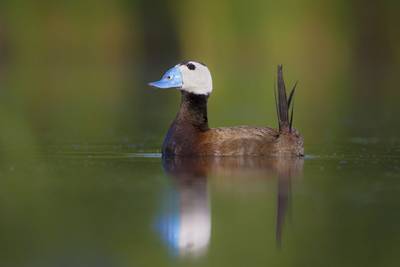 White-headed Duck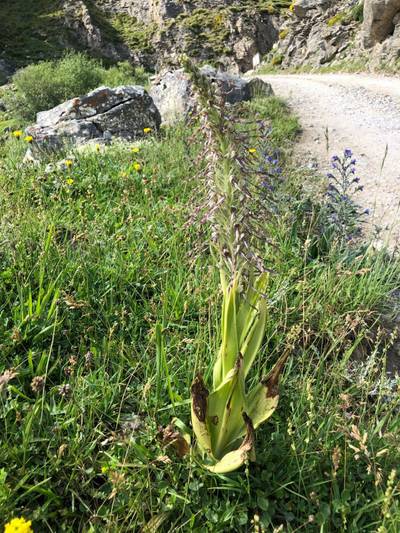 Lizard Orchid (Fernando Jubete)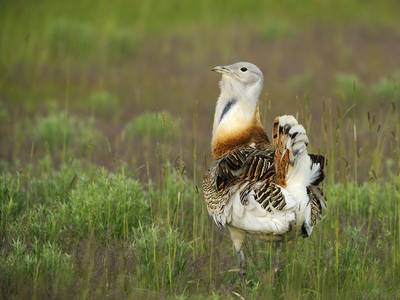 Great Bustard
14 Naturetrek clients joined Andrew Cleave and Bulgarian botanist Vlado Vladimirov on this mid-summer tour to the flower-rich mountains and valleys of south-west Bulgaria. We started our visit on the Vitosha Mountain overlooking the city of Sofia where we had our first introduction to the Balkan flora, finding the richly-coloured Geum coccineum and Dactylorhiza cordigera almost as soon as we stepped out of the bus', writes tour leader Andrew Cleave.
'Ring Ousels and Nutcrackers were quite confiding here. Our accommodation for the start of the trip was in the hunting lodge of the former communist rulers of Bulgaria, in an area surrounded by colourful hay-meadows and dense pine forests. We explored hillsides close by, where it was almost impossible to walk without stepping on the amazing variety of plants in flower, many of them being Balkan endemics. The Woolly Foxglove Digitalis lanata was a common sight here, but the brightly-coloured endemic Golden Kidney Vetch Anthyllis aurea and Balkan Lizard Orchid Himantoglossum jankae were amongst the fascinating species we found. A feature of the trip on almost every day was the large number of Painted Lady butterflies on the wing in almost every site we visited from mountain valleys to town centres. The dazzlingly bright Balkan Copper butterflies were amongst the most colourful of the insects we found, but we also spotted Praying Mantis, Colorado Beetles and the rare Bulgarian Golden Ringed Dragonfly.
We stayed a few nights in the modern ski resort of Bansko and visited the high mountain pastures of the Pirin National Park where some stunning alpine flowers, including Dwarf Snowbell Soldanella pusilla and Pyrenean Gentian Gentiana pyrenaica were found. We also found the very rare and local Frivald's Fragrant Orchid Gymnadenia frivaldii growing among drifts of Heart-flowered Marsh Orchids Dactylorhiza cordigera and Balkan Butterwort Pinguicula balcanica. For the last two nights of the trip we stayed near Dospat, with views of the mountains of Greece in the distance. The Dabrash Hotel was surrounded by beautiful hay-meadows where we found more orchids, including Lax-flowered Orchis laxiflora and Baumann's Marsh Orchids Dactylorhiza baumanniana. Vlado found a hybrid between the very common Bug Orchid and Green-winged Orchid which were both growing close by. The woods around the hotel had Greater Butterfly Orchid Platanthera chlorantha and Violet Limodore Limodorum abortivum growing in them. Fireflies entertained us at night and the eaves and balconies of the hotel had Crag Martins and other hirundines nesting in them.'
Our next 'Bulgaria – Flowers of the Balkans' tour departs on 13th June 2020, prices start at £1,395. For more information please click on the link above, or email This email address is being protected from spambots. You need JavaScript enabled to view it..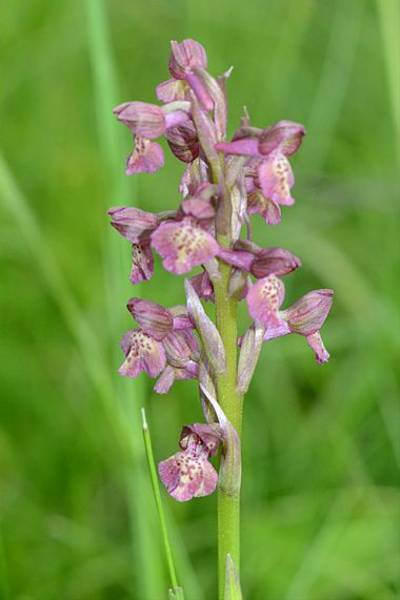 Bug Orchid x Green-winged Orchid hybrid (Andrew Cleave)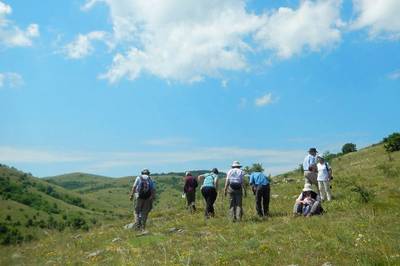 Botanising in Golobardo (Andrew Cleave)