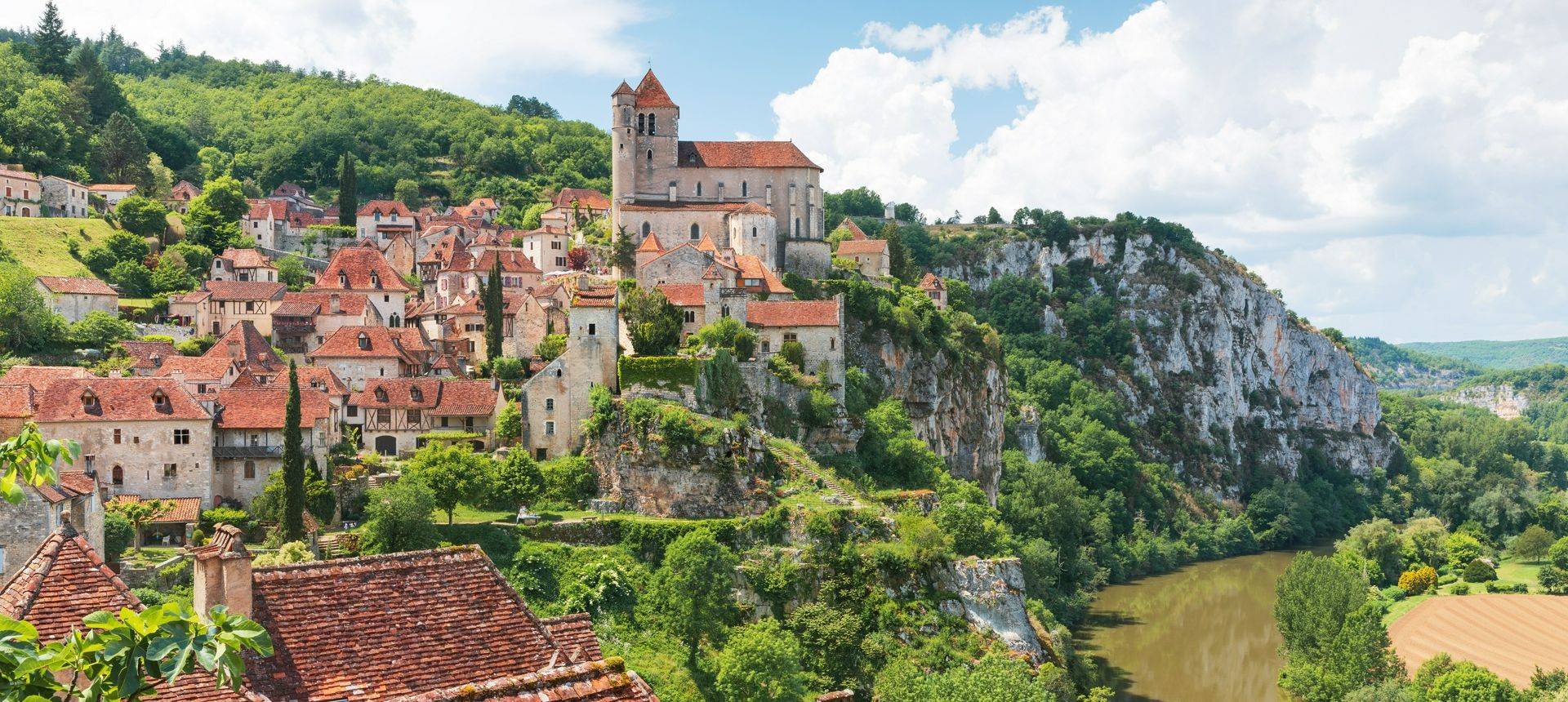 France - The Lot Valley
Tour Code: FRA15
An 8-day holiday in search of the plants, birds and butterflies of a region of rural France especially blessed with scenic, cultural and wildlife riches.
During this week-long wildlife holiday we will be based in a charming rural hotel near the Lot River. We will not only enjoy the local cuisine and wines, but explore – as much as possible on foot – the varied habitats of the surrounding countryside in the Lot Valley and limestone 'Causse' country. This unspoilt and lovely part of France is a real paradise for the keen naturalist. Birds are everywhere, butterflies and other insects abound, while a bewildering array of wild flowers provides a sea of colour in meadows, hedgerows and woodland glades. This is southern England before the days of intensive farming and suburban sprawl … only with twice the number of species!
Daily wildlife walks – ideal for the all-round naturalist
Flowers, birds & insects in abundance
A profusion of spring flowers (including many orchid species)
Look for Hoopoe, Golden Oriole & singing Nightingales
Spectacular 'hanging' towns & villages
Impressive Neolithic cave paintings & prehistoric 'dolmens'
Typical rural hotel serving tasty local cuisine (& wines)
Expert leadership from a Naturetrek naturalist
Can I help you?


X
Andy Tucker
Andy is an Aquatic Biology graduate (Aberystwyth) and worked in fisheries consultancy for a year after graduation before travelling to south-east Peru to work as a guide in the Amazon rainforest. During his year there he balanced guiding with his fisheries research and, after a brief spell back in England, returned to a full-time guiding post at Sacha Lodge in the Ecuadorian Amazon. Andy has travelled widely in Central and South America and his fluent Spanish is a huge advantage during our tours both across the Atlantic and in Spain. Andy has birdwatched for as long as he can remember and counts himself lucky to have seen so many fantastic bird and wildlife spectacles around the globe. He joined the Naturetrek team in 1998 and, while now kept busy as General Manager, is involved in the operations of a wide variety of tours in Latin America, Western Europe and North Africa.
Outline Itinerary
Day 1
Fly Limoges and drive to Lot Valley
Day 2/7
A daily programme of natural history walks and excursions in the Lot Valley and Causse country
The two guides Andy and Mark were excellent.

M.P. Surrey
Food & Accommodation
All included in the price.
A charming, rural hotel, with swimming pool and private facilities, serving excellent local food.
The Lot Valley is a charming region of rural France that holds abundant attractions for its visitors. There are some lovely old towns such as Figeac, and Cahors where the meandering River Lot is spanned by the famous medieval bridge, 'le Pont Valentre'. Quaint riverside settlements include the spectacular 'hanging villages' of St. Cirq-Lapopie and Calvignac, both seeming to defy gravity as they cling to cliffs above the river. The area also boasts some impressive prehistoric sites, amongst them the numerous dolmens scattered about the landscape and the superb Palaeolithic paintings of mammoths and horses to be found in the caves of Pech Merle. What is often not appreciated, though, is the amazingly rich wildlife of this enchanting valley and its surrounding area. Here, myriads of butterflies and other insects may still be found, plus a long list of birds — especially raptors — and a really spectacular variety of flowering plants, including many orchid species.
There are many reasons for this wonderful diversity; they include the preponderance of limestone bedrock, the practice of old-fashioned subsistence farming without the use of fertilisers and sprays, and the area's geographical position within France. The latter explains the presence of a fine representative selection of Mediterranean, Atlantic and Central European elements to both the flora and fauna. Additionally, the time of our visit coincides with the peak season for wildlife-viewing, with the vegetation still lush and green before the generally hot and dry summer takes its toll.
We will be based for the week, close to the river, in a charming rural hotel serving hearty local food and fine wines. Each day we will explore the surrounding countryside on gentle natural history walks, making use of the many paths, tracks and quiet country lanes — a delicious picnic lunch ensuring we make ample time for a midday break! Amongst the week's highlights will be excursions onto both the Cajarc and Limogne Causse, north and south of the river respectively. These are plateaux of Jurassic limestone that rise to around 400 metres and offer extensive areas of dry, stony grassland — known as karst — interspersed with scrub of juniper, oak and pine. In times past these arid areas supported a huge population of sheep, supplying the local people with meat, wool and cheeses. Today, with the reliance on such livestock farming reduced, we should find instead a wide variety of orchids, including Lady, Monkey, Military, Lizard, Bug, Burnt-tip, Pyramidal, Man, Tongue, Bee, Woodcock and Late Spider Orchid, plus both Red and Sword-leaved Helleborines. Many different species of rockroses, flaxes and clovers also abound, together with numerous British rarities such as Narrow Hare's Ear (Bupleurum baldense), Rough Mallow (Althaea hirsute) and Wild Candytuft (Iberis amara). The number and diversity of butterflies to be seen is quite staggering, and it is not unknown to see nearly 40 species in a single afternoon. Scarce Swallowtail, Black-veined White, Clouded Apollo, Turquoise Blue, Southern White Admiral and Queen of Spain Fritillary are just a few of the many that we hope to record, along with other interesting insects such as praying mantis, hawk moths and the strange, but beautiful, dragonfly-like Ascalaphids. Birds which may be seen or heard include Short-toed Eagle, Little Bustard, Stone Curlew, Crested Lark, Hoopoe, Nightingale and abundant and various warbler species.
Amongst other habitats we will visit during the week are the spectacular cliffs alongside the River Lot, home of such plants as Round-headed Leek (Allium sphaerocephalon) and Small Yellow Foxglove (Digitalis lutea). Here, the liquid calls of Golden Orioles fill riverside poplars and Black Kites and many other birds of prey choose to breed. Less precipitous parts of the gorge are clothed in extensive woodlands of oak and Box; Honey Buzzards and Red Kites breed here, and many more orchids may be found, together with Dianthus species, Bastard Balm (Melittis melissophyllum) and Crested Cow-wheat (Melampyrum cristatum) amongst other notable plants.
Finally, we will spend a day in the hills behind Figeac, in a region called the Châtaigneraie. The area is so named on account of its extensive Sweet Chestnut forests, though it also holds many small cultivated fields which provide a refuge for rare cornfield weeds such as Corn Cockle (Agrostemma githago) and Cornflower (Centaurea cyanus). The underlying rock here is made up of granites and schists, which erode to form soils of an acid nature, creating a stark contrast in vegetation to that we will have encountered up until now. Heathers are numerous, while birds like Goshawk, Cirl Bunting and Firecrest are commoner here. Such further variety complements a week filled with rural charms, and a diversity and abundance of natural history long since lost from the English countryside.
Please contact us on 01962 733051 for details on what extensions either pre or post tour are available for this Tour.
The two guides Andy and Mark were excellent.

M.P. Surrey

Mark and Andy gave us a truly memorable holiday and shared their time and knowledge equally around the group.

F.P. Surrey

Andy is an exceptionally good leader - not only at hearing and spotting birds, but also at communicating his knowledge. Mark too was much appreciated for his wide knowledge of plants and butterflies.

D.C. Cornwall

Mark is extremely well informed and made an excellent leader - very well organized.

C.B. Surrey

Mark Galliott was an excellent leader with an incredible knowledge of plants, birds, butterflies and other wildlife.

R.H. Middlesex

Mark was first class; amazing breadth and depth of knowledge and looked after us well.

Anon.

This was a very enjoyable week in a beautiful area of France. The weather was remarkably good, we had rain only one night, so our days were uninterrupted. The tour leader, Jason Mitchell, was very enthusiastic and geared the walks to the interests and abilities of the clients.

Anon.

The hotel attended to our needs and served superb local French food – the trip was worth going on just for the latter.

T.D Cleveland

I learnt a lot, but had a wonderful holiday at the same time. Our leader was excellent, giving expert advice at a level appropriate to each individual. He created a very happy atmosphere and was knowledgeable about the local area. Having been on similar holidays before, this was the best balanced - enjoyed by everyone, expert or just interested, so well done and thank you Naturetrek.

M.L. Shropshire

A well-balanced and very pleasant European natural history holiday. The pace was well-judged - Jason not forgetting we were on holiday and allowing enough time to relax. The relatively relaxed starts (by Naturetrek standards!) some coffee breaks in French villages, and returns at the end of the day allowing enough time to sort ourselves out and have a drink before dinner, were particularly appreciated - we were after all in France! The visit to Peche Merle caves was for me a highlight. Good that Jason bought a moth trap and sometimes carried a butterfly net and his overall general natural history knowledge and enthusiasm, plus French language, very good.

S.L. Devon

A really good trip, nice mixture of natural history and some visits to villages and also to Cahors. The hotel was very good, in general very quiet and beautifully situated. The food was extremely good and the couple who run the hotel were charming and helpful. Jason Mitchell, the tour leader, was full of enthusiasm and plenty of knowledge. He was good at adapting the daily itinerary to suit conditions and clients.

J.D. Cleveland
2019
Departures
Availability
Cost
Thu 2nd May - Thu 9th May
SPACES
£1,495
Flights:
Most Naturetrek tours include flight costs ex-UK. If flights are not included, we indicate that here.
Flights are included in the tour cost
Land only cost:

The "Land Only" cost is the tour price you will pay if you choose to arrange your own flights/transport.
£1,375
Single Room Supplement:
£180