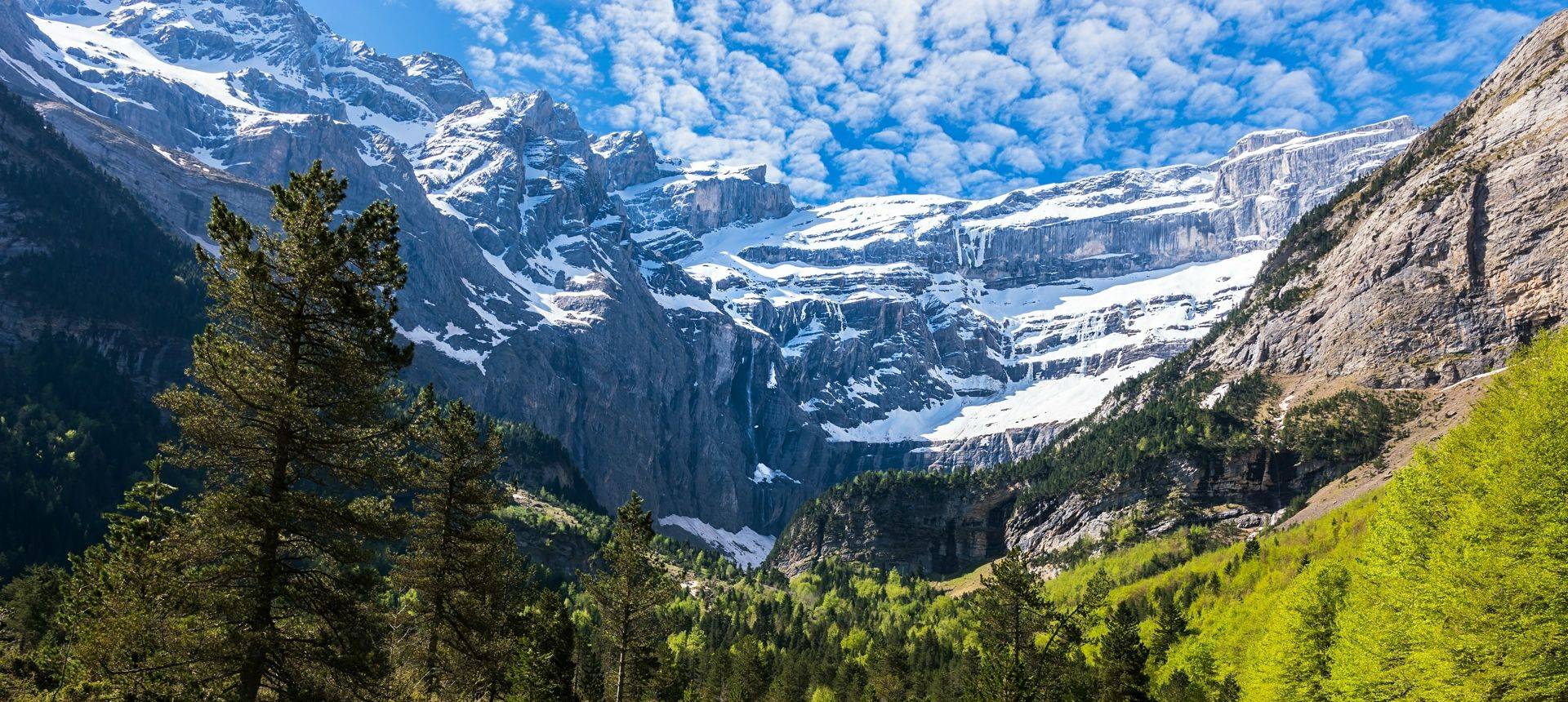 The French Pyrenees
Tour Code: FRA20
An 8-day holiday of birdwatching and botanical walks in the high Pyrenees.
The Pyrenees contains large tracts of unspoiled wilderness and spectacular mountain scenery with a long-established tradition of pastoral agriculture. Its isolation from the rest of Europe and a wide range of habitats has led to a rich endemic flora and  diversity of birds, butterflies and other insects. A comfortable family-run hotel in the quiet village of Gedre, close to the Parc National des Pyrénées, provides an ideal base, from which we explore the region on daily mountain walks, and the perfect European holiday for the all-round naturalist.
June is the best time to see the spring flora, after the winter snows have receded, and early enough to avoid the summer crowds. Breeding birds include Lammergeier, Griffon Vulture, Golden Eagle, Common Rock Thrush, Ring Ouzel, Citril Finch and White-winged Snowfinch and butterflies can be numerous. September provides ideal walking conditions, autumn colours and fruits, late-flowering Gentians and endemic Crocus and Colchicum. Migrant birds cross the Pyrenees, often in huge numbers, at this time of year and we have our best opportunity to see the elusive Wallcreeper.
The perfect mountain holiday for the all-round naturalist
Friendly family-run hotel with excellent traditional cuisine
Daily mountain walks in and around the Pyrenees National Park – fabulous walking country
Spectacular Pyrenean scenery & delicious picnics
A diverse flora including many regional endemics
A range of breeding birds including Golden Eagle, Lammergeier and Griffon Vulture
Snow Finch, Alpine Accentor and possibilities of Wallcreeper and Black Woodpecker
Alpine Marmots and Pyrenean Chamois
A wealth of butterfly species and other insects
Guided by Naturetrek botanist & ornithologist leaders
 
Can I help you?


X
Andy Tucker
Andy is an Aquatic Biology graduate (Aberystwyth) and worked in fisheries consultancy for a year after graduation before travelling to south-east Peru to work as a guide in the Amazon rainforest. During his year there he balanced guiding with his fisheries research and, after a brief spell back in England, returned to a full-time guiding post at Sacha Lodge in the Ecuadorian Amazon. Andy has travelled widely in Central and South America and his fluent Spanish is a huge advantage during our tours both across the Atlantic and in Spain. Andy has birdwatched for as long as he can remember and counts himself lucky to have seen so many fantastic bird and wildlife spectacles around the globe. He joined the Naturetrek team in 1998 and, while now kept busy as General Manager, is involved in the operations of a wide variety of tours in Latin America, Western Europe and North Africa.
Outline Itinerary
Day 1
Fly to Lourdes and then drive to Gèdre
Day 2/7
Walking excursions in the Parc National des Pyrénées
A naturalist-guided week in the French Pyrenees, which exceeded our expectations in almost every respect. Our guide was extremely knowledgeable across a whole range of subject relating to flora and fauna, and we came hoe having learned a lot and with a new approach to looking at what is around us!

J.O. Berkshire, Sept 18
Food & Accommodation
All included in the price.
A delightful, family-run hotel, all rooms with private facilities.
The Pyrenees, that great barrier between France and Spain which rises to well over 3,000 metres and stretches for 450 kilometres from the blustery Atlantic to the sun-drenched Mediterranean, offers a scenic and cultural variety unmatched by other European mountain ranges. Its western extremities and north-facing (French ) slopes are largely wet, lush and green. Its southern (Spanish ) slopes, and those in the east (the Catalan-speaking French Roussillon ) are hot, dry and craggy, and carved by spectacular canyons. Naturally, such very different landscapes, and the climates that have fashioned them, provide for a very diverse flora and fauna.
On this holiday we will be exploring the Parc National des Pyrénées, situated in the high central region of the French Pyrenees. These north-facing slopes, closer to the Atlantic than the Mediterranean, are wet, green and well forested; in early summer their highest slopes remain snow-covered. Here, the high Pyrenean bird and mammal specialities are to be found amongst the most spectacular scenery; and the month of June, just before the hay is cut, is the best time to enjoy the wonderful flowering meadows of the Pyrenees, and their rich butterfly-life. Our base, throughout our stay, will be a pleasant country hotel in the quiet village of Gèdre. Situated at just over 1,000 metres, and a short drive from the magnificent Cirque de Gavarnie, Gèdre is an ideal base from which to explore the full spectrum of Pyrenean habitats during daily walking excursions.
The valleys that dissect the high peaks will be the main focus of our attention, with their high forests, mountain pastures and spectacular cirques. They offer fine walking and the best of high Pyrenean birds and flowers. The magnificent Cirque de Gavarnie and Port de Boucharo, on the Spanish border, comprise high limestone cliffs and screes, with imposing waterfalls that drain the dwindling glaciers. Overhead we will look out for Chough and Alpine Chough, Griffon Vulture, Lammergeier and Golden Eagle, whilst at ground level Snow Finch and Alpine Accentor feed around patches of melting snow. High cliffs will receive particular attention, for on these we will always have a chance of finding that most elusive of Pyrenean birds, the Wallcreeper.
Sometimes referred to as the 'flower garden of Europe', the rugged grandeur of the Pyrenees is complemented by an exciting and colourful flora, as diverse as anywhere in Europe. Notable in spring are drifts of daffodils, sweetly scented daphnes and the magnificent silver-leaved Pyrenean Saxifrage, Saxifraga longifolia subsp. longifolia. Many regional endemics reflect the long isolation of the Pyrenees from other European mountains and include such gems as Pyrenean Snakeshead, the yellow Pyrenean Lily, Ashy Cranesbill and that delightful member of the African Violet family Ramonda myconi.
The vast expanses of the Cirque de Troumouse and the neighbouring Cirque d'Estaubé, high above the tree-line, offer a different range of habitats, from pastures enlivened by drifts of white Pyrenean Buttercup, gentians and primroses, to rocky slopes with a wide range of alpine plants and dwarf shrubs. Pyrenean Chamois graze these upland pastures along with herds of domestic cattle and sheep. Breeding birds include Ring Ouzel, Rock Thrush and Citril Finch; Dippers fly along the rivers and raptors may include Booted and Bonelli's Eagles, Goshawk and Peregrine. At lower altitudes, forests and meadows provide further botanical delights such as a profusion of orchids and specialities such as Horned Pansy and Pyrenean Hyacinth. Butterflies and other insects proliferate in the meadows and in the forests we may encounter Red Squirrel, Firecrest, Crested Tit and, with a little luck, the secretive Black Woodpecker.
This holiday, taking in the broad range of Pyrenean natural history, and offering a wide variety and choice of walking excursions, should suit a broad range of interests and abilities. We will also make the most of the local cuisine and liquid refreshments!
Please contact us on 01962 733051 for details on what extensions either pre or post tour are available for this Tour.
A naturalist-guided week in the French Pyrenees, which exceeded our expectations in almost every respect. Our guide was extremely knowledgeable across a whole range of subject relating to flora and fauna, and we came hoe having learned a lot and with a new approach to looking at what is around us!

J.O. Berkshire, Sept 18

The holiday was memorable and very successful because of the energy, enthusiasm, endless patience and local knowledge of the leaders. I shall certainly travel on trips led by David in the future. He is a wonderful ambassador for Naturetrek and he worked extremely hard to give us a great holiday and to uphold the reputation of the company.

J.A. Lancashire

I travelled to the French Pyrenees and had a wonderful experience. The hotel was well chosen and was very flexible in catering for changes in mealtimes etc. The food was excellent, mostly local produce, and hotel staff were friendly and helpful. The guides were very knowledgeable both in terms of the geographical area as well as in the birds, plants and butterflies that people wanted to see. There was a wide range in interests, knowledge and walking ability and staff made every attempt to cater for everyone. The group itself was a friendly mix of like minded people, so the holiday was also enjoyable socially. The location was amazingly beautiful and rich in flora and fauna and I would thoroughly recommend the experience.

M.M. Co.Down

On Naturetrek's 8-day tour of the French Pyrenees we were treated to decades of combined experience of the birds, butterflies, plants, geology, trails and history of the region around Gavarnie. Every day we hiked - more or less strenuously as one preferred - and picnicked among the gorgeous peaks and cirques of the Pyrenees while spotting specimens of hundreds of birds and alpine plants. Our accommodations at a family run hotel and restaurant were stylish, clean and comfortable. All the staff made us feel at home. The views and the food were both very good.

J.S.P. West Yorkshire

Essentially, we had a great time in the Pyrenees. Mark was a good leader, extremely knowledgeable on the butterflies and plants. He was also pleasant and easy-going which put all four of us at ease. We saw an impressive range of butterflies, plants and birds. As a group we gelled together very well and Mark helped that process too. The hostel and food were of a good standard. I particularly enjoyed the local-style of cooking and the variety of meals throughout the week. Our picnics were also good. As for the locations and species seen, these were superb. Mark clearly knew his way around and took us to some stunning and productive sites...I would not hesitate to recommend both Mark as leader and the trip itself as a whole to anyone who expressed interest in going on any future Pyrennean butterfly holiday.

A.I.

Mark is a competent tour leader, very knowledgeable in all aspects of our trip. He was very patient thankfully. I would not hesitate to recommend him to anyone considering going on such a trip. Ideal leader for a butterfly trip and excellent also for botanists. (I learned a great deal!).

J.M. Scotland

This was our first guided holiday as we usually travel independently, but we were more than pleased with the outcome, and the excellent attention of the leaders. We have today booked another trip with you for next spring.

R. & A.D. Lancashire

Mark, our leader, was excellent. We cannot fault him - he was cheerful, helpful, friendly, energetic and did his best to make our stay as comfortable/safe/interesting as possible. Altogether - a fabulous trip - and we shall definitely be booking another very soon!

F.C. Wiltshire

Perfect location for the trip very well catered for and a good and helpful rapport between trip leader and hotel management.

C.L. & T.T. Suffolk

Despite the challenging weather, David's knowledge of the area enabled us to see the best areas of this region. The variety of habitats and their flora were stunning - sights of which were unforgettable. The hotel staff were very helpful and friendly and my compliments to the chef for the excellent meals provided. Another excellent value holiday from Naturetrek - Thank you!

D.C. Suffolk

This was my fourth holiday with Naturetrek - and David Tattersfield (Tour Leader). All the others had been excellent, so I came to this with high expectations and was certainly not disappointed! David really does make the most of every day - no opportunities are ever lost. Nine of the thirteen people in our group had been before on trips led by him - I think that says it all! ... The walks were absolutely stunning and quite challenging and yet we all (despite our varying physical abilities!) had a wonderful week with a real sense of achievement and satisfaction at the end - all thanks to David's skill as a leader. This skill, combined with his amazing botanical knowledge and his genuine desire to share it with his group makes his trips so enjoyable and special. Add to this David's fabulous picnics (such variety!), excellent meals at the hotel, and long evenings (often until 10.30pm) discussing the day's highlights - it just couldn't have been better.

J.N. Norfolk

David Tattersfield was excellent as always. He used his experience well to make good judgements about the itinerary in a late season related to the weather forecast.

S.L. Devon

Excellent tour leaders/experts. Friendly atmosphere at all times, with fellow travellers and tour leaders. As slower travellers, we were never made to feel an inconvenience. Lovely, comfortable, friendly hotel/staff and owners.

A.M.E. Avon

Thank you for another excellent holiday. The combined knowledge of the two leaders was really good. This is the second trip we have done with David Tattersfield, and although birds are our main passion, David has taught us so much about botany with his wonderful enthusiasm and patience that he has helped us to develop an interest in the subject.

Mr & Mrs A. London
2019
Departures
Availability
Cost
Fri 7th Jun - Fri 14th Jun
3
£1,495
Flights:
Most Naturetrek tours include flight costs ex-UK. If flights are not included, we indicate that here.
Flights are included in the tour cost
Land only cost:

The "Land Only" cost is the tour price you will pay if you choose to arrange your own flights/transport.
£1,375
Single Room Supplement:
£180
Wed 2nd Oct - Wed 9th Oct
SPACES
£1,495
Flights:
Most Naturetrek tours include flight costs ex-UK. If flights are not included, we indicate that here.
Flights are included in the tour cost
Land only cost:

The "Land Only" cost is the tour price you will pay if you choose to arrange your own flights/transport.
£1,375
Single Room Supplement:
£180