Read about highlights from recent tours to the Maldives, the USA, Ethiopia, India, Cambodia, Morocco, Sweden, the Canary Islands and Spain  …
'During our week-long cruise in the Maldives, we had great views of Common Bottlenose Dolphins, a good encounter with Pan-tropical Spotted Dolphins and some Spinner Dolphins, plus time with a relaxed group of Spinners on our penultimate day', writes tour leader Cathy Harlow. 'The most exciting encounter was with a very boisterous group of 40 False Killer Whales, bowriding alongside our boat for 90 minutes, plus time spent with two different Bryde's Whales. There were some marvellous reef snorkels, including fantastic views of around 30 Whiptail Stingrays moving along the sea floor at speed, several Hawksbill Turtles and a lone Reef Manta. The biggest "wow" moment, however, came when we were standing at the back of the boat after dinner one night, when first one, then several majestic Whale Sharks magically appeared from the deep. Mouths agape, they sucked in gargantuan gulps of plankton, which had been drawn to the boat by our spotlight. For some of us, the temptation to get into the water with them was irresistible and grabbing mask and snorkel, still in our clothes, we eased into the sea to enjoy the feeding frenzy underwater. We could hardly believe our luck when several nights later, we were treated to a visit from two Reef Mantas, also intent on a plankton banquet.'   
Our next 'Mantas, Dolphins & Coral Reefs – A Maldives Cruise' holiday departs on 10th November 2020, prices start at £4,795. For more information please click on the link above, or email This email address is being protected from spambots. You need JavaScript enabled to view it..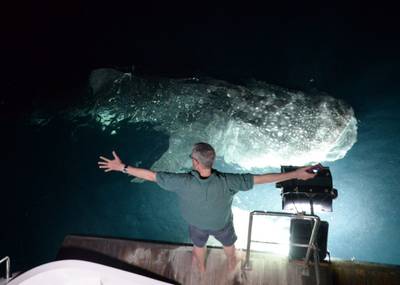 Whale Shark (Cathy Harlow)
In the USA ...
'Our recent Florida tour combined some of the best birding in North America with warm weather, a variety of landscapes and habitats, and a wonderful supporting cast of other wildlife', writes tour leader Matthew Capper.
'Starting in Orlando, we made our way steadily around the state, seeing nearly 160 species of bird along the way. There were numerous highlights, from Snail Kites and Limpkins, to Scissor-tailed Flycatcher and Short-tailed Hawk and on to Shiny Cowbird, Burrowing Owl and the impossibly-coloured Painted Bunting.
The "other wildlife" included numerous Manatees, Bottlenose Dolphins, Iguanas, both Alligator and American Crocodiles and everyone's favourite – a Nine-banded Armadillo that fed round our feet, oblivious to our presence.
One of the great things about Florida is just how accessible the wildlife is. We were able to watch Barred Owl roosting next to a boardwalk and herons and egrets fishing around our feet. In fact, the American Bittern was so close we nearly missed it!
Every day brought a new and memorable experience, including searching for shells on the white sandy beaches and watching the sun set into the Gulf of Mexico.
We ended the tour in the south, firstly exploring the world-famous Everglades and then seeking out some of the many exotic species such as Red-whiskered Bulbul and Mitred Parakeet that can be seen in the Miami area – a fine way to end our stay in the "Sunshine State".'
Our next 'Florida' holiday departs on 9th February 2021, prices start at £2,395. For more information please click on the link above, or email This email address is being protected from spambots. You need JavaScript enabled to view it..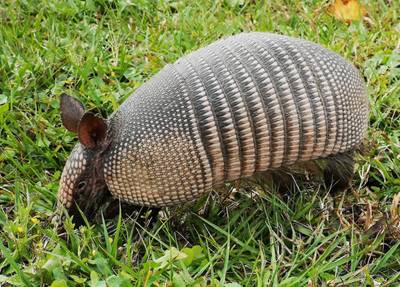 Nine-banded Armadillo (Toby Collett)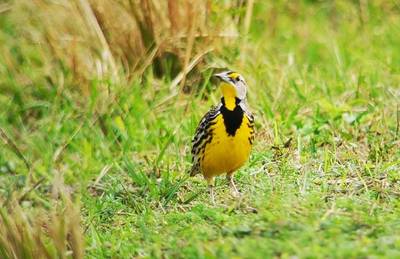 Eastern Meadowlark (Toby Collett)
'We discovered the best of Ethiopia; it is a truly amazing country which gave us memories of intimate views of the varied and incredible nature found in its mountains, forests, wetlands and plains', writes tour leader Simon Tonkin. 'In the Simien Mountains we sat alongside Geladas and listened to their conversations, whilst watching their mutual grooming, as Lammergeiers flew overhead and Moorland Chats become our new friends. In the Bale Mountains we found the rarest canid, the stunning and sleekly beautiful Ethiopian Wolf, while Wattled Cranes wandered past and endemic Blue-winged Geese occupied the mountain pools. Ethiopian endemic and near endemic birds were seemingly everywhere! Spot-breasted Lapwings, Ethiopian Orioles, Abyssinian Catbirds, Yellow-fronted Parrot, Black-winged Lovebirds and Abyssinian Longclaw to name but a few. Ethiopia is a place of beautiful and unique contrasts, habitats, nature, food and culture, and we enjoyed all of this during our "Best of Ethiopia" tour.'
Our next 'Best of Ethiopia' holiday with availability departs on 5th February 2021, prices start at £5,395. For more information please click on the link above, or email This email address is being protected from spambots. You need JavaScript enabled to view it..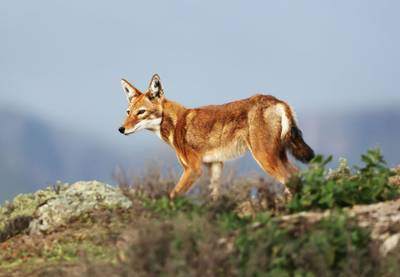 Ethiopian Wolf
'As well as some amazing Tiger encounters on this "India – Tiger Direct!" holiday, including six on one safari, we enjoyed much more than just Tigers', writes tour leader Indrajit Latey.
'One particular evening safari provided one of the most memorable highlights of the tour. Daylight hours had been dull and grey and we set out to a more remote area of the park, hoping that here we would find something special – we were not to be disappointed! Suddenly, we saw two black objects about 40 metres ahead on the side of the road. Our guide instinctively said, "Sloth Bear!". Our car skidded to an instant halt, at first alarming the bears but they very soon ignored us and continued with what they were doing. A mother and her cub were furiously digging up a termite mound. There was so much power in those shoulder muscles that they were throwing all the soil around, with the termites having no chance at all. They were also making loud noises with their nostrils and sucking up any termites which were on the internal walls of the mound. After totally demolishing it, they moved further into the forest in search of more food.  
It is not uncommon to see Sloth Bears out in the open especially if the weather is cloudy and grey. It had rained in the morning which had made the soil a little bit looser. The bear's 4-inch claws, which are used to dig up the termite mounds, work overtime on such occasions. Termites form a major part of the Sloth Bear's diet. They have long lower lips which can be stretched over the outer edge of their noses, and lack upper incisors, thus allowing them to suck up large numbers of termites. The tour provided some wonderful wildlife encounters but this unusual one with the Sloth Bears was a quite exceptional experience.'
Our next 'India – Tiger Direct' holiday departs on 25th October 2020, prices start at £2,595. For more information please click on the link above, or email This email address is being protected from spambots. You need JavaScript enabled to view it..
'We saw a great diversity of wildlife including 200 plus species of birds, 22 species of mammals, and nine species of reptiles and amphibians', writes tour leader Rachit Singh.
'We began our tour at Sultanpur Bird Sanctuary, where we had a great introduction to Indian birdlife with such species as Ferruginous Duck, Knob-billed Duck, Painted Stork, Lesser Flamingo, White-tailed Lapwing, Ruff, Spotted Owlet and many more, together with a few mammals including Nilgai and Rhesus Macaque. The following day we commenced our journey to Chambal, stopping in Agra en route to take in the splendours of the Taj Mahal, Agra Fort and the "Baby Taj". During our journey we saw Black-winged Kite, Indian Roller, Sarus Crane, Indian Robin, doves and quite a few resident birds. During our time in Chambal special sightings included Indian Skimmer, Sand Lark, Sand Martin, Baya Weaver, Black-breasted Weaver, Little Ringed Plover, Kentish Plover, Little and Temminck's Stints and Black-bellied River Tern, plus Marsh Crocodile and Gharial.
Our next destination was Bharatpur where amongst many highlights were such species as Sarus Crane, Black-necked Stork, Great White Pelican, Common Shelduck, Water Rail, Bluethroat, Dusky Eagle Owl, Indian Scops Owl, Eastern Imperial Eagle, Steppe Eagle, Booted Eagle and Greater Spotted Eagle. Finally, we moved to Ranthambore where our safari drives produced sightings of five individual Tigers, one Leopard and two Sloth Bears! Other highlights included Marsh Crocodile, Great Stone Curlew, Brown Fish Owl and Indian Hare. Altogether, we all had great fun and enjoyed terrific birding and many special mammal encounters.'
Our next 'India – Ranthambore, Bharatpur & Chambal' holiday departs on 15th November 2020, prices start at £2,995. For more information please click on the link above, or email This email address is being protected from spambots. You need JavaScript enabled to view it..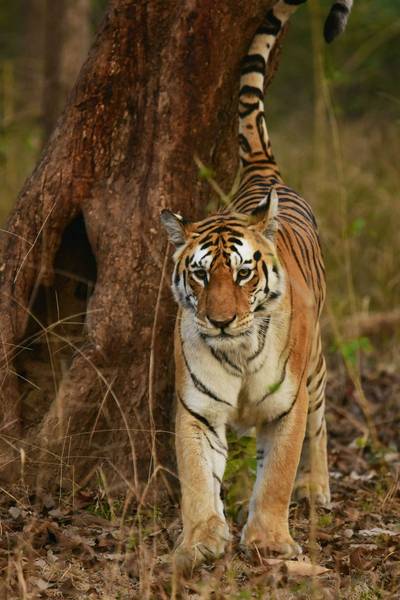 'Collarwali', Pench's famous Tigress (Dhanya Venkatesh)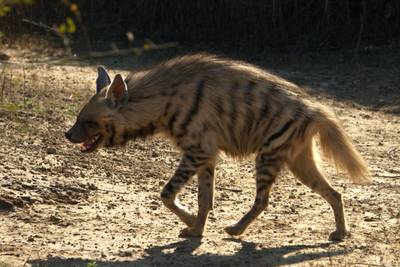 Striped Hyena (Rachit Singh)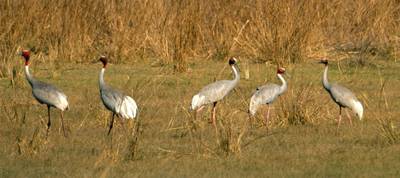 Sarus Cranes (Rachit Singh)
'Our second departure exploring Cambodia and its natural and cultural history concluded in mid-February, with the vibrant group of 12 guests enjoying unbroken warm and sunny weather and a sense of experiencing the real Cambodia, both past and present', writes tour leader Neil McMahon. 'The tour began with expeditions around the world-famous temple complexes at Angkor Wat. Birds and mammals were seen nearby, including a memorable troop of Pileated Gibbons. Excursions on the vast Tonle Sap Lake, with its associated floating villages and extraordinary numbers of waterbirds, were a highlight for many, and we were fortunate to see the rare Milky Stork, Greater Adjutant and impressive Grey-headed Fish-Eagle, amongst the array of egrets, herons, storks and pelicans.
On another day we went in search of Sarus Cranes and eventually saw a flock of these stately birds, albeit at long range, shimmering in the heat haze. Close views of Greater Spotted Eagle, Long-toed Stint and Oriental Pratincole made up for this, however, and our efforts at looking for daytime roosting owls provided three species, including the beautiful Spotted Wood Owl.
Excursions further afield were successful at finding the Bengal Florican, Pied Harrier and the fabulous White-shouldered and Giant Ibis (the latter is the national bird of Cambodia). We also enjoyed the antics of nocturnal flying squirrels, the cheeky daytime forays of Cambodian Striped Squirrel and a Tree Shrew pinching some rice put out for the birds!
Birds of glamour included the stunning Red-billed Blue Magpie, noisy parakeets, the iridescent flashes of colour on the diminutive but feisty sunbirds and the vibrancy of the big woodpeckers – the very handsome Black-headed and White-bellied and the manic Great Slaty! 
In the east of the country we crossed the mighty Mekong and then went looking for Irrawaddy Dolphins and Mekong Wagtail, succeeding in both, before moving on to explore the forest and highlands bordering Vietnam. Here we tracked down Southern Yellow-cheeked Gibbon, a highlight for many on the tour, and located a couple of troops of Black-shanked Douc Langur. The Seima Wildlife Reserve provided us with views of Great Hornbill, a very brief Germaine's Peacock Pheasant, four species of barbet including Indochinese and Red-vented, and a gorgeous Collared Falconet. A stationary Black Giant Squirrel provided a rare opportunity to fully appreciate this large mammal of the treetops. The Dakdam Highlands yielded a stunning Long-tailed Broadbill, a variety of interesting pigeons and doves and the beautiful Maroon Oriole, amongst many others.
Our final day was all about travelling but we made the special effort to look for the endemic Cambodian Tailorbird on our way to Phnom Penh and we enjoyed great views.'
Our next 'The Best of Cambodia – Birds, Mammals & Temples' holiday departs on 12th January 2021, prices start at £4,695. For more information please click on the link above, or email This email address is being protected from spambots. You need JavaScript enabled to view it..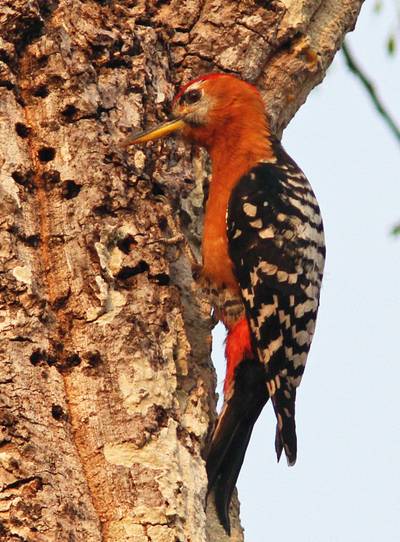 Rufous-bellied Woodpecker (Neil McMahon)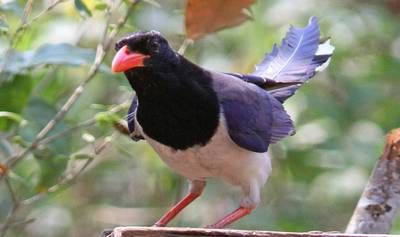 Red-billed Blue Magpie (Neil McMahon)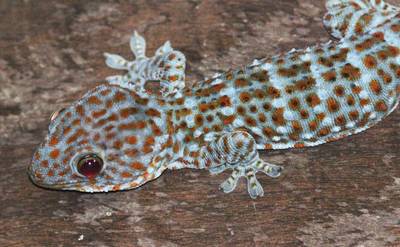 Tokay Gecko (Neil McMahon)
'Naturetrek's trip to southern Morocco was a successful introduction to this wonderfully varied part of North Africa, from the altitude of the High Atlas down to the sunbaked dunes on the edge of the Sahara', writes tour leader Martin Pitt. 'We were entranced by the biodiversity we found, building a long list of endemic and near endemic species. The weather was calm, sunny and warm. However, the winter in Morocco had been very dry so we saw many signs of the ongoing drought, with minimal snow in the High Atlas and rivers and lakes drying up. Migration was non-existent until the very last day, no doubt due to the enormous Saharan sand storm that was engulfing the Canary Islands to the south of us. We managed to see the majority of the key species including great views of Bald Ibis, Black-crowned Tchagra, Egyptian Nightjar, Pharaoh Eagle Owl, Hoopoe, Maghreb and Temminck's Larks, Maghreb Mourning and Red-rumped Wheatears, together with a few special species of butterflies, Odonata and plants. Also seeing an endangered Barbary Sheep and her young was a special treat for us.'
Our next 'Birding Southern Morocco' holiday departs on 17th September 2020, prices start at £1,695. For more information please click on the link above, or email This email address is being protected from spambots. You need JavaScript enabled to view it..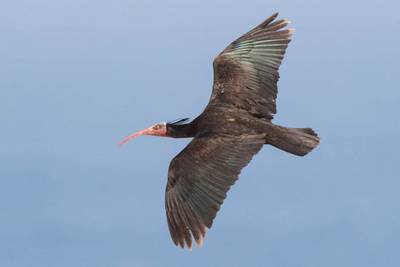 Northern Bald Ibis (Chris Griffin)
'Guests on our recent "Sweden in Winter" tour in mid-February enjoyed unusually tame birds, offering excellent photo opportunities', writes tour leader Daniel Green. 'On arrival, a visit to a Stockholm suburb kick-started the tour with a party of at least 10 Pine Grosbeaks, feeding on the ground and in bushes in nice winter sun. At least two of the birds were deep red, smart males. The transfer to the Black River Valley took us via a site for Northern Hawk Owl, perched on top of a dry, old pine tree. We took our time watching and photographing this beautiful bird which was busily preening and stretching wings in the light of the setting sun. As dusk started to fall, a Great Grey Owl materialized and we had to crank up the ISO to get pictures of this charismatic creature. It flew towards us and came within 20 metres on one occasion. At the end of the evening possibly two birds were hunting over the glade, and when we left, one was perched in the top of a spruce, showing in silhouette against the evening sky. What a start – and finale – on day one!
During the next two days we encountered no less than five (!) Ural Owls during the daytime, one more Great Grey Owl and a Pygmy Owl. At bird feeding stations we got close to Siberian Jays, Nutcrackers, Crested and Willow Tits, Hawfinches, Bramblings and Redpolls, amongst others. Field views of Black Woodpeckers, Great Grey Shrike, Rough-legged Buzzard, Dippers and more added to the experience. All in all, it seems Sweden is heading for a good owl season. The spring trips will be a good opportunity to see Great Grey Owl, Ural Owl, Pygmy Owl and hopefully even the highly specialized and difficult Tengmalm´s Owl.'
Our next 'Sweden in Winter' holiday departs on 11th February 2021, prices start at £1,595. For more information please click on the link above, or email This email address is being protected from spambots. You need JavaScript enabled to view it..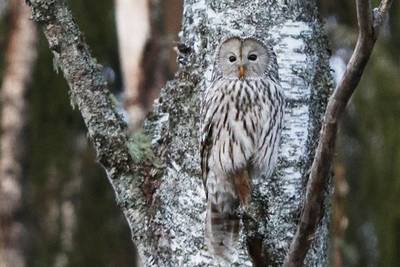 Ural Owl (Daniel Green)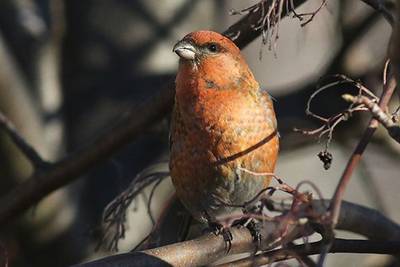 Pine Grosbeak (Daniel Green)
'Gran Canaria may be well-known as a popular destination for sun-seekers, but it offers so much more, with a wealth of magnificent scenery, fascinating geology and many endemic species and subspecies of flowers, birds and insects', writes tour leader Jessica Turner. 'On this first ever Naturetrek tour to Gran Canaria – a 'Go Slow' holiday – we were able to enjoy some of the best of the island's rugged volcanic scenery, appreciating the contrasts between the different habitats such as the bird- and flower-rich Laurel forest and the dramatic ravines, and the bare rain-starved slopes of the south. The sunset from the top of the island, the wonderful boat trip, with our close encounters with Bryde's Whales, Bottlenose Dolphins and Loggerhead Turtles, the Gran Canaria Blue Chaffinch and the vagrant Abyssinian Roller, the echoes of past cultures in the caves of Guayadeque, and the beauty of the Botanic Garden with its Giant Lizards, were just some of the many highlights. There was also time to relax and enjoy the pools in our delightful hotel overlooking the sea. Good weather with plenty of sunshine, comfortable accommodation, delicious food and great company all made for an excellent week!'
Our next 'Go Slow … in Gran Canaria' holiday departs on 18th September 2020, prices start at £1,695. For more information please click on the link above, or email This email address is being protected from spambots. You need JavaScript enabled to view it..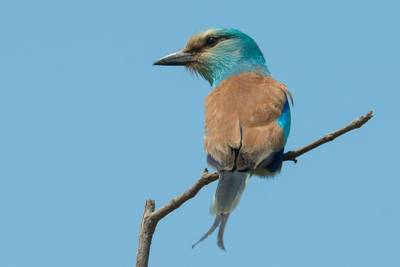 Abyssinian Roller
'For our band of patient nature-lovers, this 6-day exploration of the realm of the Iberian Lynx gave us something amazing every day', writes tour leader Niki Williamson. 'Six different individuals of the endangered Spanish Imperial Eagle, rare Marbled Ducks, Hawfinches, Spanish Ibex cantering across a rock-face, herds of Red Deer swimming a lake, duetting Little Owls, clouds of Cinereous and Griffon Vultures, Golden Eagles and shades of blue in the form of Bluethroat, Blue Rock Thrush, Iberian Magpie and Common Kingfisher were just some of our trip´s natural highlights.
Our hosts´ hospitality was fantastic at both bases, and the group enjoyed sampling delicious local food such as chickpea and spinach stew, salmorejo soup and egg revuelto dishes, not to mention mouth-watering picnics in the sun, sometimes accompanied by dazzling flocks of Iberian Magpies, always accompanied by wine!
Our fleeting glimpse of a female Iberian Lynx in Doñana Natural Park was to provide a suitable appetite-whetter for our superb encounter in Sierra de Morena, where a stunning female stalked across the track in front of us before taking up a pose on a nearby rock, allowing us to watch for over an hour!'
Our next 'Realm of the Iberian Lynx' holiday with availability departs on 26th October 2020, prices start at £1,195. For more information please click on the link above, or email This email address is being protected from spambots. You need JavaScript enabled to view it..
'Not only did this trip deliver Wallcreepers and Cranes in spectacular fashion, but also outstanding wildlife highlights every day – all of them bathed in winter sunshine', writes tour leader Niki Williamson.
'Wallcreepers treated us to prolonged views, on the sheer cliffs of the dramatic Vero Gorge and in the picturesque medieval streets of Alquézar itself! The group got up close and personal with hundreds of Griffon Vultures and had heart-stopping views of a Lammergeier wolfing down a bone. Amongst fabulous Pyrenean scenery, we enjoyed such highlights as Red-billed Chough, Egyptian Vulture, Blue Rock Thrush, Hawfinch, Crag Martin and an Alpine Accentor hopping around our feet! Butterflies such as Green Hairstreak and Cleopatra flitted amongst interesting specialist and endemic plants. The stunning crags and gorges provided a perfect backdrop to the delicious hearty grub and characterful decor of our Pyrenean base.
We enjoyed a warm welcome and sophisticated cuisine at Allucant, our accommodation set in the wide-open spaces of Laguna de Gallocanta. We had already seen many hundreds of Common Cranes migrating over the Pyrenees, but we arrived to find plenty left! As the sun rose over the lagoon, we watched 16,000 flying off into the dawn, calling to one another – a beautiful and uplifting experience. As well as the ubiquitous elegance of the Cranes, our days in the Gallocanta area were filled with Great Bustards, Black-bellied and Pin-tailed Sandgrouse, Dupont's Lark singing in the dark, a spectacular roost of Hen Harriers and Short-eared Owls and fields alive with thousands of Corn Buntings, Linnets, and five species of lark. Join us in October or in February next year!'
Our next 'Wallcreepers & Cranes in Northern Spain' holiday with availability departs on 22nd October 2020, prices start at £1,395. For more information please click on the link above, or email This email address is being protected from spambots. You need JavaScript enabled to view it..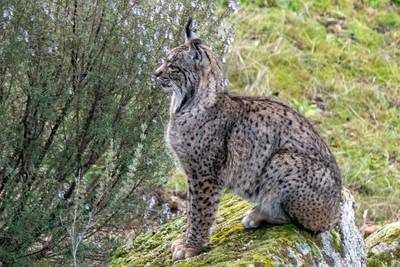 Iberian Lynx (Niki Williamson)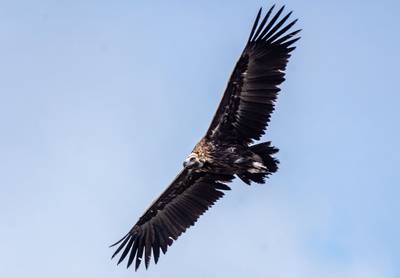 Cinereous Vulture (Niki Williamson)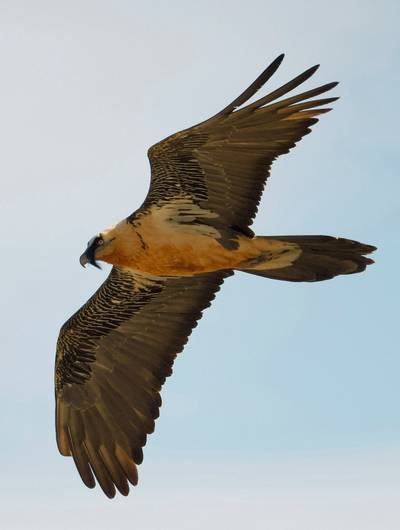 Lammergeier (Chris Piper)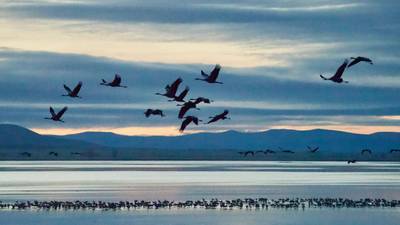 Common Cranes (Chris Piper)