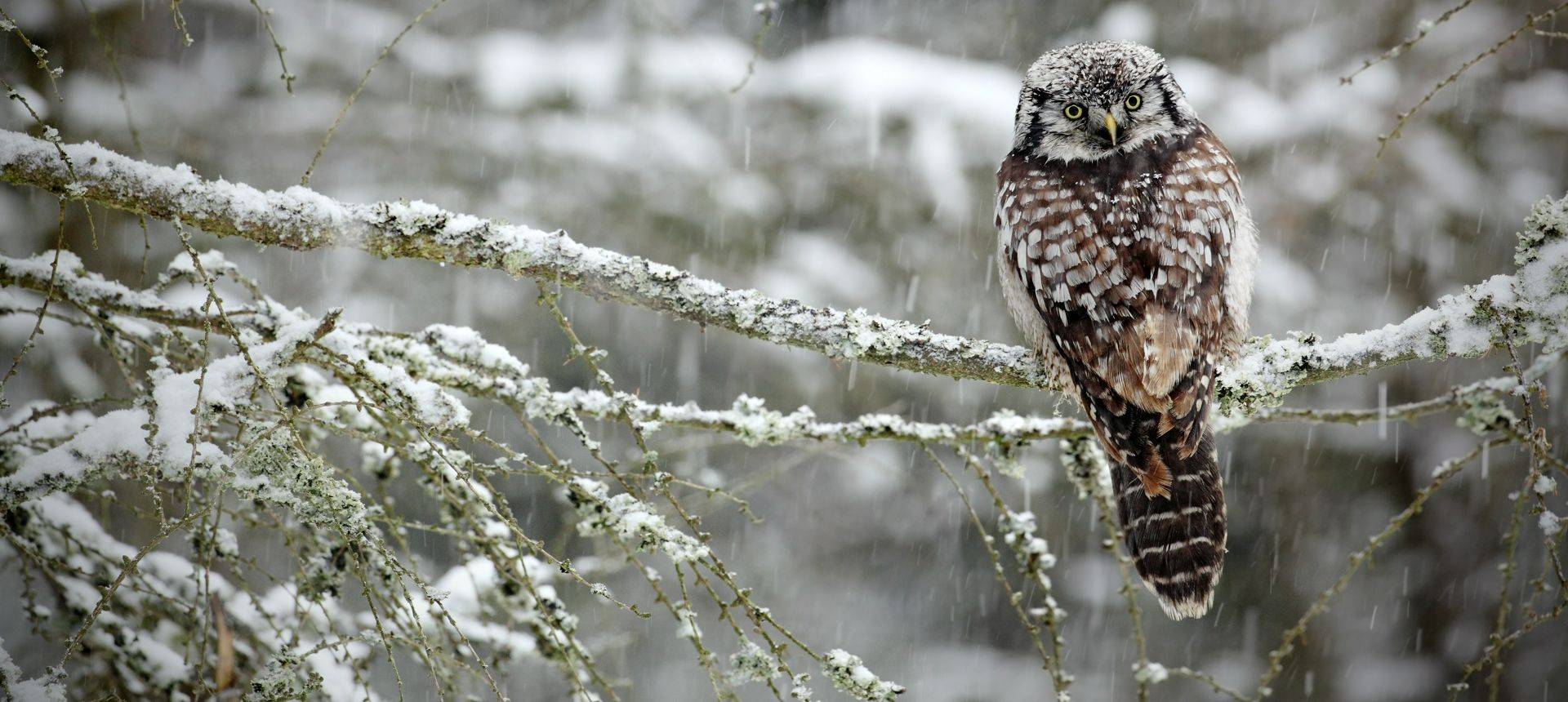 Sweden in Winter
Tour Code: SWE03
A 4-day short break to experience the peace, tranquillity, and snow-laden beauty of rural Sweden in winter, as we focus on enjoying and photgraphing its obliging winter bird specialities.
Winter bird watching in northern Scandinavia is very special. Though there are a limited number of species present, such beautiful species as Waxwing and Bullfinch look even more exquisite in the magical winter light of the far north and against a backdrop of snow, and keen photographers will be in their element. We'll be based in the lowlands of Svartadalen in central Sweden and make daily excursions to look for finches, tits, Nutcracker and woodpeckers (including Grey-headed) in the forest and at bird feeding stations. We should be able to get very close to some of our target species on this trip; this, combined with a stunning quality of light, hearty local food, log fires and hospitable hosts, make this a very memorable holiday.
Hawk Owl & Pygmy Owl often resident in winter where we are based
Goshawk & Rough-legged Buzzard, plus Golden & White-tailed Eagles
Waxwing, Hawfinch, Crossbill, Pine Grosbeak & Dipper
Visit a feeding station for Siberian Jay at Ockelbo
Hazelhen, Black Grouse & Capercaillie possible
Chance of Elk, Roe Deer, Red Deer & Red Fox, plus Brown & Mountain Hares
Superb opportunities for photography
Enjoy picture postcard pretty, snow-laden landscapes
Led by expert naturalist & photographer guide
Can I help you?

Outline Itinerary
Day 1
Fly Stockholm; transfer Svartådalen
Day 2/3
Winter birding around Svartådalen
Day 4
Drive Stockholm; fly London
This holiday was all about winter photography of forest birds in Sweden. The opportunities for seeing and photographing these specialist and often difficult to view birds was excellent and anyone that wishes to see and photograph these rare denizens of the forest will not be disappointed... Excellent accommodation with good food. Excellent tour leader. What more could one ask for. Superb trip all round with no complaints.

L.C. Devon
Food & Accommodation
All food is included in the price.
We stay in a comfortable guesthouse where all rooms have private facilities.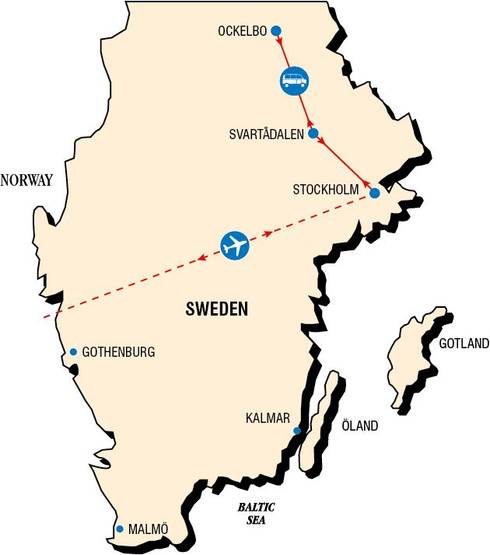 Tour leaders
Daniel Green

Daniel has been a keen birdwatcher since his early childhood. With the Svartadalen, or Black River Valley as it is known in English, as his local turf, Daniel is able to pursue his lifelong fascination with the cranes which gather there every Autumn in huge flocks before flying south for the winter. As well as birds, Daniel is also interested in butterflies, moths and dragonflies. He is driven by the joy of sharing experiences in nature with other people and he has been one of the pioneers of Swedish birding tourism since 2002; he's also been in charge of most British birding trips to central Sweden since then. Along with his interest in wildlife, Daniel also enjoys cooking and writing. His CV includes 12 years as a gourmet chef, a career as a newspaper journalist/photographer and, lately, serving as editor for the second biggest Bird Magazine in Sweden, Fagelvannen.
This is a holiday that offers quality rather than quantity. A quality of light (during daylight hours!) and some quality birds and photographic opportunities. Indeed, winter birdwatching in northern Scandinavia is very special. A time when, although a limited number of species is present, such beautiful birds as Waxwings, Crossbills and Bullfinches tend to look even more exquisite in the magical winter light, and when almost every medium-sized bird adorning a treetop is likely to be something special — a forest grouse, a Nutcracker, a Goshawk or even a Hawk Owl.
We will be based in the snow-laden lowlands of Svartådalen in central Sweden. Svartådalen (the Black River Valley) offers a pleasing patchwork of deciduous and coniferous forests, farmland, and lakes and wetlands, frozen and snow-covered in winter. We explore this quiet and generally under-exploited landscape via small, winding roads, looking out for such winter visitors as Great Grey Shrikes and Roughlegged Buzzards. Resident Goshawks, and both Golden and White-tailed Eagles also frequent the area, whilst both Hawk Owls and Pygmy Owls are regularly seen throughout the winter as they sit in the treetops waiting for their favourite prey — voles — to show on the ground beneath them. Hawk Owls, in particular, once they have found a reliable source of food, will often stay in the same area for months during the winter, before moving north to their breeding grounds in March.
On cold, clear days, the air is dry and icy and the light simply stunning as it turns to picture postcards the pretty, bright, redpainted wooden farmhouses and the glistening white, snow-covered surroundings. On our excursions we will not lack for plentiful snacks and hot drinks, preferably enjoyed beside an open-air fire; however, the bitter cold burns energy, and after a full day's birding it is wonderful to retreat into a warm cottage and to sit in front of a welcoming log fire for a cup of afternoon tea and consideration of the day's sightings. Indeed, both of the comfortable countryside hotels we use during this short break offer hearty local food and a good atmosphere.
Each day, during our winter birding outings, we will not just scan from the roadsides in our vehicle, but will take walks into the forest and spend time at bird feeding stations, positioned in a variety of habitats, each attracting a different range of species. At one such feeding station at a garden feeder in the southern part of Svartådalen we should see Hawfinches and magnificent Bullfinches amongst a host of other finches, tits and thrushes. Further north, in a forest clearing, Nutcrackers and Greyheaded Woodpeckers are the main attractions, together with a variety of forest tits and other passerines. Many of these birds have become very tame over the years, and Crested, Willow and Coal Tits will sometimes feed from your hand or sit on your camera lens whilst curious Nutcrackers gather hazelnuts just metres away.
On one day we will drive north for a couple of hours to a feeding station at Ockelbo. Here, surrounded by the extensive taiga forests which wrap around the planet at this high latitude, we will look for curious Siberian Jays which regularly visit the feeding station in February. Greyheaded Woodpecker, Crested Tit and Willow Tit are also likely, whilst en route we will stop at the River Dalälven where Dippers (of the Black-bellied race) are found and where Pygmy Owls can sometimes be seen by the roadside. We should also be vigilant throughout the tour for flocks of softly trilling Waxwings, which are often seen feasting on berries in Swedish gardens during the cold winter months.
On our final morning we will walk in the forest in search of Hazelhen, Black Grouse and perhaps, even, Capercaillie. We will also look out for Goshawks, and both Golden and White-tailed Eagles, whilst occasionally Three-toed or Black Woodpeckers are encountered here. Mammals, too, will not be overlooked during this holiday, for we have a good chance of encountering such common species as Elk, Roe Deer, Red Deer, Red Fox, both Brown and Mountain Hare, Red Squirrel, Stoat, Weasel and Mink, and a slim chance of one of the more elusive residents — a Lynx, Wolf, Beaver, Otter or Wild Boar! We will also have fun deciphering their tracks.
Please contact us on 01962 733051 for details on what extensions either pre or post tour are available for this Tour.
This holiday was all about winter photography of forest birds in Sweden. The opportunities for seeing and photographing these specialist and often difficult to view birds was excellent and anyone that wishes to see and photograph these rare denizens of the forest will not be disappointed... Excellent accommodation with good food. Excellent tour leader. What more could one ask for. Superb trip all round with no complaints.

L.C. Devon

Our tour leader was excellent. He worked very hard and his local knowledge was superb. I was really impressed with the food. Thank you. I will definitely return to Sweden - it was a brilliant holiday!

D.B. Dorset

The holiday was very well planned. Daniel Green was an excellent leader and worked exceedingly hard and efficiently to allow us to see the birds, enjoy the beauty of the area as well as cooking the most delicious lunch/picnics in beautiful places. He is an extremely able leader, and so was Michael who showed us a Three-toed Woodpecker.

R.R. Dorset

Daniel was a fund of information and very accessible, his cooking at the barbeques was excellent also. There were so many advantages of having Daniel as a local expert.

E. & E.L. Leicestershire

Daniel is a fantastic leader, he really knows the area and birds. The logistics, meals etc were very well organised.

J.M. Wiltshire

Delicious Moose stir fry on (a) log fire in (the) woods! Fresh Lynx footprints in snow a particular highlight. Most enjoyable stay, thank you.

M.P. Berkshire

I had a wonderful time despite several excursions into very deep snow and having to be pulled up by other members of the group. This was the third time I have been on a Naturetrek holiday and each time I come away totally gobsmacked by the knowledge and ability of the tour leaders, the quality of the accommodation and meals as well as the camaraderie between the group members.

R.P. West Sussex

An excellent trip. Daniel was a great leader. Although this was a short trip, we packed a lot in from dawn to dusk. Saw some great birds.

W.G. West Midlands

The trip was well organised, with plenty of variety and fun!

Anon. Surrey

It is Daniel's local knowledge and expertise as a leader which lifts this trip above the ordinary. He (and his colleagues) maintain their specially chosen, fairly remote feeding areas diligently, and this is what provides unique opportunities for close up encounters with some very rare and charismatic birds, like Nutcracker and Siberian Jay. I loved having the chance to photograph birds like Crested Tit, Willow Tit, Nuthatch, etc., and it was great to 'stalk' fantastic birds like Pygmy Owl, Three-toed Woodpecker and White-backed Woodpecker. We also had several 'surprise bonuses' like finding a sitting Elk, catching glimpses of Black Grouse and Capercaillie, and, best of all, watching a mother Otter and her pup repeatedly diving into the icy waters of a fast-flowing river – wow!!

R.B. Surrey

A big thank you to Daniel who was lovely, a good cook as well as being an excellent guide and source of information! And he really looked after me… Thank you again for making it possible for me to return to Sweden, my favourite country. The nature is so wonderful there and its not too far to travel.

C.H. Norfolk
2020
Departures
Availability
Cost
Wed 12th Feb - Sat 15th Feb
SPACES
£1,595
Flights:
Most Naturetrek tours include flight costs ex-UK. If flights are not included, we indicate that here.
Flights are included in the tour cost
Regional Departures:

On certain tours it is possible to depart from a regional airport (rather than London). If a regional departure is possible, we indicate that here.
Regional Departures are available. Call 01962733051
Land only cost:

The "Land Only" cost is the tour price you will pay if you choose to arrange your own flights/transport.
£1,425
Single Room Supplement:
£120