10 of the World's Best Wildlife Cruises for 2020

By Dominic Couzens
17th March 2020
Dominic is one of Britain's best known and most prolific natural history writers.
Imagine a Cruise for Naturalists Only!
Sometimes, the only way to find the best wildlife is to leave land behind and take to the water. It is a way to explore a different environment, reaching into quiet corners of well-known places, revelling in a feeling of adventure and exclusivity. Cruise tours have a definite indulgent feel, too – you can make a vessel your temporary home, facing a daily commute of nothing more than the paces from cabin to deck.
On a Naturetrek wildlife cruise, we charter the whole vessel. We fill it with like-minded wildlife enthusiasts. Our special team of expert naturalists, ornithologists and expedition leaders then guarantee a wildlife itinerary and focus like no other. With this common group purpose, we deliver a dedicated birding and wildlife cruise that is special – a wealth of species and sightings unmatched by any other cruise operator!
You won't ...
Be carrying the only pair of binoculars on the ship
Be travelling amongst guests with no wildlife interest
Miss iconic wildlife and key species by travelling at the wrong season
Be dressing up for dinner, partying, or sitting in a heated pool on-board
Be spending too much time viewing wooden huts and whale bones
You will ...
Have the opportunity to spend all waking hours focusing on wildlife
Be supported and assisted in this aim by our passionate naturalist guides and leaders
Be accompanied only by like-minded passengers, sharing your interests
See more wildlife (especially birds & cetaceans) than any other cruise to the same area
Be travelling at the optimum time of year for wildlife
The variety of cruises that we offer is mouth-watering, from gentle nudging along mighty rivers and lagoons, to hard-core ice-breaking sailing into Polar waters, from sun-drenched decks in the tropics to snow-blasted decks in heaving oceans! Here are ten of our favourites.
The ultimate of all wildlife cruises! Lasting 24 days and including a 19-night cruise on the 116-berth 'MV Ortelius', this unforgettable expedition to the 'Great White Continent' first visits the fabulous Falkland Islands, home to colonies of graceful Black-browed Albatrosses and comical Rockhopper Penguins. Moving on to the remote island of South Georgia, the scenery becomes craggier and the penguin rookeries (King, Macaroni, Gentoo and Chinstrap) become much, much larger. We then track south towards the Antarctic continent itself, marvelling at the stark scenery and watching an incredible variety of cetaceans, seals and seabirds, from the sinister reptilian-looking Leopard Seals to the ethereal beauty of Snow Petrels and huge Humpback Whales.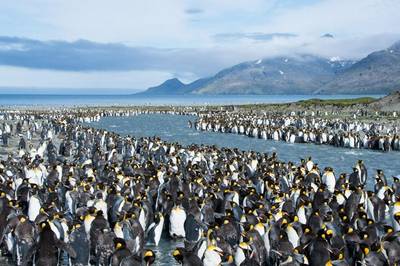 King Penguin Colony (Barbara Evans)
In order to see some animals, you need to take extreme measures. In the case of the Polar Bear, you must cruise into the 'High Arctic', to float on the patchwork of pack-ice and sea, where these great carnivores patrol in their never-ending search for seals. This 9-night cruise on board the 50-berth 'MV Quest' (part of an 11-day holiday) explores the coastline of Spitsbergen, the largest of the islands within the Svalbard Archipelago – a place of towering cliffs, flower-dotted tundra, steep-sided fjords and deep-blue glaciers. On this holiday we will venture deep into the pack-ice, less than 1,000 kilometres from the North Pole, looking for Polar Bears and watching Ringed, Harp and Bearded Seals, colonies of fleshy Walruses and the beautiful Ivory Gull. The cliffs are packed with Brünnich's Guillemots and Little Auks and the tundra is home to breeding waders such as Grey Phalarope and Purple Sandpiper …. all lit by 24-hour daylight!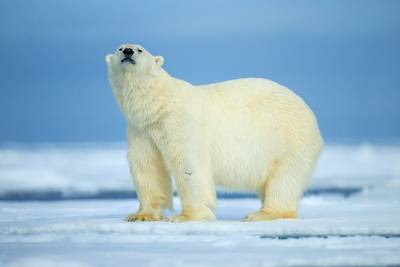 Polar Bear
Here be dragons, but the only fire-breathing has been from the volcanic peaks along this island chain of southern Indonesia. A 9-night cruise takes us from Bali to Komodo, passing through warm, glittering waters with scarce tropical cetaceans such as False Killer and Melon-headed Whales. We snorkel in the richest area for fish in the world, with 3,500 species of every shape, colour and pattern, including that swim-flying giant, the supremely elegant Manta Ray. On land we check out the islands for their distinctive fauna, crossing 'Wallace's Line', where the Oriental realm meets the Australasian. At our easternmost point we will meet the Komodo Dragon, the world's largest lizard, up to 3m long and hungry for flesh!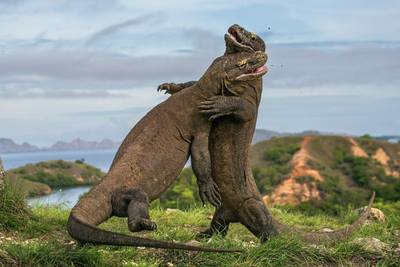 Komodo Dragons
This is the ultimate whale-watching cruise! Starting in San Diego, our 11-night journey on the 25-berth 'Searcher' (part of a 14-day holiday) tracks south down the Pacific coast of Baja California and into the Sea of Cortez, the latter teeming with whales and dolphins attracted by the deep canyons and ocean upwellings. Highlights should include eye-to-eye, encounters with the 'friendly' Grey Whales of San Ignacio Lagoon, time with the world largest animal, the Blue Whale, in the Sea of Cortez and huge super-pods of Common Dolphins. Add in Northern Elephant Seals, Whale Sharks, unusual seabirds, walks on cactus-dotted islands and some great snorkelling and it is easy to see why this is one of the very best wildlife cruises we offer!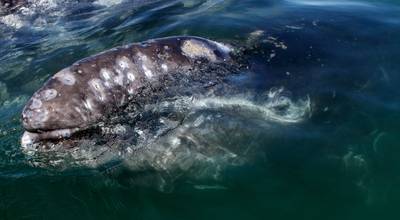 Grey Whale (Dave Brotton)
The 'Great Bear Rainforest' protects one of the largest remaining tracts of temperate rainforest left in the world. The best way to explore this spectacular and remote region of towering moss-draped forests and dramatic fjords is by water. Our tour – on board the 16-berth sailing ketch 'Island Roamer' – is timed to coincide with the annual migration of millions of Pacific salmon as they return to the streams of British Columbia to spawn, attracting Grizzly and Black Bears, Wolves, Bald Eagles and the fabled white Kermode Bear, the 'Spirit of the Rainforest'. Huge Humpback Whales and speedy Pacific White-sided Dolphins are among the other wildlife we will be keeping a close lookout for as we cruise the coastal waterways of the 'Inside Passage' and explore the region's remote fjords, estuaries and bays.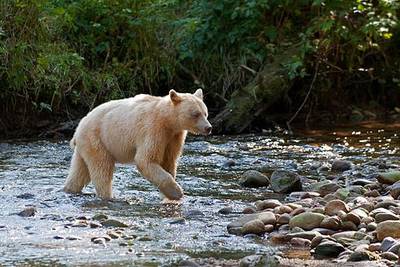 Spirit Bear (Paul Stanbury)
The Galápagos Islands straddle the equator some 960 kilometres off the coast of Ecuador and consist of volcanic peaks, strange lava fields, beautiful sandy bays and clear seas perfect for snorkelling. Their natural history is outstanding, and much of it is endemic. There are Giant Tortoises, prehistoric-looking Land and Marine Iguanas, and countless breeding seabirds; most appealing of all is the 'tame' and obliging nature of the islands' extraordinary wildlife. On our unique 2-week cruise we charter our own comfortable First Class motor boat (accommodating 16 passengers), with an outstanding guide and crew. If you only visit Galápagos once in your lifetime, this is the way to do it!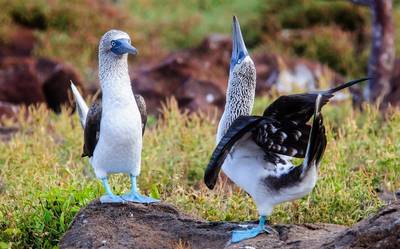 Blue-footed Boobies
If anywhere is truly remote in the UK it can only be St Kilda, a group of four islands in the North Atlantic 64km off the already far-flung Western Isles (Outer Hebrides.) Uninhabited and hard to reach, the islands teem with birds – 60,000 pairs of Gannets, 150,000 pairs of Puffins, plus Leach's Petrels, Fulmars and even a subspecies of Wren. The rich oceanic waters hereabouts are excellent for cetaceans, particularly Minke Whales and sometimes Orcas. This exciting cruise takes you from Oban on the west coast of Scotland out amongst the Inner and Outer Hebrides, and on to St Kilda, the most famous of Scotland's remote islands. We aim to chart a course that will also encompass Mull, Canna, the Monach Islands and Mingulay. Along the coastline of Mull we'll be looking out for Otter and White-tailed Eagle and on the Treshnish Islands we'll enjoy the large numbers of breeding Puffins, all the while being watched by curious Grey Seals. As we sail around Rum and Canna we'll keep a close eye on the water for cetaceans — this is a very good area for Minke Whale sightings, and we may be lucky enough to see Risso's or White-beaked Dolphin or even Orca at this time of year! One of the highlights of our cruise will, of course, be reaching the remote islands of the St Kilda group where we will enjoy the breathtaking spectacle of hundreds of thousands of seabirds before making our way back via the Monach Islands and Mingulay to Oban where our cruise ends.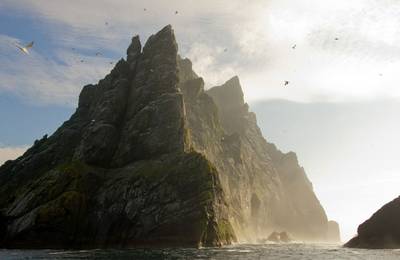 St Kilda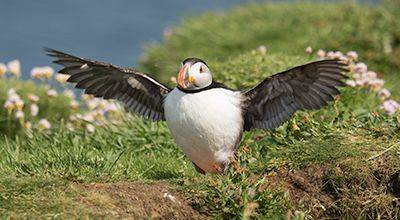 Puffin (Sara Frost)
Fancy immersing yourself, quite literally, into a world of palm-fringed, tiny islands, ripe coral reefs, tropical sun and colourful island culture – mixed in with some first-class wildlife watching? This is an exceptional 10-night charter cruise into the depths of the Solomon Islands, an archipelago east of Papua New Guinea. Its eclectic delights mean that one moment you could be sipping a cocktail, the next moment seeing a rare cetacean such as a Rough-toothed or Fraser's Dolphin, before snorkelling over a stunning coral reef, and finally wandering across an island looking at a brightly coloured Cardinal Lory or Blyth's Hornbill.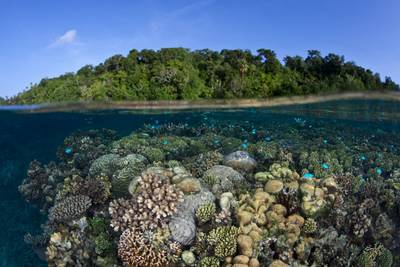 Marovo Lagoon
The very thought of the Amazon Basin is enough to make the adventurous juices flow, and this 7-night cruise takes us deep into its heart, far away from the human fleshpot of Manaus and into a haven of almost unparalleled biological richness. We cruise up the Rio Negro to the world's largest river archipelago, the Anavilhanas, and on to the remote Jaú National Park. Here, by foot and canoe, by day and by night, we explore. The almost endless wildlife possibilities include both Grey and Pink River Dolphins, Giant Otters, primates including Golden-backed Uakari, tarantulas and birds including macaws and Hoatzin.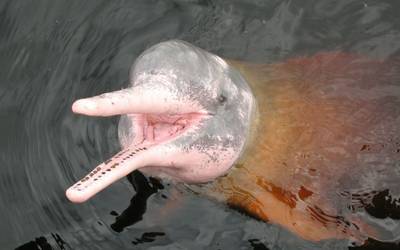 Pink River Dolphin
Not many people could find Raja Ampat on the map. This archipelago of jagged, precipitous islands covered with lush forest, lies to the north-west of the tip of the island of Papua New Guinea, in eastern Indonesia. The islands lie within warm, turquoise-coloured waters, with brilliant white beaches and thousands of hidden coves. The archipelago is home to 3,500 species of fish, many of them swarming around the rich coral reefs, over which we will snorkel at leisure. The deeper waters host cetaceans, such as Spinner Dolphins and rare whales such as Bryde's and Omura's, while the islands themselves host colourful birds such as the Red Bird-of-paradise – appropriate indeed in such a place.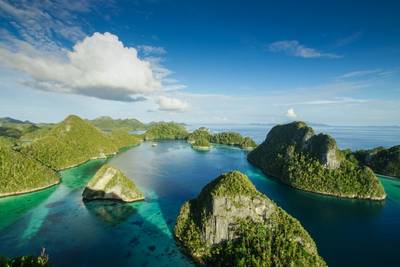 Raja Ampat