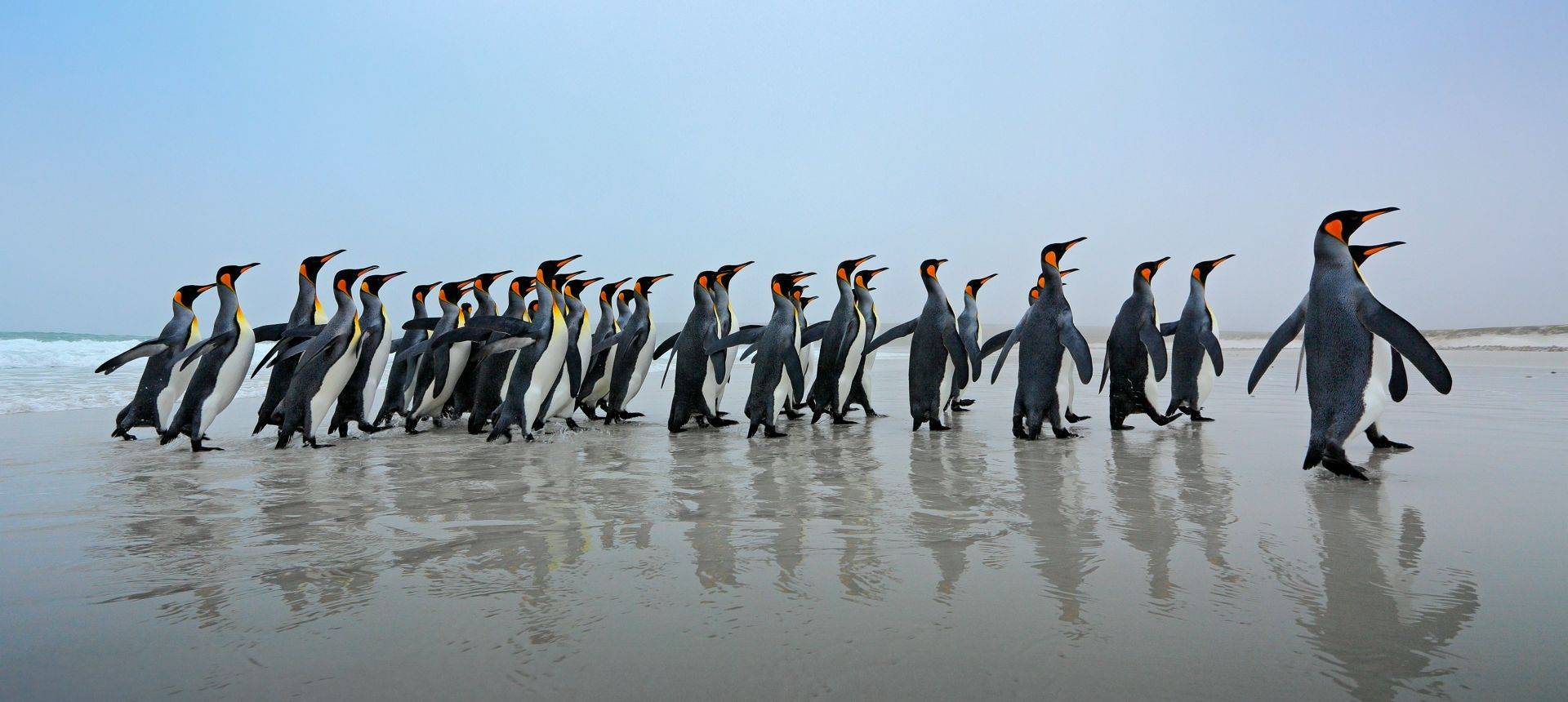 The Falklands, South Georgia & Antarctica
Tour Code:
A 23-day wildlife holiday including an 18-night voyage from Ushuaia in Patagonia to the Falklands, South Georgia and the Antarctic Peninsula.
In January 2019 Naturetrek will be chartering the 116-berth, ice-strengthened, MV Ortelius for the ultimate in wildlife cruises. This 23-day holiday includes an 18-night expedition voyage to the Falkland Islands, South Georgia and the Antarctic Peninsula. We begin with a flight to Ushuaia in Patagonia where we board our vessel and - with a variety of albatrosses and petrels in our wake - cross the Southern Ocean to the Falkland Islands, our first port of call. We have two days here to enjoy the colonies of Rockhopper Penguins and Black-browed Albatrosses before heading out to sea once more for South Georgia, home to millions of penguins and other seabirds. We spend four days here amidst spectacular scenery and huge seabird colonies and, weather permitting, hope to include a visit to Prion Island, the breeding site for the Wandering Albatross, and a landing at the vast King Penguin rookery at St Andrews Bay. Next we visit the South Orkney and South Shetland Islands watching out for ocean giants such as Humpback, Southern Right and Fin Whales en route. Finally, we have three days to enjoy the majesty and grandeur of the Antarctic Peninsula before heading back out to sea, across the Drake Passage and back to Ushuaia.
Join Naturetrek on our exclusive wildlife charter
Focus: birds, mammals & scenery of the Falklands, South Georgia & Antarctica Peninsula
Small ship cruising on the ice-strengthened MV Ortelius
Enough Zodiacs for everyone to leave the ship at the same time!
Visit Rockhopper Penguin rookeries on the Falkland Islands
Enjoy 4 days exploring South Georgia
Spectacular Antarctic scenery & numerous huge icebergs
Visit the Wandering Albatross colony on Prion Island, South Georgia
Mammals include Southern Elephant Seal, Leopard Seal & Weddell Seal
Visit Chinstrap, Adelie & Gentoo Penguin colonies, South Shetland Islands & Antarctic Peninsula
Look for cetaceans such as Orca, Humpback Whale & Commerson's Dolphin
Escorted by Naturetrek naturalist guides & expedition leaders
Can I help you?


X
Paul Stanbury
Paul graduated in Environmental Science in 1995 and joined the Naturetrek team in January 1996. His keen interests in birds and travel began when aged seven and the intervening years have taken him to many parts of the world. Paul has always had a particular interest in North American wildlife, a fascination which led him to spend the second year of his degree course studying at Western Washington University near Seattle, where he developed a detailed knowledge of the Pacific North-west and its birds. He has also travelled widely in Europe and Africa, and spent three months backpacking around South East Asia from Borneo to Thailand. At present, Paul lives in Petersfield, Hampshire, only 30 minutes from the Naturetrek office in Chawton where he is based.
We spent three weeks on an Icebreaker research ship in Antarctica with PhD level researchers, guides and crew. We landed almost daily but at sea was as informative as being ashore. We saw over 150 bird's and every kind of Whale including an Orca attack. This was so much more than a cruise, it was a genuine adventure. Seamless care, coordination and expertise was the norm. Not much more one could ask.

P.F. Glamorganshire, Jan 19
Food & Accommodation
All meals are included in the price with the exception of meals in Ushuaia and Buenos Aires. Allow £100.
For this cruise we have exclusively chartered the 116 berth ice-strengthened MV Ortelius. All cabins have private facilities. In Ushuaia and Buenos Aires we use comfortable tourist hotels with private facilities. The prices shown under the 'Dates and Prices' tab are based on quad cabin accommodation. Please download the tour itinerary or call the Naturetrek office on 01962 733051 for twin cabin prices and further cabin upgrade options.
Antarctica is a land of superlatives. It is the coldest, windiest, driest, iciest and highest of all the major landmasses of the world. It is a continent of extremes, but also one of extreme beauty! Those fortunate enough to explore its icy shores cannot fail to be awe-struck by the sheer grandeur of the landscape, the towering glaciers, rugged snow-covered mountains and huge icebergs calved into myriad shapes by the relentless pounding of the Southern Ocean. This encircling ocean is, in turn, one of the richest of all seas and the basis for the food chain that supports Antarctica's huge concentration of wildlife. Every spring, as the pack-ice slowly retreats, millions of penguins, seabirds and other creatures leave the vastness of these turbulent waters to converge on the continent and its surrounding necklace of islands, to breed and raise their young. By late January the breeding season is at its peak, penguins and albatrosses are busily feeding chicks and the race to fledge is in full swing, before darkness descends once more, heralding the return of winter's even icier grip.
In 2019 and 2021 Naturetrek will be taking full charter of the 116-berth, ice-strengthened, MV Ortelius, with the aim of repeating the itinerary — and success — of our recent 30th Anniversary cruise around the Falkland Islands, South Georgia and Antarctic Peninsula. Taking a full charter of the Ortelius was key to the success of our 2016 expedition, for it allowed us to design the itinerary to include only the very best wildlife sites and fill the ship with likeminded Naturetrek clients. It also allowed us to bring along a selection of our most experienced naturalist tour leaders, ensuring that all aspects of natural history were covered and that our group enjoyed three weeks of unforgettable wildlife sightings and breathtaking scenery! It is a winning formula we plan to repeat every few years.
We begin the holiday with a flight to Buenos Aires in Argentina, and then to Ushuaia, the southernmost city in the world. From here we board our ship and head out along the Beagle Channel and into the Southern Ocean. En route to the Falkland Islands there will be plenty to entertain us, as the ship will be accompanied throughout by a wonderful variety of exciting seabirds. These are sure to include plenty of Black-browed Albatross and Southern Giant Petrel, plus the occasional Wandering Albatross. Indeed, an undoubted highlight for many will be our first sighting of a 'Wanderer' gliding effortlessly over the ocean, held aloft by the longest wings in the avian world.
We now have two days to enjoy the scenery and wildlife of the Falkland Islands. Arriving from Britain the visitor finds a landscape which brings to mind the northern isles of Scotland, although the wildlife is excitingly different. We will visit Rockhopper, Magellanic and Gentoo Penguin rookeries, plus colonies of Black-browed Albatross which nest on windswept tussock-covered slopes. King Penguins also nest here in smaller numbers, whilst in the surrounding seas we will be looking out for Commerson's and Peale's Dolphins.
A further two days of pelagic bird and whale-watching brings us to the isolated island of South Georgia, home to some of the world's great wildlife spectacles. For the next four days we will enjoy the mountains, glaciers and abundant wildlife of this remote outpost, including the vast King Penguin colony at St Andrew's Bay and the Wandering Albatross colony on Prion Island. Huge Elephant Seals crowd the beaches and create a somewhat grumpy obstacle course for the thousands of Macaroni and Chinstrap Penguins as they make their way to their huge and raucous colonies. Light-mantled Sooty Albatross also breed here and we will also take a quick break from the wildlife to visit the grave of Ernest Shackleton, one of history's great Polar explorers. The whale-watching around South Georgia can also be superb with sightings of Humpback, Fin and Southern Right Whales all likely.
Moving on, we visit the South Orkney Islands before arriving at the Antarctic Peninsula itself, a truly awe-inspiring landscape that dwarfs the ship and its inhabitants. Flock after flock of Gentoo and Adélie Penguins porpoise rapidly through the water on their way to and from numerous breeding colonies. South Polar Skua and the ghostly white Snow Petrel are also to be seen here, whilst beneath the waves the summer bloom of plankton and krill attract ocean giants such as Humpback and Antarctic Minke Whales. The mighty Orca also patrols these waters and the menacing, almost reptilian, outline of Leopard Seals is frequently seen, as they lie hauled up on ice floes awaiting their next unfortunate penguin snack!
We will have three days in which to absorb the majesty and grandeur of the Antarctic Peninsula, before heading back out to sea for the final time to cross the Drake Passage, past Cape Horn, back to Ushuaia and ultimately home.
Please contact us on 01962 733051 for details on what extensions either pre or post tour are available for this Tour.
We spent three weeks on an Icebreaker research ship in Antarctica with PhD level researchers, guides and crew. We landed almost daily but at sea was as informative as being ashore. We saw over 150 bird's and every kind of Whale including an Orca attack. This was so much more than a cruise, it was a genuine adventure. Seamless care, coordination and expertise was the norm. Not much more one could ask.

P.F. Glamorganshire, Jan 19

We were on board MV Ortelius from Ushuaia to Falkland Islands, South Georgia and Antarctic Peninsula. We were very fortunate with sea conditions and were able to undertake several landings in Zodiacs. The site of thousands of King Penguins set against snow capped mountains and blue sky will live with me forever. Not to mention whales, Elephant seals, Leopard seals and numerous fur seals. We were accompanied at sea by a host of albatross, petrels and prions. The scenery at Neko Harbour was jaw dropping - still sea, ice flows, mountains and bright sunshine. South Georgia is just a wildlife paradise.

J.L. Surrey, Jan 19

Ship-based adventure from Ushuaia visiting the Falklands, South Georgia and the Antarctic Peninsular. Lots of zodiac cruises and landings to observe at close quarters the birds and other wildlife. Whale-watching and excellent lectures on-board. Experienced and specialist guides and a great crew made the holiday a great success. Very efficient and helpful from the time of booking onwards. No problems experienced with the pre-departure arrangements and the leaders on the trip were always professional, helpful and available. 

P.L. East Sussex, Jan 19

An amazing 3 week trip from Ushuaia to the Falklands, South Georgia and Antarctica. We saw all the birds and mammals we expected to see, and then some ... We learned an amazing amount about the history, wildlife, botany and geology of the places we visited and gained a greater understanding of our responsibilities to their ecology. Naturetrek... were excellent at organising our booking, keeping us up-to-date and providing all we needed for travel. Their tour leaders were all excellent - friendly, knowledgeable and always pleased to share their expertise. Oceanwide, who were responsible for the ship cruise, were also excellent in every respect, from the helpful ship staff who made us comfortable to the expedition guides who gave excellent lectures on a wide range of subjects (see above) and enabled us to make the most of all shore landings and zodiac cruises, whilst, at the same time, making us aware of the responsibilities that come with the privilege of travelling to such places.

G.B. West Yorkshire, Jan 19

We had an absolutely wonderful holiday on board MV Ortelius... What an experience! The ship had an Expedition Leader who liaised with the Captain and the Naturetrek leaders about which route to take through the fjords of the Antarctica and weather conditions. We experienced close encounters with seven species of penguin, about six species of seals and at least six species of whale. Our zodiac transfers were skillfully and safely done by the team of lecturers on board. Their lectures were informative and interesting and ranged from glaciers to flora and fauna and with historical lectures about Scott, Amundsen and the intrepid Shackleton. The whole experience was excellent and we will never forget it.

T.R. Norfolk, Jan 19

Amazing voyage from the tip of South America into the Southern Ocean and culminating in a landing on the Antarctic continent. Beautiful landscapes in the Falklands, South Georgia and the Antarctic Peninsula. Unbelievable abundance of wildlife; close encounters with seabirds, penguins, whales, seals and icebergs! Excellent Naturetrek guides and expedition team on board. Ship was very well run, clean, tasty, plentiful food, friendly efficient staff. Landings and zodiac cruises well organised with impressive flexibility to take account of rapidly changing weather conditions. Naturetrek had chartered the whole ship which worked well as all passengers had shared interests. Very efficient service from initial enquiries, booking, pre-departure information and on the tour itself. Naturetrek guides met us at the airport, organised all transfers and hotels en route. Guides on ship knowledgeable and friendly.

S.S. Rutland, Jan 19

A superbly organised trip to the Falkland, South Georgia and the Antarctic. All of our landings were exceptional with expert staff only too willing to make our experience memorable, zodiac cruises were exhilarating and we were able to get close to the wildlife without disturbing anything.

R.M. Derbyshire, Jan 19

A Naturetrek organised ship based expedition sailing from Ushuaia in Argentina to the Falklands, South Georgia and the Antarctic Peninsula. The focus was on birds, whales and dolphins and all wildlife of the South Atlantic but also the history of polar exploration. All the arrangements, flight connections, hotel bookings worked very well. The Naturetrek guides were excellent in assisting and catering for participants of all ability. They were very well informed with previous Antarctic experience and liaised very well with the on-board cruise management team.

I.D. Midlothian, Jan 19

Between Naturetrek staff and the ship's captain unforeseen problems were solved and all participants were informed of the few changes to the itinerary. I am an octogenarian and I was able to take part in Zodiac trips to safe landing places. Imagine standing amongst 750,000 King Penguins and within a short distance of Fur and Elephant Seals. The rule is keep 5m away from the penguins but they do not understand human rules. More species of penguins were encountered plus about 100 species of birds from albatrosses to small storm petrels. 16 species of whales and dolphins were recorded. The accommodation, facilities and food were excellent. Well done Naturetrek it was the best wildlife holiday out of over 70 that I have been on.

F.I. Dorset

This three week trip aboard MV Ortelius took us to some of the wildest, most remote and beautiful places on earth in order to experience some of the world's greatest concentration of wildlife including mammals, cetaceans, penguin colonies and a multitude of other birds. We landed at various destinations including small islands and the Antarctic Peninsula itself using zodiacs. We also did a zodiac cruise amongst the icebergs, landing on floating ice briefly. We walked with guides and had time to simply sit and soak up the wonders of being amidst half a million penguins and other inquisitive wildlife. We enjoyed the sunrise and sunset. Our experiences were truly awesome and utterly memorable.

B.V. Leicestershire

An 18 night wildlife cruise on board the Ortelius an ice strengthened former research ship owned and operated by Oceanwide Expeditions chartered by Naturetrek. The crew, expedition staff and Naturetrek guides were excellent in their knowledge, desire to ensure everyone experienced the best wildlife experiences whilst making sure of everyone's safety and comfort. A trip like this means the itinerary cannot be set in stone as it is dictated by the weather and the wildlife. We were extremely lucky that the weather was kind to us and with a few diversions we saw everything on 'the list'!

W.T. Shropshire

You can not go to South Georgia and the Antarctic without being impressed. It was reinforced by the deserted islands and rookeries, we visited, they were magic. I think we had really good luck with us, as we saw as many wales and Orcas as anybody could wish for. The lectures and informative films, we were treated to, were an important part of the pleasures of the zodiac excursions, understanding either the creatures we were looking at or the places of historic interest.

F.W. Lincolnshire

Visiting the various penguin colonies was amazing and beyond expectations as was the scenery and just the vastness of the whole area. We had hundreds of great whale sightings and many close encounters with them approaching and going underneath the ship. The whole trip was amazing but you have to put in many hours of seeing nothing out on deck if you really want to see as much bird and mammal life as possible as many of the encounters are brief and if you're not out there in all weathers, you'll miss it. Not a typical cruise and not for the feint hearted as in an ice-breaker ship which is not particularly well stabilised.

C.R. Derbyshire

Very well organised trip with like minded people. Extremely enthusiastic tour leaders, guides and ship's captain which resulted in an amazing holiday. On those days spent travelling interesting talks provided by very well informed guides. Every opportunity taken to optimise landings and sightings in this unique environment where activities are to a large extent governed by the weather. An unforgettable experience!

G.J. Greater Manchester