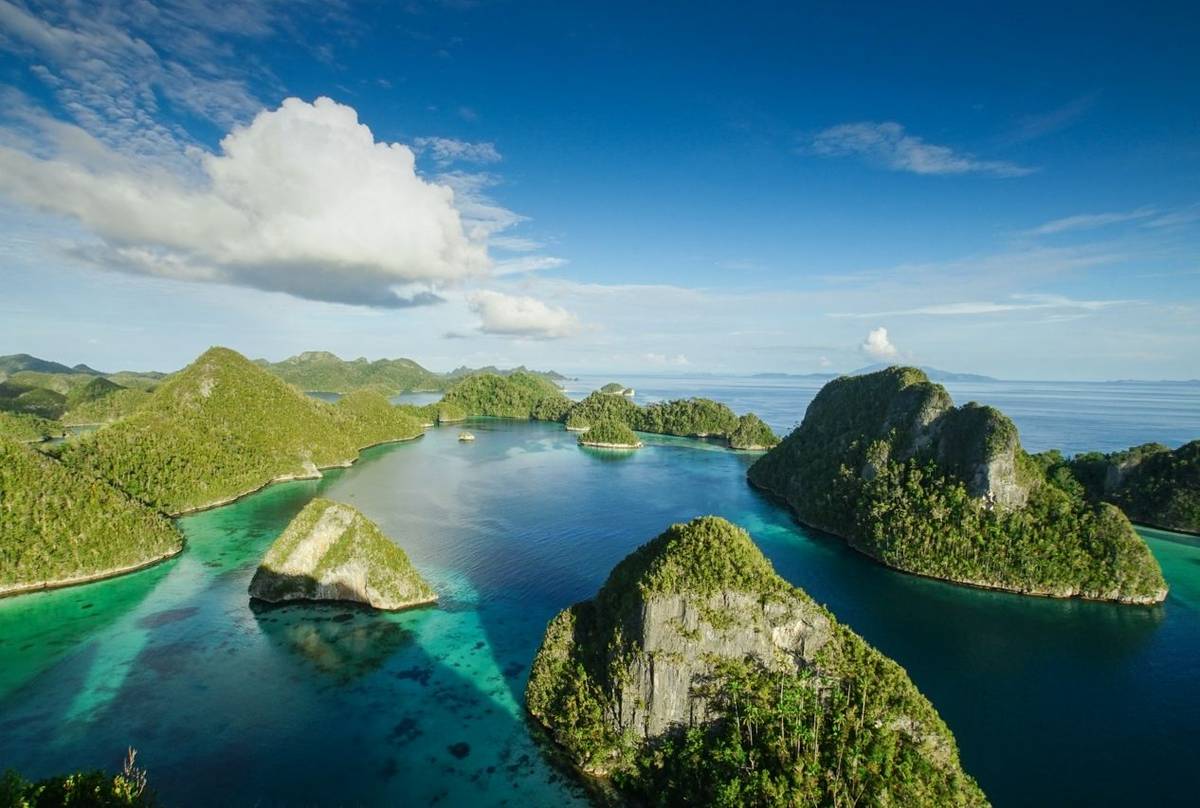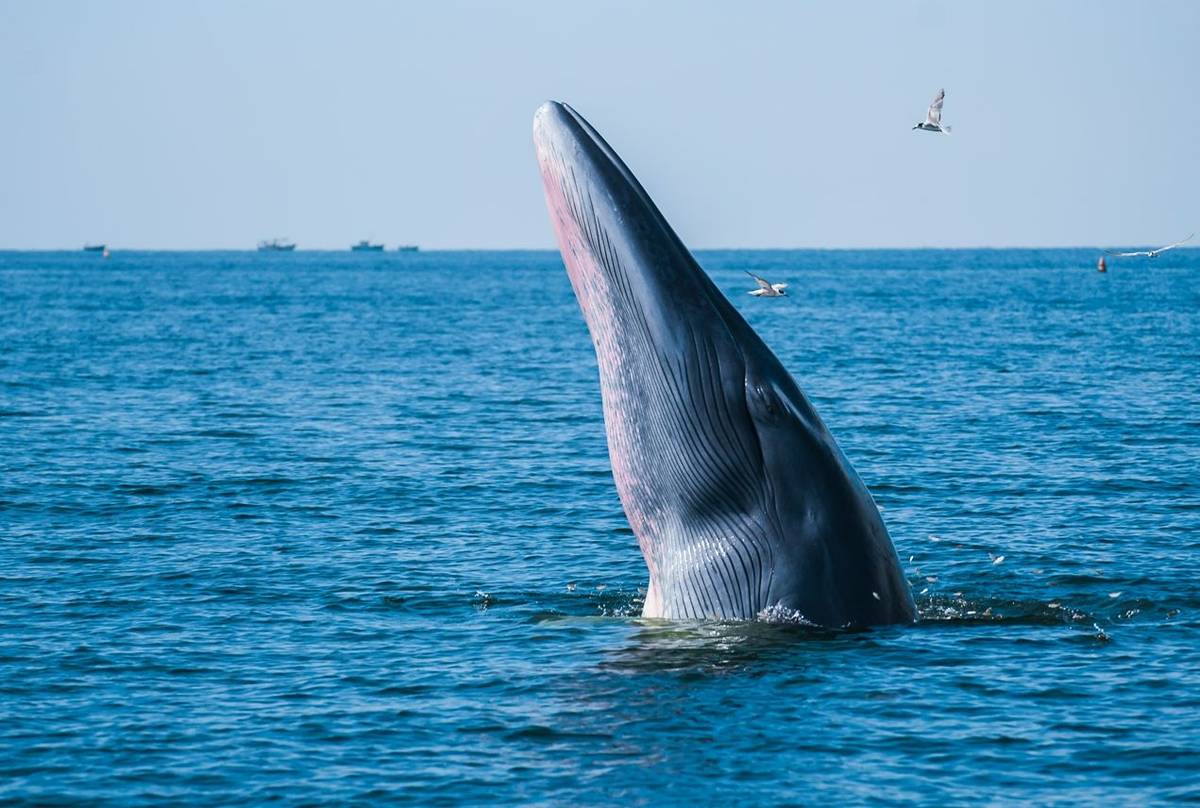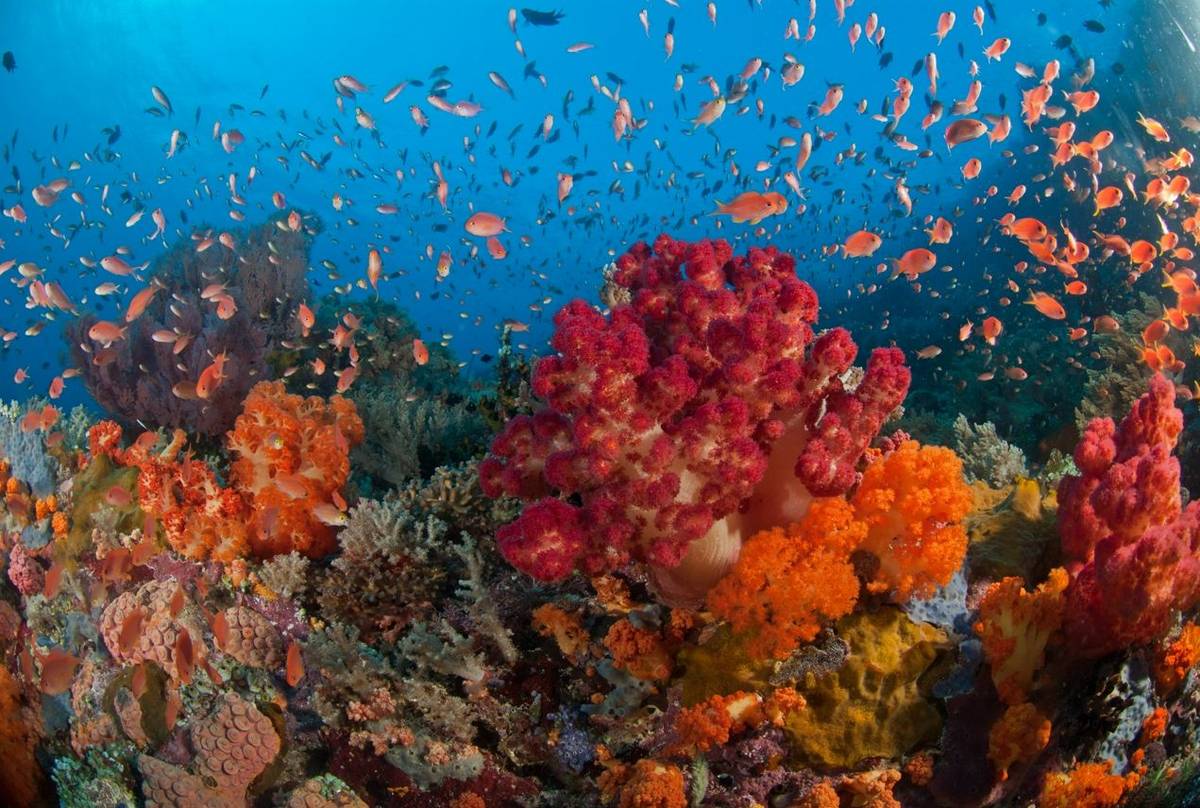 TOUR ITINERARY AND REPORTS
Can I help you?

Raja Ampat - The Paradise of West Papua
Tour Code: IDN02
A 14-day holiday, including a 9-night cruise, around the remote and beautiful Raja Ampat islands in the far east of Indonesia in search of cetaceans, coral reefs and birds.
14 days from
£6,995 (Inc flights)
Land only price from
£6,095
Add this tour to your saved toursRemove from saved toursstar_border star

Add to Saved Tours
Highlights
TOUR ITINERARY AND REPORTS
Can I help you?

Summary
Just offshore from the western tip of of Papua lies the archipelago of Raja Ampat – more than 1,500 precipitous, jungle-clad islands surrounded by turquoise waters. Staying aboard the very comfortable MV Mermaid I, we travel by day and anchor early each evening, keeping our itinerary very flexible as we meander through the archipelago enjoying the dolphins, whales, flying fish, seabirds and breathtaking scenery. We will make land visits, going in search of birdlife amongst the islands' superb forests, and each day we'll snorkel over pristine reefs, discussing what we've seen each evening with our expert tour leader Dr Chas Anderson. Then after dark, we will enjoy stunning views of the night sky!
Includes a 9-day cruise aboard the exclusively chartered MV Mermaid I
Snorkel over pristine coral reefs each day
Spinner, Spotted & Indo-Pacific Bottlenose Dolphins all possible
Look for Pilot Whale & Sperm Whale plus False Killer & Killer Whales
Chance of rarer cetaceans such as Bryde's & Omura's Whales
3,500+ species of fish recorded in Raja Ampat
Look for the stunning Red Bird-of-paradise
Enjoy stunning views of the night sky
Led by renowned marine biologist Dr Chas Anderson.


 
Grading
Grade A. Option island walks and snorkelling excursions only. 
Indonesia is a country of superlatives. It is the largest archipelago in the world, comprising over 17,000 islands, with a wonderful variety of cultures and the most diverse marine-life anywhere in the world. Over 3,500 species of fish have been recorded, and recent research around Raja Ampat has highlighted the wealth of tropical whale and dolphin species here. Following the success of our incredible wildlife cruise from Bali to Komodo, we are delighted to offer this exciting new cruise on board MV Mermaid I around the stunning islands of Raja Ampat, in the far east of Indonesia.
We begin with a flight to Sorong, on the western tip of the great island of Papua, and an overnight stop. Just offshore lies the archipelago of Raja Ampat, a collection of more than 1,500 steep, jungle-clad islands, with white-sand beaches, secret lagoons and surrounded by luminous turquoise waters. The following day we board our exclusively chartered vessel, MV Mermaid I, which will be our home for the next nine days whilst we explore the region's coral-rich waters, travelling by day and anchoring early each evening. MV Mermaid I is extremely comfortable, with an attentive crew, experienced captain and seven en suite and air-conditioned guest cabins. We will keep our itinerary very flexible, meandering through the archipelago and taking our time to enjoy the dolphins, whales, flying fish, seabirds and, of course, stunning scenery. During our lazy days at sea, cetaceans will be our main focus, and we are likely to see several species of whale and dolphin during our cruise. Whilst nothing is certain in the world of whale-watching, possibilities include species such as Spinner, Spotted and Indo-Pacific Bottlenose Dolphins, Pilot Whale, Sperm Whale and both False Killer and Killer Whales. We also have a reasonable chance of finding some rarer, little-known species such as Bryde's and Omura's Whales; the latter was only described as a new species in 2003 but has since been positively recorded several times from Raja Ampat. Other marine-life includes flying fish and tuna which we should see regularly, as well as turtles; if we are very lucky, we might see a Whale Shark or Dugong which are also found in these waters.
Raja Ampat is home to the richest coral reefs in the world, and so we will be certain to make time for snorkelling each day using Mermaid I's two inflatable tenders and, although these excursions will always be optional, this is likely to be a real highlight of the cruise for many. There is an almost overwhelming diversity of tropical reef fish to be found here, including countless butterflyfish, angelfish, triggerfish, surgeonfish and anemonefish which should keep even the most avid snorkellers enthralled! There is also at least one known site where we can look for, and hopefully swim with, mighty Manta Rays. Many of the islands remain cloaked in forest and are home to a wealth of fantastic birdlife, so we will also enjoy some island visits during our cruise and, in particular, make a special effort to see both Red and Wilson's Bird-of-paradise.
At the end of each day we will relax, reflect on our sightings and discuss the bewildering diversity of reef animals with our expert tour leader and marine biologist, Dr. Chas Anderson. Then, after dark, far from the city lights, we will enjoy the stunning views of the night sky before retiring to bed.
After nine days at sea it will sadly be time to return to Sorong, where we will disembark after breakfast on Day 13 and transfer to the airport ahead of our flights back to the UK. Indonesia is, of course, a long way from Europe, so your holiday does not have to end here. Should you wish to extend your stay, either in Raja Ampat or elsewhere in Indonesia, such as North Sulawesi, we would be very happy to assist with your plans.
DETAILED INFORMATION
Outline Itinerary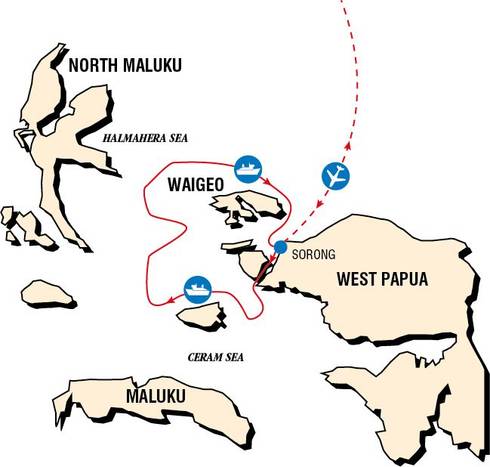 Day 4/12
Cruising through Raja Ampat
Day 13
Disembark and depart Sorong
cloud_downloadDownload Full Itinerary
What's Included?
Flights
Accommodation:

For this cruise we have exclusively chartered the 14-berth 'MV Mermaid I', a 28-metre motor-yacht featuring seven en suite and air-conditioned guest cabins. For additional information on the vessel, and details of the different cabin grades available, please refer to the tour itinerary. In Sorong we stay in a comfortable tourist hotel (all rooms are en suite).

Food:

All meals are included once on board MV Mermaid I. Lunches and dinners are not included in Sorong. We recommend allowing around £40.
Dates and Prices
2020
Departures
Availability
Cost
Wed 4th Mar - Tue 17th Mar
2
£6,995
Flights:
Most Naturetrek tours include flight costs ex-UK. If flights are not included, we indicate that here.
Flights are included in the tour cost
Regional Departures:
On certain tours it is possible to depart from a regional airport (rather than London). If a regional departure is possible, we indicate that here.
Regional Departures are available. Call 01962733051
Land only cost:
The "Land Only" cost is the tour price you will pay if you choose to arrange your own flights/transport.
£6,095
Room sharing options:
If a customer on this departure has already expressed an interest in sharing a room it will be flagged here. We will identify if there are sharing options for male, female or both.
Female sharing available
Tour Leader:
Please note that, whilst we assign leaders to particular tours well in advance, we reserve the right to make changes if necessary
Ed Drewitt

Tour Leader: Ed Drewitt
Ed has been a naturalist for over 30 years with a special interest in birds and marine mammals. He lives in the Forest of Dean alongside Wild Boar, Fallow Deer and Goshawks. He studied Zoology at the University of Bristol and worked for seven years as a museum learning officer at Bristol's Museums, Galleries and Archives, and then four years on the Bristol Dinosaur Project at the University of Bristol, enabling people to learn more about the city's own dinosaur! Ed is now a full time freelance naturalist, learning consultant and wildlife detective. He leads bird song and bird identification courses, develops high quality resources for learning providers, provides wildlife commentary on boat trips, writes for wildlife magazines and gets involved with bird ringing studies including Peregrines and Goshawks. Ed leads on researching the diet of urban-dwelling Peregrines in the UK and is author of the book 'Urban Peregrines'. Ed has been involved with broadcasting on TV and radio, ranging from appearances on the BBC's One Show, Springwatch and Autumnwatch, Radio 4 Natural History radio, and BBC Radio Bristol. 
Why Naturetrek?
At Naturetrek we craft expertly-guided group and tailor-made wildlife holidays and cruises to all seven continents. On one of our holidays, you can be assured that our passionate team will enable you to experience and enjoy the best of the world's wildlife and natural spectacles in as comfortable and rewarding a manner as possible, caring as best we can for the environment in the process. We are proud to provide:
The widest choice of wildlife holidays worldwide
Tours managed and led by naturalists, for naturalists
Outstanding value and exceptional customer service
Furthermore, as a Naturetrek client, our office team are always to on hand to help you – so if you have any queries about your holiday, whether before or after you have booked, we will be delighted to answer them on the phone. Please just give our team a call!