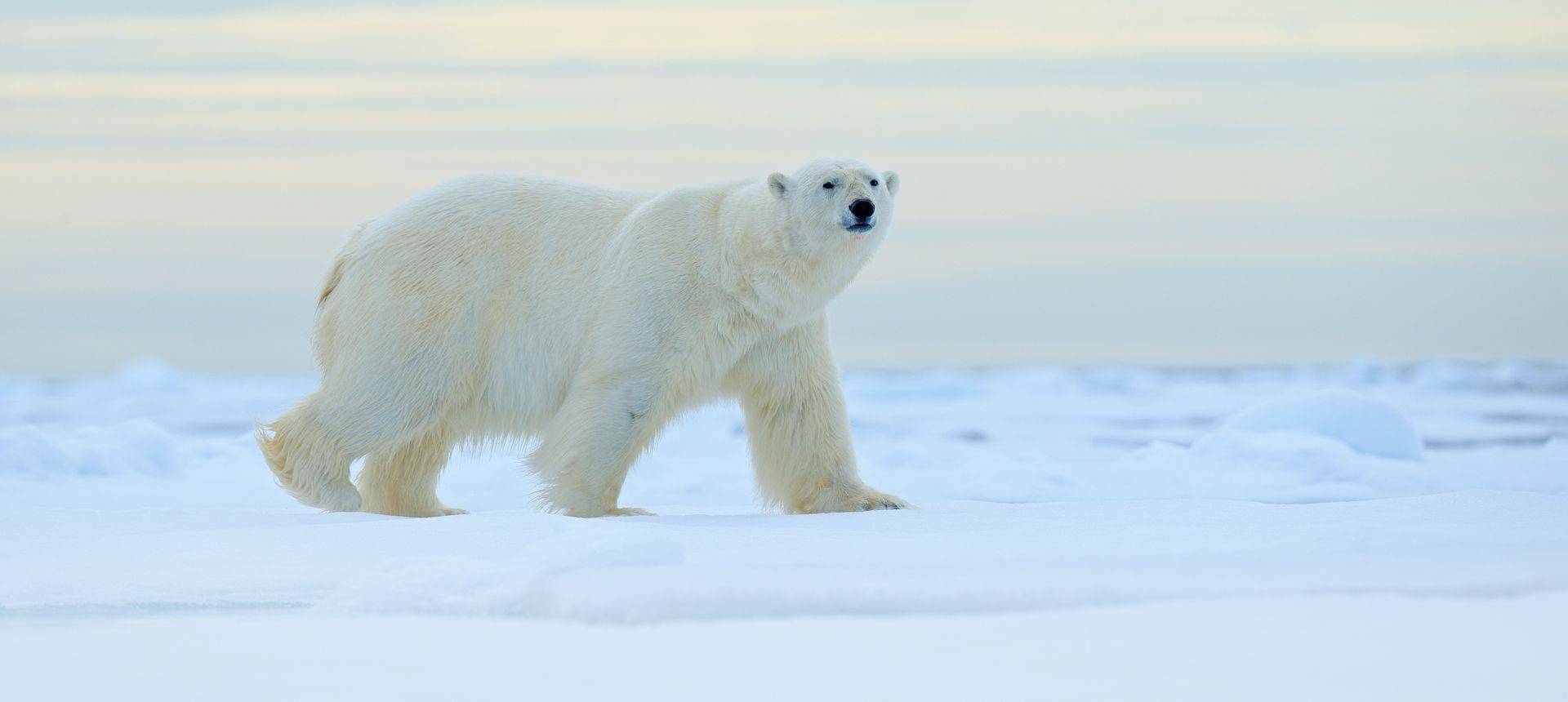 Spitsbergen - Realm of the Polar Bear
Tour Code: NOR05
An 11-day wildlife expedition to the high Arctic, including a 10-day voyage around the island of Spitsbergen in search of breeding seabirds, Polar Bears, Walrus and spectacular scenery.
This is the ultimate wildlife cruise, a unique 11-day holiday, including 9-nights on board the ice-strengthened 53-berth Sea Endurance, around the spectacular Arctic island of Spitsbergen, the largest of the Svalbard archipelago. This dramatic land of jagged mountains, awe-inspiring glaciers and deep fjords lies just 600 miles south of the North Pole and is home to an exciting range of polar wildlife. Huge colonies of Little Auks, Brünnich's Guillemots and other seabirds crowd the coastal cliffs, whilst inland Grey Phalarope and Barnacle Goose breed. Pack-ice lingers offshore throughout the summer, the hunting ground for the magnificent Polar Bear and home to Walrus, Harp Seal, Beluga Whale and the rare Bowhead Whale.
Exclusively chartered small ship cruise focusing solely on wildlife & scenery
Explore the pack ice in search of Polar Bears 
Visit Little Auk & Brünnich's Guillemot colonies
Ivory & Sabine's Gulls, Grey Phalarope, Long-tailed Skua & much more
Walrus, Harp, Bearded & Ringed Seals
Beluga Whale likely; previous groups have seen Blue & Bowhead Whales!
Huge glaciers such as Monaco & King's Glacier
Wonderful photographic opportunities
Enjoy the midnight sun & 24-hour daylight
Expert guidance by Naturetrek naturalist guides & expedition staff
Can I help you?


X
Paul Stanbury
Paul graduated in Environmental Science in 1995 and joined the Naturetrek team in January 1996. His keen interests in birds and travel began when aged seven and the intervening years have taken him to many parts of the world. Paul has always had a particular interest in North American wildlife, a fascination which led him to spend the second year of his degree course studying at Western Washington University near Seattle, where he developed a detailed knowledge of the Pacific North-west and its birds. He has also travelled widely in Europe and Africa, and spent three months backpacking around South East Asia from Borneo to Thailand. At present, Paul lives in Petersfield, Hampshire, only 30 minutes from the Naturetrek office in Chawton where he is based.
Outline Itinerary
Day 2/10
Spitsbergen voyage
Thoroughly enjoyed this trip from start to finish. Everything was perfect. Enjoyed the scenery, mammals and birds. The Oceanwide Expeditions staff were amazing with their knowledge and great humour. The Naturetrek tour leaders and other members of staff on this cruise had so much knowledge and were great fun. The Ortelius was a very clean and comfortable boat to be on and the food was delicious. Well done and thank you once again Naturetrek for a fantastic experience.

D.H. Middlesex
Food & Accommodation
All meals are included in the price with the exception of meals in Longyearbyen/Oslo.
For this voyage we will be joining the 53-berth MS Quest. Quadruple-bedded cabins with window and private facilities are included in the starting price detailed under the 'Dates and Prices' tab. Please refer to the trip itinerary for a full price list. In Oslo we use a comfortable tourist hotel with private facilities.
The island of Spitsbergen is a dramatic land of huge glaciers, snow covered mountains and steep-sided fjords, separated from the North Pole by a mere 965 kilometres of frozen ocean. This is the true 'High Arctic', an extreme land gripped by ice for over eight months of the year and by darkness for over four. Winter begins to loosen its grasp in May, however, and during the brief Arctic summer Spitsbergen is transformed into a land of perpetual daylight, covered by a flower-filled tundra grazed by herds of Reindeer. Towering sea-cliffs crowded with millions of seabirds guard the land, while offshore lies a crazy paving of pack-ice upon which Polar Bears hunt and Walruses laze.
For our Spitsbergen voyages Naturetrek exclusively charters the 53-berth MS Quest to operate a dedicated wildlife cruise. Free from the shackles of having to visit nonwildlife sites, our cruise will only include the very best of Svalbard's wildlife and scenery. Our holiday is timed for late June/early July when the sun never sets and the pack-ice has usually melted sufficiently to allow our ship to explore the fjords, towering cliffs and tundra of Spitsbergen and Nordaustlandet. We begin, however, with a spectacular flight over the ice-dotted Arctic Ocean to Longyearbyen, the capital of Svalbard. Here we will board our vessel and begin the 9-night voyage through an icy wilderness almost entirely devoid of human life. Birdlife on the other hand is abundant, and even in Longyearbyen itself Snow Buntings fly around the rooftops and Purple Sandpipers pick for insects along the meltwater streams. Blue phase Fulmars wheel around our anchored vessel together with Glaucous Gulls and Arctic Terns, the latter fresh from their 'other summer' in the Antarctic. Leaving Longyearbyen we will head north, past groups of Little Auks, Black Guillemots, Puffins and Brünnich's Guillemots which skitter away across the water's surface as we steam past, whilst the occasional Bearded or Ringed Seal may pop a head out of the water to watch us motor by; all this to a back-drop of spectacular jagged mountains.
Our voyage will take us into glass-like fjords backed by huge glaciers, such as the Monaco and Hamilton Glacier, and on to polar deserts where only a few lichens and other low-lying plants eke out an existence in the almost waterless environment. One advantage of travelling aboard an ice-strengthened vessel is that we can make our way deep into the pack-ice, the summer haunt of the true king of the Arctic, the magnificent Polar Bear. A meeting with a Polar Bear is one of those heart-stopping experiences you never forget, made all the better by seeing them in their own realm wandering around on the ice floes with pack-ice stretching to the horizon. This ice is also home to the huge Walrus which may be seen hauled out on the ice alongside its smaller cousins, the Bearded, Ringed and Harp Seals. Here too we will look for the ghostly white Ivory Gull and, if fortunate, maybe even a Ross's Gull as these begin to pass through Svalbard in July.
Returning to the coastline, we will board inflatable Zodiacs to view the towering cliff faces that are home to thousands of Brünnich's Guillemots. We will also visit colonies of Little Auks where thousands of these tennis ball-sized auks wheel around the mountain-tops like mosquitoes over a pond. Always on the look-out for a meal, Arctic Foxes patrol the base of these colonies, whilst out on the tundra Brent, Pink-footed and Barnacle Geese all breed alongside King Eider, Grey Phalarope, Red-throated Diver, Long-tailed Duck, Purple Sandpiper, Arctic and Long-tailed Skuas and Ptarmigan. Of these breeding birds, it is only the latter that also braves the harsh Arctic winter.
Although primarily a wildlife voyage, we will have opportunities to learn about Spitsbergen's fascinating human history, much of which is closely tied to the very animals and birds we have come to view. Abandoned whaling stations such as the 17th century Smeerenburg (Blubber Town) stand testament to the impact of early whalers on the islands, whilst the remains of the camps of early explorers such as the Swedish balloonist André remind us of Svalbard's appeal to past adventurers.
Once back at Longyearbyen a spectacular flight over huge glaciers, braided river valleys and snow-capped peaks will bring us back to mainland Norway, from where we must continue our journey south away from the roof of the world and back home.
Please contact us on 01962 733051 for details on what extensions either pre or post tour are available for this Tour.
Thoroughly enjoyed this trip from start to finish. Everything was perfect. Enjoyed the scenery, mammals and birds. The Oceanwide Expeditions staff were amazing with their knowledge and great humour. The Naturetrek tour leaders and other members of staff on this cruise had so much knowledge and were great fun. The Ortelius was a very clean and comfortable boat to be on and the food was delicious. Well done and thank you once again Naturetrek for a fantastic experience.

D.H. Middlesex

Although it is hyperbole to say so, this has been the best holiday ever. We were blessed with a huge amount of sunshine which enabled us to see almost every species on the Naturetrek list. The fellow travellers were equally keen and of great company. Led by a most knowledgeable Malcolm Scott whose enthusiasm is infectious and whose dancing has to be witnessed! The only downsides were only 3 polar bears and that we must re-join the civilised world. But thank you Naturetrek for another excellent holiday.

A.A. Scotland

It was a unique and amazing experience in every way and we both feel privileged to have had the opportunity of exploring this very special part of our planet.

Mr & Mrs. McC.

Seeing Polar Bears in such wonderful surroundings was certainly a magical moment and brought tears to my eyes. A trip of a lifetime.

L.F. London

Even superlatives cant do justice to this trip. Simple outstanding. Superbly organised, led, executed and serviced. The ships crew were magnificent. For anyone with a sense of adventure and average agility it is hard to imagine a better trip. As for photographic opportunities, they were boundless. A truly memorable experience. Thank you Naturetrek.

C. & R.S. London

This was an excellent trip thanks to the commitment and expertise of Rini, the Expedition Leader and the Captain and crew of the Proff. Molcanov. They worked very hard to make the most of every opportunity enabling us to experience as much as possible. The Naturetrek leader, Paul, was efficient, pleasant and helped everything to run smoothly. We were also very lucky to have Adam, the geologist, with us and Chris the historian - both added greatly to the trip...I cannot fault the trip in anyway - it was one of the best ever.

E.F. Co. Durham

The trip was a wonderful experience, which exceeded my expectations in all its aspects - the scenery, the wildlife, the ship, the food - everything. All the naturalists/leaders/guides, both Naturetrek and local, were friendly, helpful and extremely knowledgeable and experienced. The ship's captain and crew and the catering/cabin staff were tremendous. They adapted and responded wonderfully to the constantly changing conditions and we were able to enjoy some fantastic wildlife viewing whilst cruising through magnificent scenery. The ship itself was perfectly suited to the expedition with the restaurant/viewing area allowing everyone to relax and watch the outside world in comfort. An enormous thank you to all concerned.

V.K. Nottinghamshire

Spitsbergen was never on my list of to do's as I like hot climates. However my friend said it was a life time ambition to go to the Arctic…. I now owe her big time, I loved every minute of the trip, mammals and birds of course but I was bewitched by the scenery, I never dreamt that I would be so happy doing nothing just watching the ever changing ice flows. As ever the Naturetrek leaders were first rate.

W.S. Essex

This trip has been one of the great experiences of our lives. Extraordinary wildlife encounters, mind blowing scenery and a full sun barbecue at midnight.

R.H. Devon

The trip was well up to expectations with a bonus of good weather. Animal sightings, plus the help from onboard experts certainly made the holiday - not forgetting the birds. It was also very pleasing to note that all staff seemed genuinely interested in all their clients. We will certainly recommend Naturetrek to our friends.

G.H. Cambridgeshire

For me, the fact that the catering staff made no fuss about providing gluten-free food and in fact knew within 25 hours my name and requirements was such a bonus. All the Naturetrek leaders were approachable and helpful, Ed in particular. He didn't mind a complete novice 'birder' asking very basic questions and always ensured we all saw what was being pointed out. Well done Ed. All the Ortelius guides were also helpful and very knowledgeable. I enjoyed the whole polar experience, but particularly the flowers, glaciers and Polar Bears.

P.C. Devon

The amazing wildlife sightings and scenery, very much aided by good weather and the enthusiasm and knowledge of the expedition staff and Naturetrek guides.

C.F. Hertfordshire

The leader, the guides, and all the staff of the ship worked wonders. The food on board was very good indeed, the cabin much roomier than I expected. Everyone did there utmost to give us a great holiday. Every day was a wonderful adventure, we saw so much and I shall never forget it.

S.P. Northamptonshire

Enjoyed the whole experience on the boat, the staff were excellent especially the guides. Well organised and very knowledgeable. Great food and service. Wonderful wildlife viewing and scenery.

J.H. South Yorkshire

A wonderful holiday in the high Arctic aboard a Naturetrek chartered vessel (MV Ortelius). Expectations were high but the wildlife and scenery easily exceeded our wildest dreams! Polar Bears, Walrus, huge sea bird colonies, Blue, Humpback and Minke Whales were amongst the many wildlife highlights. All this with spectacular scenery throughout. The boat, an ice-strengthened expedition vessel, was crewed by a professional and friendly team and Naturetrek also sent 3 of their own tour leaders. Needless to say there was a wealth of knowledge aboard which proved invaluable for the exciting daily land excursions and absorbing evening lectures. This holiday comes highly recommended!

T.S. London

It was absolutely amazing. We boarded the 'Ortelius', a converted ice breaker, at Longyearbyen and spent the next 8 days exploring the west side, sometimes on the ship and sometimes being transported to land by zodiacs so that we could see the lovely alpine flowers and some of the history of the area. When we got into the ice we were all looking for Polar Bears, and certainly one of the highlights for me was seeing 3 adult males eating a seal. We managed to achieve 80 degrees 50.6 minutes before thick pack ice stopped us. Other highlights were seeing Blue Whale, Walrus, Arctic Fox and the seabird colonies. The ship was very comfortable and the staff and leaders couldn't have been more helpful. It was without doubt, the holiday of a lifetime.

T.W. Merseyside

Everything ran like clockwork. We were kept well informed including any necessary changes brought about by the weather. Our accommodation on the MV Ortelius was perfectly adequate and comfortable. The food was excellent, matched by the range on offer. All the support staff were efficient, obliging and cheerful and made us feel valued. The expedition leaders were all experts in their own field and went out of their way to be helpful and pass on their knowledge and experience in a practical manner. Great emphasis was placed on safety, both on board ship and the zodiac craft used every day. All of the expedition staff were properly equipped to deal with intruding polar bears (of which there turned out to be none, fortunately) and sentries posted when required. The captain and expedition leaders worked very hard to give us good sightings of elusive creatures such as polar bears, walruses and arctic foxes; along with a good range of the native birdlife. A wonderful adventure, indeed.

H.H. Suffolk

We travelled into the pack-ice and saw four polar bears feeding on a ringed seal. We were able to watch the bears form the ship for over four hours. We also saw reindeer, an arctic fox with a dead guillemot, walruses on the ice and on land, thousands of Brunnich's guillemots nesting on cliffs, large numbers of little auks, and many more birds, seals and some whales. The scenery was truly stunning and the walks enabled us to experience the arctic tundra, flora and overall environment, with plenty of time to take photographs and enjoy the experience. The staff and experts on board were excellent, providing informative lectures and photographs, and always ready to answer our questions. The ship was comfortable, the food excellent and the staff friendly and efficient.

K.S. Kent

After boarding the ice-breaking ship Ortelius at Longyearbyen in Spitsbergen, we had daily doses of snow-capped mountains and glaciers, many up close and personal, even being allowed to touch one of the Hornsund area icebergs! One of the zodiac leisure landings was dedicated to the exploration of the many delicate tundra wildflowers. This educational exercise caused me to find more species later on my own. A slow walk on the Polar Desert revealed small arctic insect life, as well as an education about the multitude of mosses and lichens in this area. Of course the bird cliffs were overwhelming with the teaming avian colonies; we seemed like ants in the zodiacs slowing gliding below the towering rocky mountain sides. We viewed 8 Polar Bears, a number greater than I had imagined. But even more exciting were the 2 bears (each on different days) that suddenly appeared as dots in the distant surrounding pack ice, then gradually becoming larger as they slowly strolled right up to our anchored ship, circled around the vessel for half an hour, then continued on their way into the whiteness to resume their roaming life of solitude. This experience truly gave me a sense of the isolationist existence of these magnificent creatures. We also were able to enjoy a small herd of Walruses lazing on an isolated beach. Although this critter was my most wanted animal on the trip, even more satisfying was our 2-hour time spent on a bluff overlooking the Walruses, immersed in a landscape of water, snow-capped mountains, brilliantly blue skies, quiet, later topped with a small pod of Belugas gliding by! Except for the last 2 days, the weather was perfect! Thanks to Naturetrek's professional guidance, and of course all the scenery and wildlife, we came home with a lifetime of memories.

A.W. USA

Amazing holiday, exceeded our expectations. The journey out to the pack ice was an incredible experience, we went much further north than we expected to. The scenery and the wildlife in Svalbard was incredible, one of the highlights was the polar bears on a kill on an iceberg. The guides both Naturetrek and the ships were first class, helpful and very knowledgeable.

J.P. South Yorkshire

The Realm of the Polar Bear was an 8 day Naturetrek cruise aboard the Ortelius, which is run by Oceanwide Expeditions. The Naturetrek experts in birds, mammals and plants were supplemented by Oceanwide expedition crew with their own expertise in Arctic wildlife, ice and polar bears. The itinerary was flexible according to weather and ice conditions and we went as far north as possible in search of polar bears, seeing 11, with wonderful views over drift ice, the third largest ice sheet in the world and stunning views of the Svalbard coast. Many glaciers are in retreat with global warming and the threat to wildlife and the planet was clear to all. With the expert help of our leaders we saw Blue whale, Humpback whale, walrus, arctic fox and numerous seabirds scarcely seen in the UK, and most days had at least one expedition ashore in zodiacs to search for wildlife and see the habitation left by hunters in the past. The food and comfort aboard the Ortelius was excellent, adding to a truly memorable experience. The information supplied in advance lived up to expectations in every way. The leaders were on hand at the airports to sort out ticketing and luggage issues, as well as providing daily briefings about wildlife seen and on hand on deck and on shore to help identify plants and birds and provide assistance when needed eg with life jackets etc. Oceanwide expedition leaders in charge of the zodiacs ensured we were safe on shore as well as providing talks on board ship. Everything was well organised and smoothly run.

L.B. West Sussex

This Arctic expedition surpassed my expectations. This was in part due to the wonderful organisation and leadership of the expedition team. I felt completely confident in the team which allowed me to enjoy the wonderful and captivating scenery as well as the wildlife, which was a joy. The guides - both groups were helpful, enthusiastic and knowledgeable. I was so impressed with the whole venture. Thanks too to the wonderful crew and staff of the Ortelius. 

B.D. Monmouthshire

Outings on the zodiacs were brilliant. It had a definite expedition feel about it - isolated from TV, mobile phone signal. Just alone in the Arctic. The Oceanwide expedition leaders were great, and the Naturetrek leaders complemented them by bringing expertise to the plant identification (Martin), bird finding (Peter), and Ed making sure that everyone saw everything that was found.

B.S. Cambridgeshire

The leaders from both Naturetrek and Oceanwide Expeditions were well organised, knowledgeable and extremely helpful.

C.S. Cheshire

The Ortelius crew were quite outstanding in every aspect. The meals were excellent. Zodiac trips were expertly managed. Very high level of commitment from all concerned. We particularly appreciated the lecture programmes by the on-board experts.

P.T. Devon

The zodiac trips and walks were particularly enjoyable. We were very lucky with the weather! The lectures about ice formation and glaciation were very interesting.

K.T. Devon

A fantastic trip. It was a real privilege to spend time in such a unique environment. Thanks are due to the tour leaders from both Naturetrek and Oceanwide who organised everything so professionally, were eager to share their knowledge and created a really good atmosphere. A special mention also for the trip report - I don't think I've ever seen one as detailed and comprehensive.

D.J. Norfolk

I liked both the Naturetrek guides and the Ocean Adventures team. Special mention goes to Sarah who made a special effort to make sure that everyone was seeing everything. But they were all very helpful and very pleasant people. The Captain of the ship needs a special mention too as he was so passionate about wildlife and also so welcoming on the bridge. I think that we went at the right time of year to see the nesting birds and of course the Polar Bears and the fact that so many travellers seemed to be doing this trip for a second time speaks volumes.

K.L. Fife

This is the second time we have been on this trip which in itself indicates how much we enjoyed it. Once again the Oceanwide Expedition guides were world class and blend perfectly with Naturetrek's own very experienced tour guides. Dr Ian Stirling is a leading expert in Polar Bears and along with Oceanwide's tour leader Rinnie van Meurs, we were treated to a master-class in Polar Bear behaviour. As before, the organisation of the trip was carried out in a professional and efficient manner with Naturetrek staff ensuring thongs ran seamlessly. Well done!

T.M. Wiltshire

The leaders, both Naturetrek and Oceanwide, were very professional, knowledgeable and very approachable. Nothing was ever too much trouble. They worked tirelessly to find the animals. The Captain of the ship was so skilled at edging slowly towards the animal which enabled us to watch images of the Polar Bears devouring a Bearded Seal. the Arctic Fox eating a Guillemot, and the stunning scenery will stay with me forever.

K.M. Norfolk

Anyone, especially on a first trip to the polar regions, should be prepared to have their mind blown away with the experience! The stunning scenery, the light, the superb wildlife living at the edge of existence, all fabulous. I especially enjoyed the hours of interaction between the four bears on a seal kill, how they managed to 'share' rather than squabble, one crossing over a mile of pack ice and open leads to join the feast - absolutely fabulous. As a birder, the Phalaropes spinning in the water, the Ivory Gulls taking every opportunity to join in the 'Bear Feast' and the buzz of visiting the two big Auk colonies will live long in my memory.

S.M. Northumberland

The trip was brilliant overall. We got to see a large amount of wildlife thanks to great efforts from the crew. We saw 6 different Polar Bears; 5 on the same day. The tour leaders showed great knowledge of the wildlife and plant life in Spitsbergen. The food was also excellent.

D.P. South Wales

The whole tour was well planned. Accommodation in Oslo and Longyearbyen was very good. The ship was well appointed and very comfortable. The standard of food on board the ship could not be faulted. The same said about the staff and crew. The itinerary was well thought out. Flexibility was the key. The wildlife, the scenery and just being there is something that most people will never experience. It will stay with us forever.

D.R. Cheshire

The guides and all the staff on board were excellent! The organisation and content of the trip was first rate. The nature we encountered along the way was spectacular, particularly watching four Polar Bears at one site.

D.H. Surrey

It was extremely well organised and both the Naturetrek staff and the expedition staff were excellent. Everyone was well looked after and the way activities and meals ran meant that the entire group gelled really well. The expert knowledge displayed by all the staff was outstanding and really helped us to appreciate all the wildlife and the environment.

M.H. Surrey

The standard of accommodation and service on the MV Ortelius was outstanding, the devotion to searching out wildlife was excellent and the crew, staff and wildlife guides did everything possible to make our trip a success. The sightings were particularly good. One of the unexpected highlights was having the Polar Bear authority Ian Stirling on board. A memorable trip in every way.

Mr & Mrs B. Cumbria

Good mix of activities and lectures that broadened my knowledge. The combination of Naturetrek and the boat guides worked very well. The boat experts were excellent and I was blown away to be on the same boat as Ian Stirling - THE expert on Polar Bears!

D.C. Essex

I enjoyed seeing the Polar Bears and other wild animals and birds in their own environment. The fantastic colours and formations of the ice, is wonderful scenery. The 24 hours of daylight is an experience, not to miss a minute of it. This was my second visit to Spitsbergen, I look forward to visiting this magical, spectacular place again.

B.G. Glamorgan
2019
Departures
Availability
Cost
Tue 25th Jun - Fri 5th Jul
1
£6,895
Flights:
Most Naturetrek tours include flight costs ex-UK. If flights are not included, we indicate that here.
Flights are included in the tour cost
Regional Departures:

On certain tours it is possible to depart from a regional airport (rather than London). If a regional departure is possible, we indicate that here.
Regional Departures are available. Call 01962733051
Land only cost:

The "Land Only" cost is the tour price you will pay if you choose to arrange your own flights/transport.
£6,395
Room sharing options:
If a customer on this departure has already expressed an interest in sharing a room it will be flagged here. We will identify if there are sharing options for male, female or both.
Male sharing available, Female sharing available
2020
Departures
Availability
Cost
Fri 26th Jun - Mon 6th Jul
SPACES
£6,995
Flights:
Most Naturetrek tours include flight costs ex-UK. If flights are not included, we indicate that here.
Flights are included in the tour cost
Regional Departures:

On certain tours it is possible to depart from a regional airport (rather than London). If a regional departure is possible, we indicate that here.
Regional Departures are available. Call 01962733051
Land only cost:

The "Land Only" cost is the tour price you will pay if you choose to arrange your own flights/transport.
£6,495
Room sharing options:
If a customer on this departure has already expressed an interest in sharing a room it will be flagged here. We will identify if there are sharing options for male, female or both.
Male sharing available, Female sharing available