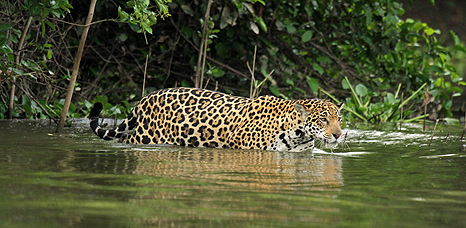 Jaguar (Andrew Lapworth)
Edwardo lifted the empty gourd to his lips and called again. We stood quietly, listening. There was no answer, just the flicker of fireflies through the darkness and splashes from the nearby water where we had seen giant river otters hunting at dusk. For a third time Edwardo called and suddenly, as if from the very edge of Brazil's vast Pantanal, a Jaguar coughed in response. The stillness intensified as we knew Edwardo had once called a Jaguar to within a few feet ... but not this time. 
They were tantalisingly close. On early morning truck safaris I had often looked back along the track, hoping to see one suddenly appear through our dust clouds, conjured up as if I were an ancient shaman. But we had to be content with fresh prints and the skull of a crippled bull that a Jaguar had killed and then dragged to the forest edge, where Edwardo had disturbed its feasting. 
There had, however, been many compensations. Hyacinth Macaws visited the trees outside our rooms and spotlighting had revealed Marsh Deer, Crab-eating Foxes and raccoons, a motionless potoo imitating a tree stump and a long view of a Tapir crossing an open stretch of grassland. At every one of the trestle bridges we clattered over along the Transpantanal highway there were bronzed caiman lining the banks, white egrets, large multi-coloured kingfishers, both Green and Black Herons, and sometimes the massive Jabiru Stork: all drawn to the diminishing waterways in the Pantanal's dry season. 
Porto Jofre, with a growing reputation for Jaguar sightings along its extensive waterways, was the final chance. Mario, our leader, arranged a full day's boat trip and early on we saw more Giant River Otters, capuchin and howler monkeys and towards dusk we passed roosting egrets and cormorants, with large Long-nosed Fruit Bats hunting close to the water. At each bend and along every quiet backwater we explored, our hopes grew. But there were still no sightings.
Wisely, a morning siesta followed, though fellow participants Paul, Clair and I were out early, in nearby forest. Again we saw no Jaguars but returned for breakfast with an increased respect for Capybaras. Their presence so close to the road had suggested they were literally easy meat for Jaguars, but the family group just ahead of us moved in a sudden synchronised flow into a nearby ditch covered in vegetation, so silently and so quickly that on reaching the spot we could detect no ripples betraying their submerged presence. 
That afternoon we headed in the other direction along the Cuiaba river and, with about half an hour of daylight left, entered a tributary, the Negrillo. Thankfully, initial dark canopy gave way to an open sunlit stretch and then Mateus, our normally quiet boatman, suddenly became very excited, pointing ahead. There it was at last, a swimming male Jaguar, already close to the far bank and quickly hauling itself out before slipping away into the shadows. I watched it through binoculars, seeing the large black-edged rosettes on the visible part of its mainly submerged body and being conscious of its large size compared to recent sightings of Ocelot and Margay. 
One of my lifetime ambitions had been achieved. At last, for a few fleeting but magical seconds, the multi-layered symbolism of the glyphs and stone carvings seen at jungle-surrounded Mayan sites like Tikal, Yaxchilan and Xunantunich had become flesh and blood. 
But more was to come. Suddenly his mate entered the river ahead of us, in front of a deep bed of water hyacinths. Mateus instinctively moved our boat forward but she turned back to the bank and we feared the moment had gone. We waited, as Mateus and Mario had a whispered conversation. The boat stayed still and suddenly the Jaguar was back in the water. Mateus looked towards Mario but he gave no signal until the Jaguar was halfway across. Then we moved forward and as I watched her there was no visible sign of alarm, no increase in the pace of her swimming. She reached the bank, climbed up its slope then amazingly turned towards us with a long backward stare before melting into the growing darkness. 
Suddenly the tension snapped. Clair at the front of the boat gave me a photographic thumbs up and I leaned forward to give Mario a big hug. I can only vaguely remember the journey back. Someone tried to talk to me and the elegant Scissor-tailed Nightjars were hawking around us. But in truth my mind was elsewhere, as if for a precious moment in time I had entered the supernatural world of the shamans, the spirit world of Jaguars, shape-shifters, eaters of souls. 
For further information about our 12-day 'Brazil - Just Jaguars!' holiday please visit the tour webpage.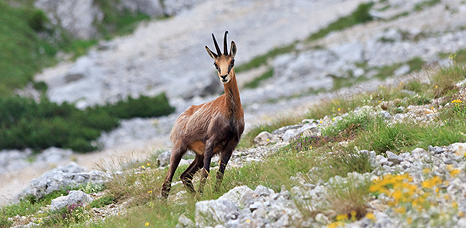 Wildlife watching in Italy's Abruzzo National Park
Above the Alto Sangro valley, in the flower-filled meadows of the beautiful Valle di Rose, we pause in the sunshine to look down on the hilltop town of Civitella Alfedena, the brown and yellow mosaic of its clustered roofs complementing the opaque, turquoise water of Lago di Barrèa. Here, in the great amphitheatre of Monte Boccanera and the Passo Cavuto, we are entertained by the chirruping of black-helmeted, yellow-belted field crickets, who jealously guard their tiny burrows. Nearby, a percussion of bells locates the shepherds' horses that graze peacefully amongst white Star of Bethlehem, yellow Trefoil, purple Basil Thyme, orange Euphorbia and the ephemeral Red Grass Vetchling. But we cannot stop for long.
Avoiding the diggings of Wild Boar, we resume our 'naturalist's pace', single-file on the red and white blazed trail of the I1. As we walk, we chat and, steadily, we gain height, moving from shrub and Laburnum to dense, coppiced Beech woods. We step aside to give way to a party of Italians, intent on the high summits. 'Ciao, buongiorno'. 'Buongiorno!', we echo. A good day. A chorus of cuckoos heralds the symphony of woodland birds; we hear the falsetto trills of Bonelli's Warbler and the high-frequency piping of Firecrests, who flit above our heads. In the clearings, Early Purple Orchids beckon us to a photo shoot, while the unprepossessing appearance of Solenanthus apenninus belies its rarity value to those who are 'ticking the list'. Carefully, we circumnavigate strategically placed droppings that indicate territories of Apennine Wolf and Red Fox, and rest for a while in the dappled shade, sitting on stones as cold and smooth as ice. We listen, we watch, we learn.
Approaching the edge of the woods, we come across the first snow of the walk, dirty brown in the hollows of the stream beds, and then we are released into the open sunlight of the high meadows. Such delight as we spot our first Alpine Squill with visiting bumblebee, our first tiny Yellow Whitlow-grass and our first Spring Crocus, its mauve, finely-veined petals and bright golden stamens contrasting with the flattened drab-brown of grass, recently covered and compacted by snow.
In the stage of the cirque, we eat our lunch of bread, local cheese, cured meats, fruit and olives, overseen by an Abruzzo Chamois, who stays seated in the sights of younger-leader Lee's 'scope for the duration of the meal. Meanwhile, older-leader Andrew gently, quietly and patiently instructs us in the flora of the miniature rock gardens and tiny vertical limestone-pavements: the intricate Brittle Bladder-fern, the endemic Reddish Saxifrage with its finely-haired pink stems bowed in greeting, and the cobwebbed, showy Sempervivum. We admire the Morels, nestling in the grass, and the blue Viola, posing alongside Prostrate Juniper. Above all, we absorb the majesty of the peaks, still with their coats of white snow, the light-grey of the limestone scree slopes and the jagged rocks, outlined against the blue-grey sky.
The group is allowed time to explore and I make my way up a spur, towards the pass. In the remaining snow, the tracks of a Mountain Hare are clearly visible and, now high above the treeline, there are patches of the stunning Spring Gentian. A solitary Northern Wheatear, with his mask of Zorro, shadows me as I pick up the trail of the Italians whom we met earlier. In a flash of long-forgotten memory, I am nine years old, carefully treading in the footprints of my father who has modified his gait to match that of his young daughter. I reach out to touch the climbing rope and the cool steel of the ice pick, hanging from his old canvas rucksack. The mist swirls over the ridge and I shiver momentarily in the low cloud. No sound breaks the silence. I turn to look back towards distant Barrèa; the group is dispersed, some on the adjacent snow ridge, watching Chamois, some stooped to photograph, some deep in discussion and some merely pottering. I wave but no one sees me. I am alone, in the highest tiers of this magical place. It is truly a good day. It is Sunday, the second of June. It is my birthday.
For further information about our 8-day 'The Apennines: Italy's Abruzzo National Park' holiday please visit the tour webpage.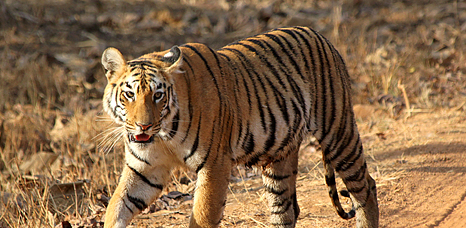 Bengal Tiger (Geoff Harwood)
Magical Moments with Tiger Direct!
Superstition has it - so we were told - that if the first animal you see on entering a game reserve in India is a Wild Boar then you will definitely see a Tiger! Good news on day two of our visit to Tadoba then!
News reached us that one of the family of four adolescent cubs and their mother had been seen at Telia Lake so we headed that way, more in hope than expectation!
There were already a few jeeps dotted along the shoreline, but no sign of any Tiger.  Suddenly someone noticed a Sloth Bear emerge from the trees in the far distance, causing several jeeps to dash off in its direction. We remained where we were, the silence only disturbed by some hushed chitter-chatter.
Then slowly and leisurely one of the cubs appeared out of the forest and padded down to the lake's edge. She sank slowly into the cooling water and turned her head back from whence she had come. We turned and looked but could only see trees and scrub.  Cameras clicked and whirred but otherwise all was still. Minutes passed. Her ears pricked up again as a second Tigress and cub ambled down to join her. They nuzzled and lapped the water. Clearly restless, one set off around the lake followed by the other.
Catching up with her sister, the first cub appeared to want to play. She nuzzled and cuffed her sibling only to be rebuffed. She persisted. We all held our breath; silently hoping for some action!
Our playful cub then splashed a paw-full of water at her sister which finally provoked her into action. They rose together on their hind legs cuffing each other and splashing water in each other's faces! What a sight! Cameras went into overdrive. It can't have lasted more than a few seconds but those seconds were pure magic.
Indrajit – our guide - exclaimed: 'It doesn't get any better than that!'
Agreed! Although ...
On our last morning in Kanha it was our group's turn for the elephant ride.
We set off on the two elephants, majestically swaying through the bush atop these magnificent animals. We knew there had been a Tiger sighting in the area earlier so we headed in that direction, but disappointingly there was no sign.
We continued through the trees, ducking the overhanging branches, and down into a gully. Turning a corner along a narrow path we found him, gently padding along the track.
We followed.
He stopped.
We stopped.
The atmosphere was electric. We were so close to this amazing animal, unfazed by us or the elephants. We approached a little closer! This clearly irritated him! His space invaded he snarled, got up and continued his journey. We followed for a while before leaving him to go about his business. Another magical moment had been ours!
Oh yes! And what was the first animal we'd seen that morning? A whole family of Wild Boar of course!
For further information about our 9-day 'India - Tiger Direct!' holiday and 4-day extension to Tadoba National Park please visit the tour webpage.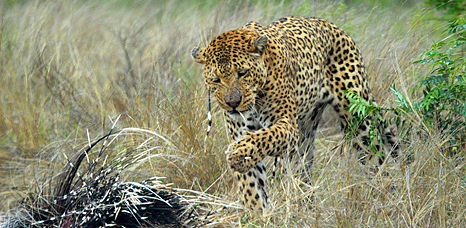 Leopard with Porcupine (Samantha Jones)
Last month (October 2012) I returned from my third visit to the Kruger with Naturetrek. I am sometimes asked whether I don't just see the same animals every time. Well, of course, I do, but as keen birders it is not just a matter of another tick on the list but, more importantly, of stopping and observing animal behaviour - even of 'familiar' animals. There is also the chance of better sightings of creatures already encountered and, of course, it is very exciting to see a 'new' animal. This year's safari accomplished all three of these.
The journey from the airport to the Kruger and back took us over the high veld and this afforded closer sightings of both Blesbok and Black Wildebeest. The former, a fairly large antelope, is very striking with its white facial blaze which extends from its horns down to its mouth. The latter, a very large antelope, black in appearance with a white, horse-like tail, is the gnu of the song 'I'm a gnu, a gnother gnu'. It was wonderful to have better closer views of these.
The high veld also revealed two 'new' animals to me, the Grey Rhebok, a small graceful antelope, and a 'new' mongoose, the Yellow Mongoose. We spotted this creature, reddish-yellow, hence its name, in the grass beside the road before it ran across in front of us - then it sat up and looked at us in the classic pose of a Meerkat.
In the Kruger National Park itself we caught glimpses of a Cape Clawless Otter. Here otters are rarely seen and so we were very fortunate. Early one morning (the camp gates open at 5.30am) we were at a dam observing the Hippos when our attention was attracted by a pair of Blacksmith Plovers behaving in a very agitated manner. It was then that we saw the otter swimming near them. Was it planning to steal eggs or chicks from a nest hidden from our view? Alas, we shall never know, but it was a wonderfully exciting start to the day.
Arguably, even more exciting were the Honey Badgers we encountered at Satara, our first camp. Last year we had seen the results of their nocturnal activity when they had overturned some rubbish bins in search of food, as foxes used to do here but the creatures themselves had gone. This year as we were leaving the restaurant after dinner, we saw a pair busily digging a hole and we stopped to watch them for some time. I should have liked to get closer but we were advised to keep our distance for they are vicious carnivores and have been known to inflict nasty injuries on larger animals, including humans! As their name Honey Badger suggests, they are partial to raiding bees' nests but this evening, we think, they were after ants and termites. When we inspected their work the next morning we were amazed to discover that the hole was a good metre deep!
Everyone hopes to see a Leopard and we were no exception! Though not rare, Leopards are rarely seen for they are mainly solitary and nocturnal and so the sighting of one during the morning was a special thrill. We were driving between two camps, Satara and Skakuza, when we saw on the right hand side of the road a car with a Leopard next to it. At first I thought there had been an accident and that the car had hit the Leopard. Another member of our party thought that the Leopard might have tried to attack one of the occupants of the car through the open window!
We were both wrong. In fact besides the car and the Leopard there was a porcupine between the car's wheels and the Leopard was pulling it out. It appeared that the Leopard had been pursuing the porcupine, which had run into the road and under the car which had enabled the Leopard to catch it. We watched as the Leopard dragged the porcupine out from under the car with a front paw, then bite it to kill it. But porcupines have quills, long quills, and in catching and killing its prey the Leopard had got one or two of these quills in its face and, with its right-hand front paw, was trying to brush the quills out. We watched as the Leopard dragged the porcupine off the road and into the bush.
Alas, we shall never know whether the Leopard was successful in removing the porcupine quills from its face. I hope it did. This was certainly the highlight of our safari and, like many an incident on safari, we were just lucky to be there at that time. A few minutes earlier or later and this encounter could have been missed. This is what makes wildlife-watching such a thrill!
For further details about our 10-day 'South Africa - Kruger' safari please visit the tour webpage.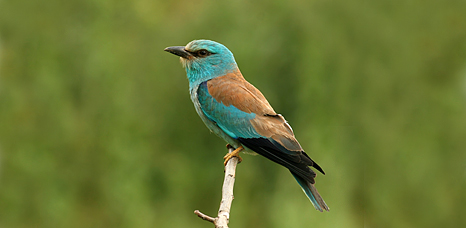 Birdwatching Holiday for Beginners in France's Camargue wetland
Despite having the surname of 'Starling', I am not the usual 'birdie' person - in fact I have a phobia about being in confined spaces with birds. So this may not seem a natural holiday for me. However, we set out for the Camargue on a bright Sunday afternoon and arrived in Montpellier less than two hours later. We met up with our group and, just on the way to the hotel, we saw Little Egret, Glossy Ibis, Black Kite and a Hoopoe - not the species we would normally see back in East Anglia. With the day rounded off with a wonderful Provencal meal and washed down with a very decent Cote du Rhone, I could tell this was going to be a good holiday even for a non-birder like myself.
We woke the next morning to bright sunlight and some of our group took the opportunity to do some early morning birdwatching. After a hearty French breakfast, we set off for the Parc Ornithologique at Pont De Gau, seeing a plethora of birds on the way including Hobby, Honey Buzzard, Roller, Bee-eaters, Squacco Heron, Red-created Pochard, Great White Egret, Grey and Purple Herons, Stone Curlew, and Common and Greater Spotted Cukoos. Arriving at the Parc we enjoyed a delicious picnic lunch with the only issue being the heat of the sun (the UK was having snow at this point I believe!). The Parc and its reserve areas are home to numerous flamingoes and storks; Black-winged Stilts and another Hoopoe were also spotted. A combination of lunch, the heat, walking and birdwatching led to many of us contentedly dozing on the journey back to our hotel. That evening, after yet another wonderful meal, we piled back into the minibuses and set off in search of an Eagle Owl. We didn't appreciated that it was the 13th day of the month and the year 2013 plus the 13th time that one of our guides, Ian, had gone Eagle Owl spotting in the area. There had been only one occasion when he had not had success and this made the second. It just went to prove that you cannot book nature to perform. A glass or two of red wine back at the hotel and a long day of birdwatching set us up perfectly for a good night's sleep.
The next day we set off for St-Martin-de-Crau stopping first at the desert area that is the Crau Plain reserve. The original plan had been to do this trip tomorrow but it was brought forward in view of wet weather being forecast. We saw Southern Grey Shrike and another Stone Curlew plus more Honey Buzzards. The area is a great attraction for dragon and damsel flies and we spotted Copper Damoiselle and Blue-tailed Dragonfly. By this time it was starting to warm up, so off to St-Martin-de-Crau for a comfort/coffee/beer stop then up into the mountains for a picnic lunch, during which we were visited by a Crested Tit. We walked off lunch by going up a short track to magnificent mountain views and sightings of Alpine Swifts and an Egyptian Vulture. The trip home took in a place known as 'Roller Bridge'. No Rollers today but we saw butterflies, Egret, Kingfisher and a Coypu. Then back to the hotel to write up our group viewing notes over a cold beer.
Our last full day in the Camarque. As forecast, rain came and went during the day. While stopping at an observation platform at La Vaccer's National Reserve, a fox was spotted walking along the shoreline. A visit to the coast produced sightings of Dunlin, Knot, Curlew Sandpiper and a variety of terns. Star sightings were Short-toed Eagles and a Slender-billed Gull. A surprise visitor was a black swan. A further surprise awaited us when we arrived back at the hotel: a very welcoming cup of tea and cake. As we broke up to go to our respective rooms that evening, a Stripeless Tree Frog put in an appearance.
Day five, and time to go home, but not before a brief spell of birdwatching. Aside from the (now usual) flamingoes we had good views of Bee-eaters, and added Caspian Tern to our sightings list. We then started to go our separate ways; it seemed odd that, only five days ago, we had been complete strangers. The enthusiasm of our guides and the other group members rubbed off on me to the extent that, back in our home village, I am finding myself trying to spot birds far more than I was a week ago. I must confess, though, that I would still not wish to be shut in a room with one!!
For further information about our 5-day 'Camargue in Spring' birdwatching holiday for beginners please visit the tour webpage.