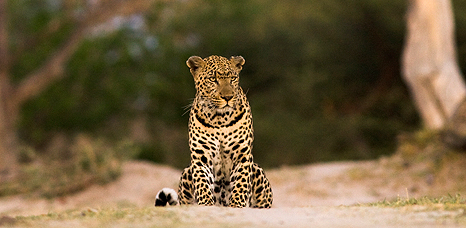 Leopard (Letaka Safaris)
The Ghost of Moremi
'Oh no! How much did I have to drink last night? I'm sure that's a white animal up there. Nah, it can't be.' I was just about to sign off red wine for good when I heard our guide say, 'Oh good, it's still here.' We were driving out of Moremi towards Maun and the airport on our last day of the trip. The focus of our attention was an albino Lechwe, who was apparently still alive, according to our guide, because the Lions in that particular area were 'cack'. Whatever the reasons for its survival I will be forever grateful. I have seen albino Lions and monkeys on the television, but to actually see an albino wild animal in the flesh was such a shock.  The rarity of such a sighting was not lost on me and even now, four years later, if I close my eyes I can still visualise it, running through the flooded grass plains.
The Okavango Delta in Botswana has to be the most stunningly beautiful place on earth. As we sat quietly watching the 'ghost' running around with its fellow Lechwe, water splashing, I really did think I'd died and gone to heaven. If there really is an afterlife then I would bet my soul on it looking like the Okavango. Pied Kingfishers swoop and swirl. Antelope really do frolic. Lions snooze, posing for the occasional photo and when their stomachs rumble they snoop and stalk around looking for prey. Then there's the largest land mammal suddenly appearing out of nowhere as they quietly rumble around looking for food and water. How does something so big move around so stealthily?
Before I booked the holiday I was very apprehensive about going on the trip as I was not sure about the mobile camping. However, the thought of going to such a wonderful place outweighed my doubts.  I am certainly glad that it did. Camping in the Okavango is an extraordinary experience. Lying on your bed at night listening to the Lions roar, the hyenas laughing, the frogs crocking and the insects singing is far better than lying on a luxury bed in a lodge – honest. Having to 'pop out' for a call of nature in the middle of the night really is an adventure. 'Oh my, is that sparkle the eye of a Leopard? No, it's ok, it's only a fire fly.'  Taking a bucket shower out in the open - well, ok - not completely out in the open – we don't want to scare the animals off after all, really does make you feel close to nature.
Before I travelled, as always, I read a lot about my destination and checked out the birds I would possibly see whilst there. My eye was caught by a little blue bird, a Blue Waxbill. I thought how wonderful it would be to see one of those, but in reality thought it would not happen. Imagine my delight when I discovered that this little bird was as common in the Okavango as a Robin is in the UK. I saw several on our stop for lunch on the very first day. That is something I learnt very quickly on that trip – expect the unexpected. Do not look for a Leopard up a tree, because it will be sat in the middle of the road when you turn the bend. When you hear the squirrels scolding and see the birds mobbing in the grass, it will not be the Cobra Snake but an African Wild Cat asleep.
The Okavango really is a magical place. Every year when it comes to deciding where to take my precious holiday my mind always goes to Botswana first and that fabulous camping trip. I always try to go somewhere different as there are so many places to go and so much to see, but I'll make an exception for the Okavango. In fact I have already been back and had an even better time than the first trip – didn't think that was possible. I say to everyone I meet on my travels, if you haven't been already go to heaven on earth, the place that is known as the Okavango Delta. If you are really smart you will go on the camping trip with Naturetrek. Who knows, if those Lions really are 'cack' the 'Ghost of Moremi' may still be strutting its stuff through the Elysion Fields.
For further information about our 10-day 'Botswana's Desert & Delta' holiday (bargain birdwatching tour) please visit the tour webpage.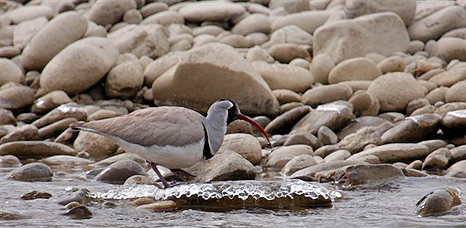 Ibisbill (Gerald Broddelez)
Years of dreaming, months of waiting and days of restrained anticipation now melted away; gone forever. Ironical really, as I stood wrapped from head to toe against the bitter cold. In that moment a desire of my youth was realised, a quest fulfilled. The water running down my cheek was not just rain; there was also a tear or two. The emotions were as strong as they were varied; how could one fail to feel excited, jubilant and yet also humbled? In that mighty landscape I was like nothing.
Ever since a magical adventure to the Tien Shan Mountains in Kazakhstan I had longed to set eyes on the Ibisbill: that rare and enigmatic wading bird of the high mountains of Central Asia and the Himalaya. I was a teenager then, but the passage of time had done nothing to diminish my desire.
So there I was, 12,000 feet up in the Himalaya, several days of strenuous trekking behind me, fulfilling my ambition. Thick cloud clung to the surrounding towering buttresses like a heavy veil. The rain and the sleet stung my face, my toes were numb and my legs weary. But I was warm inside, an inner satisfaction burning. Nepal's Langtang Valley had already revealed a few of its avian gems; now I stared upon the crowning glory.
In that bleak, forbidding landscape of rock, snow and ice, out there amongst the braided mud and gravels of the Langtang River were the mysterious Ibisbills. They were larger than expected and very much more camouflaged. Despite being almost the size of a crow, with their brown and white bodies, grey necks and striking black chest and facial markings they blended into their background perfectly. Their distinctive, long red down-curved bill was their giveaway. From the stony river bank binoculars were essential but problematic. It was a constant battle to keep them free from moisture and to stop them misting up. My soaked hanky seemed to add more water than it removed! Cold, damp, glove-covered fingers struggled to manipulate the focusing ring. The views were not the 'cleanest' but what did that matter? It was such a special encounter. The effort of getting there and the difficulty in seeing those birds only added to the euphoria I struggled to contain.
Just a few days earlier our Naturetrek group of five intrepid 'explorers' arrived at Kathmandu airport, all eager to experience the delights and demands of the Langtang Valley. After a first night in the comfort of a city centre hotel we made the long drive northwards to the village of Syabru Bensi. Tortuous roads twisted through the terraced foothills, long steep drops to the valley floor making me shift uneasily in my seat. Overflowing buses, passengers aboard the roof, made me hide my eyes. I was scared to look! We pressed on, winding our way ever closer to our 'base' camp.
The following morning, as I stuck my head out of the tent, the cool fresh mountain air hit me full on. The surrounding slopes rose steeply and encircled our camp, shielding out the rising sun. It was still early ... but it was time to move. That day we set out on foot. And so it was for the next three days, each one taking us further into the depths of the Langtang Valley. Climbing higher and higher we left the luxurious forest behind, with its huge pines and rhododendron bushes, to emerge amongst the scrub and heath and then scant vegetation above the tree-line. Beautiful birds and butterflies escorted us along a riverside path that soon began to punish both legs and lungs. Save for the effort, it could have been the Garden of Eden. On the afternoon of the third day we reached the upper valley. Camp was pitched at Kyangjin from where, in inclement weather, we went in search of our quarry. Conditions were challenging; the haunt of the Ibisbills was truly a remote and hostile place.
That night, huddled in our tents, we struggled to sleep. The cold and the wet did battle with fatigue until finally fatigue triumphed. In the morning the frost on the fly-sheet told its own story. A bright sun streamed across a clear blue sky, illuminating the snow-covered peaks like a spotlight. Yes, it was cold, but it was glorious too.
After a warming breakfast of porridge and coffee we began our descent. In a couple of days we would be in Kathmandu, I mused, and a couple of days after that we should be home. It was a rather surreal thought as I stared back up into the Upper Langtang Valley, back up to where the Ibisbills had revealed themselves; back up to where that distant dream of my youth had now, at long last, been fulfilled.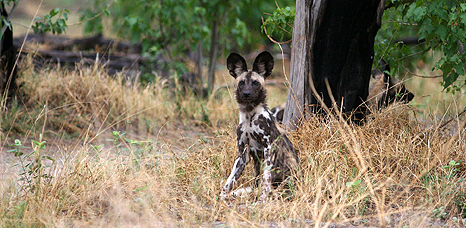 African Wild Dog (Grant Atkinson)
We left camp at the crack of dawn, bouncing along in our Land Cruiser, wondering what the day would bring. Before we had travelled far, someone spotted a male Leopard, pacing, with great purpose, through the bushes close to the track. As we set off in pursuit, our guide heard Wild Dogs barking in the distance, off in the direction the leopard was taking. We soon came across a solitary African Wild (Hunting) Dog, resting on the plain. Close by, under bushes and trees, 11 young dogs were sprawled about. Our guide explained they were hiding up, waiting for the adults to return and lead them back to a kill as soon as they had been successful. They all remained vigilant as other predators following the hunt, especially a Leopard, would take a young dog if given the chance.
We waited quietly hoping a drama would unfurl. Suddenly four adult Wild Dogs burst onto the scene and were greeted by all the company with a series of barks and whelps. The alpha male and female had returned. Their muzzles were un-blooded and there was no sign of a kill. Within minutes the whole pack set off again, this time with the adults scouting out in front. They travelled fast, with a seemingly light, effortless gait. They followed the edge of the woodland, peering in amongst the trees for game. We set off in close pursuit. The pace quickened and we found ourselves crashing through the scrub straining to see where the individual dogs were.
The excitement of the chase was felt by all. The engine droned, barking rang out and branches cracked as we sped through the undergrowth. Then suddenly it all went quiet again. We had lost contact with the pack. We retraced out steps a short distance and started searching. Shortly, a lone adult hunting dog came briefly into view and then ran off back into the woodland. We followed and soon heard a commotion of excited and barking dogs. As we approached it was clear they had made a kill. There amongst the scrub at the base of a tree, a female Impala lay dead. A frenzy of young dogs were dispatching the carcass with a ruthless efficiency. The adult held back, blooded and panting, keeping watch as their offspring took their fill. Their muzzles were covered in blood. This contrasted sharply with their perfect ivory white teeth revealed in a strange sardonic smile. They maintained their protective vigil, least the spoil might be stolen.
Finally the youngsters began to peel off and rest on the woodland floor, with their bellies swollen and replete. Only when the cubs had taken their fill, did the adults have their share. The head, neck and long bones were all they had for their efforts. There was nothing left for the Leopard if it had kept up with the hunt, and the pack had remained safe in the turmoil of the chase. 'Botswana's Desert & Delta'. October 24th 2012. We had witnessed an amazing event played out by one of Africa's most endangered species. Its dramatic savagery somehow justified and right in this environment.
For further information about our 10-day 'Botswana's Desert & Delta' bargain mammal watching holiday please visit the tour webpage.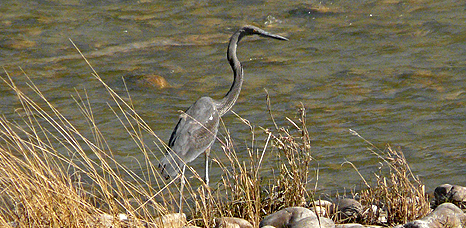 White-bellied Heron (Michael Ball)
Quest for a Heron
Punakha Dzong - not a comic book expletive but one of Bhutan's very impressive 17th century fortresses which also serves as a Buddhist monastery and administrative centre. Its setting is achingly beautiful at the confluence of the Mother (Mo-chu) and Father (Pho-chu) rivers. These two fast-flowing wild rivers flow bright shades of blue and green reflecting their provenance as glacial meltwater from the high Himalayas not far to the north on the border with China.
After lunch at our hotel, the Damchen Resort, interrupted, as is so often the case on nature holidays, this time by two Ibisbill probing an eddy amongst the river boulders in the hotel grounds, we visited the Dzong for a mixture of culture and birds. On the short drive up valley from the hotel we failed to locate the rare White-bellied Heron. However, this was not a major problem as we had a secret weapon with us, our charming, poised and very knowledgeable Bhutanese guide, Jatso, who had spent time studying this Heron and observing its breeding habits. We also gained up to date information from other ecotourists visiting the Dzong.
Jatso and our Naturetrek guide, the larger than life, humorous and expert naturalist, Sujan Chatterjee, hatched a plan to search for the heron the following afternoon along the Father river.
The weather was fine, bright and sunny as our driver, Pema, carefully guided us in our small bus along a small, bumpy and only partly made up road passing through the pleasant farmland and rice fields along the south side of the river valley. We were not all birders so the tension level was not high, but we all felt a sense of considerable anticipation as we bumped our way up the valley, with frequent stops to view the river below. After a while, eagle-eyed Sujan spotted our quarry on the water's edge around a distant wooded island in the river. The bird flew off upstream before we could all be truly satisfied with our views of this globally threatened species, which is more than 25% larger than a Grey Heron.
We continued our quest further upstream and stopped by a typical, decorated wooden farmhouse where Jatso asked permission to go down a track to overlook the river. Eureka! There was a White-bellied Heron stalking along the edge of a shingle bar showing off its improbably long neck and huge bill. The whole family from the farmhouse came out to watch us, with the children in particular wide eyed at the large, pale westerners complete with cameras, optics and telescope.
Not entirely satisfied, despite our excellent sightings, we continued further upstream and got lucky again!! At that stage a little tiffin was called for so tea, coffee and biscuits were consumed whilst looking down on the magnificent rare heron from a high promontory overlooking the river. Some of us saw the bird fly off downstream, but others saw it fly upstream – in fact we had seen three birds having been convinced we had only found two.
How can you improve on such a quest, from the most imposing Dzong, the wild and beautiful river, the sunny weather, the unspoilt scenery and the smiling Bhutanese people? Certainly the young national costume clad children en route home from school enjoyed our biscuits and having their photographs taken and then chasing our small bus down the valley.
Maybe you can improve on that wonderful afternoon? But sitting on a frosty night in a wooden bath in a shed, heated by hot stones taken from a fire outside, whilst sipping arak and listening to the Black-necked Cranes is another story!
For further information about our 18-day 'India - Assam, Darjeeling & Bhutan' holiday please visit the tour webpage.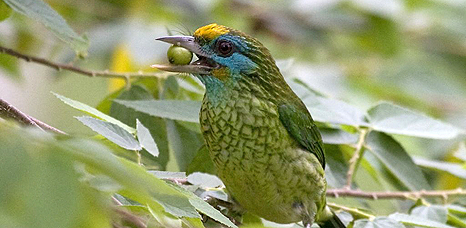 The endemic Yellow-fronted Barbet (Colin Brown)
My recent Naturetrek endemic birds trip to Sri Lanka (which also included a delightful few days bobbing gently on the Indian Ocean looking at Blue Whales and dolphins) was one I had long anticipated.
As always, and I suspect this is true of many keen birdwatchers, my pre-trip packing began with binoculars, telescope and tripod, and relevant bird books being safely stashed in my luggage with priority. However, for this trip these essentials were quickly augmented by various books and pamphlets on mammals, reptiles and insects of Sri Lanka together with my 'secret weapon' - my trusty bat detector.
Whilst it may seem unusual for a 'bird man' to be interested in bats, my many nature trips to various parts of the world have taught me that, even on the best trips, there are 'dead' times during a day when the daytime species had long since departed to their rest and the night creatures were obscured by the darkness, when activities tend to be restricted to enjoying a well-earned beer and making sense of the copious notes of sightings made during the day. Whilst I have no objection to undertaking both of these activities these times are often very fruitfully filled by a spot of bat detecting.
For those not familiar with this particular activity the principles are simple. As we know most bats (with the exception of Fruit Bats) emit high-frequency sounds with which to locate and catch prey. Each species, or group, tends to emit these sounds in different bands and even with a simple inexpensive bat detector these sounds (outside normal hearing) can be translated into audible clicks which, with a little background research, can help identify the species.
And so, armed with my bat detector I would spend a few minutes each evening and morning pointing my small transistor radio sized detector into the inky sky to see (or rather hear) what bounced back. It was amazing.
There are, my pre-trip reading told me, some 30 species of bat in Sri Lanka. Some are easy to see, particularly the Indian Flying Foxes which can often be seen lazily flapping overhead during daylight hours. Others require the use of technology as outlined above to detect and so it was over the course of this short trip to Sri Lanka that I managed to detect no fewer than 10 different species. For those with an interest in these things they were: a species of Sheath-tailed Bat; a Leaf-nosed Bat; at least two different species of Pipistrelle Bat; a Free-tailed bat; a Horse-shoe Bat; at least three species of Fruit Bat, and something that, despite some post-trip research, still remains a mystery!
But what of the birds, I hear the birders call? Well, these early evening and morning activities didn't in any way get in the way of the key purpose of the trip, namely birding, and in particular the pursuit of Sri Lanka's 33 endemic species.
To say that we failed this quest would be a cruel misrepresentation. In reality we saw 32.5 of the possible 33 endemic species. The .5 refers to a bird that, despite a number of brave attempts, eluded us as far as a sighting is concerned but we did, on more than one occasion get the Chestnut-backed Owlet to at least betray its presence by calling back to us. Hence the .5 score given.
Our guides (Susantha and Saman) were exceptional bird guides, but their knowledge extended much further than the avian world. Like all good guides they took great delight in finding that some, if not all, of their group had interests which extended beyond the sphere of ornithology. In this lies one of the arts of good guiding, namely an ability to extend a general knowledge of the nature and wildlife around without losing sight of the fact that the main purpose, of this trip, was to see and identify birds. And so, whilst pure numbers and ticks can represent a successful trip, additional pleasures come from seeing and learning about other aspects of the natural world around: mammals, reptiles, amphibians, insects and plants.
In addition to the bats, what of other mammals? In all I saw a total of 29 species of mammal on this trip. These ranged in size from the largest the world has ever known (Blue Whale) and the largest land mammal on earth, the Elephant (Asian variety) right down, in size, through deer (both Spotted and the majestic Sambar), Wild Boar, three species of Monkey, to Mongoose and some small unidentified rodents.
Reptilian life was equally rich. Three species of snake was seen (Merrem's hump-nosed Viper, Rat Snake and Keel-backed Water Snake) together with many different species of lizard and gecko.
As for the insect life in Sri Lanka, the most noticeable and spectacular were, of course, the butterflies as they flitted through the forest and along the forest tracks or, in the case of the Birdwing's, glided high above. Indeed, as we walked along the forest paths our movement caused small explosions of colour to appear before us betraying a huge variety of these wonderful creatures as a myriad wings took flight.
In short, my advice to all bird watchers (whether of the twitching variety or otherwise) is to take a few minutes each day to note and take pleasure in the other creatures around. After all, even if you cast you eyes upon a small and seemingly uninteresting insect rest assured it will be food for something and maybe, just maybe, around the corner will be two avian eyes belonging to a Chestnut-backed Owlet, concentrating upon it as well, although for very different reasons.
As to whether you should pack a bat detector in your luggage as well that is, of course, a personal choice. However, if you do it will certainly add to the pleasure of your trip and, even if you don't locate many bats, because of its propensity to pick up the jangle of cutlery as well, it has the added benefit of giving you a head start when it comes to dinner being served!
For further information about our 10-day 'Sri Lanka - Endemic Birds' holiday please visit the tour webpage.