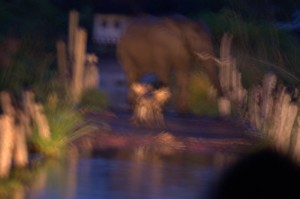 Bull Elephant and Wild Dogs (Andy Smith)
Watching hunting Wild Dogs in Botswana
It had been one hell of a day's wildlife viewing in the Okavango. Naturetrek's Desert and Delta tour had surpassed all expectations, thanks to our excellent guide, Disho Gabatsholwe. My thoughts were that it can never get better than this, but there was one last DAM in the script!
My wife had never been to Africa, let alone on safari, so Saturday November 8th 2014 would live long in the memory banks. The day had started for me very early, 1 am to be precise, when my slumbers were interrupted by a Spotted Hyena at the tent flap. This is experiencing Africa in the raw, were my thoughts, as sleep consumed me and I drifted off to the roars of not so distant Lions!
The morning had found us moving camps, and relocating to the Moremi Game reserve. It had not been long before we were observing a group of four female Lions with three cubs, dozing under a bush. This encounter was soon followed by a Leopard, walking in full view to a Termite mound, where it also slumped down to rest, yawning on cue for that shot of some impressive canines.
In the late afternoon we found a Cheetah with an Impala kill: the gruesome scene evidence of earlier savagery. As we drove to our new camp site, dusk was falling, but we still managed to add a scurrying Honey Badger to our day's tally.
What a fantastic day. It was hard to comprehend that we had seen: Lion, Leopard, Cheetah, Hyena and Honey Badger all on the same day. An impressive mammal list and a real privilege.
To reach our camp we had to cross the Khwai River via the aptly named Third Bridge. Now I have crossed the Severn and the Forth bridges, but never a Third bridge! This crossing is an event in itself. The structure is made of logs that, worryingly, moved as our Land cruiser edged its way across. However, it is an ideal construction for the situation. A more solid bridge would no doubt be undermined and washed away during the wet season. This ford allows water to pass both under and over, protecting the bridge and still providing a safe passage. Very clever.
As the headlights picked out the far side of the ford a large bull Elephant could be seen, tusks glinting in the moonlight. He also seemed intent on crossing. This was interesting. Would he move aside for us? Just then a movement close to our vehicle caught my eye. As I looked to the side, four Hunting Dogs appeared from the darkness. This had been my dream - to see this much-maligned and declining species. The famous 'Painted Dogs' were not 5 metres away! Confidently they went ahead and we followed. Disho was now playing a beam of light on the encounter that was unfurling in front of us. The four dogs approached the Elephant, barking and growling, but keeping together. Surprisingly the Elephant moved to the side, raising its head aggressively. The dogs picked their way past and scampered off to the other side. We followed, closely passing the Elephant that was soon lost to the darkness. We followed the Hunting Dogs as they moved to an open area where Impala were nervously standing. One of the dogs began to run, like a well-trained sheep dog, arcing round. As if by telepathy the others started to hunt. The Impala sensed the threat and were off. The chase had begun and within seconds all was lost to the shadows of the African night. We drove on elated and stopped at our camp, just 200 metres from where this final act of the day had been played out.
As we sat around the camp fire recollecting the day's events I am not ashamed to admit that I was close to tears. What had been an incredible day for wildlife sightings had ended with what we christened a Sensational DAM. In fact perhaps our finest DAM ever. So what is a DAM? Well, it is one of those God moments. To put it simply a David Attenborough Moment, normally only experienced via the TV screen and enjoyed in the comfort of the lounge. This had been in the raw, and would never be forgotten.
For further information about our 10-day 'Botswana's Desert & Delta' holiday please visit the tour webpage.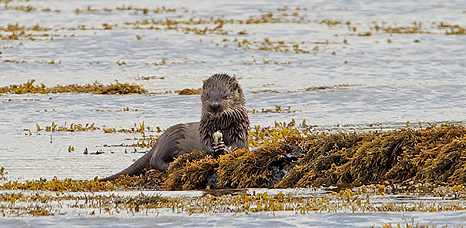 European Otter (Alain Verstraete)
Scotland's Mammals & highlights of the Highlands
Ardnamurchan. In Scottish Gaelic, it means 'Headland of the Great Seas, and it lives up to its romantic name. It is remote and quiet, with very few roads, rolling hills covered in heather, and marshes resplendent with Purple Loosestrife. The coastline is indented with small secret bays, where gulls and oystercatchers cry, and herons stand sentinel. You are always aware of the sky, the light, and the ever-changing colours. Warm sunshine can give way in a moment to glowering clouds; Loch Sunart can be a blinding blue, a glassy mirror, and a threatening mass of grey waves all in the same hour.
Marcus John, our tour leader, describes Ardnamurchan as his spiritual home. He loves it with a passion, and by the end of the week we loved it too. On the first day we drove to Ardnamurchan Point, the most westerly tip of the British mainland, scanning every bay for Otters, which were undoubtedly our main target species. We were rewarded with herons, Greenshank, swallows, a Hen Harrier, and a row of Twite sitting chattering on a telephone wire. A few porpoises appeared, swimming past the headland in leisurely fashion. The night drive revealed masses of Red Deer and our first very brief glimpse of a Pine Marten. But no Otters.
The second day was another drive, this time to Sanna on the north side of the peninsula. We looked for Otters everywhere, and also scanned the skies for eagles – none appeared. We put food out in the evening at the Glenborrodale Centre where we were staying for the Pine Marten, which never came. Marcus said: be patient, wildlife can be elusive.
The next day our luck began to change. The boat trip to Coll was fantastic; the sun shone and the sea was calm, and as we passed Mull a White-tailed Eagle suddenly appeared over the trees, circling over our boat for 15 minutes, remarkably close. Manx Shearwaters skimmed the water near the boat, Guillemots bobbed on the surface, and two of us saw a Basking Shark do a spectacular leap out of the water – the others were all looking in the wrong direction! In the evening the Pine Marten at last appeared; he was much admired and photographed while he enjoyed his peanut butter sandwiches. At 5am he was there again, happily munching nuts in the early morning light.
By the fourth day we were all wondering if we were ever going to see an Otter. We took a boat around Carna, where there are supposed to be several; no luck at all. It rained all morning, and we were downhearted. The Red-throated Divers were some compensation and the Arctic Terns were noisy and spectacular. When the clouds rolled away there was a crystal sharp rainbow over the lake, as if to say, this is a beautiful place, and there is always the promise of more to come.
On the fifth day, Marcus said, we are going to find those Otters. We scoured the bays all morning. We imagined rocks were Otters and we trained the telescope on otter-shaped lumps of seaweed. At midday, Marcus spotted one a long way off. We were so excited we almost fought over the telescope. It vanished around a headland; was that all we were going to see? Marcus stuffed us all in the minibus and drove us round to a vantage point in the next bay – he was sure the Otter would appear there in a few minutes. Sure enough, it did, and now there were clearly two Otters! They were jumping in and out of the water, feeding and playing, and we all excitedly took very bad pictures of rocks where the Otters had been and had just vanished. They came closer and closer, until they were in the seaweed at the edge of the bay near where we were standing. We had a grandstand view for 45 minutes! Marcus said in 20 years of otter-watching he had never had such a prolonged and close-up view of Otters as that. What a privilege, and what a spectacle. Eventually both Otters caught large fish and disappeared up the bank into the bushes.
Our final day was wet, and the highlight was the cream tea at Acharacle. Who cares - we had seen what we had come for. Wildlife is unpredictable and that is part of its attraction. Even with the best guide in the perfect place, it may not appear. When it does, it is the thrill of a lifetime.
For further information about our 8-day 'Scotland's Mammals & Highlights of the Highlands' holiday please visit the tour webpage.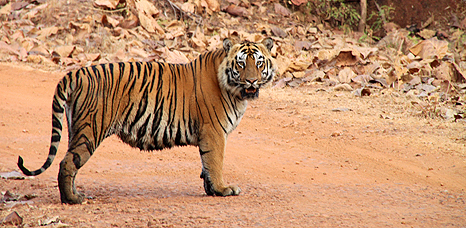 Bengal Tiger, Kanha (Peter Adams)
Tiger watching in Kanha National Park 
The morning chill of Kanha National Park still clung in the air and, as the jeeps bounced along, we snuggled our necks deeper into our fleeces. We had seen a few Sambar Deer amongst the trees and a small heard of Gaur, those hulking Indian bison with viciously curving horns, the shoulders of a quarterback, and incongruously pale, almost white legs. Each beast had their own Cattle Egret in attendance, like a pageboy, stalking along behind feeding off the insects stirred up by its great hooves.
The jeeps crested a small rise and, ahead of us, pacing steadily down the track, surely the most evocative image of rural India, two elephant strolling in stately procession towards us. Their grey bulk filled the path, trunks swaying rhythmically as they walked with the mahouts, dressed in khaki shirts and pants sitting astride their necks. They stopped when they came abreast of the jeeps and there was a rapid exchange in Hindustani; we could only understand one word, 'Tiger!'
With a tap from the mahout's cane and a couple of gentle kicks from his bare feet, the giant pachyderms swung off the path and crashed upward through the brush, slotting in between the thickets of green and russet bamboo. Our guide turned around to us. 'They have seen Tiger this morning. They will look on the hill above the path.'
It was as if someone had passed an electric charge through each of us. Tiger! We were going to see a Tiger. The pre-breakfast chill was forgotten and we reached for our binoculars and cameras. Lens caps were removed, apertures, ISO values and shutter speeds were checked, adjusted and re-checked. Our preparations were interrupted by a shout from the hillside. Astride his elephant one of the mahouts pointed off to the right then he swung his mount around and headed back to the road. His job was done; spotting a Tiger is one thing, flushing it quite another matter.
As the elephants moved away down the road the jeeps were manoeuvred into good viewing positions and, more importantly, to leave a wide gap, perhaps 150 metres between, so the Tiger could cross the road and not feel crowded. Then the waiting began.
There was silence in the jeeps except for the occasional creak of the suspension as one or another of us eased our cramping limbs. We watched the dense thickets of undergrowth with cameras at the ready like expectant paparazzi gathered at a red carpet event. Like the press-pack we were also seeking celebrity, a celebrity of the Royal Bengal kind. We scanned the bushes and trees for the merest hint of movement. No angler ever watched his float as closely as we watched those bushes.  We had no way of knowing whether or not the Tiger would stroll down the hill and cross the road between our vehicles. Experienced nature watchers know how perverse wildlife can be. The Tiger could just as easily head uphill, away from us and into deeper jungle. In the silence, dried leaves falling from the teak trees crashed to the ground sounding like thunder to us. Then we heard him, a deep throated roar from perhaps 50 yards away, spine chilling, visceral. I felt the hair on my neck stand on end then he bounded out of the brush and onto the track. Lithe and slim, an athlete with a magnificent head, fierce dark eyes and teeth like rapiers. Burning bright in the morning sun, muscles rippling under that gold and black coat; the fearful symmetry!
Camera shutters rattled while, in two fluid strides, the Tiger had crossed the road and disappeared into the bushes at the far side scarcely disturbing a leaf. Pandemonium broke out in the jeeps.
'Did you see him?'
'Amazing!'
'Worth waiting for.'
'Almost fell out of the truck.'
'Did you get him?'
'Couldn't focus.'
Camera screens were studied. Photos passed around. Everyone's faces, even those of our guides, were wreathed in smiles. Every encounter with a Tiger is special. The jeeps bucked over the ruts kicking up dust and stones while we all held on, still we couldn't stop grinning. Next stop breakfast. Chapattis, boiled eggs and hot tea, tastes so wonderful after meeting with a Tiger!
For further details about our 9-day 'India - Tiger Direct!' holiday and extension to Tadoba & Satpura National Parks please visit the tour webpage.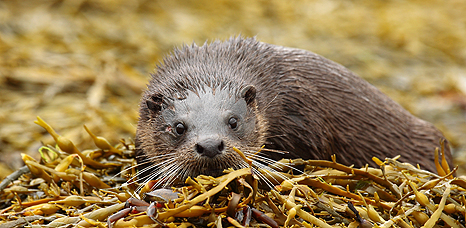 The Ahab of Ardnamurchan
Ardnamurchan, the westernmost point on the British mainland. Beautiful and remote. We meet a young woman who's left the peninsula once in her life, to visit Oban. Though there's much else to enjoy, our main focus is on a few of Scotland's key species. Red Deer – easy, they're everywhere. Golden Eagle, tick. White-tailed Eagle – a wonderful display by an adult pair. Pine Marten – well, we sit and watch them feast from our armchairs while drinking a glass of wine. Wildlife-watching can be so demanding, can't it? Wildcat? In our hearts we all know it will be a near-miracle if we see one. We don't but it is fascinating to learn about the conservation project. That just leaves an Otter.  Oh yes, the Otter.
Although we've nearly all seen them before, we're keen to see one, and Marcus our leader is determined we won't be disappointed. All week we take up our places in various beautiful bays. Early mornings, late evenings. High tides, low tides. We see encouraging signs: 'Fresh spraints. He was here last night,' and follow up tip-offs. 'The couple staying in the house saw two this morning'. No otters. Lots of wonderful things, but no Otters.
Our last full day. We can see the (self-imposed) pressure building on Marcus.  This is getting personal. The image of Captain Ahab pursuing Moby Dick comes to mind. (Did I mention some of us saw a Minke Whale?) A short boat trip to Carna. A climb up a boggy hill (how can you have a bog on a slope?).  We reach the summit. A magnificent view over Loch Sunart. 'There! Is it a seal?' It clambers onto a rock and eats a crab. It's an Otter. For 20 minutes we watch it travelling parallel to the island until it disappears round the headland.  Maybe it isn't a BBC documentary-quality view, but it is a beautiful wild animal going about its business unaware of our presence. A memorable moment earned by our leader's fieldcraft, local knowledge, patience, tenacity and, yes, a bit of luck. On the boat ride back, the seals smile benignly from the rocks and a pod of Bottlenose Dolphins joins in the celebrations.
Marcus can relax. Ahab has caught his white whale.
For further information about our 8-day 'Scotland's Mammals & Highlights of the Highlands' holiday please visit the tour webpage.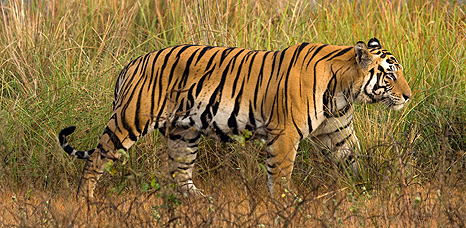 Bengal Tiger, Kanha (Dani Free)
'Tiger, Tiger!' or 'iPad on' by Stuart Coleman
I wake. Glimmer of eastern light. Hungry. Must hunt. Must kill. Must eat.
I am rudely awakened by the 5:15 knock on the door. I must get up. Four hours till breakfast but I still feel full from the subtly spiced dishes from last night's dinner. iPad on; check weather forecast; identify yesterday's mystery butterfly. Difficult to leave the warm luxury of the Jungle Lodge behind, but must get moving.
Leave my darlings in the den. They won't move until I return. Jackals around! My little ones wouldn't stand a chance. Use the dirt track that metal boxes use. Alarm calls from Hanuman Langurs; no hunting here. I pad on.
We pile on to the Gypsy vehicles. Blankets and hot water bottles to fight the February chill in Kanha Reserve. Produce passports (yet again!) for Park entry. Officials officiously note numbers, check checklists, identify identities. British Raj bureaucracy trumped by India!
Sambar alarm calls; keep moving. Sky brighter, deliciously cool. Must not overheat when I charge; best time of day to hunt. I pad on.
Binoculars, camera, hats (woolly one for now, wide-brimmed 'Tilley' for the sun), gloves, water. All set. Carefully put passport away where I can find it again. The Gypsy smoothly glides into the park and the driver sets the speed to eat up the kilometres without causing his pale, Northern European passengers too much discomfort.
No alarm calls. Quiet. Senses fully alert. Move stealthily now. Chitals! Freeze! Stealthily inch towards them. 500 metres, 400. Gather myself to charge. Muntjac alarm call. Chitals stop feeding; nervous. The stag sees me. I long to sink my fangs into that beautiful dappled coat; feel the life go out of him; eat again. Not this time! He stamps his foot and looks straight at me. The other Chitals are skittish. They will see me as soon as I move. Relax. I pad on.
Strange sounds; evocative and exotic; iPad on, trying to identify birds from their calls. Jungle Babbler, Hawk Cuckoo, Brown-headed Barbet. The guide helps to identify species but we do not stop. The red, tropical sun has already risen and in the chill of dawn the priority is TIGERS!!! This is Naturetrek and the tour is 'India - Tiger Direct!' Later, there will be time for birds and butterflies.
Keep to the road. I can cover ground more quickly that way. Must eat today. Must keep milk flowing. Must keep my strength up. I pad on.
I'm getting cold. An open-top Gypsy can be surprisingly chilly in February, even in tropical India. I adjust my blanket and clutch my hot water bottle. Gloves on, but I am ready to whip them off if I need to point the camera. We stop. The guide has heard a Barking Deer alarm call. He stands up and listens intently. We peer with futile optimism into the still-gloomy undergrowth. After a few minutes with no more calls we drive on.
A metal box arrives. Once they scared me. Don't know why. Harmless! As a cub I was afraid of Leopards and Wild Dogs. An adult Tigress should fear nothing. Yet I was terrified by these metal boxes and the puny animals inside them. No more. The revolting smell threatens to swamp my senses. Diesel fumes, oil, soap, deodorant. Surely this abomination has no place in my forest! I pad on.
Our guide answers his phone. The driver flings the Gypsy round a corner and we hurtle along, nearly bounced off the vehicle. A Tiger has been spotted. This is it!
More metal boxes. Nauseating smell. Retreat to the tangled jungle. Not efficient; slowing me down. Cannot waste energy. My darlings need milk. Metal boxes not so close; move back onto the track. I pad on.
We catch up with the three Gypsies already stopped; passengers, drivers, guides all standing, staring into the undergrowth. YES! Someone has seen a Tiger.
The metal boxes have animals on them but I would need to be very old or sick to actually eat one. No, I want venison. I pad on.
The Tiger emerges from the jungle and pads along the road behind us. I have a wonderful view of it. I use my binoculars but I hardly need to - it is so close. There are six Gypsies now, jostling for position. Deploy camera. Quick. Zoom. Click. Click. Click.
I pad on.
Frantic activity as the drivers manoeuvre the Gypsys to stay well ahead of the Tiger. If we get too close she will go back into the forest. But she just ignores us.
I pad on.
More fabulous views. She crosses a clearing. The early morning sun ignites her coat. This is a birthday I'll never forget!
I pad on.
A Tiger!!!
I pad on!
iPad on.
Written on my iPad.
For further details about our 9-day 'India - Tiger Direct!' holiday please visit the tour webpage.