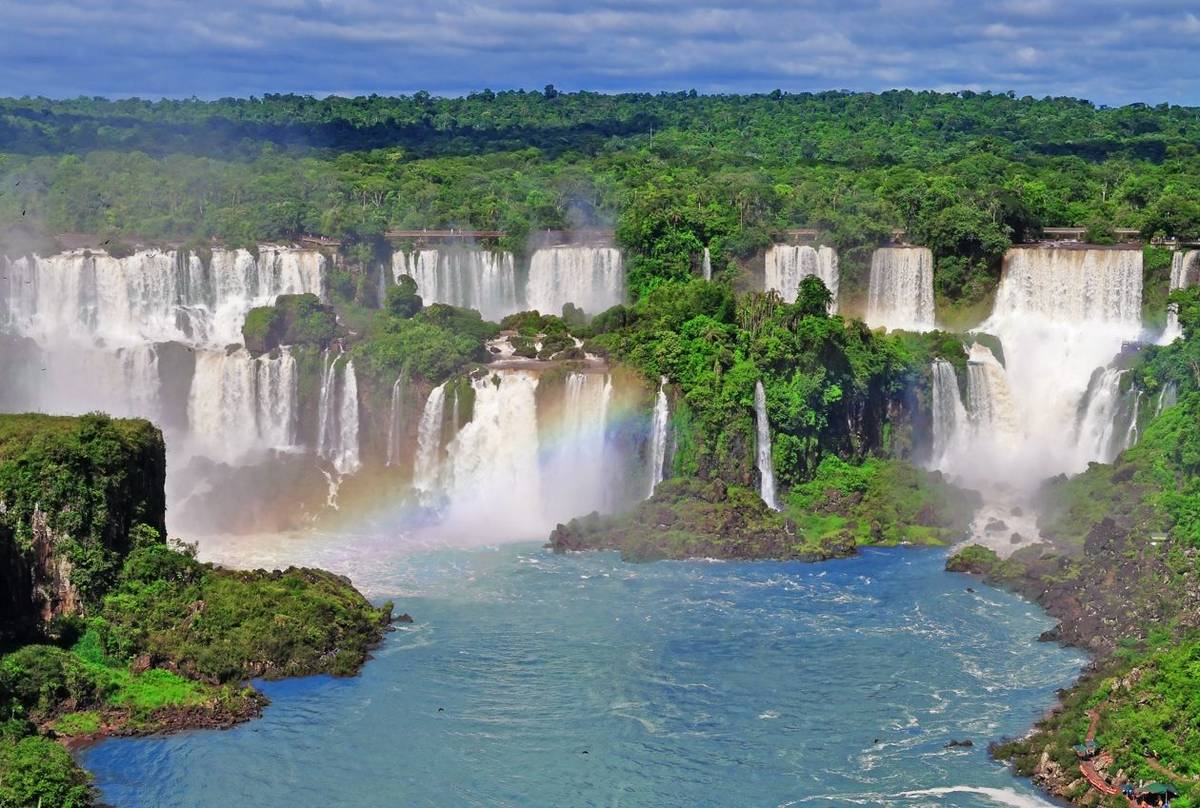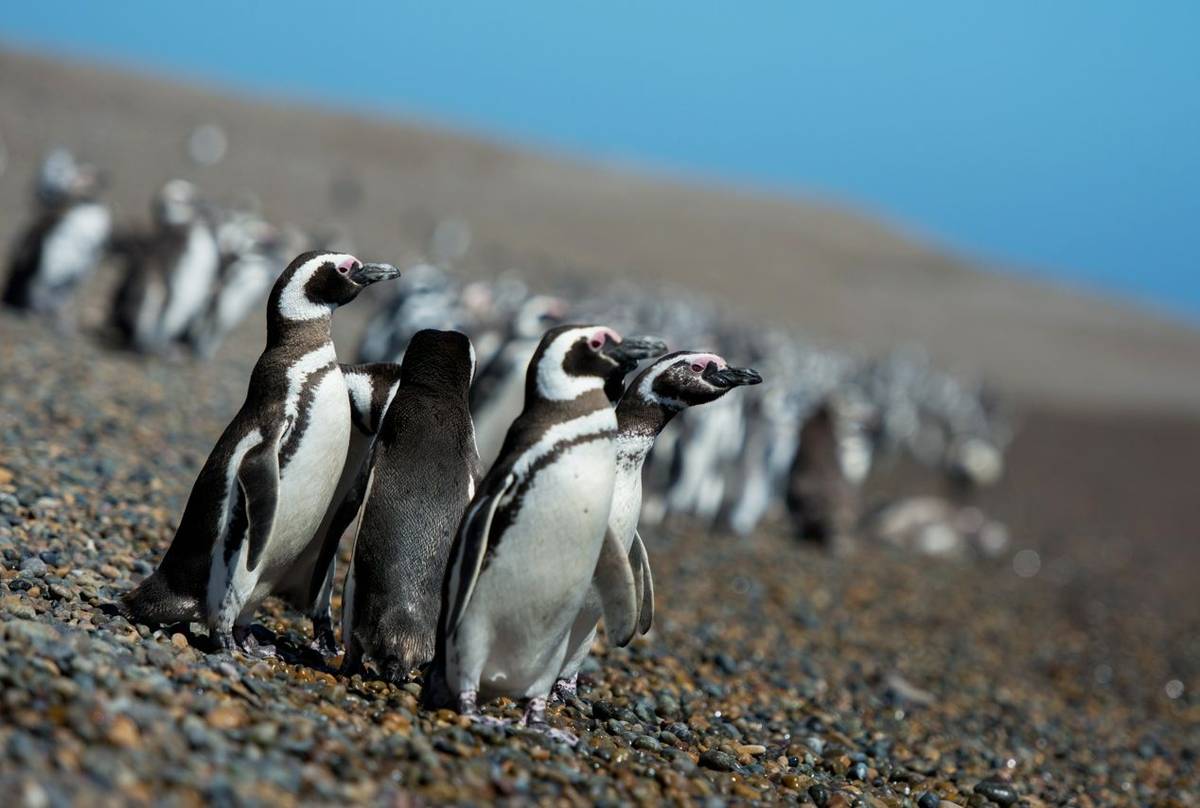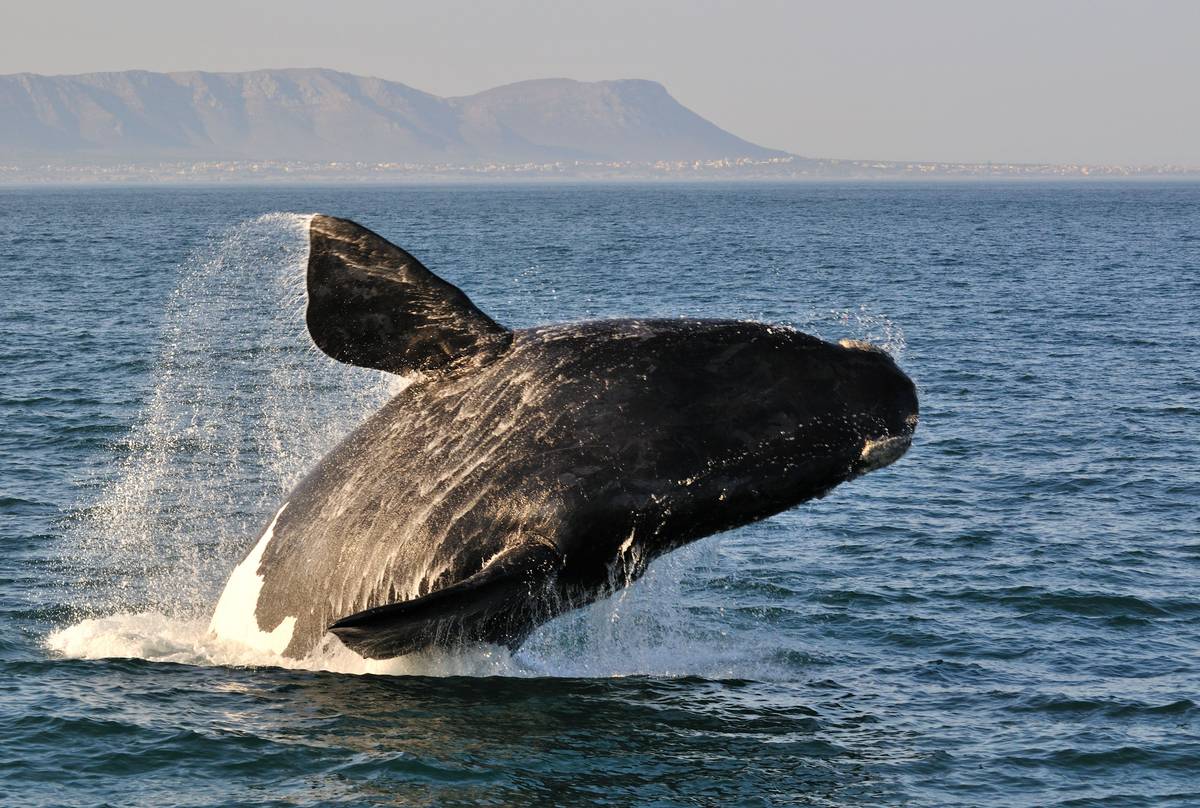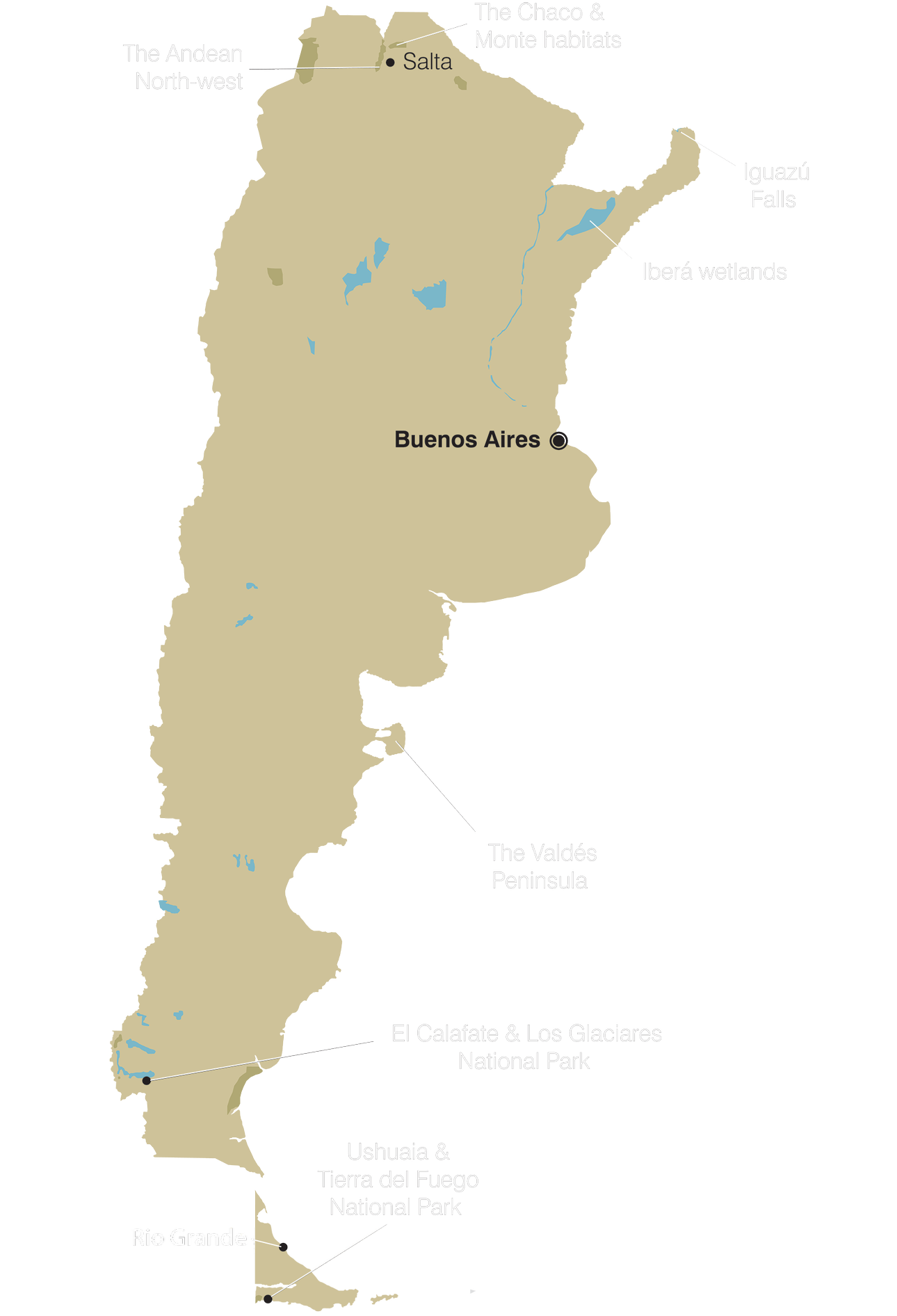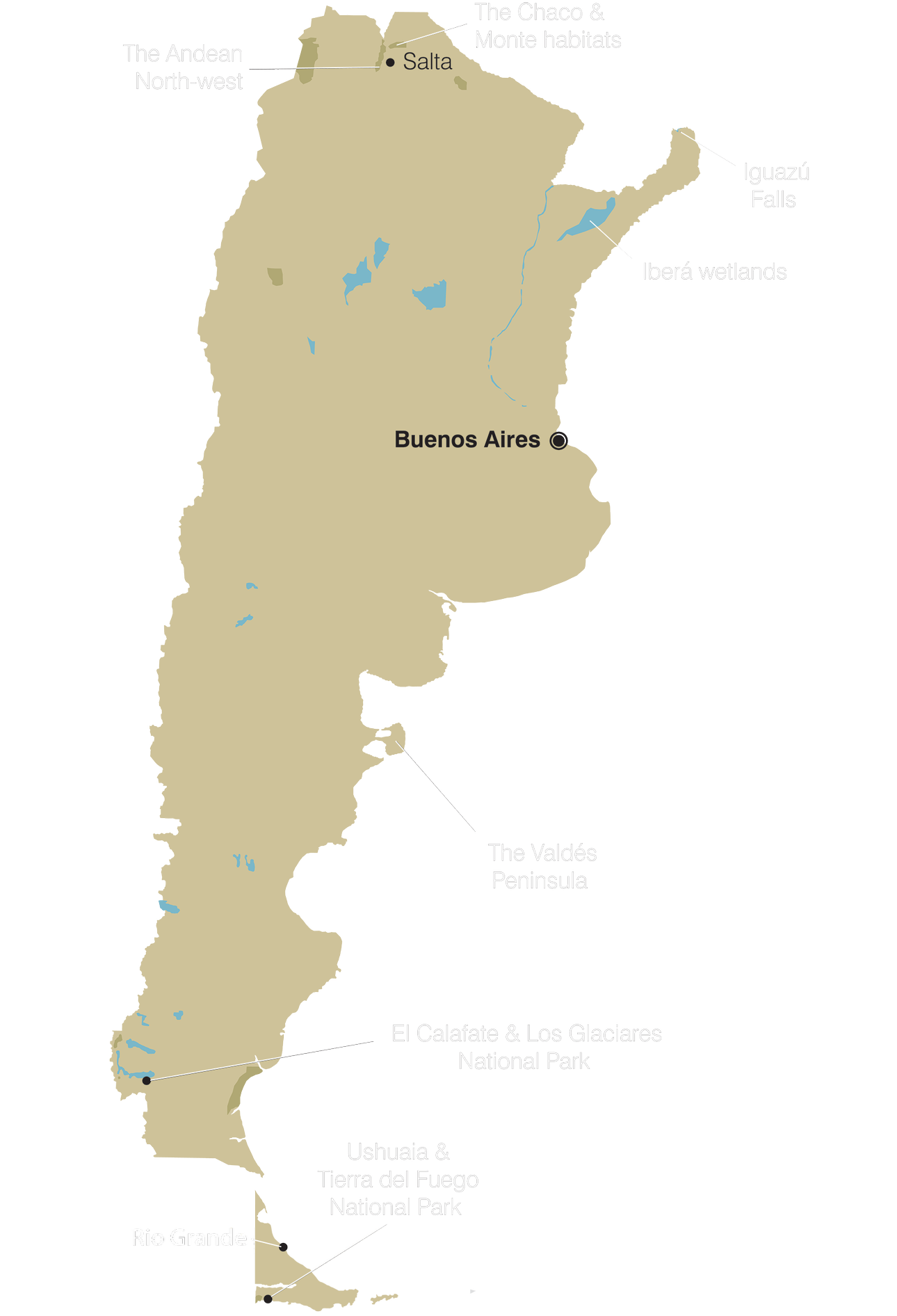 Tailormade Argentina
Tailormade
|
Tour Code: TARG
Create your own Tailormade holiday to Argentina with dates and an itinerary to suit you.
When to Visit
| | | | | | | | | | | | |
| --- | --- | --- | --- | --- | --- | --- | --- | --- | --- | --- | --- |
| J | F | M | A | M | J | J | A | S | O | N | D |
| YY | YY | YY | YY | YY | YY | YY | YY | YY | YY | YY | YY |
SAMPLE HOLIDAY: Andean Wildlife & Iguazú Falls
13 days from £4,395 (Flight Inclusive)
This fantastic holiday combines superb wildlife, stunning scenery, unique Andean culture and the best possibility to sample some of the world's best wine - before a spectacular ending at the Iguazú Falls.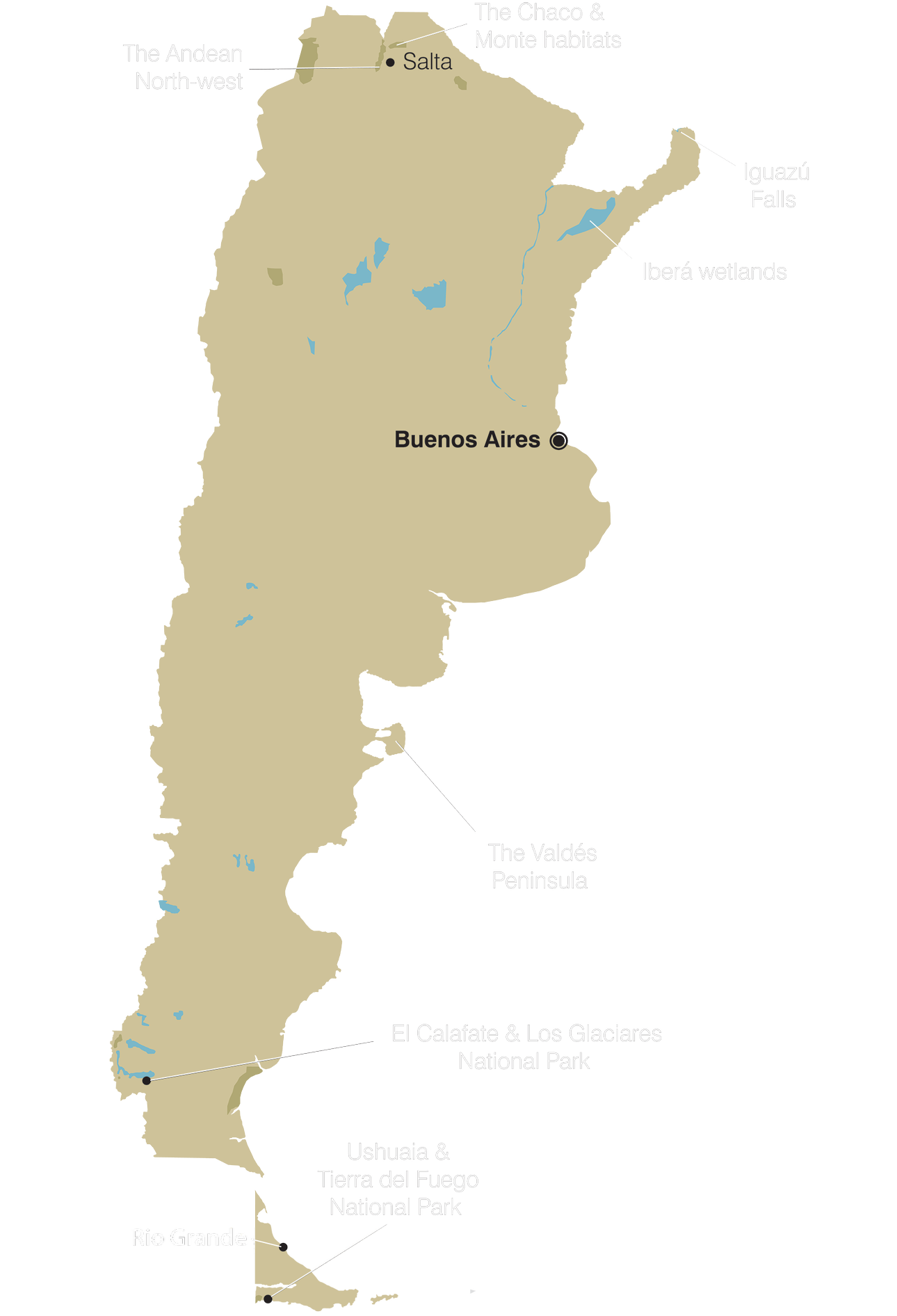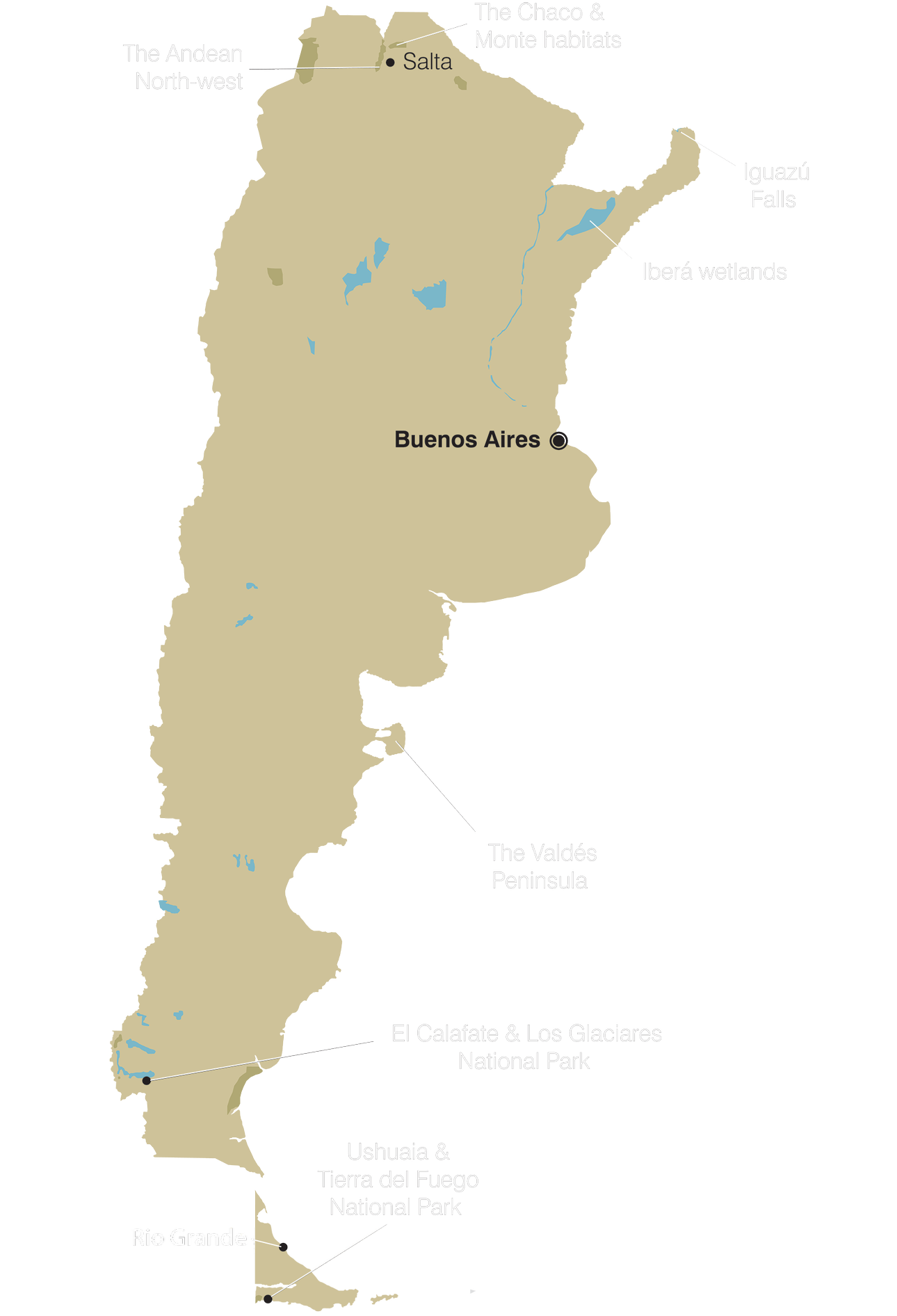 Summary
Argentina stretches for over 4,000 kilometres from north to south and encompasses a remarkable variety of landscapes, ranging from the luxuriant rainforests around the Iguazú Falls to the cactus-studded valleys and barren Andean altiplano (high plain) deserts of the country's north-western corner, not to mention the spectacular Tierra del Fuego in the far south of the country! 
There are four major regions: the fertile and humid central plains of the Pampas, the Patagonian southern plateau, the subtropical Gran Chaco in the north, and the rugged Andes mountain range which extends the length of the country, rising to over 6,900 metres before cascading to the sea in a chaos of jagged, snow-capped peaks. With such a diversity of habitats, it is perhaps no surprise that Argentina offers so great a variety of both flora and fauna for the visiting naturalist. Further, one can also expect delicious locally produced food and wines, first-class lodges of great character, and a warm and friendly welcome.
Our Destinations
The spectacular Iguazú Falls is one of the world's most impressive natural spectacles! Exploring the various trails on both the Argentinian and Brazilian sides of the Falls allows one to enjoy the panoramic views from every conceivable angle and, for many, a visit here provides the perfect end to an Argentinian holiday. The habitat surrounding this UNESCO World Heritage Site is also, for the birder in particular, of great interest and certainly justifies further exploration. Many birds are present in close proximity to the Falls themselves, such as the rare and elegant Black-fronted Piping Guan and large numbers of Great Dusky Swifts which fly directly through the cascading water to reach their hidden nests. Various toucans, such as the Red-breasted Toucan, Chestnut-eared Aracari and even the elusive Saffron Toucanet are possible as well. The forests that surround the Falls are extremely productive. Some of the most conspicuous birds here are brightly coloured tanagers, trogons and woodpeckers, whilst various flycatchers, woodcreepers, antbirds and antshrikes will appeal to more determined birders. Raptors such as Swallow-tailed Kites, Black-and-white Hawk-eagles, Great Black Hawks and the impressive King Vulture patrol the skies above the forest.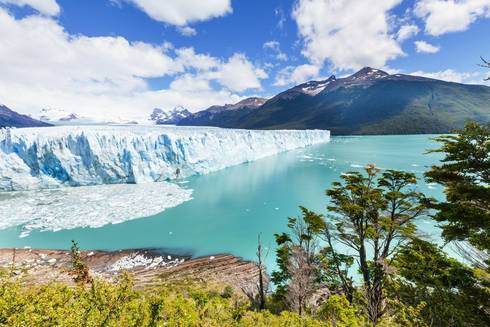 The small settlement of El Calafate derives its name from a blue-berried bush which grows abundantly in the region. It is an attractive little resort and the gateway to the inconceivably scenic Los Glaciares National Park. The park comprises towering jagged peaks, huge glaciers, rushing streams and stunted Nothofagus forest. This is the territory of many southern bird species including Magellanic Woodpecker, Chilean Flicker, Austral Parakeet and the shy Spectacled Duck, whilst the emblematic Andean Condor can often be seen soaring high overhead. The Moreno Glacier is one of the most impressive natural formations found within the park, and this huge 70-metre high wall of ice stretches back for over 4 kilometres to the Patagonian ice cap at the head of its valley. The inexorable advance of the glacier causes the ice to crack and groan, and, periodically, large sections break off and fall into the lake below with an impressive splash. For keen birders there is also some productive forest habitat which is home to Austral Pygmy Owl, Austral Blackbird, Thorn-tailed Rayadito and Rufous-tailed Plantcutter amongst other species.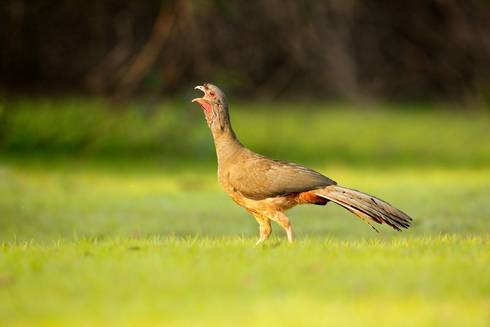 The Chaco, which in the native Quechua language means 'hunting grounds', occupies an area of about one million square kilometres and is predominantly a dry savannah-like plain in which the characteristic vegetation includes thorny members of the Leguminosae family. This vast wilderness area holds remnants of primary Quebracho forest where family groups of Chacoan Cavy and Southern Dwarf Cavy, both relatively large rodents, forage on the ground whilst keeping an eye out for their natural predators which include Crowned Eagle and Little Spotted Cat. Avian specialities include the rare Quebracho Crested Tinamou and the elusive Black-legged Seriema, as well as Black-bodied Woodpecker, Spot-winged Falconet and the noisy Chaco Chachalaca. Higher up the eastern slope of the Andean foothills, the Chaco merges into yet another distinctive and beautiful habitat, the Monte semi-desert, which is composed of a collection of terrestrial bromeliads, cacti and creosote bushes. Birding is again excellent here with the endemic White-throated Cacholote and Sandy Gallito both possible.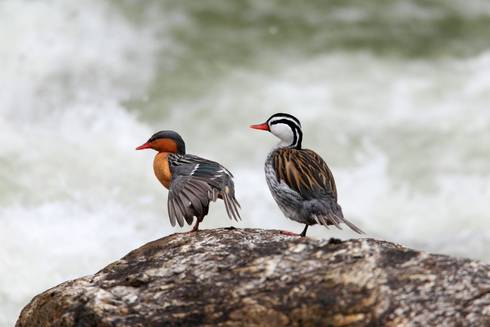 North-west Argentina offers a feast of exciting wildlife, magnificent scenery, fascinating cultural sites and a fine selection of superb wines! Here one can witness majestic Andean Condors soaring over deep canyons, hummingbirds whizzing between colourful bromeliads and packed masses of pink flamingoes shimmering upon high-altitude soda lakes. The epiphyte-laden Yungas cloudforest is a key habitat of the region, and here avian specialities include the Tucumán (Alder) Parrot, Red-faced Guan, Montane-forest Screech-owl, Lyre-tailed Nightjar and Slender-tailed Woodstar, as well as several endemics and near-endemics such as Tucumán Mountain Finch and Yellow-striped Brush-finch. The cordilleran streams of the higher Andean slopes are worth exploring too, with rewarding views of the extraordinary 'current defying' Torrent Duck, as well as the scarce Rufous-throated Dipper. The high-altitude saline lake of Laguna Pozuelos is the haunt of all three South American flamingoes – Chilean, Andean and Puna – and the beautiful surrounding mountains support large populations of Puna Rhea and Vicuña, the wild cousin of the domesticated Llama. At lower altitude lies the Humahuaca Canyon, which has been declared a World Heritage Site.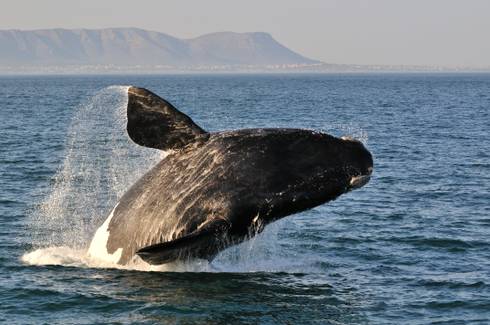 Located on Argentina's east coast, Peninsula Valdés is most famous for three species: Southern Right Whales, Orcas and Magellanic Penguins. The former congregate here in large numbers between May and October and, during this time, pregnant females give birth. Newly born calves can be viewed swimming with their mothers, whilst more boisterous individuals can sometimes be seen breaching the icy waters. It is here also that the local Orcas uniquely can be seen taking seal and sea lion pups from the beach. The other big draw is the Magellanic Penguin colony at Punta Tombo. We'll suggest the best time to visit (avoiding the crowds), and the rest of the day can be spent enjoying the scenery and local birdlife of the surrounding areas. Lesser Rhea, Elegant Crested Tinamou, Darwin's Nothura, Crested Duck and the endemic Chubut (White-headed) Steamer Duck are amongst the birds to look out for. At the penguin colony it is estimated that up to one million Magellanic Penguins can be present at peak times, creating a somewhat heady aroma.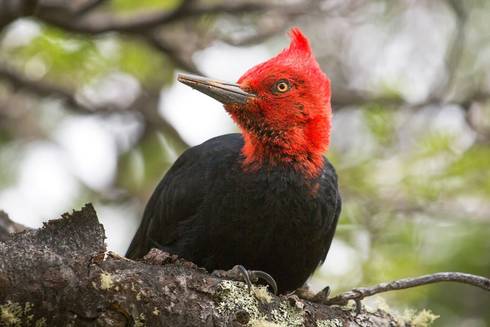 Perched on the shores of the Beagle Channel, Ushuaia is Argentina's most southerly outpost. It's a busy port with boats and cruise vessels calling in, many en route to the Antarctic. Day cruise excursions and land exploration of the coast are both certainly worthwhile, to enjoy the spectacular scenery and look out for seabirds such as Northern Giant Petrels, Dolphin Gulls, Magellanic Oystercatcher, Flightless Steamer Ducks and Antarctic Skuas, whilst both Magellanic and Gentoo Penguins can also be seen in the region. The nearby Tierra del Fuego National Park also warrants attention. It's a pleasantly wooded region which follows the meanderings of a fast-flowing river rushing down from the nearby mountains. The impressive and wonderfully confiding Magellanic Woodpecker is one of the star birds here, but other attractions include Thorn-tailed Rayadito and Magellanic Tapaculo. Water meadows beside the river are inhabited by family parties of Upland and Ashy-headed Geese and a small lake contains Speckled Teal, Chiloe Wigeon, Flying Steamer Ducks and the scarce Spectacled Duck.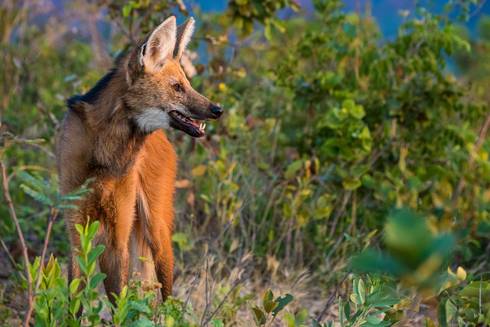 The Iberá Wetlands are a vast and complex ecosystem of flooded flat lands in north-eastern Argentina, comprising grasslands, sandy fields, lagoons, floating islands (embalsados) and riverine gorges that support Yatay Palm forest, xeric woods, extensive rushbeds and dense reeds. This remote location is explored by means of 4WD safari drives and boat trips on the Iberá lagoon and waterways. The avifauna is both abundant and varied and includes flycatchers such as the wonderful Streamer-tailed and Strange-tailed Tyrants, as well as the striking Black-and-white Monjita and White-headed Marsh-tyrant. Walks are also possible in gallery forest in which troops of Black Howler Monkeys compete with Toco Toucans in search of fruiting trees. It is often possible to hear the barks of Maned Wolf after dark, and exciting night-time excursions offer the chance to see these elusive creatures. Other more common mammals include Capybara, Crab-eating Racoon, Southern Coati, Brown Brocket Deer, Marsh Deer and Nine-banded Armadillo, whilst a large selection of reptiles and amphibians will keep keen herpetologists engrossed for hours.
Sample Itineraries
This fantastic holiday combines superb wildlife, stunning scenery, unique Andean culture and the best possibility to sample some of the world's best wine - before a spectacular ending at the Iguazú Falls.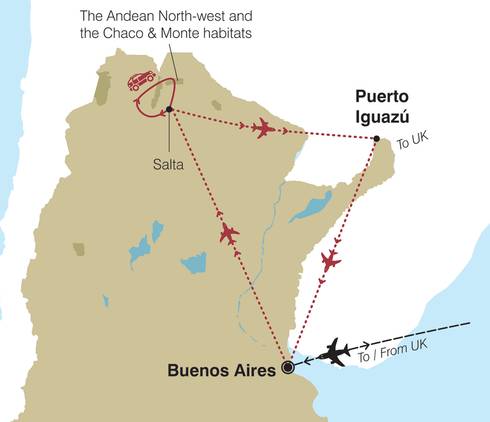 Day 2/8
Exploring the Andean North-west and the Chaco Monte habitats
Day 12
Depart Buenos Aires
SAMPLE ITINERARY
COST (PER ADULT)
Andean Wildlife & Iguazú Falls
from £4,395 (Flight Inclusive)
Enquire Now
Extend your holiday:
Option 1 – spend additional time in the wildlife-rich Iberá Wetlands
Day 13 – A necessary night in Buenos Aires
Day 14/16 – Iberá Wetlands
Day 17 – Depart Buenos Aires
Day 18 – Arrive UK
Option 2 – choose from various southern locations such as El Calafate and Los Glaciares National Park, the Valdés Peninsula, Ushuaia and Tierra del Fuego National Park. Our team of experts can tailor an Argentine Patagonian extension just for you, visiting one or more of these sites.
This itinerary will suit those in search of spectacular scenery and wildlife including whales, seals, and southern species of bird that typify the region.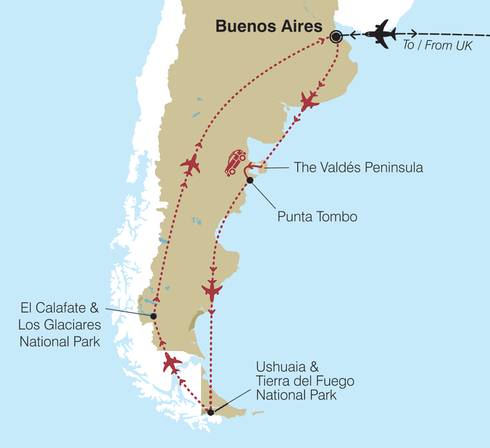 Day 3/5
The Valdés Peninsula
Day 7/9
Ushuaia & Tierra del Fuego National Park
Day 10/12
El Calafate and Los Glaciares National Park
Day 13
Depart Buenos Aires
SAMPLE ITINERARY
COST (PER ADULT)
Best of Argentine Patagonia
from £6,995 (Flight Inclusive)
Enquire Now
Extend your holiday:
Option 1 – add on a few days at the end of your holiday at the stupendous Iguazú Falls for some warm subtropical sun plus a new and colourful set of bird species
Day 13/15 – Iguazú Falls
Day 16 – Depart Buenos Aires
Day 17 – Arrive UK
Option 2 – our team of experts can combine a number of South American countries, should you wish to plan a more extensive itinerary. Please speak to our tailormade team to find out more. 
Day 9/11 – Rupununi Savannah
Day 12 – Depart Johannesburg
Day 13 – Arrive UK
The Essentials
Wildlife Guides: Good local English-speaking naturalists are available as well as specialist birding guides.
When to Visit: Argentina is a huge country and climatic conditions vary from place to place. However, very broadly speaking and from a traveller's point of view, the country's weather patterns can be categorised into the northern and southern regions. The north enjoys a largely warm subtropical climate and can be visited throughout the year, although the drier months between April and December represent the best time to visit, with conditions for wildlife viewing at their best. Southern Argentina is far colder than the north and, particularly, its southernmost section is subject to notoriously changeable weather. Indeed, the old adage of 'four seasons in one day' rings true here, meaning visitors must be prepared for inclement weather irrespective of the time of year. However, September to March generally offers the mildest weather window to this spectacular region and at this time migrant birds are in evidence along with the resilient resident species. In addition, some of the most impressive wildlife spectacles occur at this time, such as large congregations of Southern Right Whales and the formation of huge colonies of Magellanic Penguins, dotted along the Patagonian shoreline.

| | | | | | | | | | | | |
| --- | --- | --- | --- | --- | --- | --- | --- | --- | --- | --- | --- |
| J | F | M | A | M | J | J | A | S | O | N | D |
| YY | YY | YY | YY | YY | YY | YY | YY | YY | YY | YY | YY |

Getting Around: Argentina is a vast country so it is often necessary to take a number of domestic flights whilst travelling around. Many areas require use of 4WD vehicles to access them and, whilst these can be a little rough around the edges, we use reliable vehicles to ensure you get from A to B.
Why Naturetrek Tailormade?
'A Naturetrek Tailormade holiday allows you, with the benefit of our wildlife travel expertise and destination experience, to enjoy the perfect private wildlife holiday – one that truly matches your requirements, expectations and ambitions. We will ensure the most competitive prices, superb naturalist guides and seamless ground services.
Some of the benefits of Naturetrek Tailormade travel include:
• A bespoke itinerary which is crafted by experts and designed specifically for you
• Private guiding by the very best local naturalists 
• Travel with people you know, at your own pace
• Incorporate as much culture, history or relaxation time as you wish
• Choose dates to suit you
• Select your preferred style of accommodation
• Travel with families and children of any age
Furthermore, our Tailormade team are always on hand to help and guide you along the way, with friendly advice, first-hand knowledge and inside information specific to your destination of choice. So if you have any queries about your holiday, we will be delighted to answer them. Please just give us a call!'
Similar Trips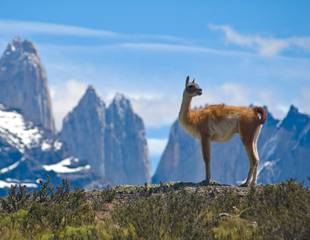 Add this tour to your favouritesRemove from Favouritesstar_border star
Create your own Tailormade holiday to Chile with dates and an itinerary to suit you.
14 days
£7,995 (inc flights)
Jan

Feb

Mar

Apr

May

Jun

Jul

Aug

Sep

Oct

Nov

Dec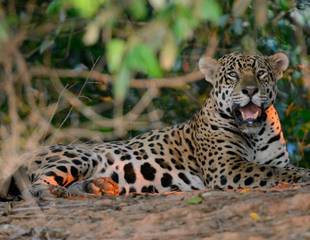 Add this tour to your favouritesRemove from Favouritesstar_border star
Create your own Tailormade holiday to Brazil with dates and an itinerary to suit you.
11 days
£6,295 (inc flights)
Jan

Feb

Mar

Apr

May

Jun

Jul

Aug

Sep

Oct

Nov

Dec