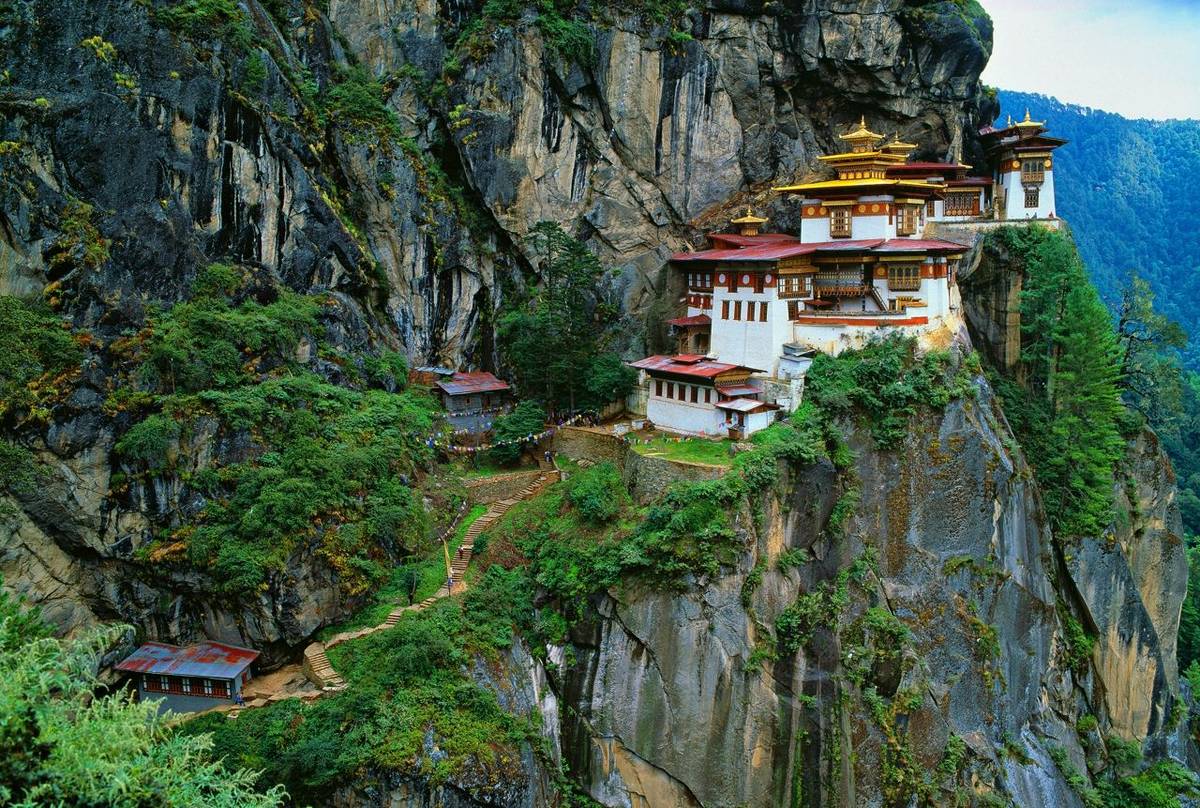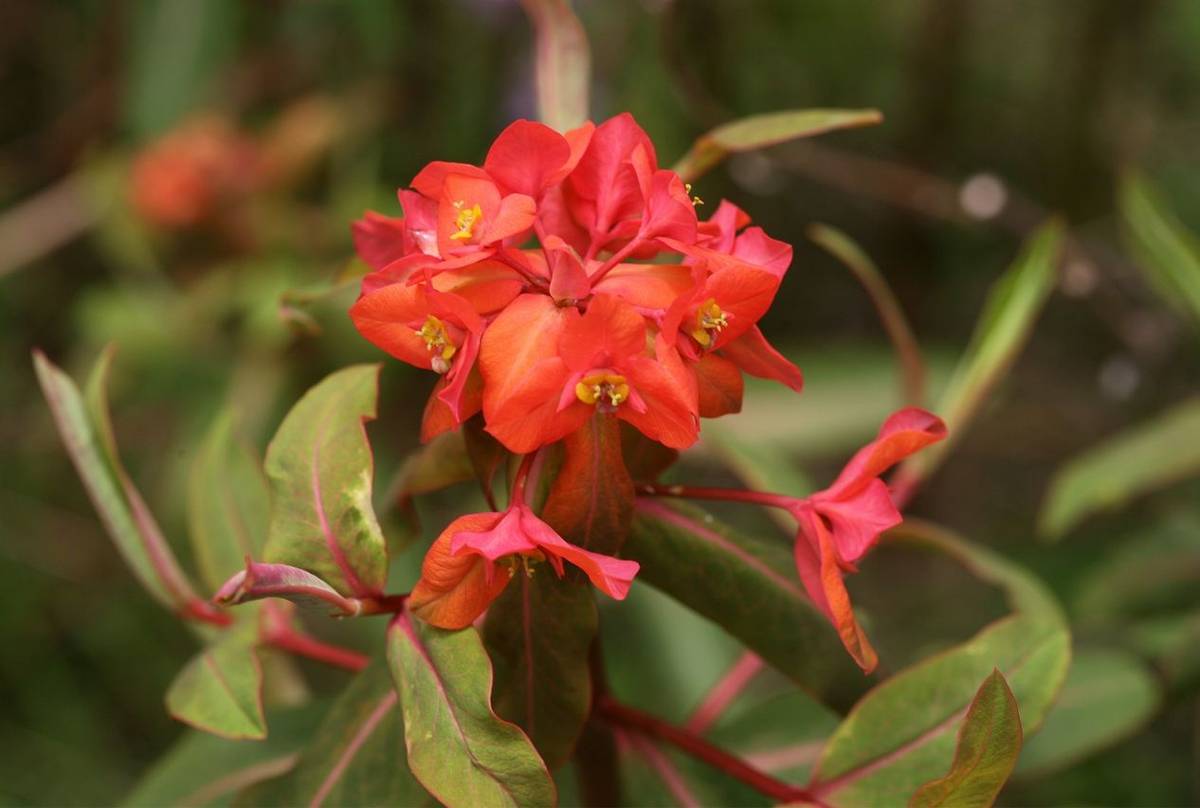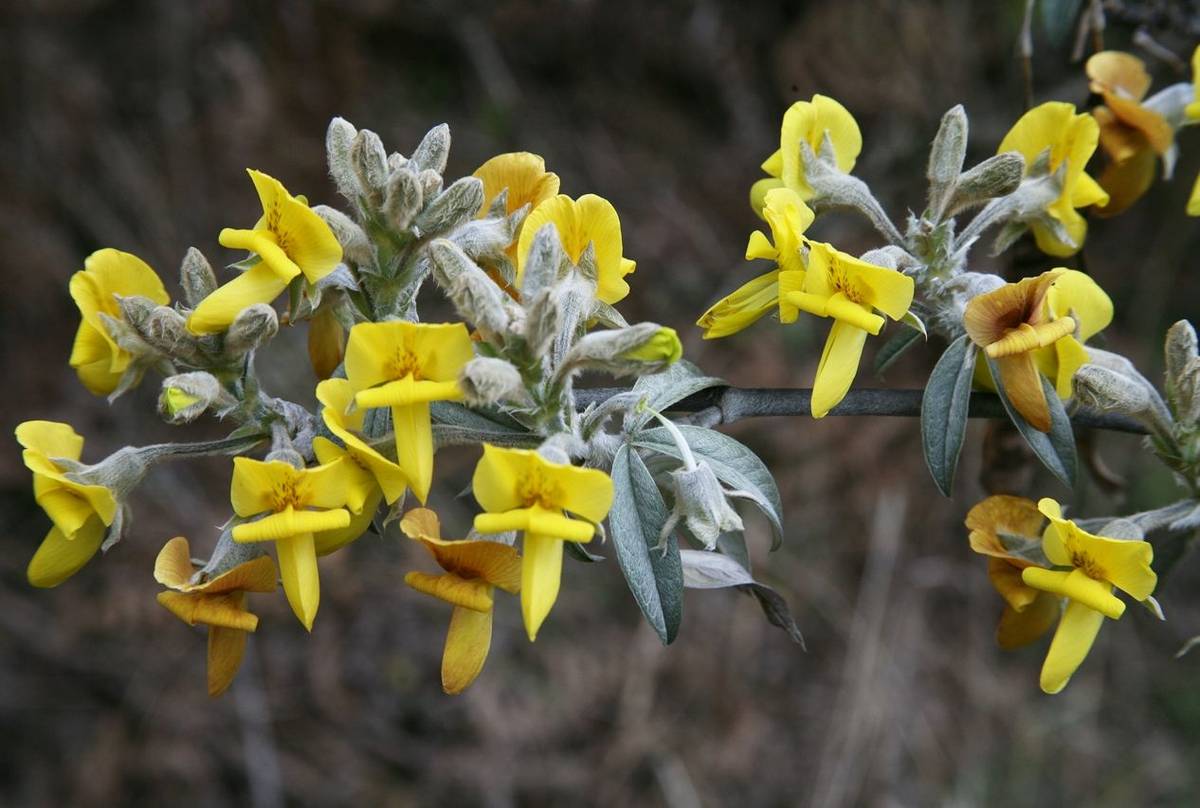 Tour Itinerary and Reports
Bhutan's Bumthang Valley
Tour Code: BTN01
A comprehensive 18-day botanical holiday to this last Shangri-la, including a 6-day trek through the beautiful forests of central Bhutan.
18 days from
£5,595 (Inc flights)
Land only price from
£4,995
Add this tour to your saved toursRemove from saved toursstar_border star

Add to Saved Tours
Highlights
Tour Itinerary and Reports
Summary
Bhutan boasts beautiful forests, superb fortresses, shrines and temples, and a natural history that is extraordinarily unspoilt, as well as little known. This holiday focuses on Bhutan's fabulous flora, in particular rhododendrons, magnolias, and other spring flowers and shrubs. We'll cover as much ground as possible, over a variety of habitats and a wide altitudinal range (1300 to 4,160 metres). Beginning in the Paro Valley we will botanise high passes as we travel east to the heart of the country, in the Bumthang Valley, where we start our 6-day trek. Following ancient trails we'll trek through forest and over passes, enjoying the region's magnificent flora and culture. Lastly we'll visit the Phobjika Valley and the capital, Thimpu, before returning to Paro for our flight home.
Visit the spectacular Tiger's Nest Monastery
Visit Rimpung, Punakha and Trongsa Dzong    
A 6-day trek through magnificent forests in Bhutan's cultural heartland
Magnificent rhododendrons and other spring flowers 
A rich diversity of birds
Stunning landscapes, friendly people and a unique culture
Led by expert naturalist guides
Grading
Moderate. Between 2,160 and 4,260 metres.

Druk-yul, the 'Land of the Dragon', as Bhutan is known to its inhabitants, has always been the most fiercely independent of the Himalayan kingdoms. Its formidable southern border, where the foothills of the great Himalaya rise more steeply from the Indian plains than anywhere else, imposed a limit on the British Empire. Tourists have been accepted since 1974 but the high prices demanded by the government of Bhutan have ensured that their numbers have been low -seldom more than a few thousand a year.

Bhutan is as individual as a country can be; it is a land of boundless and beautiful forests, of enormous dzongs (remarkable buildings peculiar to Bhutan that incorporate fort, monastery and village in one), and a proud and independent people with a culture, architecture and dress that are quite unique. If the natural history of this small mountain kingdom is as yet little known, we do know that its unspoiled forests and valleys hold the best of the great variety of birds and flowers for which the eastern Himalaya is famous. As one of the last strongholds of Tibetan Buddhism, its religious monuments are numerous and quite outstanding and temples, shrines, monasteries and dzongs litter the high valleys of Bhutan. This holiday focuses on Bhutan's culture and fabulous flora, particularly the rhododendrons, magnolias, and other spring flowers. Our chosen itinerary, including the trek, is ideal for botanists because it covers as much ground as possible, ranging in altitude from 1,300 to 4,160 metres, and takes us to a wide variety of habitats, particularly forested ones. As well as visiting the monuments mentioned in the rest of this passage, particular emphasis will be on exploring these fabulous forests, and the meadows and river valleys of the country's limited inhabited regions.

After a flight from Kathmandu, we arrive in Paro and have two days to explore this historic valley which sits below Chomolhari, one of the highest of Bhutan's Himalayan peaks. We will visit the huge Rimpung Dzong, climb to the spectacular Taktsang (Tiger's Nest) Monastery and explore the rich diversity of forests up to the Chele La, a high pass to the west, where we will encounter countless primulas, an exciting range of rhododendrons and other shrubs, as well as a variety of birds which may include Kalij and Blood Pheasant.

An early morning drive then takes us to the Dochu La, a high pass clothed in virgin oak and hemlock forest, where we will enjoy a peaceful morning's botanising before descending to the old capital, Punakha, where we will visit the splendid riverside dzong. After spending the night here, a long, but scenic, drive takes us eastwards to Trongsa in the heart of Bhutan. We break our journey for plant-hunting stops in the magnificent rhododendron forest on the Pele La and along the roadsides. In Trongsa we visit the great dzong, that is the ancestral home of Bhutan's royal family, before climbing to the Yotong La through an amazing landscape of flowering rhododendrons. Finally, we descend to Jakar in the wide Bumthang valley, the cultural heartland of the kingdom, where we spend a night and prepare for our trek.

Our trek lasts for six days. It is not particularly strenuous, averaging six to 10 kilometres a day on good trails at a leisurely pace. We walk from broad valleys to high passes, on an ancient trail, that is so rewarding to the naturalist that our pace should drop to that of a snail! We visit monasteries and temples along the route and pass through ancient villages, where life has changed little in centuries. At our highest camp, we have the option of a rest day or climbing to the Rudong La, the highest point of our trip, where further exciting discoveries await.

We retrace our steps, for one final night of camping and then return through Jakar for a comfortable night in the broad Phobjika Valley. We explore the forests here and visit the ancient monastery of Gangtey Gompa, before resuming our return journey. Our final day of travel takes us to Thimpu, the capital, for lunch and an opportunity to explore its many facets, before we return to Paro for our last night in Bhutan. We leave the following morning for the truly spectacular flight along the Himalayan chain to Kathmandu, where we stay the night, before flying back to London.


DETAILED INFORMATION
Outline Itinerary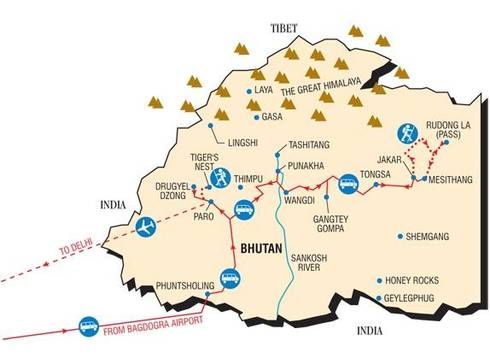 Day 7
Jakar, Bumthang Valley
cloud_downloadDownload Full Itinerary
What's Included?
Flights
Accommodation: A selection of hotels and lodges (all with private facilities); fully serviced camping whilst on trek.
Food: Included in the price, except for main meals in Kathmandu. Allow ?35.
Dates & Prices
2022
Departures
Availability
Cost
Tue 3rd May - Fri 20th May
SPACES
£5,595
Flights:
Most Naturetrek tours include flight costs ex-UK. If flights are not included, we indicate that here.
Flights are included in the tour cost
Regional Departures:
On certain tours it is possible to depart from a regional airport (rather than London). If a regional departure is possible, we indicate that here.
Regional Departures are available. Call 01962733051
Land only cost:
The "Land Only" cost is the tour price you will pay if you choose to arrange your own flights/transport.
£4,995
Single Room Supplement:
£795
Why Naturetrek?
At Naturetrek we craft expertly-guided group and tailor-made wildlife holidays and cruises to all seven continents. On one of our holidays, you can be assured that our passionate team will enable you to experience and enjoy the best of the world's wildlife and natural spectacles in as comfortable and rewarding a manner as possible, caring as best we can for the environment in the process. We are proud to provide:
The widest choice of wildlife holidays worldwide
Tours managed and led by naturalists, for naturalists
Outstanding value and exceptional customer service
Furthermore, as a Naturetrek client, our office team are always to on hand to help you – so if you have any queries about your holiday, whether before or after you have booked, we will be delighted to answer them on the phone. Please just give our team a call!