Ten Wild Areas in Europe you need to Visit

By Dominic Couzens
25th October 2019
Dominic is a Naturetrek tour leader and one of Britain's
best known and most prolific natural history writers.
Europe is a crowded continent, but on its fringes and in its dusty corners there are still places where wilderness reigns, and where the footfall of humanity is relatively light. These places come in many forms, from the undoubtedly hostile terrain of Franz Josef Land, well within the Arctic Circle, to the warm, bountiful Lake Cerknica, hidden away in the small country of Slovenia; from the land of the Polar Bear to the land of the Brown Bear. These wild areas are, of course, refuges for all kinds of superb wildlife. Some are wetlands overflowing with birds, such as the Danube Delta, while others are primeval forests hiding an extraordinary variety of mammals, even Bison, such as Białowieża in Poland and Belarus, but there are others which are also brimming with marvels such as butterflies, frogs, reptiles and flowers. All offer their wildlife treat gift-wrapped in gorgeous scenery. Visit them while you can.
Abruzzo National Park, Italy
Located in the central Apennines, along the spine of Italy, the Parco Nazionale d'Abruzzo, Lazio e Molise is a remarkable mountain refuge of beech forest, limestone grassland, high pastures, lakes and rural farmland. Covering about 500km2, it encompasses several high peaks and fast-flowing rivers and is large enough to hide good numbers of large mammals. The most famous are a genetically isolated population of Brown Bears (Marsican Brown Bears), while Wolves, Wild Boar, Chamois and many deer also occur. Autumn is probably the best time for mammal-watching, when the Bears are distracted by getting ready for winter hibernation by gorging on Alpine Buckthorn and many other berries and fruits. In the spring and summer, though, the limestone bedrock ensures that a scintillating flora explodes over the pastures and rocky slopes from 700m to 2,200m, the open ground cluttered with orchids (including the spectacular Lady's Slipper), bellflowers and saxifrages, while the deep beech woodland hides thrilling flowers such as Martagon Lily, Mezereon and the rare endemic Marsican Iris. Those same woodlands resound with the sharp tapping of woodpeckers, including Black and White-backed, and with the songs of birds such as the small but noisy Western Bonelli's Warbler. Up in the mountains Golden Eagles soar and both Chough and Alpine Chough ride the breezes in small flocks.
Time of year: May and September
Days: 8 
Price: £1,595
View Spring Tour
View Autumn Tour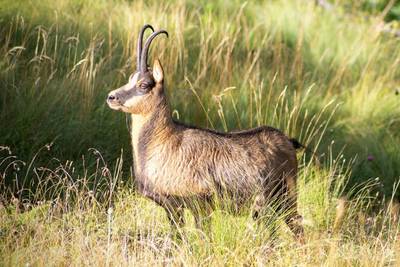 Apennine Chamois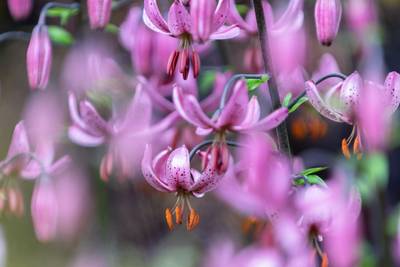 Martagon Lilies
Białowieża Forest, Poland/Belarus
It is a cliché to suggest that visiting somewhere might feel like taking a step back in time, but in this immense mixed forest, 50km by 50km, which straddles the border between Poland and Belarus, the feeling is authentic. This is the last remaining vestige of the wild wood that once covered much of north-west Europe, and hatched fairy tales concerning the dangers of deep, dark forests and their shady inhabitants. Until the 14th century, you could only navigate this area by river. It has been protected in some form since at least 1541, owing to its population of European Bison, Europe's largest four-footed animal. The Bison were exterminated during, and just after, the Great War but reintroduced from zoos shortly after, and now number about 500. They are big, but amongst the mighty trees of Białowieża Forest (some 50m tall and up to 600 years old) they melt away. Among these huge trees, many of which are simply left to rot where they fall, life slows down and awe takes over. In the specially-protected zones, there has been no management for more than 100 years. The forests, marshes and clearings teem with all sorts of life, from every woodpecker that you can imagine, to beetles you simply cannot! It is a place to stand, stare and let the atmosphere envelop you.
Time of year: any 
Days: 4-9 
Price: from £995 to £1,995 
View Poland Tours
View Belarus Tour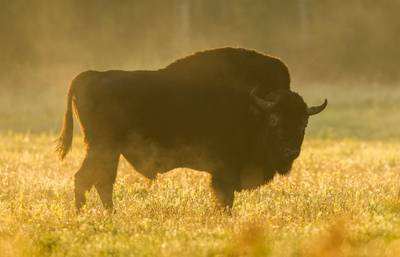 European Bison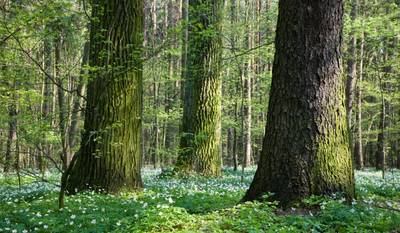 Białowieża Forest
Danube Delta, Romania
Europe's second longest river (after the Volga,) the Danube rises in the Black Forest and, after flowing 2,850km, empties into the Black Sea. However, 90km before disgorging, it splits into three main channels and innumerable small waterways to form a 3,000 square kilometre patchwork of vast reedbeds, lakes, sand dunes, scrub, meadow and floating islands, known as 'plaurs', formed by piles of dead reeds. The waterways alone measure some 3,500km in length, while the Delta, larger than Europe's Camargue and Coto Doñana combined, is the continent's largest continuous wetland. It contains the most expansive reedbeds in the world. Everything is big and abundant here: there are 4,000 pairs of Cormorants, an amazing 3,000 pairs of Night Herons, 1,200 pairs of Purple Herons and 1,500 pairs of Glossy Ibises. There are also White and Dalmatian Pelicans and Pygmy Cormorants and in winter, thousands of wildfowl and geese. Indeed, there seems to be an endless succession of large, leggy birds flying over at all times of the day as you chug gently along the channels on your purpose-built 'floating hotel', as everybody does. In late spring and summer there are times when you think that the world is going to be invaded by dragonflies, so numerous are these insects, filling the air with their turbo-charged wings, in clouds, like giant gnats.
Time of year: any
Days: 6 to 10
Price: from £1,695
View Romania Tours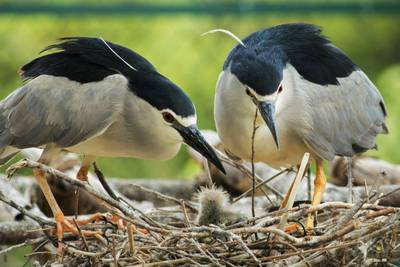 Black-crowned Night Herons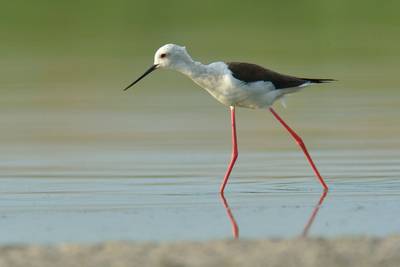 Black-winged Stilt
Montaña Palentina, Spain
There are Wolves in this remote corner of northern Spain, good numbers of them, and if their presence isn't a guarantee of wildness, what else could be? This is a place where the human imprint has reduced over the years as people have migrated to the cities; abandoned villages and farms have been left fallow and the wildlife has, to some extent, taken over. The Wolf population has recovered after reaching a low in the 1970s, and there are also Brown Bears here, as well as Beech Marten, Wildcat, Wild Boar, Chamois and Iberian Hare – a fine suite of mammals for anywhere in Europe. Meanwhile, birds of prey such as Egyptian and Griffon Vultures and Golden Eagles thrive, while the huge, dark forests are home to many woodpeckers and warblers. This is a glorious place for wildlife-watching, with wide views, carpets of alpine flowers, rich oak and beech woods and inaccessible, craggy peaks. And everywhere you go, there are hardly any people.
Time of year: June to December
Days: 5 to 8
Price: from £995
View Montaña Palentina tours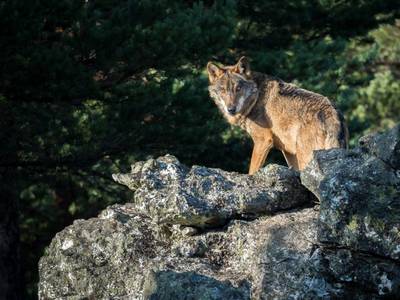 Iberian Wolf
Lake Cerknica, Slovenia
When is a lake not a lake? The answer lies in the Slovenian karst, a landscape pitted with underground reservoirs and caverns, some of which drain above-ground lakes and equally fill them up again very quickly. As a result, Cerkniško Jezero is described as an 'intermittent lake', frequently completely empty and covered by plants in the summer, but as deep as 6m and comprising 30 square kilometres in the winter. Its level can change by 4m in a day or two. In the summer, the area is a paradise of lush meadows and grassland, with a fabulous fauna and flora. Orchids grow in profusion, including the rare Bog Orchid, while other good plants include Summer Snowflakes and Shrubby Violet. The lush meadows resound with the rasping calls of Corncrakes and the sweet 'Pleased to Meet You' refrains of Common Rosefinch. Nearby woods, orchards and farmland have a heady mixture of influences from Central Europe and the Mediterranean. The whole area is a luxuriant feast of unspoilt habitat and abundant wildlife.
Time of year: May to July
Days: 8
Price: from £1,295
View Slovenia Tours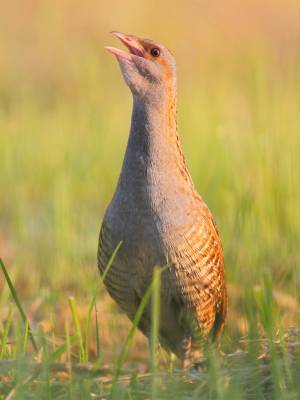 Corncrake
Svartådalen (Black River Valley), Sweden
Svartådalen is where the north comes south. Sweden is famous for its vast Boreal forests and enormous lakes, places where you can walk or drive for many hours without seeing another person. The assumption, though, is that the best Boreal forests are far to the north, but here, just an hour or two from the capital, Stockholm, you are plunged into that very world of your imagination. Immediately the peace and wildness beguile you, and if you are keen on birds, the thrills come quickly. Svartådalen lies on the very southernmost girdle of the great taiga forest belt, and here you can enjoy seeing Great Grey Owls (among seven species of owls), Three-toed Woodpeckers and Black-throated Divers without wearing 17 layers of clothing. Every tract of woodland, marsh, bog and mire has its own specialities, including delights such as Spotted Crake, Black Tern, Hazel Grouse and Thrush Nightingale. You might catch a glimpse of a Red Squirrel or Elk, and Wolves do occur; so too does a superb range of Boreal insects, notably a stellar cast of exciting dragonflies. Svartådalen is a bit of the Arctic transported to central Sweden, and well within reach.
Time of year: February to September
Days: 4 to 8
Price: from £1,595
View Sweden Tours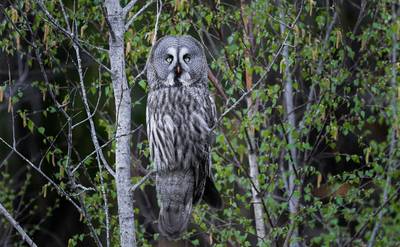 Great Grey Owl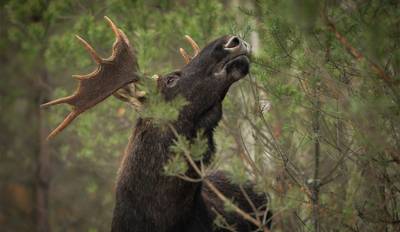 Elk
Franz Josef Land, Russia
If you thought that Svalbard (Spitsbergen) was remote and cold, you should bear in mind that to visit Franz Josef Land, you have to set off by ship from Svalbard and then go even further north, to 81°N and within just 900km of the North Pole. Nobody inhabits this archipelago of 162 islands set in 16,000 square kilometres of cold, usually frozen ocean except for a few Russian military personnel and researchers. Instead, this true Arctic wilderness is the preserve of wildlife which thrives in the pristine environment of coast and cliff, beach and hillside. The Polar Bear is king up here, swimming and iceberg-hopping in search of the many seals that pack into the fertile waters. There are Walruses, whales of several kinds including Belugas and Bowheads, and crowded colonies of Little Auks and Brünnich's Guillemots. Even the gulls up here ooze class, with one, the Ross's Gull, flushed the most perfect pink, the cream of the ice-birds. It's a symbol of the stark beauty of this extraordinary place.
Time of year: July
Days: 14
Price: from £11,895
View Tour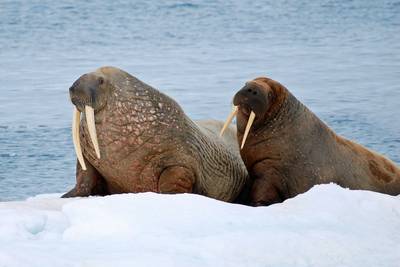 Walruses
The Caucasus Mountains, Georgia
The huge Caucasus mountain range sits at the very eastern edge of Europe, where it merges into Asia. The range straddles the Black Sea and the Caspian Sea, forming a tall and imposing barrier across the land bridge between the two. These are mighty snow-capped mountains with vast, sweeping valleys between them, the highest peak, Elbrus, rising to 5,642m (18,510 feet) – this is, no less, the tallest mountain in Europe. For the wildlife enthusiast, the northernmost branch of the range, the Greater Caucasus hosts a magnificent alpine fauna and flora with a spicy eastern element. For example, top-rated mountain birds from Europe are found here in abundance, birds such as the crimson-butterfly-winged Wallcreeper and that bone-eating vulture, the Lammergeier, together with Choughs, Ring Ouzels and Water Pipits. But among the buckthorn-covered slopes are waifs from the east, a flying strawberry known as the Great Rosefinch, the immaculate Güldenstädt's Redstart and the dinky Red-fronted Serin. But what makes birders go weak at the knees are two thrilling Caucasian endemics found nowhere else in the world, the Caucasian Snowcock and the Caucasian Black Grouse. These are stuff of dreams, in a scenic location out of this world.
Time of year: April and September
Days: 8 to 9
Price: from £2,295
View Georgia Holidays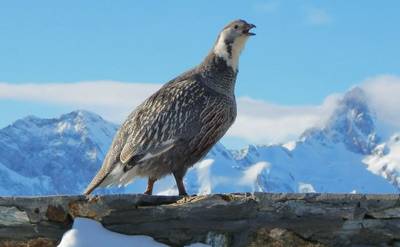 Caucasian Snowcock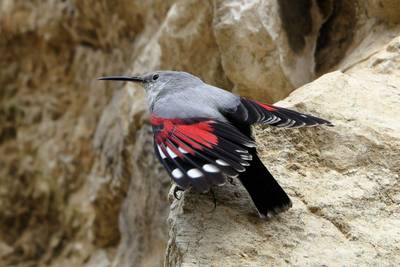 Wallcreeper
Lake Kerkini, Greece
It is not hard to imagine how a large freshwater lake in the hot Mediterranean country of Greece would attract waterbirds from far and wide, and Lake Kerkini is undoubtedly one of the best, if not the best, birdwatching site in Greece. It is sandwiched between two picturesque mountain ranges, the Kerkini Mountains to the north and the Mavrovouni range to the south, and nestles in the floodplain of the Strymon River. It is an artificial lake between 54 and 72 square kilometres in extent, depending on the rains, and it contains extensive areas of open water, reeds, islands and mud. The birds are superb and include significant colonies of rare birds such as Pygmy Cormorants and Dalmatian Pelicans, plus a big heronry. The lake lies on a major migratory flyway, too, so almost anything could turn up. But it isn't just the birding that makes this a special place, nor even the 100 species of butterflies recorded here or the exciting mammals such as Wildcat. It is the quaint and peaceful atmosphere, the untidy corners and sun-baked hillsides that surround this lovely lake in the hills close to the Bulgarian border.
Days: 8
Price: from £1,395
View Lake Kerkini Holidays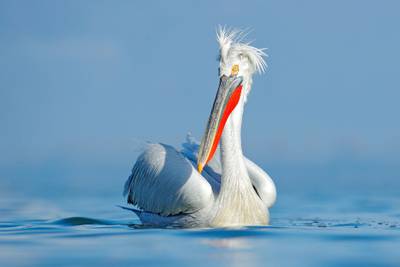 Dalmatian Pelican
The West of Scotland, UK
The UK is such a crowded island that it shouldn't have any wilderness. But history and politics have left the population bottom heavy, leaving the miracle of the Scottish Highlands empty, quiet and magnificent – parts of the west coast are more sparsely populated than Scandinavia. It is a much modified and eroded landscape, the hills long stripped of their natural tree cover, but the result is a stark, open and achingly lovely patchwork of water, rugged hills and smooth, glaciated valleys. There are often few roads and only tiny settlements. Here, where loch, sea and island are virtually interchangeable, a distinctive and much-loved fauna flourishes – Otters on the beaches, Golden and White-tailed Eagles on the crags and along the lochs, herds of Red Deer on the pine, heather and bracken-covered hillsides and Red Squirrels in the forests. It's a huge area of coasts, islands, cliffs, lakes and moors; there is an isolated corner for everyone, each one a refuge from a noisier world.
Days: 5 to 9
Price: from £745
View Scotland Holidays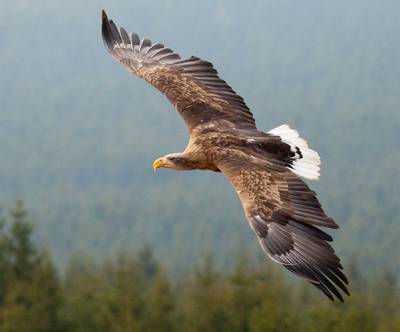 White-tailed Eagle
Get in touch
For further information, on our holidays, call 01962 733051 to speak to our friendly office experts, or email us using the contact form below. We'll get right back to you!