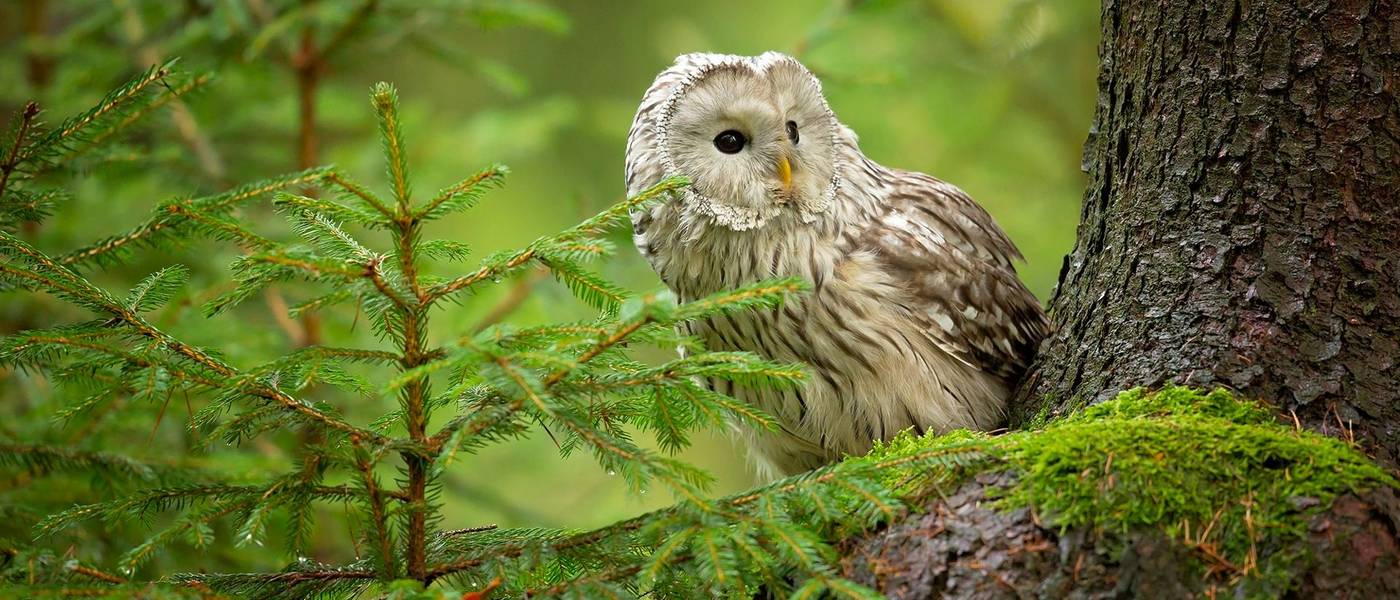 Sweden in Spring
When our 'Sweden in Spring' group required an additional driver/ornithologist, I jumped at the rare chance to head north into uncharted territory. I had heard from colleagues about the quality of birding and mammal-watching on offer in Sweden and seen from client feedback and completed questionnaires, that I enjoy reading daily, just how much our customers enjoy Sweden and the company of our excellent local guides there. Nevertheless, that tingle of anticipation that accompanies a visit to a new country was unmistakably present and I couldn't wait to see for myself what makes Sweden one of our most popular destinations worldwide.
Our arrival at Stockholm Arlanda airport on 12th May was greeted by pleasantly warm spring sunshine. It wasn't long before we were tucking into a tasty picnic spread of smoked Swedish ham and salad rolls and our first homemade cinnamon buns at Fysingen, where we enjoyed the sight of meadows, reedbeds, lake and attendant waterbirds before us. A Thrush Nightingale sang from the bushes up near the farmhouse, White-tailed Eagles circled over the distant conifer plantation and a small party of Temminck's Stints showed well. Slavonian Grebes, resplendent in breeding plumage, although a bit distant, concluded a satisfying first stop.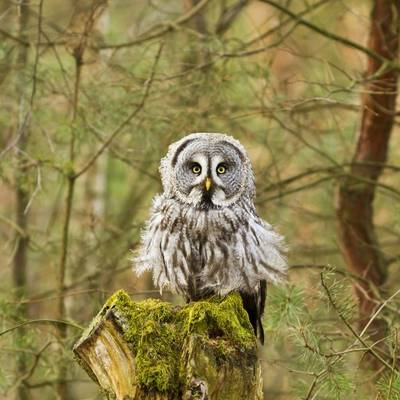 Great Grey Owl
After a tasty supper of fresh prawn salad, followed by some beautifully cooked and tender lamb at our pleasant spa hotel in Sätra Brunn, we headed out to look for owls, driving along deserted roads surrounded by lakes, meadows and forests filled with Wood Anemones. Stopping at a site known for Great Grey Owl deep within the forest, we realised the warmth of the day had given way to a decidedly chilly breeze. One of our group, scanning down the length of a damp meadow, saw distinctive heavy wingbeats in the distance catching the setting sunlight. We walked down a forest track, a line of trees keeping us out of sight of the area where the owl had been seen. It wasn't long before the owl was located again, and we all enjoyed watching this magnificent creature, in typical pose, perched atop an exposed dead trunk not 100 metres away. It took off again, drawing audible gasps of appreciation as it glided across the meadow on those heavy, slow, wing beats. It was a magical end to our first day in Sweden!
Our second day dawned chilly, with drizzle in the air. The two key highlights today were a Ural Owl ringing session (local researchers monitor around 50 nest boxes in the area, checking on the birds' health and on the progress of fledgling chicks), and an evening visit to a huge quarry that an Eagle Owl had chosen to call home. There she was, on a hulking mass of rusting silos and conveyor belts just below us in the depths of the quarry: a spangled mass of brown feathers from the midst of which a pair of sleepy orange eyes gazed at us!
Local woodpecker expert, Michael, joined us for day three which was to be largely spent in search of woodpeckers in Hälleskogsbrännan, an area of forest decimated by the forest fires of 2014. A designated nature reserve, the area is charred and somewhat stark, although countless dead spruce and pines host large numbers of beetle larvae — a highly desirable food source for woodpeckers. Michael was warm and jovial given the inclement weather (warm spring sunshine being the norm on this tour!), and we enjoyed his company greatly, especially as he found three key species for us: Three-toed, Grey-headed and the magnificent Black Woodpecker.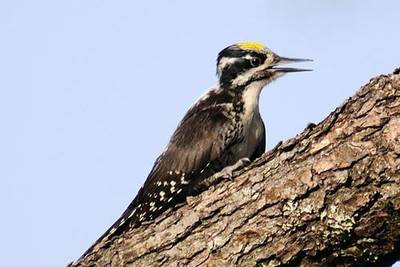 Three-toed Woodpecker (Michael Fearn)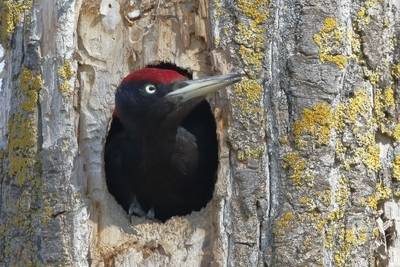 Black Woodpecker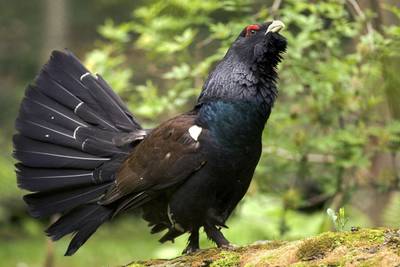 Capercaillie
After lunch we persevered in the chilly conditions and drove down an unmade road deep into the forest where we were promised a short forest walk through possible Capercaillie territory. Adroitly, Michael downplayed the chance of a sighting, but I did make a mental note of his mischievous smile as we togged ourselves up in rain gear! Not five minutes' walk into the sodden, moss-covered forest, the pacemakers in the party were stopped in their tracks as Michael pointed through the lichen encrusted pine trunks to a magnificent male Capercaillie strutting his stuff on top of a low, rocky outcrop. For most in the group it was a new, and unforgettable experience. Fuelled with testosterone, the bird paraded around emitting various high-pitched 'pops' and 'clicks', fanning his magnificent tail. With all viable hen birds already mated, this male's efforts would go without further reward this breeding season and, soon after our departure, he was to resume his solitary life deep in the forest. Forget the owls and woodpeckers, our hour spent in the company of this wonderful creature alone made the long weekend in Sweden more than worthwhile.
After a hot shower and dinner back at Sätra Brunn, we went back out with Daniel, our tour leader, in drier conditions and enjoyed a second rendezvous with a Great Grey Owl, with views equally as good and in different surroundings to those enjoyed on our first evening. Three Elk were seen very well and, driving away from the owl site, we all saw a family party of Wild Boar before attempting, successfully, to see Pygmy Owl. The evening — and what had, in fact, turned into a real 'red letter day' — was rounded off by watching Beavers from a bridge in the gathering dusk. Pure magic!

For more information, to book or enquire about our 'Sweden in Spring' tour, click here.