Read about highlights from recent tours to Uzbekistan, Guatemala, Portugal, Germany, Austria, Spain, Scotland and England …
Although much smaller than some of its neighbours, Uzbekistan is a country with varied habitats and a melting pot of cultures. Starting in the east, below the snow-capped peak of Big Chimgan, we found Blue Whistling Thrush, Rock Bunting, White-crowned Penduline Tit and Red-headed Bunting in the valleys, while Griffon and Black Vultures soared above us.
The bustling capital of Tashkent has a number of sites of interest, from the Hast-Imam Complex that houses an early copy of the Quran to the large, Soviet-style hotel where hundreds of swifts swirl and screech overhead. From here a train ride took us to Samarkand and a profusion of spectacular tiled buildings, intricately decorated in multiple shades of blue, with Alpine Swifts effortlessly swooping into tight cracks and noisy Common Myna using chinks in the stonework. Along the river valley were White-winged Woodpecker, Turkestan Tit, Common Cuckoo, Black-crowned Night Heron and Bukhara Deer, while the high pass at Takhta-Karacha hid Eastern Rock Nuthatch, Pied Wheatear, White-throated Robin and Red-tailed (or Turkestan) Shrike amid the boulder fields and dips of its plateau.
Bukhara is one of the Silk Road's ancient settlements, nestled in a corner of the Kyzyl Kum Desert. Wildlife is attracted to water and Black-bellied Sandgrouse, Blue-cheeked Bee-eater, White-tailed Plover, Rufous-tailed Scrub Robin, Kentish Plover and Black-headed Wagtail were found around the Jeyran Eco-centre pools, along with Goitered Gazelle, Kulan, Horsfield Tortoise and Steppe Agama.
The city itself is fairly compact, and we visited a number of impressive and colourful sites including the summer palace, the Ark Citadel, the Samanids' Mausoleum, Chashma Ayub Mausoleum, the Kalyan minaret and complex and Chor Minor, each with its own particular style and sense of history. The bazaars are full of rugs, pottery, fruit, nuts, spices, clothing and decorative items. Our last lunch was taken at the house of a local artist, where we were served the traditional dish of Plov. Following this we had to catch a train back to Tashkent for a final night before our morning flight home.
Our next 'Uzbekistan's Wildlife & Culture' tour departs on 15th May 2020, prices start at £2,995. For more information please click on the link above, or email This email address is being protected from spambots. You need JavaScript enabled to view it..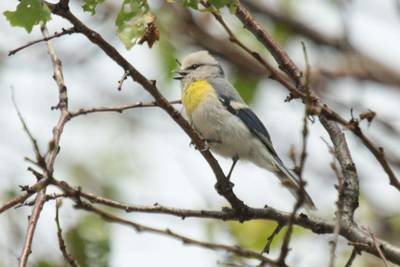 Yellow-breasted Tit (Alison Steel)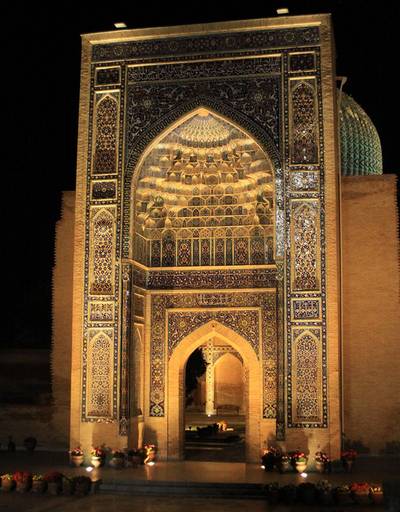 Gur Emir Mausoleum in Samarkand (Alison Steel)
'Our November 2018 tour to Guatemala began in the picturesque old town of La Antigua and the nearby Finca El Pilar which, nestled in mid-altitude forest, produced regional endemics such as Bushy-crested Jay, Mountain Trogon, Red-faced Warbler and the elusive Blue-throated Motmot', writes tour leader, Byron Palacios. 'We sat mesmerized by the array of hummingbirds visiting the feeders in the garden with Magnificent, Azure-crowned and Berylline Hummingbirds, Green-throated Mountain-Gem, and the inquisitive Violet and Rufous Sabrewing all at point-blank range!
En route to Los Tarrales, a morning walk was rewarded with the exquisite Pink-headed Warbler along with Guatemalan Flicker, Blue-and-White Mockingbird and others. At the finca itself the wonderful shade-grown coffee aroma (and taste!) was the perfect backdrop to superb birds such as Long-tailed Manakin, White-bellied Chachalaca, Crested Guan, Spot-breasted Orioles, Yellow-naped Parrot, Lesson's and Turquoise-browed Motmots and plenty of Pacific Parakeets. We also visited Finca Los Andes where we had great views of two iconic birds: Azure-rumped Tanager and the aptly named Resplendent Quetzal, the country's national bird.
Higher up and surrounded by Atitlan Lake, birds such as Bar-winged Oriole, Golden-browed and Rufous-capped Warblers, White-naped and Chestnut-capped Brush-Finches, and the elusive Fulvous Owl showed well.
We next flew to the northern region of the country, Peten, where we visited the magical and unique archaeological complex of Tikal alongside the complex of Yaxhá. The wildlife was astounding here with Red-throated Ant-Tanager, Black-throated Shrike-Tanager, Red-capped Manakin, Slaty-tailed, Black-headed and Gartered Trogons, Great Curassow, Montezuma Oropendola, Pale-billed and Chestnut-coloured Woodpeckers, White-collared Manakin, Keel-billed Toucan, Bare-necked Tiger-Heron, Collared Aracaris, and elusive Ruddy, Tawny-winged, Wedge-billed, Olivaceous and Northern Barred Woodcreepers. Mammals included Northern Tamandua, White-nosed Coatis, Central American Spider and Yucatán Black Howler Monkeys.'
Join Byron in Guatemala in November 2019 or January 2020 to enjoy this birdwatching paradise. For more information please click on the link above, or email This email address is being protected from spambots. You need JavaScript enabled to view it..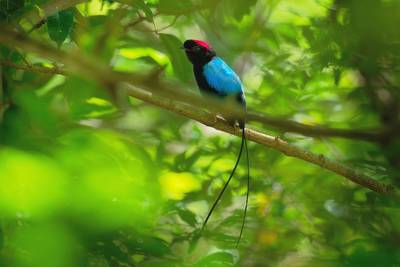 Long-tailed Manakin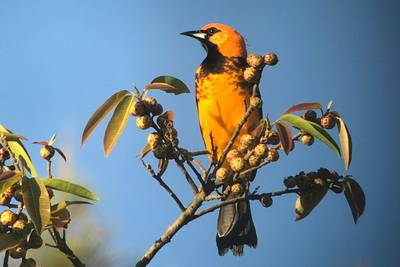 Spot-breasted Oriole (Byron Palacios)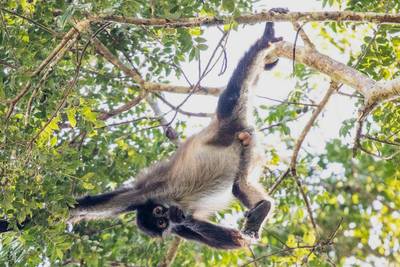 Central American Spider Monkey (Byron Palacios)
Our second 'Spring in Southern Portugal' tour from 16th to 23rd April was led by Pip O'Brien and Robert Manzano-Rubio. Pip writes 'the Alentejo has to be one of the most unspoilt places in Europe. We arrived in the picturesque village of Mertola, passing rows of nesting White Storks flexing their wings and fixing their nests. The top bird in the steppes has to be the Great Bustard; we saw them displaying well, waving their enormous white tail feathers at prospective mates. However alongside them we saw Little Bustards, Stone Curlews, Collared Pratincoles, Montagu's Harriers and a pair of mating Greater Spotted Cuckoos. The wild flowers were incredible, fields glowing purple with Echium, hillsides covered in flowering Cistus and botanical treasures on every verge from the brown bluebell, Dipcardi serotinia, to the charming Narcissus jonquila. Almost every stop in the Alentejo was accompanied by a soundtrack of Nightingales; a lovely background to a picnic. Back on the Algarve several new sets of birds and plants awaited us. We found 12 different species of orchis including both types of Ophrys speculum and wonderful arrays of Ophrys aipifera and Anacamptis morio. Highlights for the birders included flocks of Bee-eaters wheeling over the road on the way down to the Alvor Estuary and a wonderful pair of soaring Peregrines on Cape St Vincent. For a relatively small area, the Algarve offers a wide range of habitats from salt marsh to cliffs, woodland to farmland. There was never a dull moment, from rummaging under Cistus bushes to find the blobby red Cytinus hypocistus, to sea-watching for Gannets and shearwaters.'
Our next 'Spring in Southern Portugal' tour departs on 14th April 2020, prices start at £1,495. For more information please click on the link above, or email This email address is being protected from spambots. You need JavaScript enabled to view it..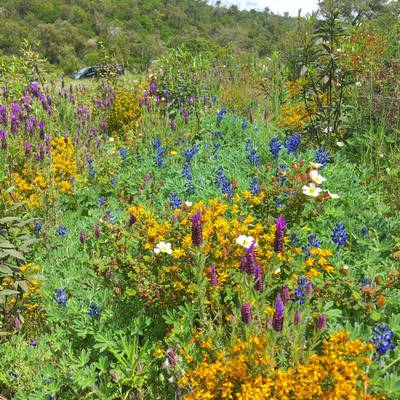 Hairy Lupin and other wild flowers (Philippa O'Brien)
'We had wonderful weather every day which made it possible to enjoy the beautiful and varied scenery to the full', write tour leaders, Andy and Ingrid Patmore. 'The locals were suggesting that spring was a fortnight late this year; the proof was snow still lying deep at 1,800m and rivers swollen with melt water.
Highlights included pristine Lady's Slipper, Fly, Early Purple and Marsh Orchids, Alpine Snowbell and Alpine Toadflax amongst a profusion of other floral species. Golden Eagle, Black Woodpecker, Marmot and Chamois, together with numerous butterfly species including Swallowtail, Clouded Apollo and Chequered Skipper were observed on our forays into the Berchtesgaden Alpine National Park. A visit to Hitler's infamous Eagle's Nest and a trip to the picturesque and historic city of Salzburg completed our 8-day tour with less than 200 miles travelled in the minibus pointing to the lovely central location of our charming hotel. Join us next summer!'
Our next 'Bavarian Alps' tour departs on 1st June 2020, prices start at £1,595. For more information please click on the link above, or email This email address is being protected from spambots. You need JavaScript enabled to view it..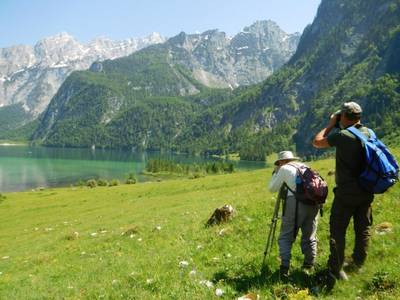 Observing wildfowl on the Konigssee (Ingrid Patmore)
'Our single-base tour of the lowland areas of Austria and adjacent parts of Hungary in early May yielded a total of 144 bird species and a wide range of other interesting animals (such as Souslik, Tree Frog and Fire-bellied Toad) and plants', writes tour leader, Martin Pitt.
'The local winter and spring had been very dry and late, leaving some of the iconic lakes totally empty but enough areas were still attractive to give a good introduction to this part of Europe, where east meets west and north meets south. The group succeeded in finding most of the key birds of the area, including Great White Egret, Pygmy Cormorant, Ferruginous Duck, White-tailed and Eastern Imperial Eagles, Saker, Red-footed Falcon, Great Bustard, passage and breeding waders, Black, Whiskered and Caspian Terns, Short-eared and Long-eared Owl, Black Woodpecker, Bee-eater, Icterine Warblers and Collared Flycatcher. The meadows were in flower and orchids – Military, Early Spider, Green-winged and Lax-flowered – drew the eye. Furthermore, we witnessed the attempts to preserve and improve the local habitats using local rare breeds, including Hungarian Grey Cattle, Mangalitser Pigs and Zackel Sheep.'
Our next 'Austria's Steppes & Wetlands' tour departs on 6th May 2020, prices start at £1,395. For more information please click on the link above, or email This email address is being protected from spambots. You need JavaScript enabled to view it..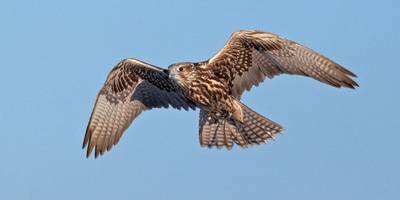 Saker Falcon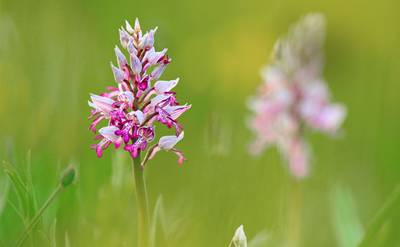 Military Orchids
'The inaugural "Go Slow ... in Southern Spain" tour was a fantastic mix of gentle birding, cultural visits and fine dining', writes tour co-leader, Rob Mileto. 'A leisurely breakfast was followed by a morning of short walks in some of the best and most scenic spots that southern Spain has to offer. We had some cracking views of Mediterranean specialities like Blue Rock Thrush, Short-toed Snake Eagle, Bonelli's Eagle, Spectacled and Dartford Warblers and the rare White-headed Duck. There were also more Griffon Vultures than you could shake a stick at!
By 13:00 or so, the birding was done for the day, so there was time for a siesta before a late afternoon visit to one of the many cultural sites our Málaga base is famous for – the Alcazaba of Málaga was particularly impressive, towering over the rest of the city. At 19:30 we walked the pedestrianised streets to a fine restaurant where we had our fill of the many and varied culinary specialities of Andalucía, often as a series of taster dishes. Add in warm sunshine every day and surely this is what holidays are all about.'
Our next 'Go Slow ... in Southern Spain' tour departs on 13th May 2020, prices start at £1,695. For more information please click on the link above, or email This email address is being protected from spambots. You need JavaScript enabled to view it..
Five participants from the North Northumberland Bird Club, plus tour leader Robert Manzano, embarked on an eight-day tour to Extremadura and the Gredos Mountains from 16th – 23rd May.
'The first half would be dedicated to exploring the plains around Trujillo: Little and Great Bustard, Spanish Imperial Eagle, Black Stork, Lesser Kestrel, Eurasian Roller, Cinereous and Egyptian Vulture, Bonelli's Eagle, Short-toed Snake Eagle and Black-bellied Sandgrouse', writes tour leader, Robert Manzano. 'Half a day was taken to look for woodland birds in Madroñera Pyrenean Oak forest, where Hawfinches were active. Our base at Las Canteras was spot-on, where Little Owls, Red-necked Nightjars, Eurasian Stone-curlews, Booted Eagles, Calandra Larks and Great Spotted Cuckoos were all encountered.
A transitional journey from the dry steppes towards the Gredos Mountains on our transfer day gave us Spectacled and Dartford Warbler, Thekla's Lark at Jaraicejo and Gull-billed Tern, Savi's Warbler, Eurasian and Little Bittern, Night Heron and Black-winged Kite at Arrocampo Reservoir, amongst others. Gredos Mountains would be our destination for the second half of the trip, having Hoyos del Espino as the base, from where we took daily excursions to explore the northern side of the mountains: Common Rock-thrush, Ortolan and Rock Bunting, Bonelli's Warbler, Crested Tit, Firecrest, Iberian Pied Flycatcher and Honey Buzzards in breeding habitat. The weather was ideal, with sunny and breezy days and unusually chilly temperatures for many days.'
For information on how to book a Naturetrek holiday for your private group, club or society, please visit our website, or email This email address is being protected from spambots. You need JavaScript enabled to view it..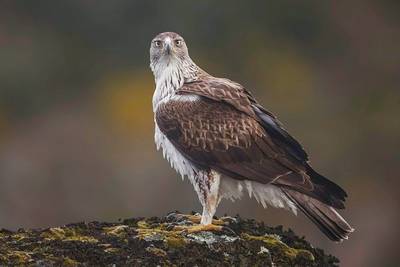 Bonelli's Eagle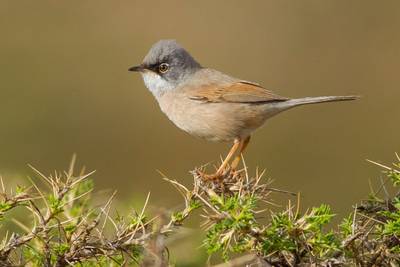 Spectacled Warbler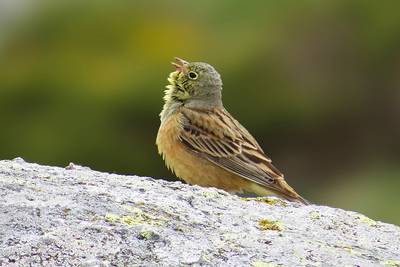 Ortolan Bunting (Robert Manzano)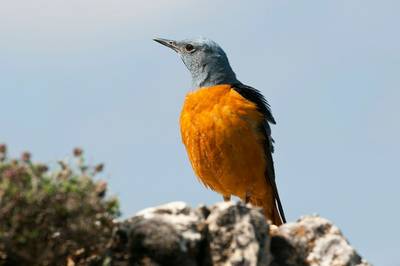 Common Rock Thrush
'The mid-May "Ardnamurchan – Wild Scotland in Spring" trip enjoyed a wonderful week of weather, with lots of sun, blue skies and light winds', writes tour leader, Chris Rollie. 'This helped to deliver over 100 bird species for the trip, with good views of both White-tailed and Golden Eagles, and an unexpected Osprey. The woodlands were alive with birdsong, especially Blackbird, Song Thrush, Willow Warbler, Chiffchaff, Wood Warbler, Wren, Siskins and Redpoll, while Cuckoos were heard and/or seen every day. However, the ornithological highlight for most was the trip to Lunga in the romantic Treshnish Isles, with stunning and virtually arm's length views of magical Puffins by their burrows. From the boat we were able to view an occupied White-tailed Eagle eyrie, and one of the adults obligingly came right overhead as it flew into the site. Spectacular views of Great and Arctic Skuas were also a highlight from the boat.
A confiding Pine Marten visited the bunkhouse feeding station each evening and indeed once provided daylight views! A second marten was seen once or twice, and it is fair to say that the feeding animal was always more alert to other martens or woodland noises than it was to our close viewing from the lounge. Red, Fallow, Père David's and a single Roe Deer were also seen, while night time drives delivered additional Pine Marten, Red Deer, various shoreline birds and wonderful views of a singing Grasshopper Warbler. Otters proved elusive for the first few days, but then several were seen towards the end of the week, including in nearby Glenborrodale Bay.
Ardnamurchan Bunkhouse was a delight: home cooking, very comfortable and surrounded by singing birds, Red Deer and visiting Pine Marten, with stunning Glenborrodale Bay nearby. The perfect base to experience the wild delights of this beautiful part of Scotland!'
Our next 'Ardnamurchan – Wild Scotland in Spring' tour departs on 16th May 2020, prices start at £1,295. For more information please click on the link above, or email This email address is being protected from spambots. You need JavaScript enabled to view it..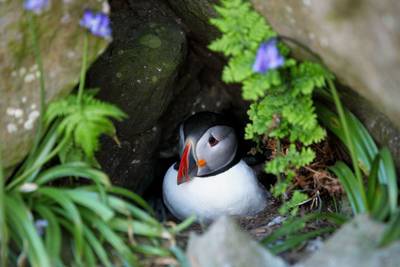 Puffin (Matthew Capper)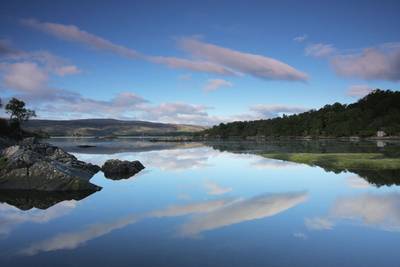 Ardnamurchan (Matthew Capper)
'Our May visit to the beautiful Isles of Scilly coincided with the main seabird breeding season, but the islands are also noted for the rare migrant birds which turn up in the spring and autumn', writes tour leader, Andrew Cleave.
'We were lucky enough to catch up with a transatlantic visitor in the form of a Lesser Yellow-legs, and more regular spring migrants such as Whimbrel, Dunlin and Turtle Dove. We enjoyed sunny weather every day and visited all of the inhabited islands, each one with its own unique character and interesting wildlife. One of the tiniest species we found was the Dwarf Pansy Viola kitaibeliana, known only from the island of Bryher, but there were plenty of more spectacular flowers to be seen as well, with colourful displays of Thrift, Spring Squill, native Bluebells and Sea Kale growing alongside naturalised species like the Madeiran Cranesbill and "Whistling Jacks" Gladiolus. Fields which once supported the bulb-growing trade now had a colourful flora of native and naturalised plants like the golden Field Marigold and the hedges protecting them consisted of hardy shrubs from New Zealand.
An exciting trip in a RIB out to the seabird colonies at the Norrad Rocks gave us really close views of Guillemots, Razorbills, Puffins and Fulmars, and an evening "Shearwater Special" trip got us close to several hundred Manx Shearwaters as they gathered in rafts before heading for their breeding site on the uninhabited island of Annet. On our daily walks we had many close encounters with the really confiding Song Thrushes which are a fascinating feature of the islands, and saw several butterfly species including the local form of the Speckled Wood with its distinctive colouration. The trip to the islands and back to the mainland in Scillonian 111 also provided some good birdwatching with plenty of auks, Gannets, Manx Shearwaters, and even a few Common Dolphins to keep us entertained.'
Our next 'Isles of Scilly' tour departs on 6th May 2020, prices start at £1,095. For more information please click on the link above, or email This email address is being protected from spambots. You need JavaScript enabled to view it..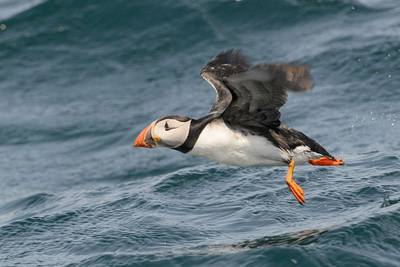 Puffin (Andrew Cleave)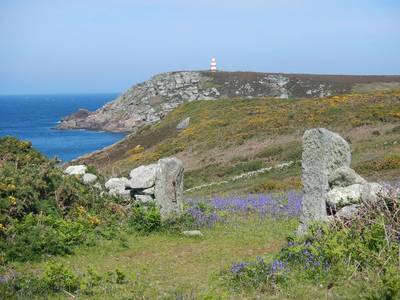 St. Martin's (Andrew Cleave)