Read about highlights from recent tours to India, Namibia, France, Scotland, the Canary Islands and Spain ...
'Our visit to the Sunderbans was the extension to our fantastic "India – Assam, Darjeeling & Bhutan" tour', writes tour leader Sujan Chatterjee. 'Exploring the area by boat, we had already encountered a mega bird: Brown-winged Kingfisher. But then the boat's captain received a call which made his eyes widen and caused a change of direction – a Tiger had been seen walking along the forest edge. We reached the location and took up position in front of a creek. Within minutes the Tiger appeared and swam across the creek very quickly. We got good views and a few pictures. We then moved our boat again in front of another creek and this time the Tiger gave us a precious 30-second view – and what a view it was! This majestic animal swam the wide creek and got out at the other end, shook itself dry and gave us a look of contempt. Then it calmly walked up the slope and disappeared into the mangroves. We were shocked and thrilled by this amazing and rare sighting!'
Our next 'India – Assam, Darjeeling & Bhutan' holiday departs on 16th February 2020, prices start at £5,295. For more information please click on the link above, or email This email address is being protected from spambots. You need JavaScript enabled to view it..
'Our "Wild India … in Style" tour recorded 158 different species of birds and good sightings of various different mammals including the big cats, Royal Bengal Tiger and Leopard', writes tour leader Yusuf Risvi.
'The tour started in Delhi, from where half of the group went to Sultanpur Bird Sanctuary. Here we saw some interesting birds, including Great Egret, Intermediate Egret, Gadwall, Eurasian Teal, Ibis and a special sighting of Eastern Imperial Eagle. Meanwhile the remaining group members had a great time exploring Old Delhi by rickshaw.
In Kanha, we saw a Tigress with three cubs on our first drive and then had excellent views of another Tigress the following morning. We also saw two Wild Dogs, great birds, and one fortunate group member enjoyed a special sighting of Indian Crested Porcupine, while night walks turned up 16 species of amphibians. As well as the wildlife, another highlight was visiting Bhoorsingh English-medium Pre-school at Mukki Gate, which is a forest department initiative and supported by Singhinava Jungle Lodge.
Moving on to Bandhavgarh, we saw two individual Tigers, one of which, a Tigress, was barely five metres from the road. We also saw two Leopards on different drives, and half the group also had two separate sightings of Sloth Bear.
The final part of the main tour was in Agra, with an early morning visit to the Taj Mahal. All in all, it was a very enjoyable and memorable trip.'
Our next 'Wild India … in Style' holiday departs on 30th October 2020, prices start at £3,495. For more information please click on the link above, or email This email address is being protected from spambots. You need JavaScript enabled to view it..
'At the beginning of November, we embarked on another Naturetrek adventure – a wildlife photography tour to Bandhavgarh National Park and later to Chambal and Bharatpur for the extension', writes tour leader Anand Sinha. 'Our group had a Tiger sighting on the very first drive, although light was not great, and we could not take pictures. The following morning in the Magdhi zone, we encountered three sub-adult male Tigers, the litter of the dominant Tigress, Dotty; they were sitting right next to the jeep track providing a great photo opportunity! They disappeared into the bushes and while we were watching the spot where we hoped they might reappear, one of the group members turned around – to see a beautiful male Leopard walking on the other side of the track!
The following day we were back in the same area. The brothers were there again, with two of them coming so close to us that we couldn't fit them in camera shots! But we got some excellent images of them and of a heavily pregnant female and two separate males at different times. We had a couple of great Sloth Bear sightings in the park as well.
The next leg of the trip was National Chambal Wildlife Sanctuary. On the boat cruises we got some great sightings of the Gharial, Mugger, dolphins, turtles and some raptors. The best moment was when a Bonelli's Eagle gave us a great show as he bathed in the river. In Bharatpur we covered a lot of subjects as well. Some great shots were taken at the Painted Stork nesting colony. Several species of owls and raptors were also seen and photographed.'
Our next 'India's Wildlife – A Photography Tour' departs on 25th March 2020, prices start at £2,995. For more information please click on the link above, or email This email address is being protected from spambots. You need JavaScript enabled to view it..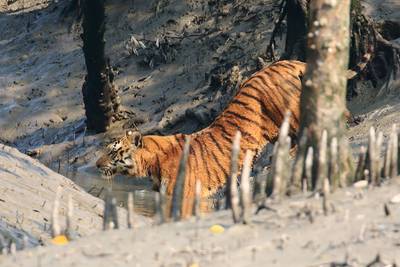 Tiger (Sujan Chatterjee)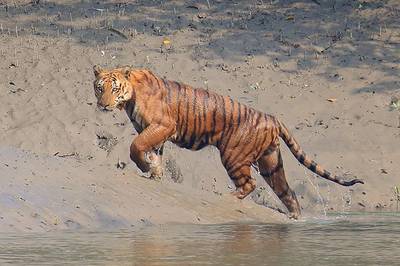 Tiger (Sujan Chatterjee)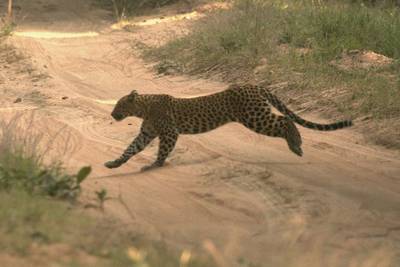 Leopard (Kanika Arora)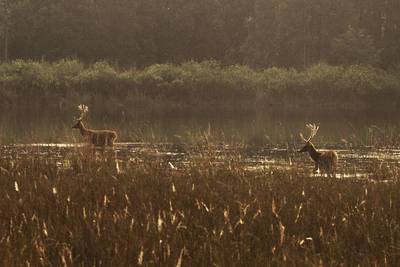 Swamp Deer (Kanika Arora)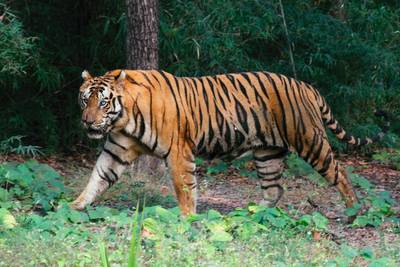 Tiger (Anand Sinha)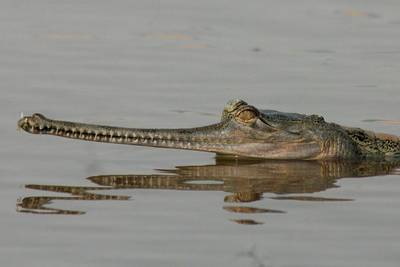 Gharial (Anand Sinha)
'If you are a fan of wildlife documentaries you may well have seen the footage of Giraffe kicking away a Lion attack, or the gangly (tenebrionid) beetles that raise their backsides into the early morning fog and drink deeply of the ensuing condensation… or maybe the desert-adapted Elephants that make their living in the dry river beds and dig down into the seemingly dry and parched sand to find cooling underground water to quench their thirst', writes tour leader Rob Mileto. 'We saw all of these and so much more on our 17-day trip around this gorgeous country. In fact, we saw nearly 200 species of bird (including several near-endemics) and over 40 species of mammal, which included Black Rhino – we saw at least 10 individuals! Add to this the constantly changing and wondrous desert scenery, including some of the highest sand dunes in the world, and you have all the trappings of what makes a truly excellent wildlife adventure in Africa.'
Our next 'Namibia's Etosha Pan & Skeleton Coast' holiday departs on 11th November 2020, prices start at £6,795. For more information please click on the link above, or email This email address is being protected from spambots. You need JavaScript enabled to view it..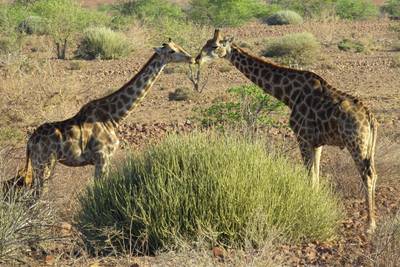 Angolan Giraffes (Rob Mileto)
'This compact 5-day tour succeeded in finding a wonderful range of the region's specialities including, of course, the enigmatic and unique Wallcreeper', writes tour leader Neil McMahon. 'We were fortunate to see two different individuals, and both provided sustained views which allowed everyone to become bewitched by this alpine gem. For some, the confiding Alpine Accentors possibly vied for bird of the trip and the quality of the birds remained high, with very good views of Rock Sparrows, Greater Flamingoes and even a group of three vagrant Great White Pelicans! We found rafts of wintering Black-necked Grebes and enjoyed multiple views of hunting Merlins and both Hen and Marsh Harriers. In the hedges were plenty of Goldcrests, Firecrests, and Chiffchaffs and this region retains wintering Cetti's Warblers, Blackcaps, Dartford Warblers and Sardinian Warblers. We saw clouds of passerines enveloping the stubble and harvested sunflower fields, with Chaffinch, Brambling, Corn Bunting and Skylark being particularly numerous. Mammals included a daytime foraging Wild Boar and glimpses of Red Squirrel and Coypu. Wader enthusiasts were catered for with high numbers of small waders, with perhaps the Kentish Plovers and Little Stints being the favourites. A couple of wintering Black-necked Stilts and a Temminck's Stint were a surprise and other scarcities included Black-throated Diver, Black Stork and Lesser Spotted Woodpecker.'
Our next 'France – Wallcreepers & the Camargue' holiday with availability departs on 24th January 2020, prices start at £995. For more information please click on the link above, or email This email address is being protected from spambots. You need JavaScript enabled to view it..
'Our tour was timed to provide a very special ornithological experience amid the attractive rural setting of northern France's Champagne country, based at two delightful auberges – La Bocagère and Auberge du Lac', writes tour leader Jason Mitchell. 'Firstly, we visited Lac du Der, an area which is synonymous with large numbers of migrating and wintering Common Cranes. November is when vast numbers of this iconic species and other waterfowl arrive at 'Der', the biggest artificial lake in metropolitan France with an area of 48 km². Although we never fail to see impressive numbers, November 2019 was to provide a spectacle like no other. It transpired that a unique weather pattern had created a bottle-neck to the south and resulted in an all-time record number of cranes using the lake – the official count was a massive 268,120 birds!
Much of our first couple of days was spent watching the cranes, particularly the wonderful aerial display as they flew to and from their roost on the lake. With almost biblical numbers present, the sky darkened when they lifted from the water! We also found many other exciting species including several Greater White-fronted Geese, a dashing Merlin and some beautiful Bewick's Swans.
Next, we transferred to the Parc Naturel Régional de la Forêt d'Orient; as the name suggests, the area is dominated by forest and three large lakes. Amongst the birdlife we enjoyed massive numbers of wintering ducks, a 29-strong 'muster' of stately White Storks, an abundance of Hawfinches and many woodpeckers including Middle Spotted and Black. However, the star bird was a superb and completely unexpected Alpine Accentor, found by ourselves and one which caused a stir among the locals, being just the second record ever! We also took advantage of being located in France's Champagne region and enjoyed a tasting at the famous Champagne Drappier house, along with a tour of its ancient cellar dating back to the Cistercian monks. Another visit took us to the cathedral city of Troyes, where we spent a lovely morning walking its charming historic centre.
Once again, the wildlife, culture and good company combined to make a tour which will live long in our memories.'
Our next 'France – Cranes & Champagne' holiday with availability departs on 31st October 2020, prices start at £1,495. For more information please click on the link above, or email This email address is being protected from spambots. You need JavaScript enabled to view it..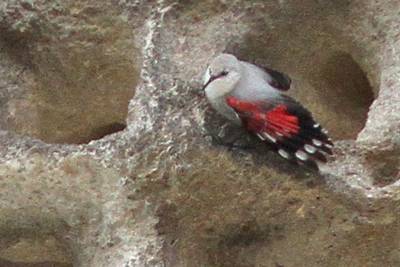 Wallcreeper (Neil McMahon)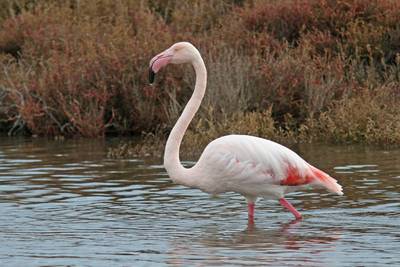 Greater Flamingo (Neil McMahon)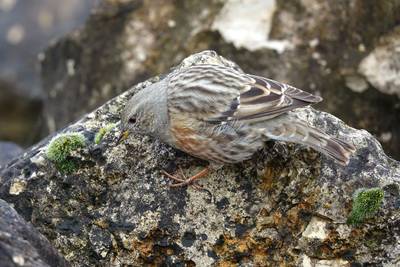 Alpine Accentor (Fabrice Croset)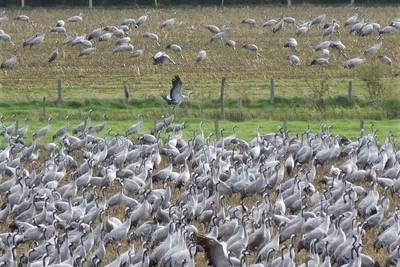 Common Cranes (Gretchen Graff)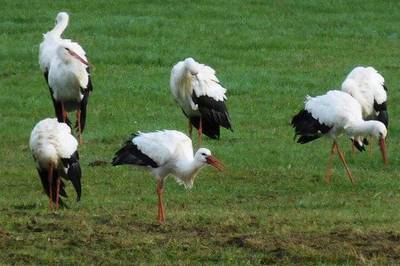 White Storks (Gretchen Graff)
'Due to its central position in the UK, Dumfries & Galloway is home to the northernmost of southern species and the southernmost of northern species of a whole range of biodiversity, including several birds', writes tour leader Chris Rollie. 'The Solway Firth, Wigtown Bay and Loch Ryan are renowned for their wintering waterfowl, while the mosaic of farmland and low-lying moorland attract a range of raptors in winter, including Hen Harriers. Blessed with dry weather, the group enjoyed a wonderful few days birding that delivered a total of 96 species.
In addition to the magnificent and recently arrived Svalbard race of Barnacle Geese, exclusive to the Solway, wonderful views of Greenland White-fronted and Pale-bellied Brent Geese were enjoyed, together with a few Pinkfeet and Icelandic Greylags for good measure. Whooper Swans were still arriving, but enough were present to make the famous swan feed at WWT Caerlaverock a sight to remember, whilst RSPB Mersehead Reserve provided a range of species from Pintail to Tree Sparrow. Stunningly close views of Willow Tits were enjoyed at RSPB Ken-Dee Marshes as a prelude to the breathtaking spectacle of well over 100 Red Kites swooping down for food at the nearby feeding station.
Loch Ryan was a delight and superb views were obtained of some 200 Pale-bellied Brent Geese feeding alongside more numerous Wigeon and a host of waders on the shore, with striking Greater Scaup just behind. Moving round to deeper water we were thrilled by several Slavonian Grebes, with Common Scoter and Eider close inshore and Red-Throated Divers further out. A cracking finale was provided by superb views of more Greenland White-fronts and five or six Hen Harriers in aerial interaction over their communal roost.
Historical attractions in the passing included the Motte of Urr, Sweetheart Abbey, Threave Castle, Southerness Lighthouse, Devorgilla's Bridge and Parton Privy! Comfortable accommodation, cuisine and hospitality were all enjoyed at the award-winning Clachan Inn, and all combined with stunning birdlife and scenery to deliver a truly memorable few days in good company.'
Our next 'Winter Birds of Dumfries & Galloway' holiday departs on 17th February 2020, prices start at £745. For more information please click on the link above, or email This email address is being protected from spambots. You need JavaScript enabled to view it..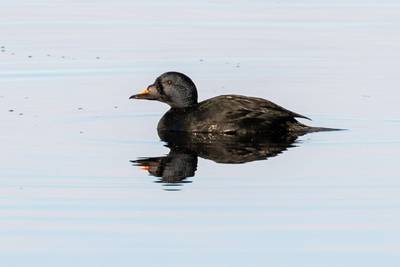 Common Scoter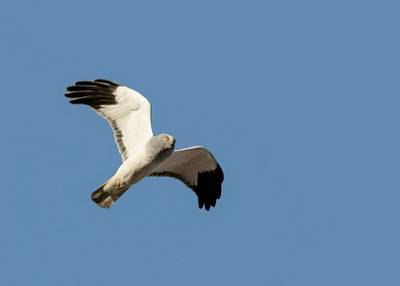 Hen Harrier
'Our late-autumn trip to the "Islands of eternal spring" – Tenerife, La Gomera and Fuerteventura – did indeed bring sunshine, but also, this year, strong trade winds, which made finding some species rather a challenge', writes tour leader Jessica Turner. 'We had superb views of Tenerife Blue Chaffinch, which were a regular in the hotel garden, Black-bellied Sandgrouse and the Canarian subspecies of Spectacled Warbler which turned up as Andrew (co-leader) was demonstrating the calls to listen out for! Some of the plant-life stretched those used to northern European species and, while many species were not currently in flower, we enjoyed the displays of Canary Sea Daffodil and Canary Twayblade and marvelled over the strange-looking plants of Caralluma burchardii and Ceropegia fusca, with their maroon flowers coming from apparently dead stems. Shearwaters and whales, lizards and butterflies contributed to the supporting cast, with many island endemics, while delicious food and good company all helped to make this a very enjoyable week. Join us in November 2020!'
Our next 'Canary Islands' holiday with availability departs on 7th November 2020, prices start at £1,695. For more information please click on the link above, or email This email address is being protected from spambots. You need JavaScript enabled to view it..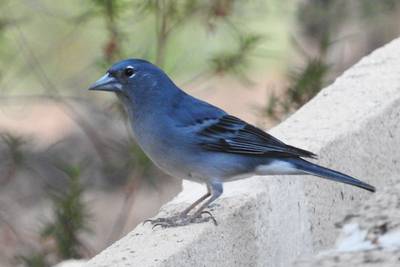 Tenerife Blue Chaffinch (Andrew Bray)
'We just love this trip, which is full of surprises, exploring Andalucía´s unknown migration spectacles and undiscovered mountain areas', write tour leaders Niki Williamson and Simon Tonkin.
'In the mountains of the Serranía de Ronda, Black Wheatears, Blue Rock Thrushes and Red-billed Chough awaited the group, sharing the rocks with Spanish Ibex and a roosting colony of Griffon Vultures. Golden Eagles and Crag Martins soared overhead and we watched Rock Buntings, Rock Petronias, Iberian Green Woodpecker and Iberian Grey Shrikes, while Woodlark song filled the air.
The autumn sun illuminated the stunning colours of the autumn trees and the area´s stark high crags, and our evenings were warmed by the delicious dishes of our hotel´s cordon bleu-trained chef, using all the best local ingredients from the area´s woodland landscape!
In the Strait of Gibraltar we witnessed unforgettable scenes of hundreds of young Griffon Vultures amassing, waiting, and finally seizing a window of fine weather to make their crossing into Africa. We also encountered Spanish Imperial, Bonelli's, Short-toed and Booted Eagles, Lesser and Common Kestrel, Black-winged Kite, Egyptian Vulture, Peregrine Falcon, Common Buzzard, Red Kite and Osprey!
Cory´s and Balearic Shearwaters were on the move, and hundreds of White Storks were sharing their wintering grounds with newly arrived Common Cranes, Hen and Marsh Harriers. Passage and wintering waders included Kentish and Common Ringed Plover, Little Stint, Sanderling, Dunlin, and a goggle-eyed flock of Stone Curlews! We were even treated to views of the area´s enigmatic Northern Bald Ibis – one of the world's rarest birds.'
Our next 'Ronda & The Strait of Gibraltar' holiday with availability departs on 3rd November 2020, prices start at £1,395. For more information please click on the link above, or email This email address is being protected from spambots. You need JavaScript enabled to view it..
'Winter arrived early in the Palentian Mountains in northern Spain for our wolf-watching tour in late November, ensuring the mountains were sprinkled with snow and bringing us a real winter scene', writes tour leader Pablo Perez.
'However, we wildlife-watchers were brave enough to beat the cold and we were rewarded with magnificent observations of at least eight Iberian Wolves and other appealing mammals such as Red Deer, Broom Hare, Wild Boar, Chamois, and the huge bonus of a Wild Cat. 
Nevertheless, the cold did also enhance the presence of high numbers of Brambling, Northern European Buzzards, and Redwings, with some exciting sights of other interesting birds such as Rock Bunting, Southern Grey Shrike, Crested Tit and Rock Sparrow.
It was my first time on this tour, co-leading with our charming hosts Tino, Rosa and Toño, and I found it to be a supreme fusion of wild nature, rural heritage and fine cuisine, with excellent guides, that together created an extraordinary tour experience here in remote northern Spain.'
Our next 'Wolf-watching in Spain' holiday with availability departs on 6th October 2020, prices start at £995. For more information please click on the link above, or email This email address is being protected from spambots. You need JavaScript enabled to view it..
'Chilly breezes and low temperatures didn't stop the group from enjoying one of Europe's premier birdwatching destinations, where some of the continent's last unspoilt pseudo-steppes remain', writes tour leader Robert Manzano. 'Great and Little Bustards were out grazing the plains of Magasca and Cáceres, and flocks of Black-bellied and Pin-tailed Sandgrouse allowed exceptionally close fly-by views. Further south, irrigated rice paddies attracted hundreds of wintering Common Cranes, while birding along the Almonte and Tamuja Rivers provided sightings of Rock Sparrow, Rock Bunting, Crag Martin and both Golden and Bonelli's Eagles. In Monfragüe National Park, the stunning quartzite crags of the Salto del Gitano were as reliable as ever, delivering astonishing views of Spanish Imperial Eagles and Griffon Vultures as they wheeled overhead. On the way back to the airport we made a productive stop at the Arrocampo reservoir, which yielded Penduline Tit and Western Swamphen, as well as many other wetland species.'
Our next 'Spain – Extremadura in Winter' holiday with availability departs on 13th February 2020, prices start at £1,395. For more information please click on the link above, or email This email address is being protected from spambots. You need JavaScript enabled to view it..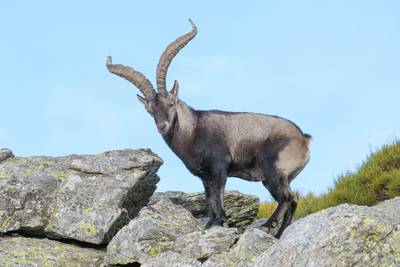 Iberian Ibex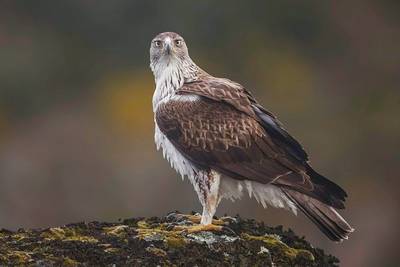 Bonelli's Eagle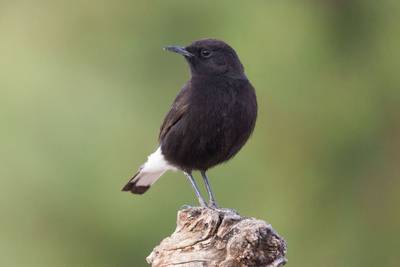 Black Wheatear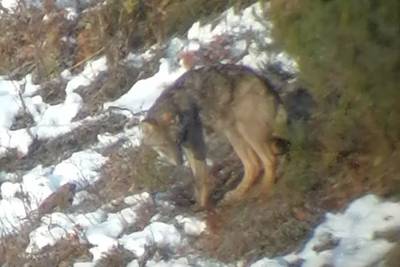 Iberian Wolf (Pablo Perez)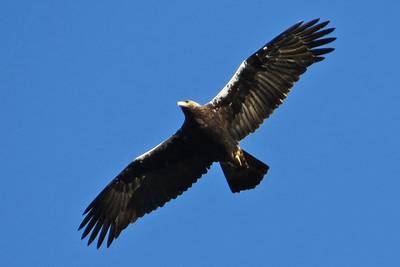 Spanish Imperial Eagle (Robert Manzano)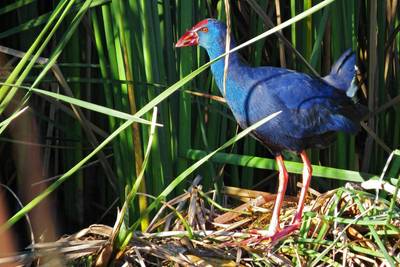 Western Swamphen (Robert Manzano)